Do Good Thursdays: Garfield Park Conservatory
Greenspaces are respites for urban dwellers, and Chicagoans are lucky to have Garfield Park Conservatory. With 12 acres of garden space, the conservatory has been a vibrant presence in the Garfield Park community for over a century, welcoming neighbors and visitors alike to explore and relax. However, it's more than just a garden in a sea of concrete. At its heart, The Garfield Park Conservatory serves as a center for learning, connecting, and growing together as a community.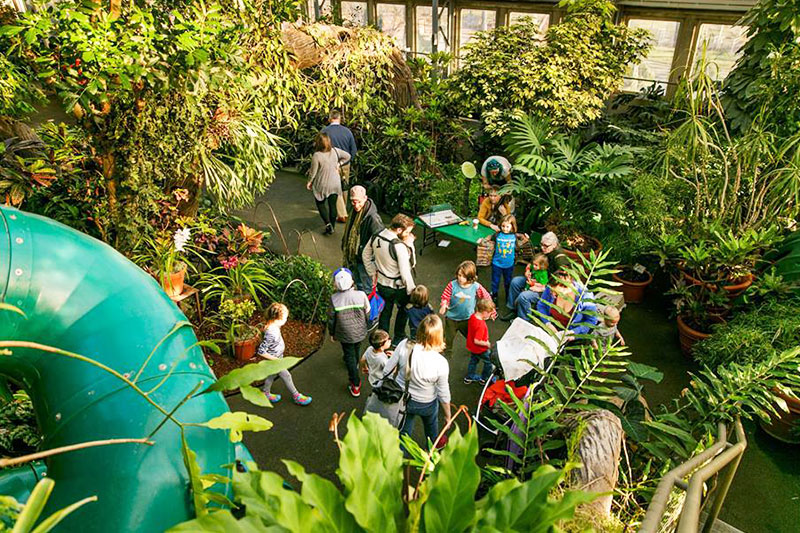 Neighborhoods.com spoke with Mattie Wilson, Garfield Park Conservatory's Sustainability and Adult Program Manager, who joined the team about eight years ago. Wilson focuses on coordinating the volunteer program, and she says her position combines two things she's passionate about: the environment and service work.
"Our mission is to educate the public" says Wilson, and that mission is accomplished through an impressive roster of programs and lectures. Browse Garfield Park Conservatory's website and you'll see a program or event for everyone: drop-in sessions for kids, regular lectures on nature and ecology, gardening and beekeeping demonstrations, musical performances, and even yoga. Not all programs are free, but the park offers scholarships for those in financial need. The park also has rotating exhibitions for the public to enjoy. This year's Annual Spring Flower Show, "Hashtag No Filter," kicked off this past February and runs through May 13.
Wilson says that in the last year, these programs reached 50,000 people out of around 238,000 total park visitors. That's just a fraction of the impact Garfield Park Conservatory has made in its 110 years. The conservatory opened in 1908 and has weathered a few metaphorical and literal storms over the years.
In the 1990s, park attendance dwindled, and when a cold front came through in 1994 and killed many plants, the conservatory was at the brink of closing. But community members banded together to save Garfield Park Conservatory and formed the Garfield Park Alliance. Wilson says that the Garfield Park Alliance works with the Chicago Park District to enhance the conservatory visitor's experience. The park district focuses on caring for the plants and the gardens, while the alliance provides the educational programs and events. Together, these two organizations work to keep Garfield Park Conservatory thriving and growing.
In recent years, the park has become an attraction for tourists, but Wilson assures that the community of Garfield Park remains important to their mission.
"Every decision we make is rooted in our history. As we become a national destination, it's a tricky balance to serve those two populations. But the community started this place, so there are efforts to continue those connections with the community, regardless of national or international popularity."
If you're looking to get your hands dirty, the conservatory welcomes volunteers of all gardening levels. Talented staff at Garfield Park Conservatory can pass on their green knowledge to those volunteering their time to teach the community, and those involved can help out with a variety of projects around the park. Large groups of up to 500 can assist in these efforts.
If you just need to relieve some stress, Garfield Park Conservatory's doors are open daily.
"Once you walk in, you're transported to a tropical space, but you're still in the middle of Chicago," Wilson says. According to Wilson, the conservatory's collection in itself is a great resource and value to the Garfield Park and greater Chicago community. "It's magical what the plants can do," she says.