Dreamport Villages Would Be Arizona's $4 Billion Amusement Park
Dreamport Villages Would Be Arizona's $4 Billion Amusement Park
Sun-drenched Arizona is locked in a never-ending battle with California, Texas, and Florida for your tourism dollars. One weapon it doesn't have in it's arsenal, however, is a large-scale amusement park to match Disneyland, Legoland, Knott's Berry Farm, Universal Studios, Six Flags, and Disney World.
That could change if The Block Sports Company gets their way. The group has submitted plans with Casa Grande (an hour south of Phoenix) to build a massive entertainment and resort development called Dreamport Villages near the Interstate 8 and Interstate 10 junction.
The plan includes an extreme sports park, resort, indoor water park, wildlife animal exhibits, restaurants, and retail spaces across 618 acres. Inside the sports park, guests could participate in activities such as zip lining, rock climbing, go-karts, and wakeboarding.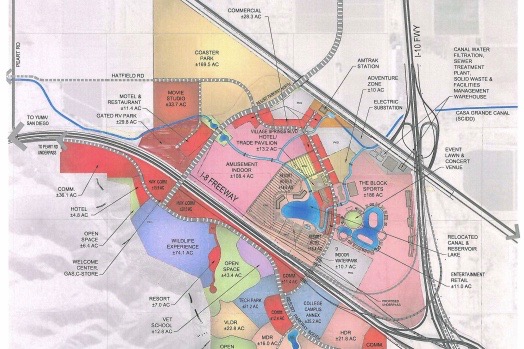 To put it in perspective, the park would be dwarfed in size by Disneyworld (30,000 acres) but would be way larger than Six Flags Over Texas (212 acres), Knott's Berry Farm (160 acres), and Universal Studios Florida (108 acres). According to the plans submitted with the city, the goal is to build a destination resort "best compared to that of Disney World Resort."
The full parcel of land actually stretches for 1,500 acres. The developer says they would take several hundreds of those acres to build commercial space, a residential development, and a school.
The cost of the project is estimated around $4 billion and the amusement park is expected to take a decade to complete. The Casa Grande Planning and Zoning Commission get their first look at plans at a March 2 meeting.