Environmentally Friendly Ways to Deal With Pests in Your Tucson Home
Living in the Old Pueblo has many advantages. Nearly year-round access to outdoor activities, a thriving cultural diversity, world-renowned festivals, and restaurants galore. But there is one drawback to living in the Southwest—sharing your home with desert-dwelling critters.
Let's be honest: the scenery of Tucson is almost plucked out of a storybook, but residents share their environment with wild things that aren't for the faint of heart. Yes, they have little garden spiders like other states, but they also have creepy tarantulas, bark scorpions, and blister beetles—harmless looking creatures that release a toxin akin to poison ivy that blisters the skin of anyone who touches it.
Don't be alarmed. These are just nuisances when compared to the weighty creatures like gila monsters, rattlesnakes, and poisonous Sonoran Desert toads, which have earned the reputation as being the true behemoths of the desert and validate a quick phone call to the local fire department for removal, should one decide to rent out space in your manicured yard.
According to Tucson News Now, there are certain areas of Tucson that one can almost guarantee a run-in with a scorpion or two. Oro Valley residents are surrounded by vast open spaces to the north and abut the backside of the Santa Catalina Mountains, making it prime territory for these insects. Zip codes 85737 and 85739, which include the neighborhoods of Copper Creek, Monterra Hills, and Rancho Vistoso, are also especially susceptible.
Newly developed areas of Marana will likely see the presence of pests during the warmer months when critters are likely trying to escape the heat or searching for water. Sky Ranch and Tangerine Ridge neighborhoods, with homes as recently built as 2017, will likely experience a frightening crawler or two. So will residents of Rita Ranch and Vail in communities like Rancho Del Lago along the Pantano Wash.
Don't let the eclectic population of pests detour you. With Tucson surging to the 33rd largest U.S. city, residents have found cohesive and natural ways to combat their unwanted guests and have adjusted to sharing their backyard, and sometimes their homes. If you're not up for sharing your space with these bugs, we've put together a list of eco-friendly ways to protect your home.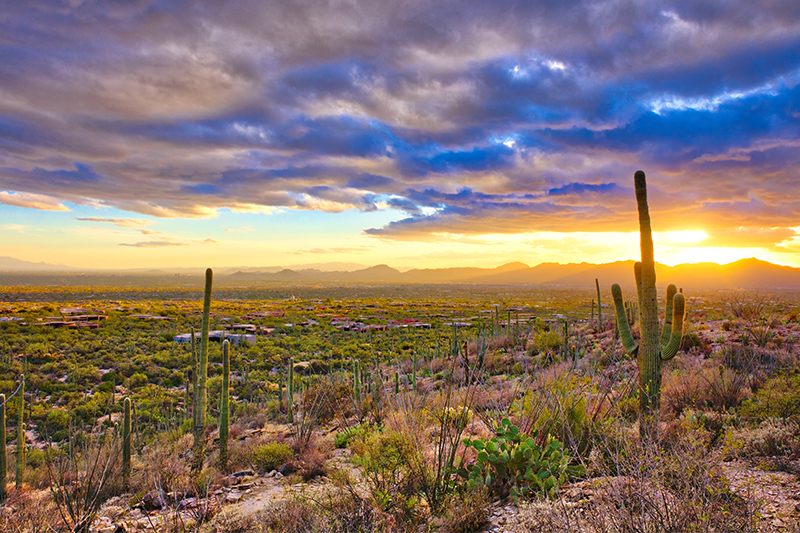 Scorpions
Bark scorpions received their names for famously climbing up the trunks of the mesquite trees that are found all over the city. The most common type of scorpion to be found in homes, they will usually be discovered as the cooler temps slowly roll in around November when they're searching for a dark and dry environment (side note: experienced Tusconans always tap their shoes prior to putting them on).
One way to discourage scorpions is to keep your yard free of food sources like crickets. Since bright white light sources at night attract insects and create a gourmet buffet for scorpions, consider replacing traditional lighting with LEDs or colored lights to prevent your yard from becoming a one-stop-shop for meat-eating bugs. Sealing cracks and installing weather stripping around windows and doors is probably the most important precaution you can take as some scorpions can fit through a crack as thick as a credit card. Finally, using certain plants as a deterrent have been known to be effective. Lavender, dill, citrus, and peppermint are scents that multiple insects don't like. Plant them in your yard for the dual effect of repelling critters and beautifying your space.
Spiders
There are multiple types of spiders to worry about in the desert, but wolf and black widow spiders are among the most harmful. Dr. Bug Lady of Arbico Organics, a local gardening store specializing in natural pest control, advises using a spray with d-limonene, or making homemade sticky traps out of leftover macaroni 'n cheese boxes with a paintable sticky coating. Diatomaceous earth or boric acid crystals in a vacuum bag also work wonders, suggests The University of Arizona's Cooperative Extension. The small crystallized shards work by making small cuts in the spiders, eventually leading to their dehydration and eventual death. They also list a range of spiders commonly found in Tucson.
Snakes
Contrary to what some people believe, rattlesnakes aren't looking to harm humans. Most likely seeking shelter or food, snakes search for appealing places for a snack or to warm themselves as the weather gets cooler. Per Tucson's Northwest Fire District, protecting your home from snakes is never foolproof, but there are things you can do to eliminate their temptation to come inside. A solid four-foot wall with a lip at the top can prevent climbers, as snakes can slither vertically but not greater than a 90 degree angle. Gates should fit securely to the ground and even small openings should be eliminated.
As snakes prefer to find already existing structures as homes as opposed to building one themselves, you should remove enticing wood and junk piles and fill in any abandoned burrows. Local fire departments are familiar with receiving snake calls, so if you happen on one in your backyard, even if it's the unassuming and non-poisonous kind, it's better to call them than to try and snake-wrangle. A final suggestion from the Arizona Game and Fish Department, is to keep rodents and birds in your backyard to a minimum. Although it's a friendly gesture to set out bird feeders, snakes are often drawn to the scent of birds and rodents taking advantage of the free seed.