Experience the Brewery Culture in These Mesa Neighborhoods
Experience the Brewery Culture in These Mesa Neighborhoods
You may not think much about stopping by your neighborhood brewery for a pint on any given night, but according to The New York Times, patronizing those establishments is impacting the local economy by breathing new "fizz" into otherwise "sleepy commercial districts." The article also mentions that those mom-and-pop breweries contributed about $68 billion in 2016 to the national economy by creating a "tourism aspect," which impacts the residents of these communities in a positive way as well.
Mesa has felt the boom of the brewery culture and has locations serving specialty sour beers and stouts. Many of them also provide food to appeal to a broader range of customers. With a variety of frothy beverages, ambiances, and grub, these establishments give Mesa neighborhoods a vibrant brewery culture that's hard to ignore. Here's where you'll find some great local breweries in Mesa.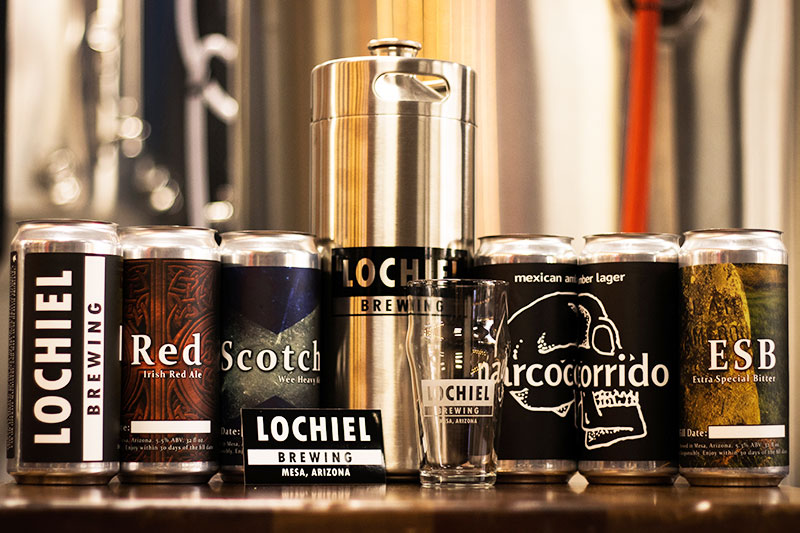 Superstition Springs is a quaint neighborhood with a golf club and a major shopping center. With plenty of ways to stay entertained, residents in this neighborhood don't have to travel far for a good time, but when they're in the mood for a craft brew they know just the place: Lochiel Brewing. One of the newer breweries in the area, Lochiel Brewing opened in 2015. The brewery is a two-vessel, 10-barrel full electric brewhouse with several 7-barrel and 15-barrel fermenters as well as brite tanks. Lochiel Brewing specializes in producing a wide variety of Scottish-style ales made with strong malt-forwardness. Although this brewery doesn't offer food, they do offer pre-packaged bar snacks like chips, nuts, cookies, and popcorn, so you may want to come after dinner just to have drinks in the relaxed atmosphere.
In the heart of Downtown Mesa, residents have access to multiple amenities, attractions, and cultural events such as free concerts at the Mesa Arts Center, as well as a free arts festival at the Downtown Mesa Festival of Arts on first and third Saturdays from October through April. And when not experiencing the arts, residents have a variety of local breweries to choose from such as Oro Brewing Company. The full-service brewery serves their own house beers as well as select Arizona craft beers. The micro-brewery exudes a laid-back atmosphere, and stout lovers will appreciate their "Give Peat a Chance" while hop enthusiasts will appreciate their "Hop-iphany."
Another Downtown Mesa brewery is Desert Eagle Brewing Company, located on Main Street. This brewery features whole cone hops brewing, which is a higher level of craftsmanship, making for a better beer. Offering more than a dozen handcrafted beers on tap, their broad selection features styles for the biggest beer lover as well as the brewery novice. Their other location in Falcon Field near Las Sendas features the same great options as its Downtown counterpart, along with live music and food. With a lively location and beer classics like Main Street Blonde and Buzz Bomb IPA, this local Mesa brewery doesn't disappoint.
Residents of Emerald Acres are just a few minutes away from plenty of shopping and dining options. One of which is the local brewery: The Beer Research Institute. This local brewery hails as one of the better breweries for hop-forward IPA's and Belgian beers. Proud to be a small and completely independent establishment, the 5-barrel brewhouse serves up beers with interesting names like "Morning Sex", which is a sweet stout beer made with cold press coffee from Peixoto Coffee. Not only does this establishment serve quality craft beers, they also have a full-service kitchen offering delectable bites to share.
Rancho Del Mar — Arizona Wilderness Brewing Company
Rancho Del Mar shares a border with nearby Gilbert, and the neighborhood in a prime location for shops, restaurants, and parks. Residents of Rancho Del Mar are also within walking distance of the popular Arizona Wilderness Brewing Company. This brewery, which serves both Mesa and Gilbert residents, was Gilbert's first brewery thanks to a successful Kickstarter campaign in 2012. The down-to-earth brewpub serves a variety of craft beers and imaginative American fare. Phoenix New Times featured the brewery's Picacho Pecan Pie Brown Ale—made with six whole pecan pies, maple syrup, vanilla beans, and hand-cracked pecans. And you can't go wrong in a place that serves savory items like bacon and beer cheese fries or hand-cut duck fat fries (you read that right!) cooked in duck fat oil and served with house-made garlic aioli.