Washington D.C. Local Life
Exploring the Street Art of D.C. Neighborhoods
When people talk about the art of Washington, D.C., they often mention the Renwick Gallery, the National Gallery of Art, or the Hirshhorn Museum. But they usually don't mention the vibrant neighborhood murals decorating the District, from whimsical drawings to inspiring tableaus of American history. The next time you're exploring D.C., keep an eye out for these gorgeous paintings displaying the culture of Washington, D.C. outside the tourist traps. This roundup of colorful street murals details the neighborhoods where you can stop and take the perfect D.C. Instagram shot.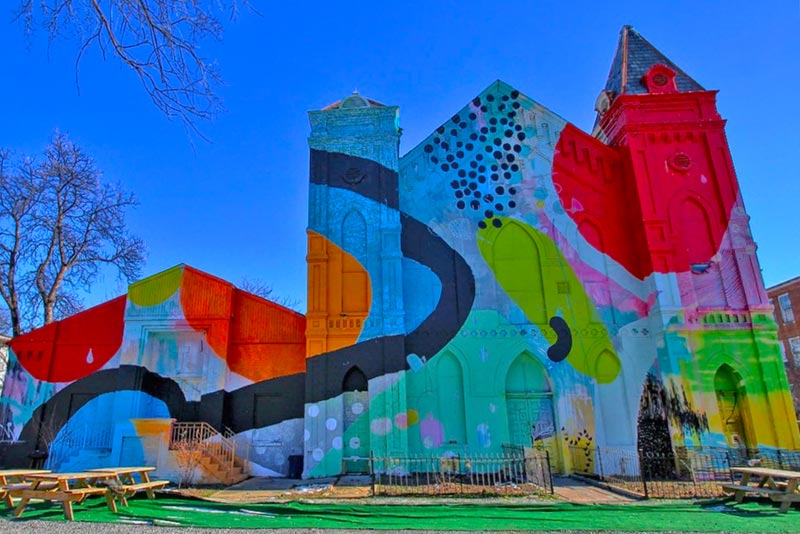 Blind Whino is a former Baptist Church turned into a photo paradise. The location on 700 Delaware Ave. SW is now a community center with a whimsical, colorful exterior; some couples even get married in front of the church for a uniquely D.C. backdrop. The church was originally built in the 1800s before it was repainted with a fun rainbow explosion in 2012. If you're interested in touring inside, the building is open for guests Wednesdays from 5 p.m. to 8 p.m. and weekends from noon to 5 p.m.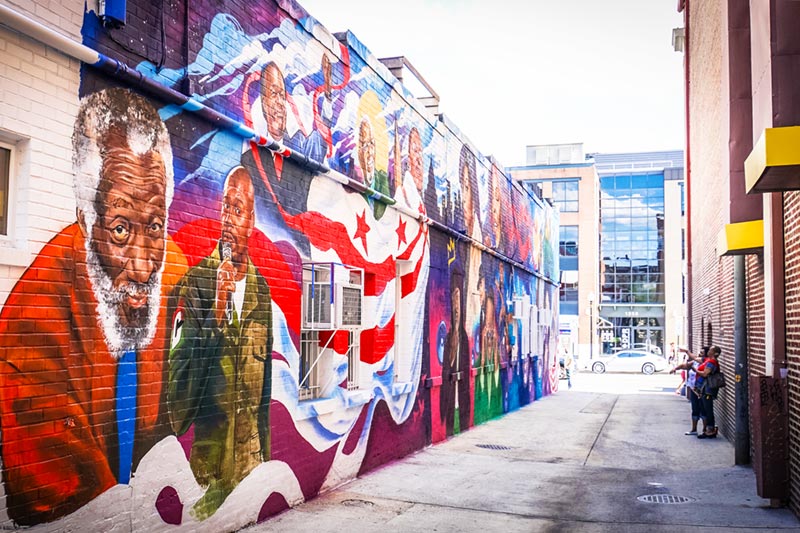 You can't beat good art and good food. At the original Ben's Chili Bowl on 1213 U St. NW, you can find a beautiful tribute to prominent black icons: artist Aniekan Udofia painted Muhammad Ali, Michelle Obama, Prince, Wale, Taraji P. Henson, Dick Gregory, Russ Parr, and Roberta Flack on the D.C. landmark's exterior. But this is not the first Ben's Chili Bowl mural; the previous one included Bill Cosby before being repainted in June 2017. Check it out while munching on a D.C. half-smoke.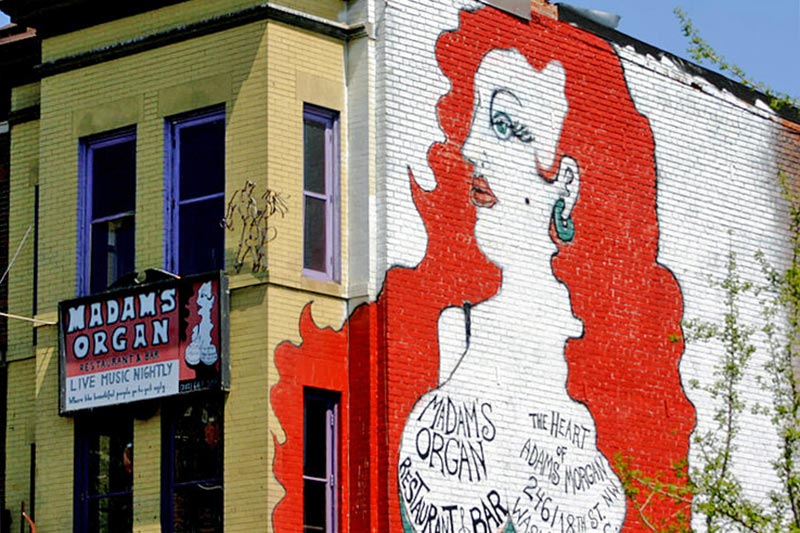 You can't miss the bold and beautiful mural on 18th Street outside Madam's Organ. The woman painted has caused some controversy for her ample cleavage, but nonetheless has remained a D.C. icon. Local officials declared it art and non-offensive, so she stays. The mural even moved when the bar moved locations.
Move over, National Portrait Gallery: Adams Morgan also has the Presidential Mural on the side of Mama Ayesha's at1984 Calvert St. The presidents in the mural date back to Eisenhower and end at Obama, though there's room for one more. In the center of the mural stands Mama Ayesha, grinning widely. After taking in the presidents, go inside for a lunch of delicious Middle Eastern food and drinks.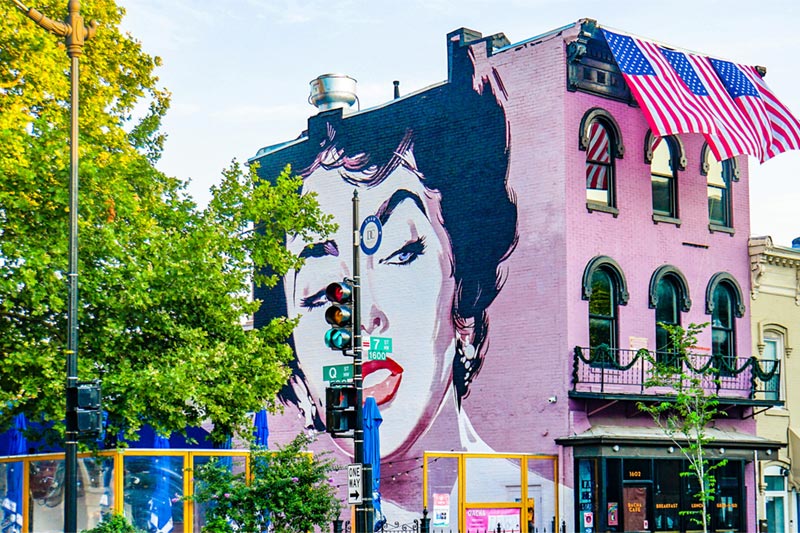 This next mural has been featured on Instagram by Lady Gaga. Located at the rear of 926 N St. NW in Blagden Alley, Lisa Marie Thalhammer's rainbow-colored "Love" mural is spaced out over four garages.
Stand tall for your photo in front of this next mural, located on the side of 801 Restaurant and Bar. The whimsical animation of a flock of flamingos will make your followers question if you've moved to Margaritaville.
Dacha Beer Garden at 1600 7th St. NW is home to another photogenic larger-than-life female icon. The giant portrait of Elizabeth Taylor looks over the neighborhood beer garden. Order a boot of beer and look into her violet eyes.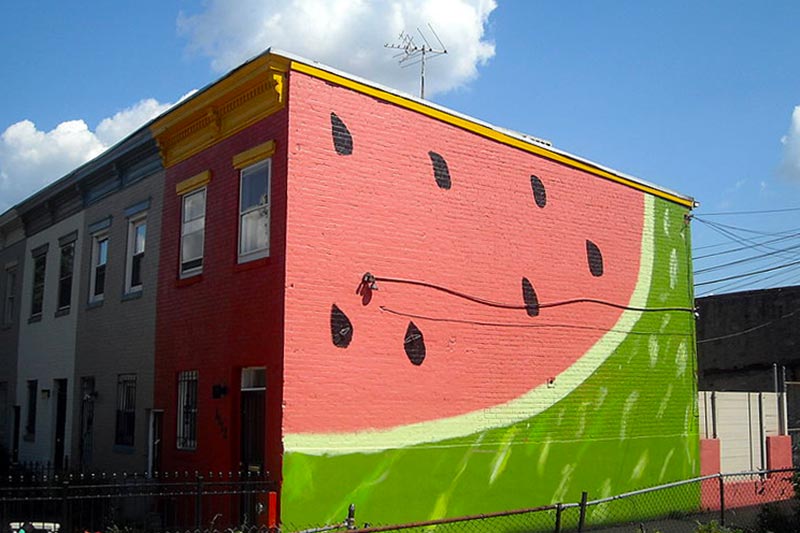 If you're looking for the perfect summery Instagram shot, pose in front of the Watermelon House at 1112 Q St. NW. This mural is exactly what it sounds like: a watermelon painted on the side of a house. It's the result of a paint-job gone wrong, but the owners took it in stride and added seeds and a rind to the bright reddish pink side of the house.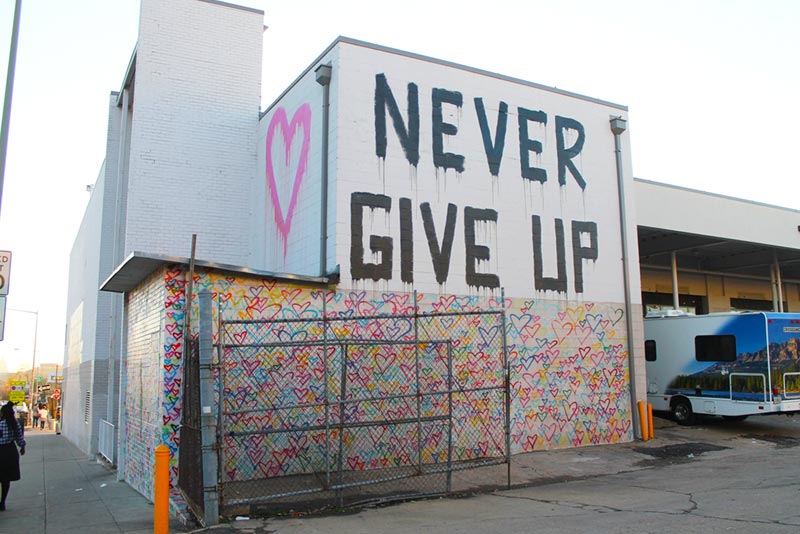 Take a picture in front of the Heart Wall with your beau—or your friends, or for your new Tinder profile picture. Painted in honor of International Women's Day in 2016 by graffiti artist Mr. Brainwash, the wall at 309 5th St. NE is adorned with spray-painted hearts in every color of the rainbow. Above the hearts is an inspiring message written in giant letters, reminding you to "Never Give Up."