Bay Area Neighborhood News
Floating Villages in San Francisco Bay Could Help Combat Climate Change
What can developers do when a region becomes prone to flooding? Build in the water, of course. At least, that's a new speculative design proposed by Bjarke Ingels Group (BIG) for San Francisco Bay. According to Arch Paper, BIG recently unveiled a proposal to build floating villages to help protect the San Francisco Bay Area against hazardous flooding brought on by climate change. The proposal is one of 10 schemes produced for the Resilient By Design Bay Area Challenge, a competition to generate ideas for shielding the region against rising sea levels.
Current projections predict that sea levels will rise by four feet around San Francisco by 2100, which would cause heavy flooding in coastal communities. Many Bay Area cities are built on top of landfills and over marsh areas, meaning numerous structures in the region would not hold up well under flooding conditions.
BIG's proposal takes a multi-pronged approach to achieve the goal of protecting the Bay Area against climate change-induced flooding. One part of the proposal calls for a restoration of Islais Creek, an inlet nestled between the Dogpatch and Hunters Point neighborhoods. The restoration will be the first part of a larger effort to retrofit the entire bay.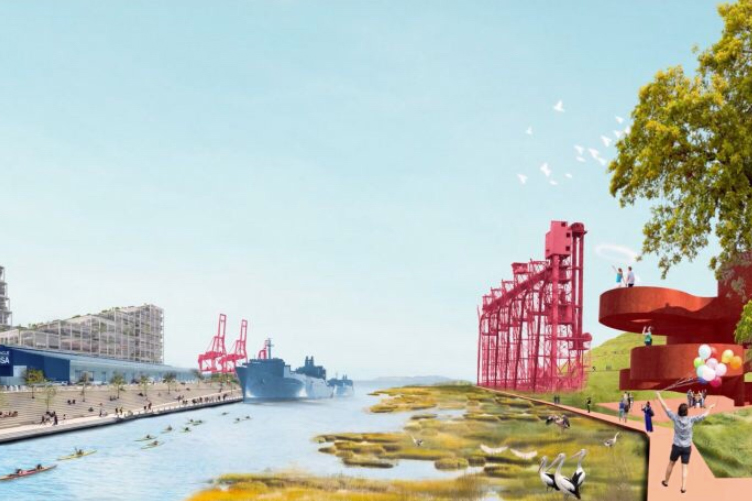 The conceptual design from BIG also suggests restoring the wetlands located along the coast and redistributing populations further inland, producing an archipelago of urban centers that could be connected via ferry. Industry hubs would be reconfigured so they better support the wetland landscapes of the Bay Area.
The scheme also proposes that a portion of Interstate 101, one of the major highways running through the Bay Area, be turned into a "machine for autonomous collective transit," according to BIG founder Bjarke Ingels. A Rapid Transit loop would also be built in the South Bay to anchor and connect Silicon Valley communities.
According to NBC Bay Area, the region kicked off 2018 with an onslaught of rain that brought about significant flooding across the Bay Area. It remains to be seen whether the City by the Bay will eventually become a futuristic "Floating Villages by the Bay" to solve the problem of flooding before it becomes worse.