Dallas-Ft. Worth Real Estate
Four New Parks Will Color Downtown Dallas a Darker Shade of Green
Nine years after the first of three signature parks added a splash of green to the Downtown Dallas landscape, four more parks are set to open within the next five years.
The fusion of greenery and seasonal colors mixed with brick, mortar, steel, and glass not only transformed the Dallas urban core aesthetically, it boosted economic development and added a warm sense of community to the area, which houses a sizable population of residents as well as many daytime workers.
For employees in the Central Business District, a nearby neighborhood park offers a tranquil diversion from a busy work day by providing a place to retreat for a quiet lunch, wind down with a short walk or simply soak up some sun and nature before returning to the daily grind.
For people who live Downtown, easy access to a park translates to all that and more, including outdoor play time with the kids, leisurely walking the dog, gathering with neighbors, and sharing the urban energy of home.
And for the area's many visitors, special park events have become part of the attraction to the city's urban core.
Main Street Garden—the original Downtown Dallas Park—opened in 2009 and is bordered by Main Street, Commerce Street, Saint Paul Street, and Harwood Street. In addition to public art, fountains, and City Park Cafe, the park contains a great lawn, dog run, and toddler play area. For workers that need to stay connected, wi-fi is also available.
Belo Garden, which opened three years later, is 1.7 acres of stunning natural beauty in the heart of Downtown. Nestled between Main Street, Griffin Street, and Commerce Street, this lush garden is filled with more than 100 trees and 10,000 ornamental grasses as well as native plants, seasonal blooms, and decorative shrubs.
Klyde Warren Park, named after the son of Dallas billionaire oilman Kelcy Warren, is the crown jewel of Downtown Dallas Parks. Since opening in 2012, the 5.2-acre deck park over Woodall Rogers Freeway, which links the Dallas Arts District and Uptown, has become a central gathering spot and destination for regional visitors. Besides free concerts and lecture series, activities in Dallas' great urban outdoors include walking trails, game areas, a children's park, dog park, and even food truck fare.
The $300 million Park District development, which faces Klyde Warren, is a prime example of the park's economic impact. Despite the luxe penthouses and suites in the residential and office towers, the major selling point is lush greenspace views.
Greenspace in the four new park projects in the pipeline will be triple the size of Klyde Warren, and real estate investors are banking on a comparable economic impact and visitor traffic. Here's an overview of the next wave of major Downtown Dallas parks.
Pacific Plaza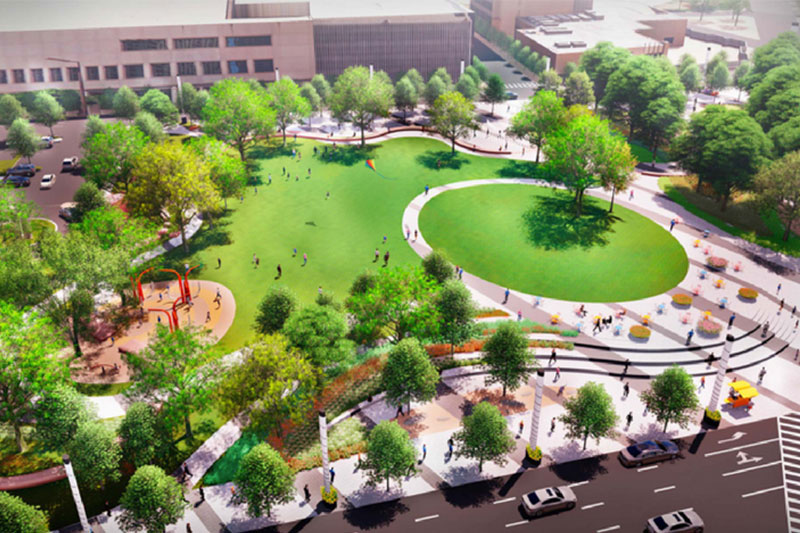 Officials just broke ground on the $15 million Pacific Plaza, and construction is underway to convert concrete parking lots into greenspace and combine Aston Park, a small existing pocket park. Located on Pacific Avenue, the new 3.4-acre park will include a walking path, great lawn, and public gathering areas densely surrounded by native trees. Slated to open in 2019, naming rights are still available for $10 million.
Carpenter Park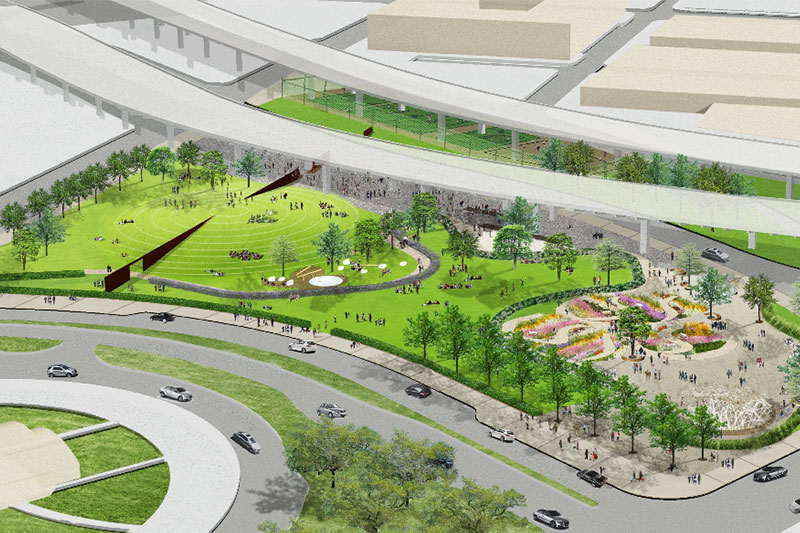 The $20 million to $25 million Carpenter Park—named after businessman John W. Carpenter—will be the next new park to break ground, and construction is projected to take approximately 20 months. Roughly bordered by Live Oak Street, Pearl Street, Pacific Avenue, and Central Expressway, the 8.8-acre park will be the largest park in the urban core and a connection between Downtown and near East Dallas. In addition to sculpture displays, a water feature, and garden, plans call for a skate park, large and small dog parks, bocce ball courts, basketball courts, play area, outdoor dining area, and room for food trucks.
Harwood Park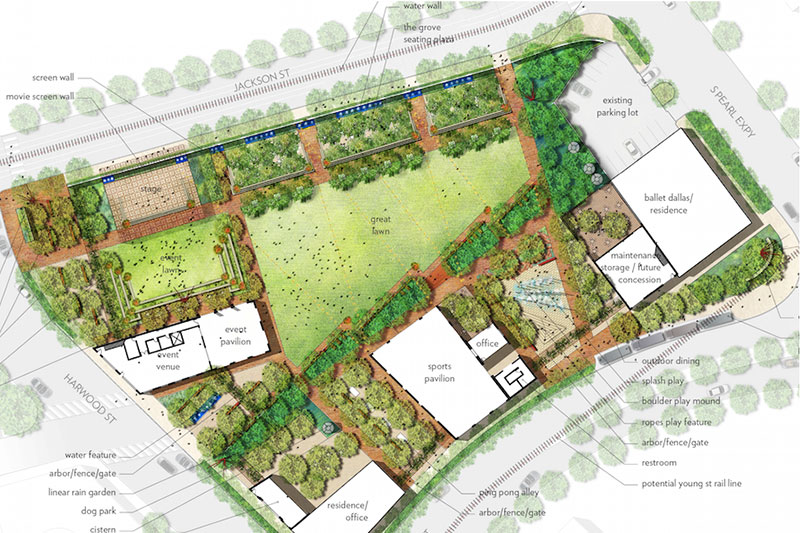 Located in the Harwood Historic District near the Dallas Farmers Market area, this 3.8-acre park will connect Deep Ellum to Downtown. Besides a stage, event lawn, and venue and pavilion for indoor events, plans for the park include a great lawn, sports pavilion, ping pong alley, dog park, food truck parking, and outdoor dining areas as well as a large children's play area with ropes, boulder, and splash play features. Park naming rights are available for $10 million.
West End Plaza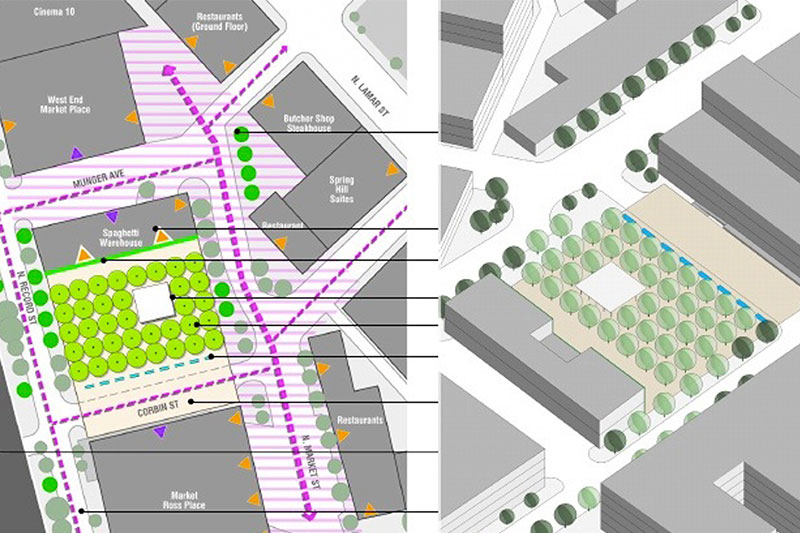 Though this compact, three-quarters-of-an-acre park is still in the planning stages, the final plan will likely encompass all sides of the neighborhood's persona. The West End is not only Dallas' most historic district, its landmark buildings house one of the city's most popular restaurant and entertainment areas as well as a hub for innovation companies. Ideas for the park vary from green spaces, water features, a cafe, and bandstand to Smart Park design with public wi-fi, interactive kiosks, and smart art and museum exhibits. But one thing is certain: the park will be a gathering place. Naming rights on West End Plaza are up for grabs for $5 million.