Get Moving With These 5 Unusual Workouts in D.C.
Get Moving With These 5 Unusual Workouts in D.C.
For three years Washington D.C. has held the top spot in the American College of Sports Medicine Fitness Index Report. However, this year the District has been bumped down one spot by Minneapolis, according to VIDA Fitness. VIDA is partnering with the D.C. Department of Parks and Recreation to take back the top spot as a part of Mayor Muriel Bowser's "Let's Get #FitDC" initiative.
The public awareness program, dubbed "Take Back #1," will include free public workouts, health expos, and nutrition seminars throughout the city, according to WTOP.
VIDA has put together a list of 12 ways to get involved and get fit, which includes a free InBody analysis, free classes, and other suggestions on how to boost your physical health.
While many people enjoy using a gym to workout or heading out to local trails for a run or hike, many of us need something a bit more interesting to get us moving. Luckily, D.C. offers some unique classes that could pique the interest of even the most reluctant workout partner.
Aerial Acrobatics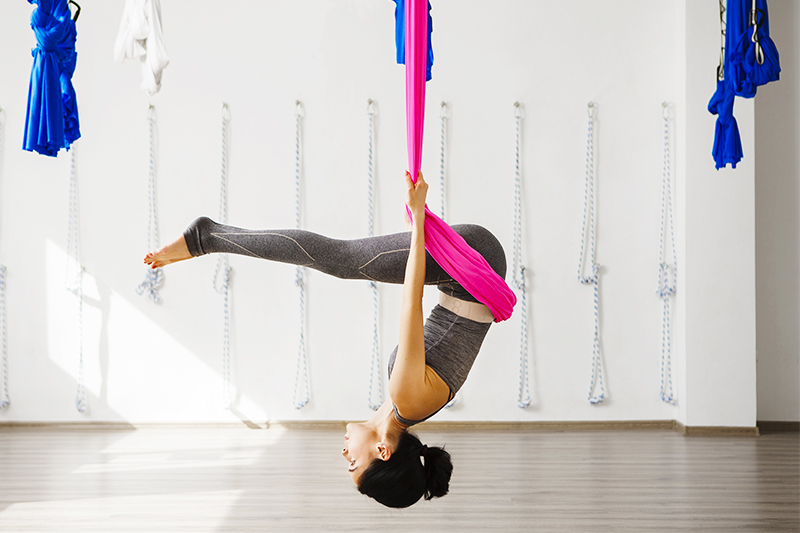 If you've had enough of your standard yoga practice, it might be time to elevate your stretches a bit. Aerial acrobatics offer all of the stretching benefits you gain from a yoga class, with the added challenge of an aerial workout. You can find this class offered at Spark Yoga's Arlington location.
The owners of Spark Yoga are Northern Virginia natives, who have traveled the world practicing yoga in an effort to find "the perfect mix of construction and instruction," the website explains. They encourage people of all ages, shapes, and fitness levels to attend their classes, which also include barre, meditation, and circuit classes.
Aquacycling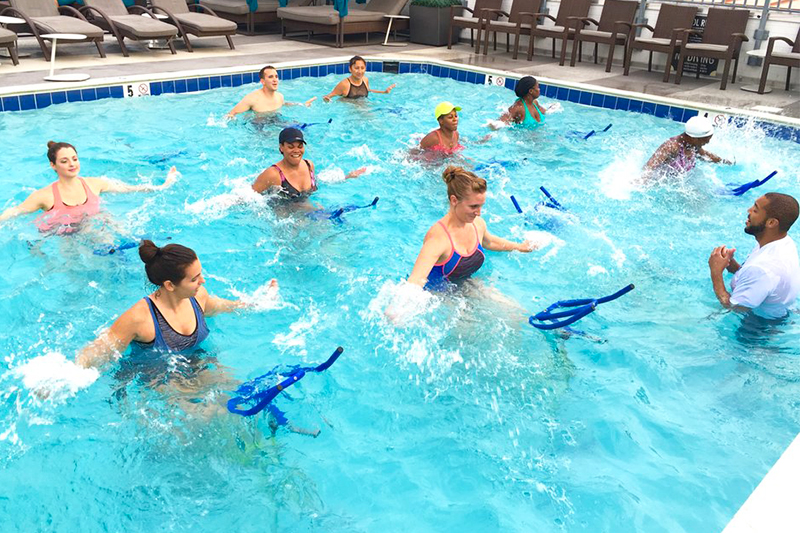 Aquacycling is another interesting take on a very hyped-up trend in D.C. Instead of your standard cycling class, Splash Cycle takes you into a pool, where you pedal against water resistance. The benefits don't just end with a good workout, either.
According to the Splash Cycle website, underwater cycling helps to activate the lymphatic system. This will help reduce toxins in your system and improve blood circulation, which in turn helps with toning and reducing cellulite. As the water supports your body weight, this exercise becomes low-impact, which helps protect joints, bones, and muscles. Classes are held at the Watergate Hotel in Foggy Bottom.
Parkour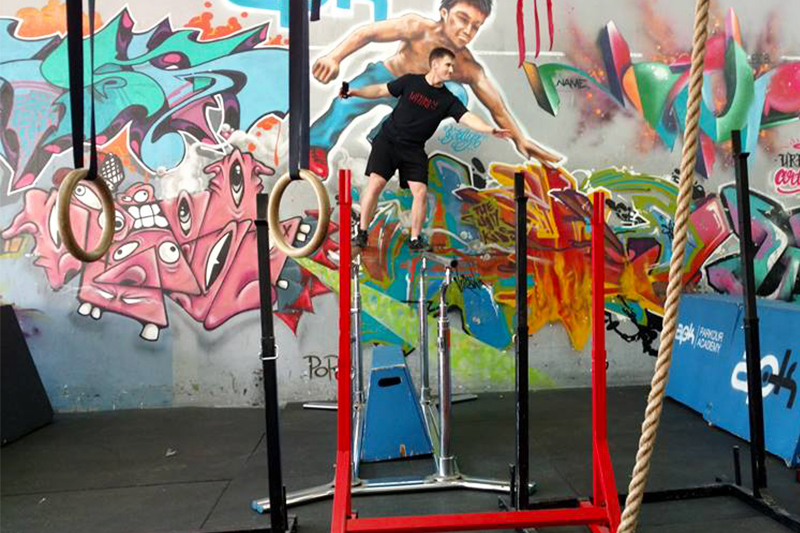 While we may not be seeing parkour videos trending on YouTube anymore, the trend is still alive and well, with many folks using parkour to get in a great workout. Primal Fitness in Shaw offers parkour classes for both adults and kids.
Parkour is based on military obstacle course training, with the aim of improving one's ability to move through space and challenging obstacles. Primal Fitness is the home of the American Parkour Academy, the first ever training center built specifically for parkour training.
Primal Fitness also offers CrossFit training and includes a list of their workouts of the day on their website.
Trapeze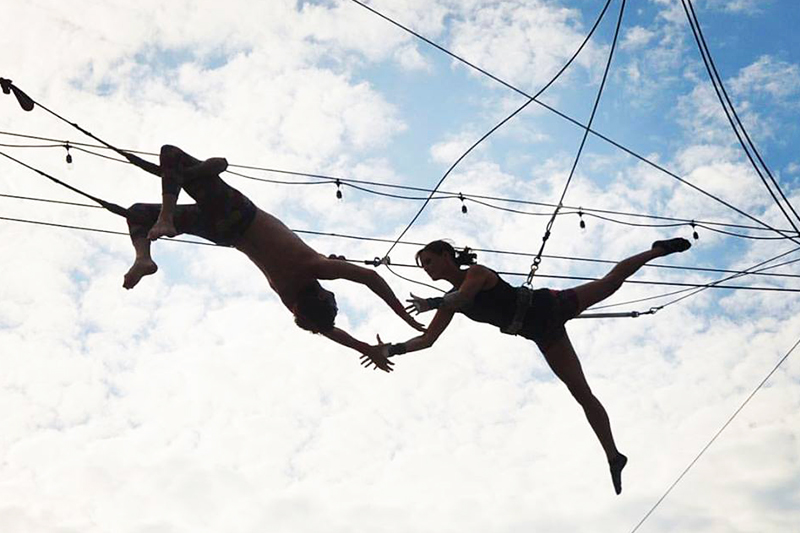 D.C. just so happens to be one of the locations of the Trapeze School New York (TSNY), which offers a range of trapeze classes for all ages and skill levels. Options include flying trapeze, stationary trapeze, silks, trampoline, and Spanish web classes.
TSNY aims to offer more than just a great workout. At their facility in Navy Yard, students strive for "conditioning, body awareness, timing, trust, relaxation, and a belief in one's ability to do more than one imagined," TSNY says on its website.
Axe Throwing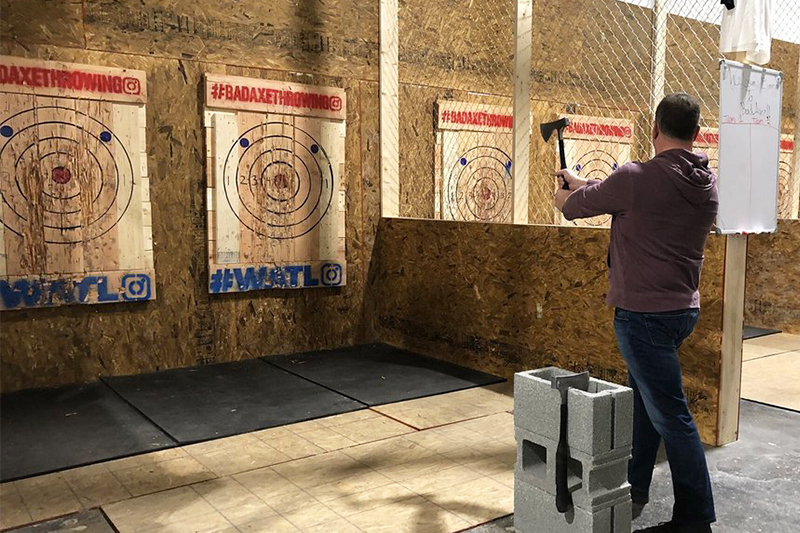 If you're looking to work that upper body, this rather medieval workout might be just what you're looking for. Bad Axe Throwing, located in the Langdon neighborhood, offers individuals the opportunity to get a lumberjack's workout by throwing axes at targets.
Bad Axe Throwing aims to "bring the thrill of a traditional Canadian backyard pastime to urban communities," the website reads. You can book group classes, or try it out during their walk-in times, which are charged by the hour.