Habitat for Humanity Gets the Greenlight in McKinney for Affordable Shipping Container
The North Collin County Habitat for Humanity is bringing the affordable concept of shipping container housing to the grid after its plans received a unanimous thumbs-up from the McKinney City Council, according to the Dallas Morning News.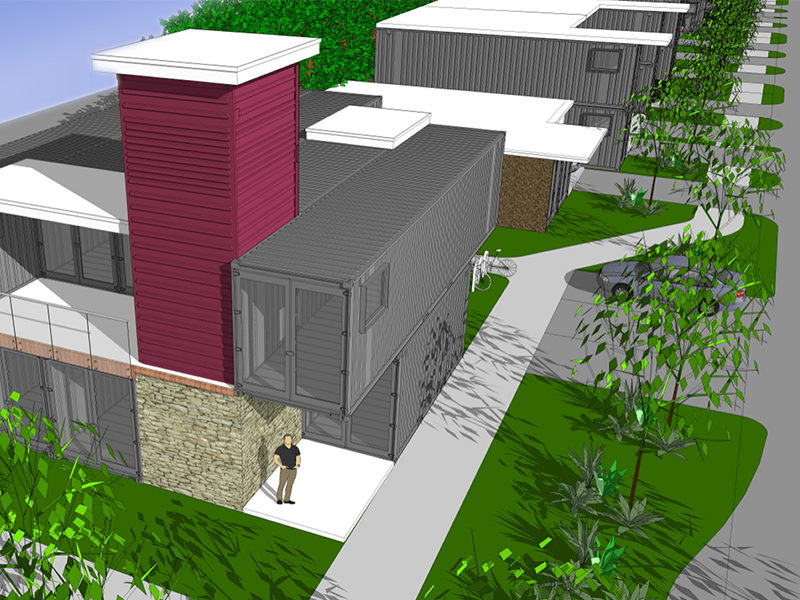 And the city's first-of-its-kind development is a win-win for all concerned.
"Cost of living in McKinney is not low. It's an expensive place to live," McKinney Mayor George Fuller told the Dallas Morning News in an interview. "We have a lot of industry, a lot of businesses that depend on a labor force that quite frankly can't afford to live in the city. Everyone talks about how we want more restaurants. We want more this. We want more that. Well, we need workforce, and we need to be able to house that workforce."
Located on nearly three acres at the corner of Bumpas and Fitzhugh Streets in east McKinney, The Cotton Groves development will contain 35 two-story townhomes made from converted shipping containers. Each 1,280-square-foot, three-bedroom, two-bathroom unit will include four containers with a dual-purpose upstairs balcony and covered carport.
According to the National Association of Realtors, the median home value in Collin County exceeds $319,000, which is almost 50 percent more than the national average. In comparison, Habitat's current three-bedroom home values in Collin County are in the $120,000 to $130,000 range.
While the appraised value of the shipping container homes is still uncertain, Habitat buyers typically pay 30 percent of their gross monthly income rather than market value. In turn, qualified applicants must presently live in substandard housing, have lived or worked in north Collin County for at least a year, and be willing to roll up their sleeves and help build or finish-out their home and others in the neighborhood.
Celeste H. Cox, CEO of the North Collin County Habitat for Humanity, said the nonprofit can't build fast enough to serve the housing needs in Collin County. Habitat has a waiting list of around 170 people.
Shipping container housing may be the nonprofit's ticket to accomplishing its goal at a faster pace. In addition to providing a much lower cost alternative to brick, mortar, and lumber, containers are eco-friendly and plentiful. Made of 100 percent corten steel to withstand the elements of stackable, high-seas shipping, container durability is incomparable to traditional building materials.
But Habitat still has one more hurdle to clear before The Cotton Groves begins looking like the plan the City Council approved. Though it purchased the land a couple of months ago, it still needs to raise $4.5 million to fund the remainder of the project, including installing streets, water, and sewer. The nonprofit plans to kick-off its capital campaign in the spring by building a model townhome next to its office to showcase to prospective donors and homeowners. The McKinney Community Development Corporation has already pledged about $331,000 toward building homes.
The Cotton Groves should begin taking shape within a year. In the meantime, private landowners and a church have contacted Habitat about building additional storage container communities.