Historic Neighborhoods in Phoenix
Historic Neighborhoods in Phoenix
Phoenix, Arizona was established in 1912, but don't let the young age fool you; Phoenix is brimming with a rich history and a wide variety of architectural styles that harken back to times past.
There are 35 historic neighborhoods in the Valley of the Sun, many of them registered as official National Historic Landmarks or listed on the National Registry of Historic Places. Here are some of the best historic neighborhoods that the city has to offer, offering Adobe-style desert dwellings, old-world Tudor Revivals, and everything in between.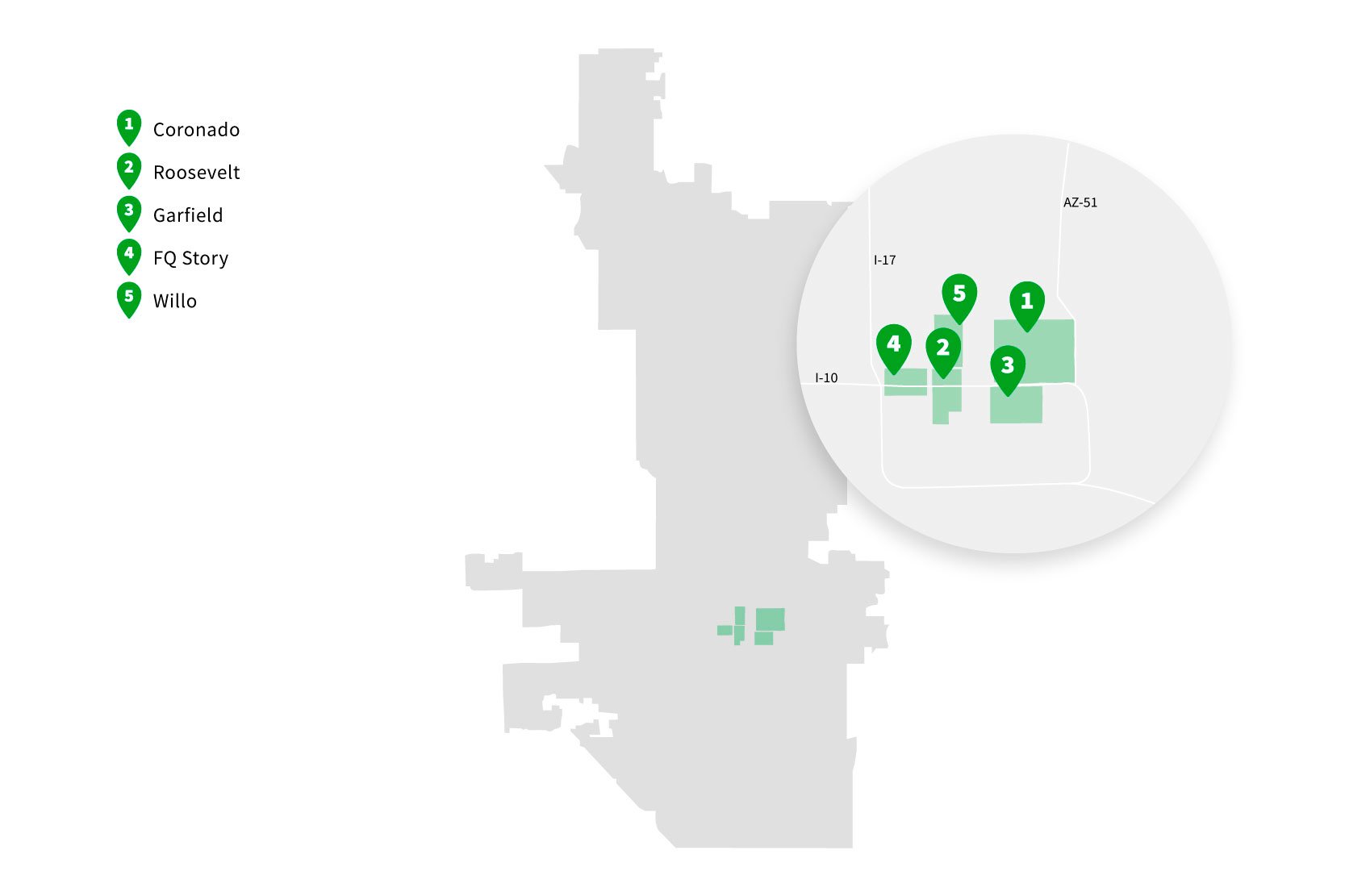 The Coronado district is nestled in central Phoenix, just northeast of Downtown, adjacent to Phoenix's major metropolitan district.
Common architectural styles found in this area include bungalows, English Tudor, Spanish Colonial Revivals, and even some ranch-style homes. Dwight B. Heard, the President of the Suburban Realty Company, petitioned for the Coronado subdivision within the borders of 7th Street, McDowell Road, 12th Street, and the canal that ran down Oak Street at the time.
Coronado is a mix of high-class and high-culture, and at a median home selling point of $325,000, you can get luxury for not too much financial sacrifice. The homes feature wide porches, cozy backyard spaces, and well-manicured lawns. But don't mistake the pristine digs for snobbery—the people who call Coronado home form a vibrant, tight-knit community.
In an effort to strengthen the ties of the community and open doors to outsiders, the district participates in an annual home tour for the public that includes a "chalk the block" event where everyone comes together to decorate the sidewalks, streets, and driveways. Members of the community can enjoy eating fresh vegetables from the neighborhood garden or borrow and lend books at one of the many Little Free Libraries.
Check out The Coronado restaurant for great vegetarian and vegan eats, Tuck Shop kitchen and bar, or sample something sweet at Nami Bakery or Rainbow Donuts.
A visit to the Arizona Science Center, Heard Museum, or Phoenix Art Museum can make for a perfect Sunday outing, or make the trip to Coronado Park and play tennis or baseball, shoot some hoops, or take the family or a date out for a picnic at one of the shaded picnic tables. There is also a public pool and playground.
We couldn't feature the best Phoenix historic neighborhoods without mentioning Roosevelt. This highly coveted neighborhood was recognized by the National Register of Historic Places in 1983 and has since made a name for itself as one of the most desirable neighborhoods in all of Downtown Phoenix, as reflected in its $438,500 median home price.
This district spans from Van Buren Street north to McDowell Road, with most of the residential areas concentrated in the northern part of the neighborhood. Roosevelt boasts some of the best and biggest historic homes in Phoenix, with architectural styles including California and American Craftsmen, Tudor, Spanish Colonial, and a handful of 1930s and 1940s ranch-style homes.
Residents of this neighborhood are within walking distance to excellent restaurants, bars, and landmarks. Popular landmarks include Margaret T. Hance Park, the Japanese Friendship Garden, the Burton Barr Public Library, and the Phoenix Art and Heard Museums.
Camelback Mountain, South Mountain Park, and Piestewa Peak/Dreamy Draw recreation area offer some of the most popular trails for hiking and mountain biking for those looking for outdoor adventures.
Garfield is one of the oldest neighborhoods in the Phoenix metropolitan area, located just south of Interstate 10 and west of State Route 51. Types of homes that can be found here include modest bungalows, Period Revival homes, and the largest number of "pyramid cottages" in the Phoenix area. Garfield homes are some of the most affordable in terms of historic neighborhood real estate, with a median home price of just under $300,000.
Garfield is extremely walkable and bikeable due to its close proximity to the heart of Downtown, catty-corner to the Children's Museum, Heritage Square, and the Arizona Science Center. Roosevelt Row is within minutes of this district, as well as some of the best eateries in Phoenix such as Welcome Diner and Gallo Blanco.
FQ Story was named after Boston wool merchant Francis Quarles Story. With over 600 homes, FQ Story is a shining example of the architectural wonders of the 1920s through the 1940s. Spanish Colonial Revival and Tudor to quaint Craftsman bungalows and classic ranch-style homes. Expect to see pricier homes in this area, mostly in the $400s average, though it is possible to find gems under $300,000.
This district is also extremely bike-friendly and walkable. Fabulous restaurants, bars, and cafes are all within reach, as well as some of the finest wineries, breweries, and microbreweries.
Originally established in the late 1800s for agricultural use and then developed for residential living in the 1920s, Willo has become one of Phoenix's most charming and lively neighborhoods.
Willo is in the middle of the Phoenix metropolitan area, which means it's conveniently located near many businesses, restaurants, and entertainment hubs. It's also minutes away from Encanto Park, which offers amenities like a public pool, sports complex, fishing lake, a golf course, and a quaint amusement park.
Homes in this neighborhood tend to be on the pricey side, and it's not hard to see why. Willo real estate is so culturally significant, that the district puts on the Annual Willo Home Tour, which has consistently seen the highest attendance numbers for historic tours in central Phoenix.