Historic Restaurants in Washington D.C.
Historic Restaurants in Washington D.C.
Washington D.C. is a city full of history. From monuments and museums to cobblestone streets, the city is full of stories of the nation's political journey, but D.C. is more than just a stomping ground for politicians.
Over the years, its streets have become home to some of the most storied restaurants in the country. Serving cuisine from around the world, people travel from all over the country to dine and experience these historic Washington D.C. restaurants.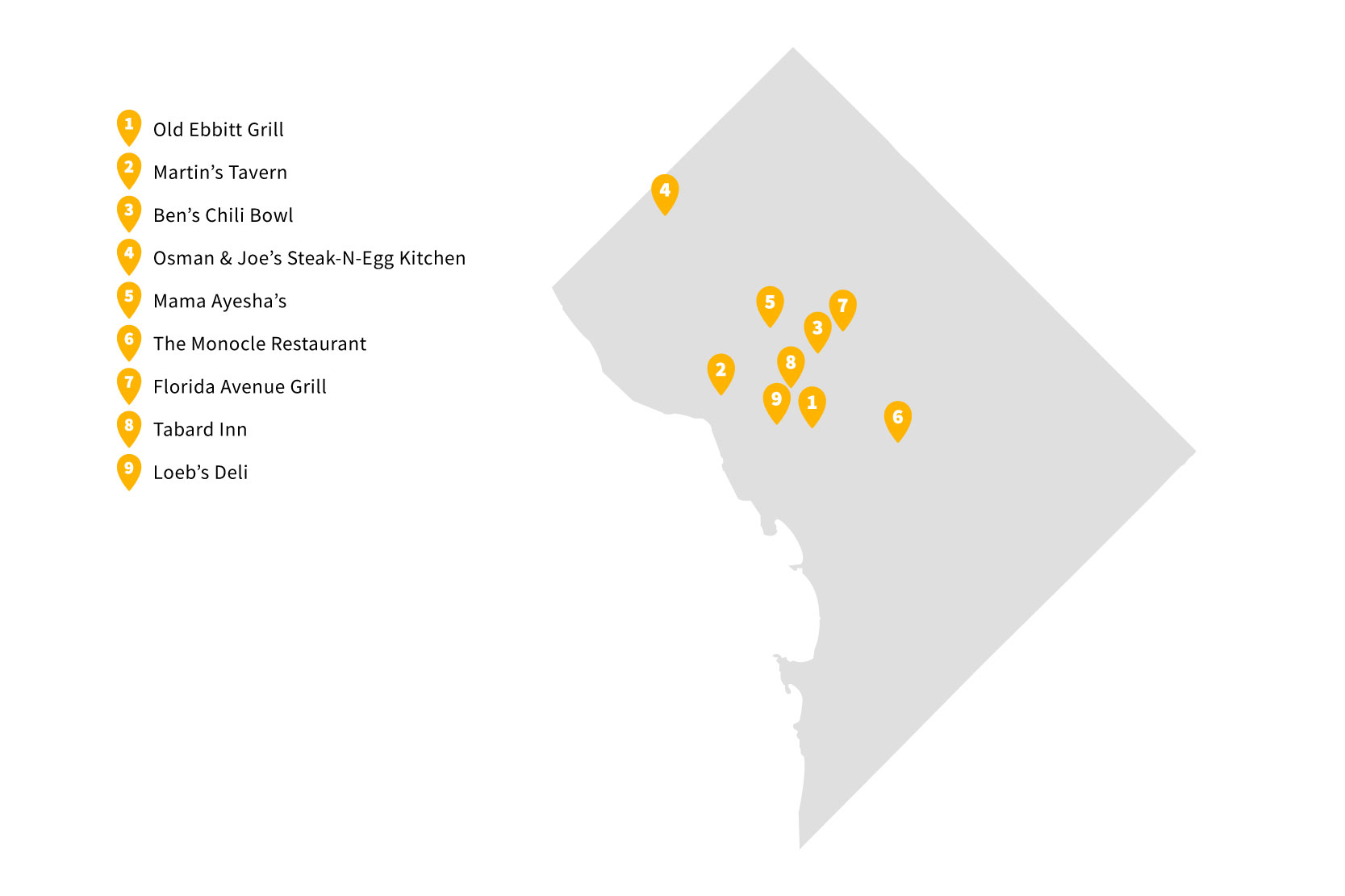 Founded in 1856, Old Ebbitt Grill is D.C.'s oldest saloon. Originally opened as a boarding house in what is now Chinatown, the house hosted the who's who of American history over the years. From American presidents to Civil War generals, this was the place to eat and stay in Washington D.C.
Residing in a number of locations over its 160-year history, it presently stands near the White House on 15th Street NW. With its four bars, brass fixtures, and ceiling murals, the restaurant has the feel of an 1800s upscale saloon. Auctioned off in 1970 to The Clyde's Group, it now serves American fare along with seafood dishes.
The restaurant where John F. Kennedy proposed to Jackie, this Georgetown tradition has a long history with the political elite in D.C. Opening in 1933 and founded by MLB player Billy Martin, Martin's Tavern is the oldest family-owned restaurant in D.C.
As patrons walk through the doors, they can feel the history of this iconic restaurant that has hosted every U.S. president from Harry S. Truman to George W. Bush. Serving American cuisine and brunch every day, this upscale historic restaurant is a Georgetown favorite.
Opened in 1958 by husband and wife Ben Ali and Virginia Rollins, Ben's Chili Bowl serves homemade chili to neighborhood regulars and those visiting from around the world. Housed in what was once D.C.'s first silent movie house, this historic restaurant played its part in history by feeding policemen and firemen tasked to keep order in the neighborhood following the assignation of Dr. Martin Luther King Jr.
With almost all original 1950s furniture and fixtures, this U Street mainstay serves up hot dogs, hamburgers, chili, and vegetarian options until the early morning hours.
Open 24 hours and located in the D.C. suburbs, Steak-N-Egg, as it is known by the locals, has been serving breakfast since 1934. The restaurant made its debut in the Tenleytown neighborhood first as a Toddle House and then as a Steak-N-Egg franchise.
This no-frills diner never closes and is known for its family-friendly atmosphere and classic American-style breakfast favorites, plus burgers, sandwiches, and shakes.
Founded in 1960 by a Jerusalem immigrant, Mama Ayesha's serves authentic Middle Eastern cuisine to the D.C. area. The story of this Lanier Heights treasure starts in the late 1940s when Mama Ayesha Abraham came to the United States and was hired as a cook at 21 years old for the Syrian Embassy after running 24 farms in Jerusalem.
Feast on falafel, Fattoush salad, and grape leaves while being surrounded by Middle Eastern ambiance in this D.C. mainstay.
This family-run restaurant has been operating since 1960 when husband and wife Connie and Helen Valanos decided to open a restaurant as close as they could to the Senate side of Capitol Hill.
Known as the first "tablecloth restaurant" in the Capitol Hill neighborhood, The Monocle serves premium Angus beef and fresh seafood to a host of customers ranging from politicians and lawyers to tourists.
Dubbed the "Soul food pioneer," Florida Avenue Grill is a small, modest restaurant right on the corner of Florida Avenue and 11th Street. Nicknamed "The Grill" by locals, it has been in operation since 1944 serving up home-style cooking.
The restaurant has come a long way since its humble beginnings as a two-stool restaurant with a kitchen in the basement. Today the Florida Avenue Grill is known as the oldest soul food restaurant in the world, serving breakfast all day along with home-style dinners.
Opening its doors in 1922, the Tabard Inn is the oldest running hotel in Washington D.C. The restaurant in the hotel is elegant and cozy with its large fireplace and welcoming decor. Tabard Inn is known for its weekend brunch and donuts sprinkled with cinnamon and sugar and served with fresh homemade whipped cream.
Walter and Sigrid Loeb opened Loeb's Deli in 1959 as a New York-style deli in the heart of D.C. Serving hundreds of pounds of pastrami a week, this restaurant has gained a following over the years for serving some of the best corned beef and matzo ball soup in the D.C. area.
Still a family-owned business, it is popular with both Downtown office workers and tourists alike. Open Monday through Friday for both breakfast and lunch, Loeb's Deli offers a casual dining experience at an affordable price.