How a Roll of the Dice Helps Me Explore Chicago Neighborhoods
How a Roll of the Dice Helps Me Explore Chicago Neighborhoods
My husband, Justin, came to me one day early last year with colored dice in one hand and too much time on the other. To ride out our latest bout of cabin fever, we had been dreaming up things to do on our summer Saturdays in Chicago.
His solution was a new game called "The 10 to 10." My propensity for spontaneity at the time was as negative as the temps had been the past few weeks. This game proved to be an antidote to all of the above.
Here's how the game works, he said. We print a map of the CTA "L" lines, then pick out stops we don't visit that often but would like to see more of; these stops would be along the Brown, Blue, and Red train lines, aka the train lines closest to our apartment in Irving Park. We'd pick 12 stops for each train line, 36 stops total, and then number them one through 12 on our map.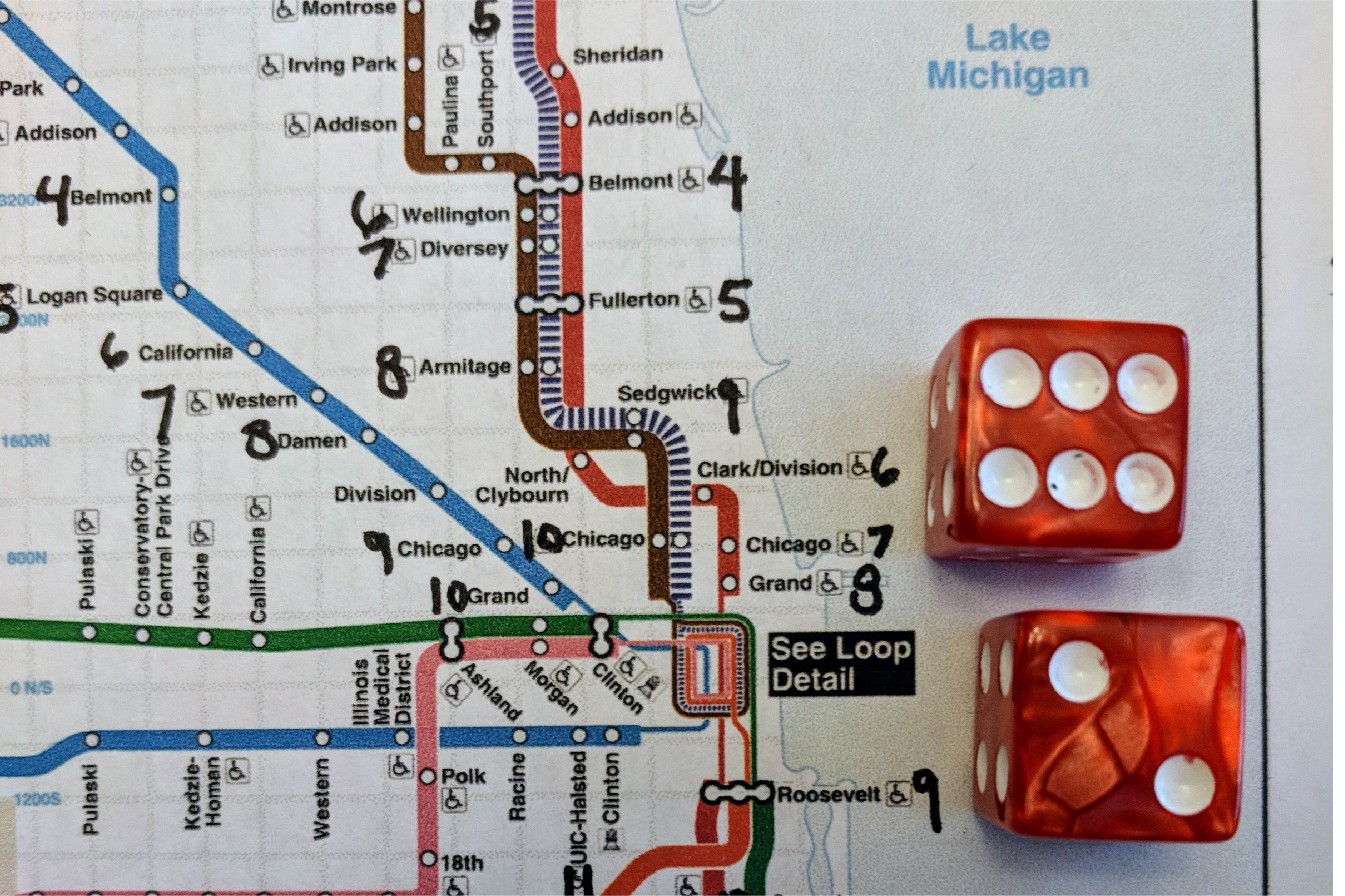 When an open summer Saturday came along, we'd blind-draw one of the colored dice—also brown, blue, and red—to find out what rail line we're going on; then we'd roll the dice and whatever number we got would be our stop for the day. So, for example, if we drew a brown die out of the bag and rolled a 9, we'd consult our map to find that the Sedgwick brown line stop was our destination. A red 8 would take us to Grand, a blue 7 to Western, etc.
Letting fate take control of our Saturday wasn't the only intriguing aspect of this made-up game of his. The rules also stipulated that we head to this train stop starting at 10 a.m. and not return back home until 10 p.m. (Hence the name, "The 10 to 10.")
That's 12 hours. Twelve hours of finding stuff to do in relatively new-to-us places.
We've been playing the game ever since. We try to stay around the neighborhood we land in, but we usually spend the last two hours in the nearest air-conditioned movie theater. We've even rolled the dice on winter days, though we cut ourselves some slack on the 12-hour rule.
This dice game has been a fun and helpful way for me to learn more about Chicago, kick it with Justin in the city we love, and explore neighborhoods we might move to next. Here are some of the biggest benefits of exploring the city by playing "The 10 to 10"—and some of our best neighborhood finds.
I Get an Excuse to Experience Popular Chicago Attractions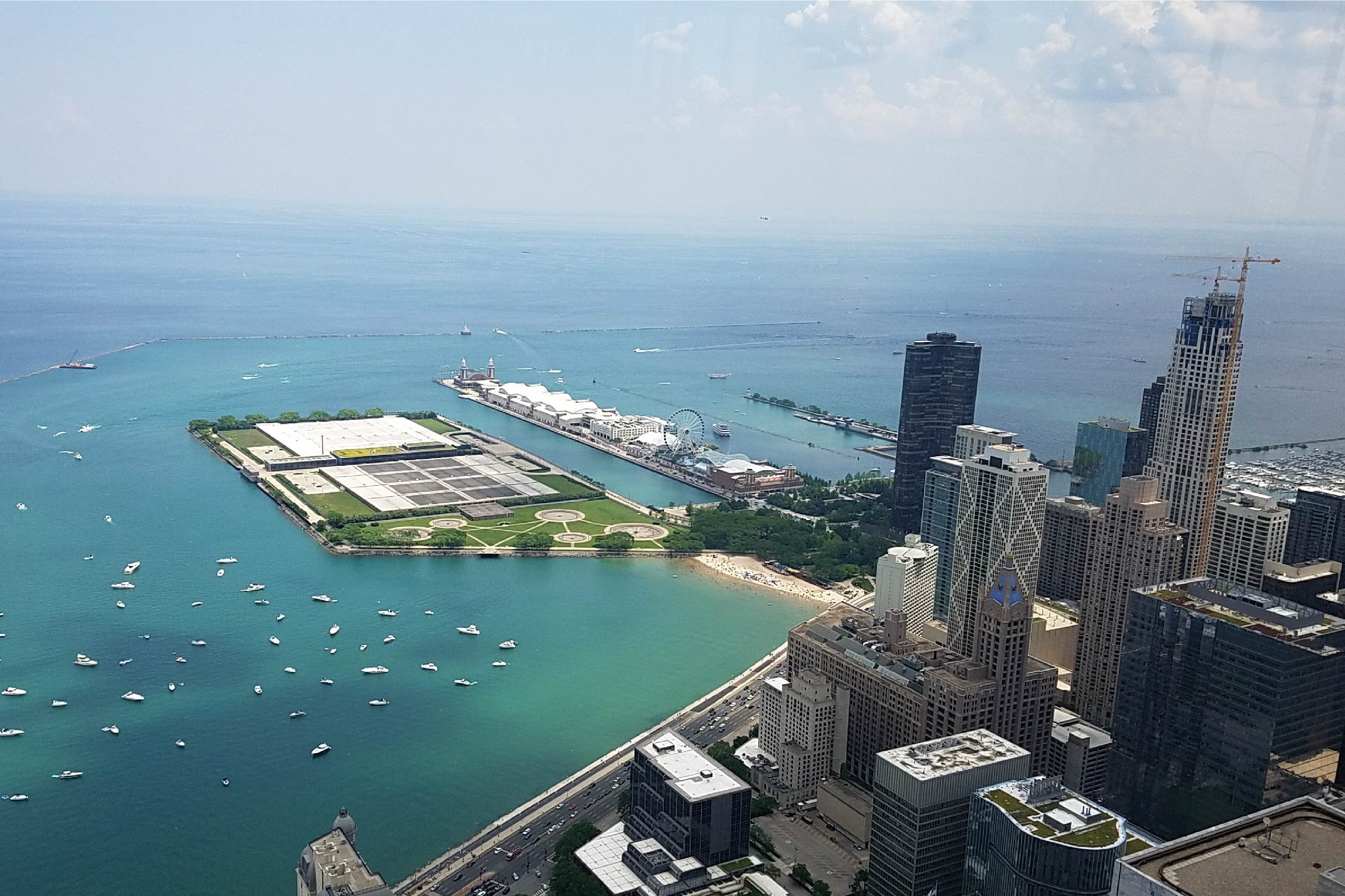 The first time we played the game last summer, I picked red and rolled 8. The Grand stop. I was disappointed. We had so many more obscure spots on our map, why did we have to get Grand—the go-to stop for some of Chicago's most touristy mainstays—straight out the gate?
My assumption was definitely shortsighted. Grand's central location near River North and the Loop put us right in the middle of Chicago's buzzing summer energy.
We headed to Eataly, where we tried the famous prime rib. We strapped into the Hancock Tower's TILT ride, getting a downward facing view of the Magnificent Mile. We spent some time traipsing around the historic Water Tower, eating ice cream from Ghirardelli on the benches near the tower's fountain and walking through its free gallery on the ground floor.
As newly minted locals, we would have typically balked at spending a day doing activities any out-of-towner has at the top of their to-do list, but the game gave us a reason to embrace and experience Chicago's greatest hits.
I Commune With Chicago in a Different Way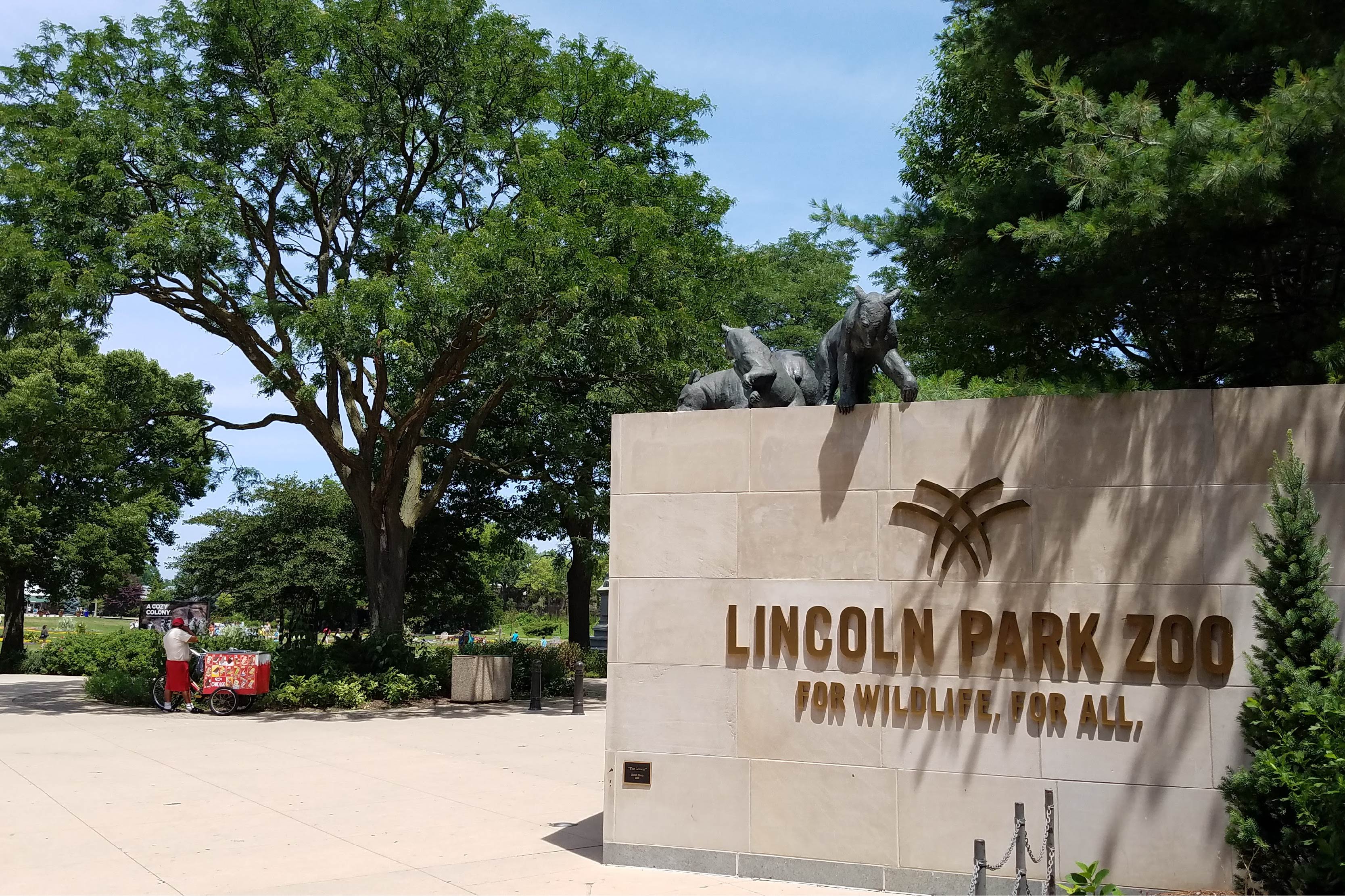 When you walk a city's neighborhood with no particular place to go, you end up keeping your eyes open for things to do, more than if you'd arrived at your destination with a set plan.
A roll of the dice to the Lincoln Park neighborhood, for example, sent us heading toward the Lincoln Park Zoo (a spin on the carousel is a must), but along the way we stumbled across a farmers market where we met more locals and ate a lot of cheese. After taking pics of the primates, we sauntered along the zoo's Nature Boardwalk, which revealed to us a curving architectural wood pavilion and picturesque view of the skyline fronted by a rehabilitated pond.
On other game days, with time to kill, we've ridden up and down Lake Shore Drive on Divvy bikes and spent hours enjoying the colorful artwork along the Oak Street Beach entrance, which, by the way, we got the idea to visit after seeing it 1,000 stories up on the 360 CHICAGO observation deck in Hancock Tower. We found a bookshelf bench I now covet at the Chicago History Museum, where I also learned my beloved city was named after a stinky onion that grew along the watershed. Who knew?
I Find Hidden Gems in Neighborhoods I Don't Visit Often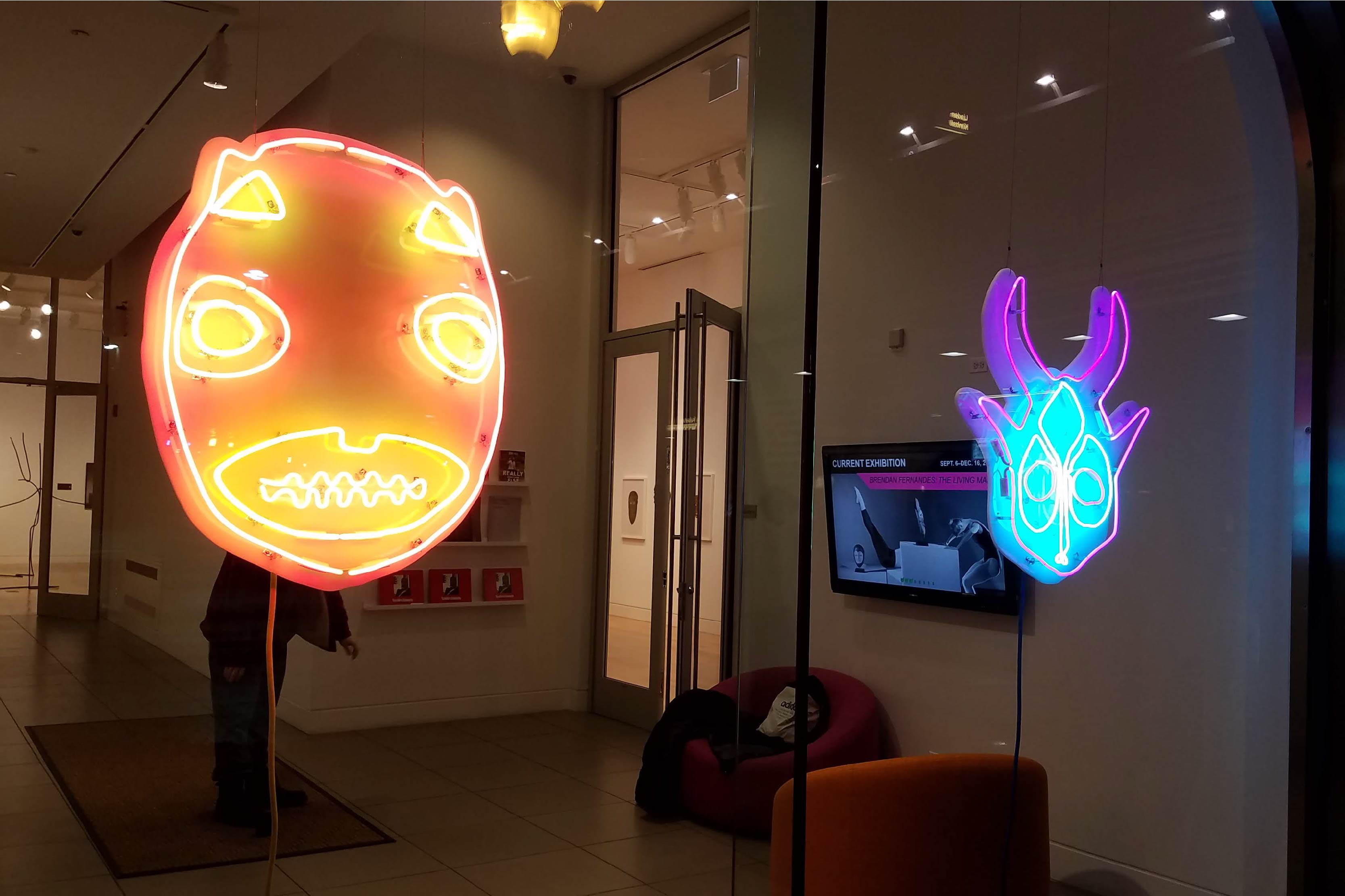 A game like this gives you time to dedicate to doing nothing but finding something to do. Sometimes the gifts come to you as soon as you step off the train platform. In the Lincoln Park neighborhood, we found DePaul University's free art gallery right next to the Fullerton brown line stop. It was in a location I've probably passed before without taking any notice of the work inside.
Scents from freshly steamed barbecue pork buns at The Sala Pao Shop welcomed us to the Bucktown neighborhood inside the Blue Line's Western stop—the Thai-style dumplings are a favorite among commuters who live nearby.
In addition to off-the-beaten path places to eat, we've also feasted at well-known spots for daylong sustenance: homemade chicken soup and sandwiches from the cash-only Panes Bread Cafe in Lakeview; pancakes at Nookies in Old Town; burritos at Bucktown's Irazu; Italian beef at Portillo's near Little Italy.
But the most exciting finds from "The 10 to 10" are always the places we come across simply by being at the right place at the right time.
Take our trip near the Lakeview neighborhood. We spent a lot of time walking and window shopping and ended up further south than we expected, on DePaul's campus. We walked by a gym that appeared open and, curious, stepped inside. It turned out there was a volleyball game starting in minutes—Senior Night, no less. We ponied up $5 each and became diehard Blue Devil fans for the evening.
Or the time we rolled into Bucktown and ended up walking to Wicker Park. We passed a boutique record shop that seemed worthy of a step inside. It was more than a record shop, though. Hidden behind an unsuspecting "secret" doorway was Dorian's, a cavernous midcentury mod-style restaurant with tiki-themed drinks, jazz spinning on the sound system, and a charcuterie board complete with pickled grapes.
The surprise and delight of finding a new favorite neighborhood spot? That's "The 10 to 10" for you.