National Homeownership
How to Find the Best Bedroom-to-Bathroom Ratio
Sometimes, bedroom-to-bathroom ratios can flush your homeowner dreams down the toilet. Have you ever toured the perfect little Los Angeles bungalow only to find it's got one bathroom for three bedrooms? Or found the most beautiful Nashville craftsman, updated to perfection, but without an en suite master bathroom? You're not alone in your bathroom woes: They impact a home's value and are often a make-or-break point of focus for buyers. That's why we've been exploring the best bedroom-to-bath ratios to help you in your house hunt.
Basically, it comes down to two (com)modes of thinking: personal comfort and return on investment. Keep reading to learn the best bedroom-to-bath ratio for your unique needs and how different bedroom and bath numbers stack up when it comes to resale. Plus, we've included a few more important insights on half baths and income property considerations.
The Personal Comfort Factor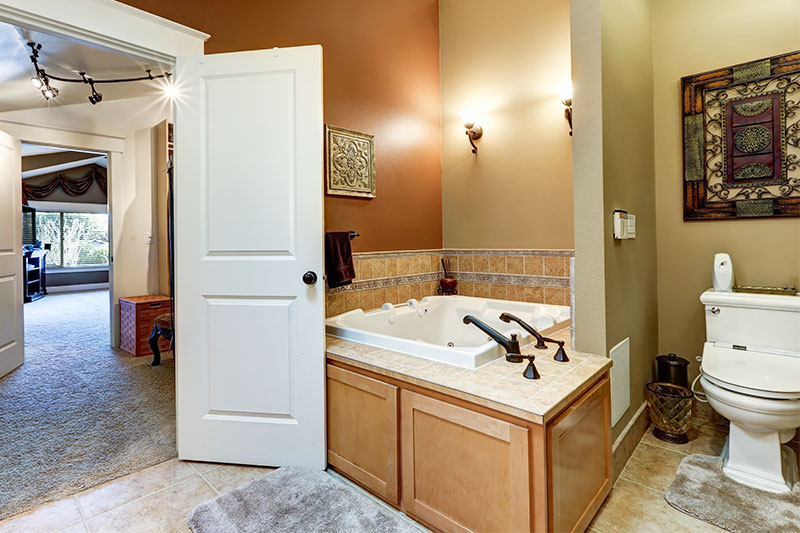 There's no place in the home more private than the bathroom. For that reason, you'll likely want to consider your own sense of comfort above investment value. When you're launching you're homebuying search, think about your needs and those of your family. Are you a single person planning on having roommates? You may want to plan on a bathroom for each housemate. Are you moving in with your spouse or significant other with whom you're used to sharing? In that case, you may be comfortable with fewer bathrooms. Are you planning on having children? Scratch that—you may need more bathrooms after all.
Another consideration beyond the total number of bathrooms is whether or not you want an en suite master bath. Remember: Bathrooms are a personal, emotional investment as well as one for your wallet, and recent census data shows that there's a significant uptick in the number of bathrooms most homes have these days compared with just 30 years ago.
While there's no one-size-fits-all rule, especially when taking into account that living situations can change over the course of a standard, 30-year mortgage, we were impressed with this research from U.K.-based development firm The REalyst: They analyzed more than 70,000 properties and found a clear, positive relationship between the number of bathrooms and a home's asking price. That's no surprise, perhaps, since more bathrooms usually corresponds to more bedrooms, which usually corresponds to more square footage. However, The REAlyst did find a sweet spot. Data showed that the optimum number of bathrooms is one less than the total number of bedrooms. That means a three-bedroom house should ideally have two bathrooms, a four-bedroom house should have three, and so on. Keep in mind that this rule doesn't specifically account for powder rooms (more on those later), which only have a toilet and sink.
The Return on Investment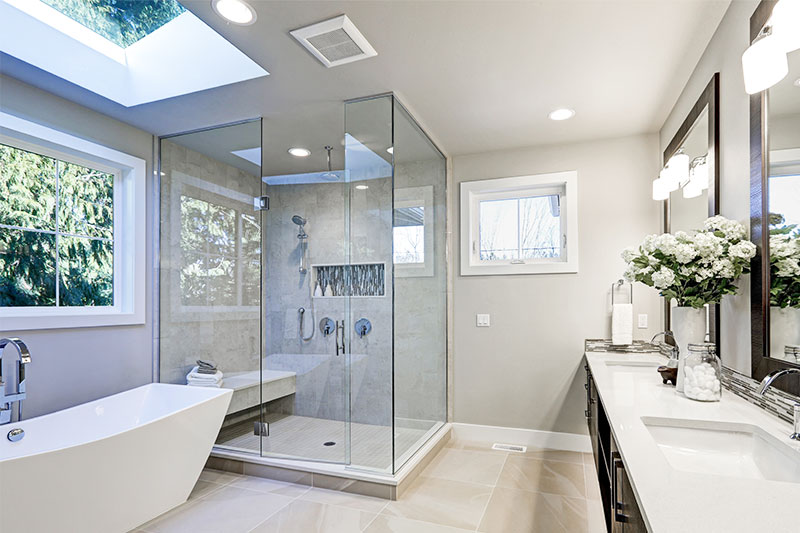 Your house is likely the biggest investment you'll make, and if you ever decide to sell, it also has major potential for a hefty return. Bathrooms are a big part of that, but that doesn't mean you need to go around upgrading every bathroom in your home or adding more just for the sake of it. In fact, additions and renovations can even be a pitfall—too many bathrooms can trip up overall value if it comes at the expense of more regularly used areas like bedrooms and living spaces, according to The REalyst. And bathrooms overly tailored to trends or eccentric tastes can devalue your home as well.
In terms of importance, buyers notice master baths and powder rooms first followed by guest bathrooms and additional secondary bathrooms, according to Houzz. So, even if you're a low-key couple who'd be fine with just about any bathroom situation, think about a great, classic master bathroom and a special, functional little powder room for resale potential. And if you're planning on making renovations, you can follow the very same order buyers do: prioritize master baths and powder rooms, then a guest bath, then any remaining bathrooms. The added bonus? You get to enjoy the fruits of your labor first with an incredible master bath.
Remember, bathroom renovation prices can vary based on your area's contractor costs and availability, the size of bathroom, age of home, and more, but on average, they cost about $10,000, according to this article from HomeAdvisor, which breaks out regional estimates as well. In general, it's wise to work with what you've got and make cosmetic upgrades only—major layout or structural changes can hike up renovation costs and extend timelines significantly, lowering your overall ROI.
The Power of the Powder Room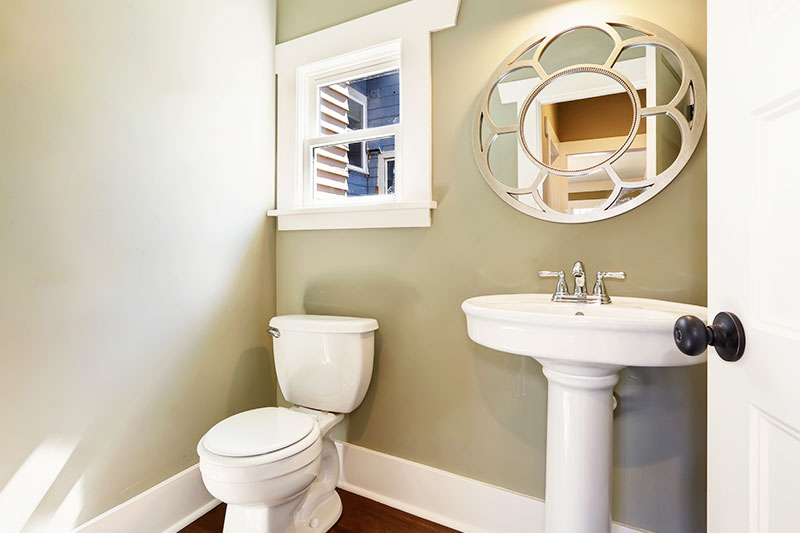 A half bath, a powder room—call it what you like, but this diminutive space can add both perceived and tangible value to your home, packing a big punch for daily creature comforts and resale alike. Whether you're hosting a formal dinner party or a casual holiday gathering, the half bath is ideal for guests who won't be staying overnight. They won't feel like they're invading your privacy, and you won't feel any additional stress knowing they've stumbled upon your literal or figurative dirty laundry airing out in the master bath. What's more, a half bath of even the tiniest square footage can add up to potential resale value.
Industry publications like This Old House say half baths are not only among the most commonly requested additions for their strategic appeal but also for boosting a home's asking price. Based on a home with one bathroom and three bedrooms, Pocket Sense found that adding a half bath boosted a home's value by 12 percent.
Tentative Tenants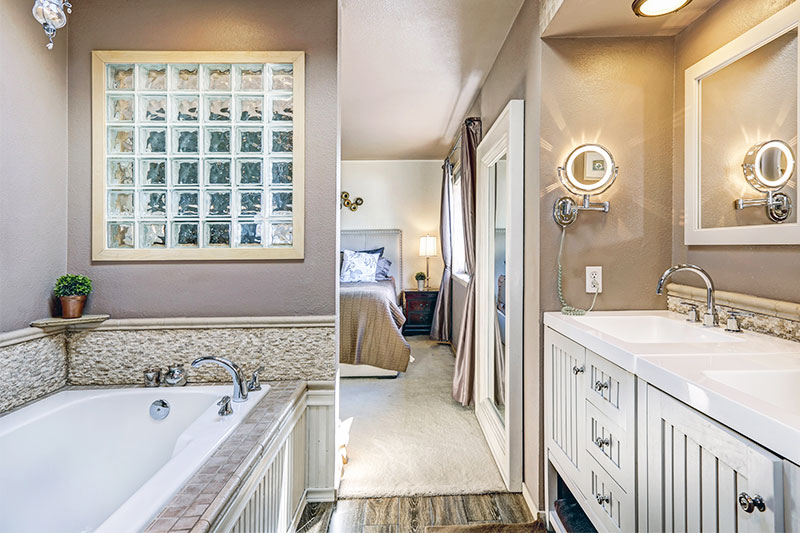 Perhaps you've settled on the ideal home for you right now. But keep in mind, your family might grow or your needs might evolve over the course of a loan lifespan, which is usually 30 years although some homebuyers may opt for a 15-year mortgage. If you have any interest in making your home an income property, you'll want to consider not only your own bathroom needs but those of potential tenants down the road.