National Homeownership
How to Make Moving Stress-Free
Uprooting your life and moving—whether you had a choice in the matter or not—is one of life's most stressful occasions, often resulting in tears, damaged furniture, and damaged relationships. But does it have to be this way? While some moving-related calamity is inevitable, here are some tips, apps, and services that help keep moving as stress-free as possible.
Before You Move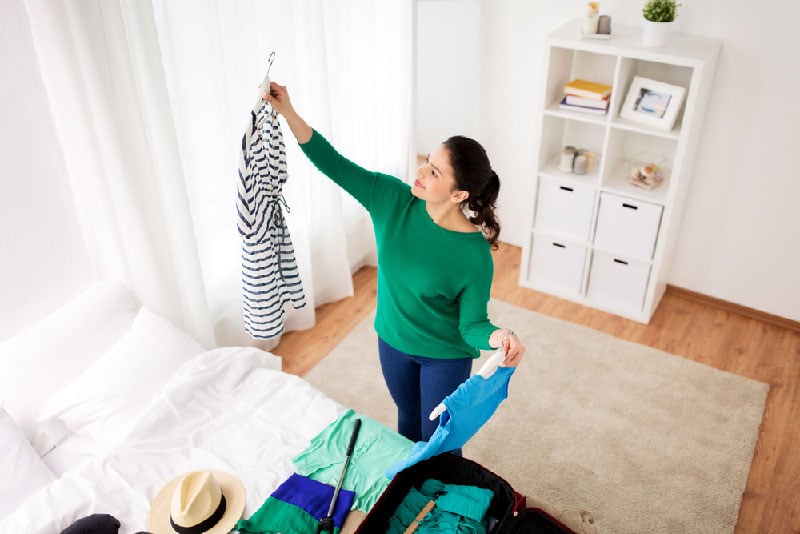 You should be planning the actual move at least two months in advance. In general, moving always takes more time and money than you think.
Get Organized
Before you start packing boxes, you need to get a gameplan going. Neighborhoods.com came up with this comprehensive moving checklist with everything you need to think of before you get started (Did you even remember to reserve your building's elevator? I'm guessing not).
Give Some of Your Stuff Away—But Only If You Have Time
Seriously, only if you have time. It's true that the less stuff you have, the way easier it is to move. But if you're going to discard your things according to the KonMari method, do so far in advance. If you start going through your things and lingering on the emotions they bring up a week before that U-Haul arrives, you're never going to pack anything.
If you're able to purge in a timely manner, use the app Poshmark to sell your stuff and make some moving money. You can also schedule a pick-up from Salvation Army online, but be sure to do so more than a month in advance of when you want them to come to ensure availability.
Spend Money Where it Matters
Before you move, really think about what you hate doing and what you can't do—maybe you don't have access to a car or you have three flights of stairs and a piano to move—and think about what you can put money toward. It's not fun to shell out money on moving expenses, but the stress relief that comes from seeing someone else carry that piano? Priceless.
Boxes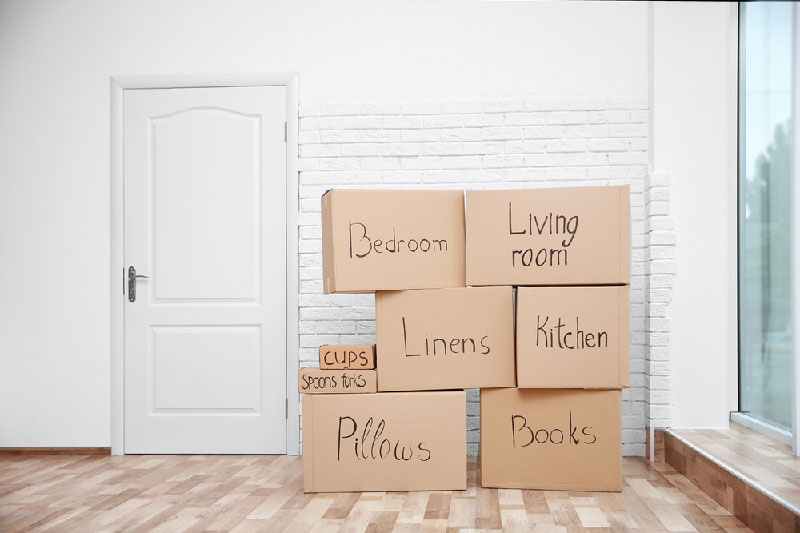 This gets its own category because they seem to be the most pesky thing about moving—getting them, transporting them, getting rid of them in the end.
Rentable Boxes
There are a lot of companies now offering rentable plastic moving boxes that are both sturdy and sustainable. U-Haul's Ready-to-Go Boxes are heavy-duty, stackable plastic crates that you can pick up, pack, and return to a U-Haul Center when you're done. Smaller services like BungoBox (which is only available in select markets)—plus other city-specific companies like Chicago GreenBox—will deliver and pick up boxes.
Use What You Have
You could also try to fill up what storage things you already have—laundry hampers, closet organization systems, clear plastic containers—with stuff you're moving. If you buy anything, it should be more clear plastic containers, which are easily stackable, and you can use them in your new place. For packing clothes that need to be hung up, use the cheap and easy trash bag trick.
Cardboard Boxes
If you still want good-old-fashioned cardboard boxes, again, U-Haul knows what it's doing in the moving realm and sells every kind of box you can imagine. If you'd prefer not to pay, U-Haul even has a message board where users can exchange boxes and moving supplies. Otherwise, start stalking your local office supply stores, your workplace, or save up those Amazon Prime boxes. Check out wine stores for boxes with separators for moving your beloved stemware. Apartment Therapy has some more tips for finding free boxes that don't involve hanging out near dumpsters.
Packing and Moving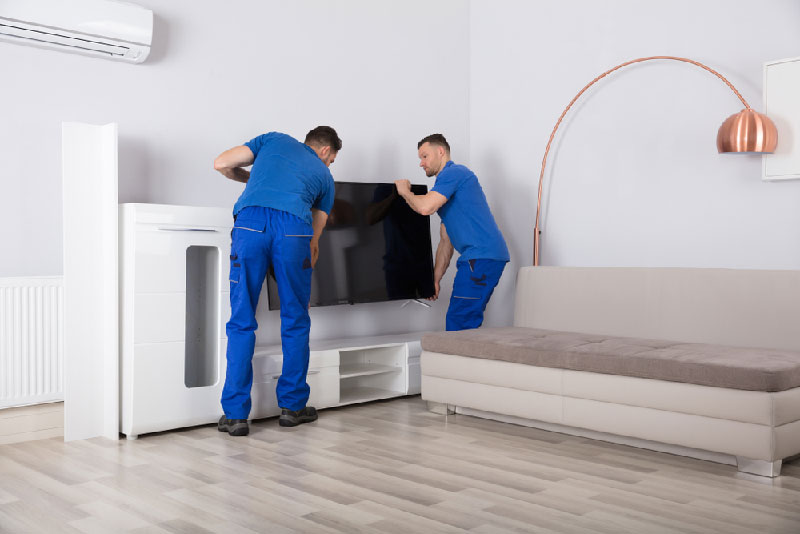 It's time to get ready for the actual moving day. Again, the moving rule remains: Give yourself more time and money than you think to hire professional movers or even bribe your friends with pizza in exchange for lifting heavy things. Even if they're your friends, give them the courtesy of enough lead time (and beer!) to help you with the move.
Packing Up
Numbering each box and keeping an inventory list of what's in the said box will make things easier when you get to your new place. Store your inventory on Evernote or Google Drive.
Hiring Movers
To hire movers or not hire movers? It really depends on a few factors, like how far you're traveling, if you have a lot of stuff including any valuable or big stuff, and if you have stairs at your current or new place, for instance. If you're balking at the price of movers—it can cost anywhere from $60-$120 an hour—you can pay them to only do certain things. Maybe you're a precise packer but your upper body strength leaves something to be desired and you have stairs to climb, you can hire people to simply move things to a truck. If you're just moving to a new neighborhood and don't have much stuff, the friends-and-beer method will probably work.
If you do hire movers, just remember to be ready for their arrival. Make sure all your stuff is actually packed up with clear paths for the movers before they arrive to make their job easier and faster.
Moving Across State Lines
You can get a U-Haul truck or trailer to move across state lines. If you're not a driver but still need to move a lot of stuff, you can transport your things via U-Haul U-Box or a PODS container. Those moving container services can get pretty expensive for cross-country moves, but if you need your heirlooms and the thought of driving a moving truck terrifies you, that might be a low-stress option.
Use an App
The app Dolly, which is like an Uber for movers, is ideal for small moves when you've exhausted your friends' goodwill. Dolly is also good if you're buying furniture for your new place, and you need help picking it up.
Make Sure You Have a Spot for the Moving Truck
You know what's stressful? Driving eight hours to find out that there's no parking in your new neighborhood for your truck. In some cities you can reserve a space for your truck in front of your new home. Contact your local alderman, city council, or permitting office for more information.
Settling In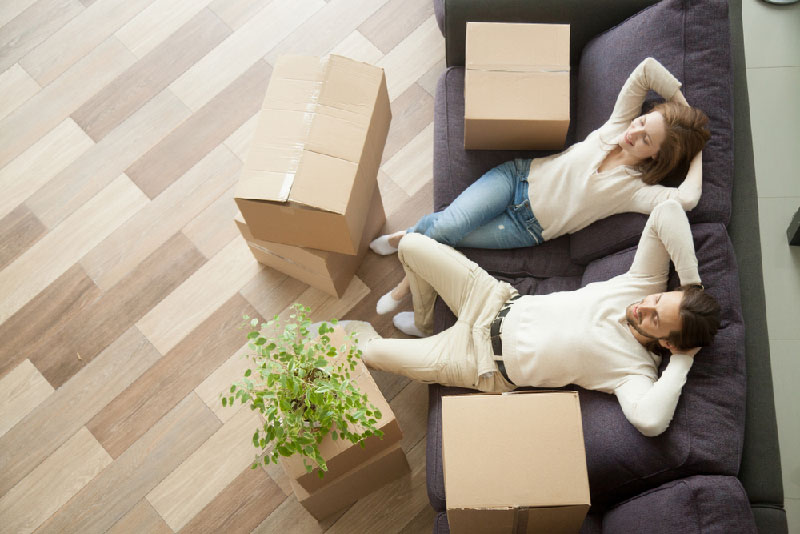 You got there, but now you have to make the place livable.
Unpacking
Be sure to schedule enough time to unpack your things—because that always takes more than a weekend. If you're someone who can't live with boxes everywhere, you might want to plan on taking a day or two off work just to devote to unpacking. If you jump right into life with your new house a shambles, it may cause more stress than necessary.
Assembling Furniture
After moving, the last thing on your list is assembling an IKEA bed frame, but you gotta do it if you don't want to sleep on the floor. Again, it's apps to the rescue: TaskRabbit connects you to a variety of helpful people nearby who can assemble IKEA pieces, hang mirrors, and mount your TV. If you want to DIY it, Home Depot has a surprising number of tools for rent.
Let Yourself Breathe a Little
You may feel tempted to unpack everything as soon as you arrive to your new home, but sometimes taking a shower and grabbing dinner in your new neighborhood to decompress is more important than ripping into that first box. Pack a bag of essentials—an air mattress, towels and toiletries, a change of clothes, and maybe even a wine glass and a bottle of Champagne—to get you through the first night. Get some rest, and start attacking the unpacking process the next day.