Los Angeles Local Life
Koreatown's History as Told Through Its Restaurants
It's difficult to imagine that once upon a time, Los Angeles' vast Koreatown neighborhood only consisted of churches, modest homes, and about 650 residents. That was back in the early 1900s. Today, Koreatown is one of the city's more densely populated communities with over 70,000 residents living within 3 square miles. It's unclear where the exact boundaries for K-Town are because the neighborhood itself is still rapidly expanding, but it's bordered by other popular Central LA areas, including Windsor Square, Mid-Wilshire, Silver Lake, East Hollywood, and Harvard Heights. As Koreatown grew throughout the years, so did its small businesses, from shopping establishments and beauty salons to dessert shops and nightclubs.
For most visitors and locals, their first visit to K-Town typically involves eating out at one of the neighborhood's many restaurants. Afterall, there are hundreds of local eateries offering anything from traditional Korean food such as bibimbap, oxtail soup, and Korean barbecue to diverse options like tacos, steak, fried chicken, and even vegan burgers. What many people don't know about Koreatown is that its rich history can be traced through its restaurants.
Here are four restaurants in K-town, considered by many as local staples or hidden gems, all with deep historical roots.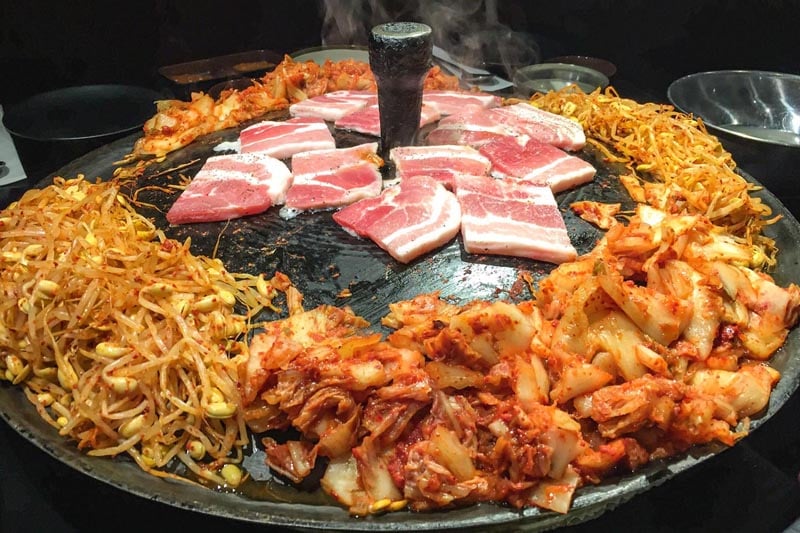 HMS Bounty Bar and Restaurant
Located on the ground floor of the historic Gaylord Apartment Building is the ever-popular HMS Bounty Bar and Restaurant. HMS Bounty is one of Koreatown's oldest restaurants, sitting at the edge of the community on Wilshire Blvd. Although some might expect this longstanding establishment to serve Korean cuisine, it's actually one of the few spots in the neighborhood that features old-school American food.
Although HMS Bounty was officially opened in 1962, the building and previous establishments were already well-recognized and frequented by many of Hollywood's elite, including actor Jack Webb, radio host Walter Winchell, and journalist William Randolph Hearst. The restaurant was formerly known by several names, including The Gay Room, Gaylord Dining Room, Secret Harbor, and Golden Anchor. However, the nautical-themed HMS Bounty Bar and Restaurant remains popular and open today.
Despite the restaurant's many revamps throughout the past century, its interior as well as its menu still stays true to its original food items from nearly 60 years ago. HMS Bounty represents a time before Koreatown was known for being Koreatown—when Old Hollywood still reigned strong in the area.
The Prince Restaurant
Another Koreatown staple is The Prince, a famous bar and lounge that might look familiar to those who have seen the film "Chinatown" or lauded shows such as "Mad Men" and "New Girl."
Formerly known as The Windsor, the partially underground restaurant and bar is probably best known for its crafted Korean-style cocktails and its extravagant decor. Although the building has gone through a number of renovations and changed hands several times, the classic red booths as well as its gold-laced wallpaper, vintage lamps, and mahogany bar have remained the same.
The Prince marks a time in Koreatown's history when the neighborhood was transitioning from upscale American suburb to a more cultural and diverse destination. The building's Tudor Revival-style architecture is characteristic of many of the neighborhood's apartment buildings during the mid-1900s.
HMS Bounty represents a time before Koreatown was known for being Koreatown—when Old Hollywood still reigned strong in the area.
Dong Il Jang
Dong Il Jong is one of the oldest restaurants in K-Town, providing visitors with an intimate and old-school atmosphere. The dining room decor is reminiscent of LA during the 1950s, showcasing a dimly lit interior, red vinyl booths, retro-style tables, and wallpaper with scripture.
First opened in 1977, Dong Il Jang was one of the first restaurants to come around when the neighborhood officially became solidified as Koreatown in the 1980s. During this period, many Korean-run establishments would often only serve Korean barbecue to its non-Korean customers, regardless of what food was actually sold there. Its menu hasn't changed at all since its opening, and visitors frequent this restaurant for its Korean steak tartare and, of course, its Korean barbecue cooked on a banquet-style grill.
Cassell's Hamburgers
Cassell's Hamburgers on 6th Street remains one of LA's first classic homemade burgers. When real estate worker Al Cassell first opened this burger restaurant in 1948, it was hailed as one of the best burgers in the city thanks to its freshly ground meat and overall quality. It has reigned in popularity as a go-to lunch spot throughout the decades, lauded as one of the original joints serving chef-style burgers in Los Angeles.
However, after the establishment of Koreatown in the 1980s and the havoc of the LA riots in Koreatown during the 1990s, the restaurant started struggling until it changed hands in 2010. After going through a restaurant revamp while still retaining some of its original decor, Cassell's was renewed as one of LA's original burger places. Today, Cassell's Hamburgers is a staple establishment with locations in both Koreatown and DTLA.
Koreatown Today
Koreatown has grown throughout the years into one of LA's prime neighborhoods to live in. Not only is the area packed with top-notch cuisine, boutique stores, markets, nightclubs, and spas, it's also starting to attract more homeowners thanks to development booms happening both in and around the neighborhood.