LA Attempts to Speed Up 28 Transportation Projects for 2028 Olympics
Los Angeles is already buzzing with planning for the 2028 Olympic Games. However, some of the preparations for the event are easier than others.
One of the most challenging of all is the LA County's numerous transportation projects to improve the traffic situation. Mayor Eric Garcetti recently announced he's aiming for 28 of those endeavors to be completed before the Olympics begin in a project dubbed "28 by 28."
Curbed LA recently addressed the accelerated timeline and the potential issues it could cause. Some of the largest concerns revolve around Measure M funding — $860 million collected annually via sales tax for these transportation improvements to be made. A ramped-up timeline would potentially call for more funds than Measure M's tax increase could provide for, at least in the next 11 years.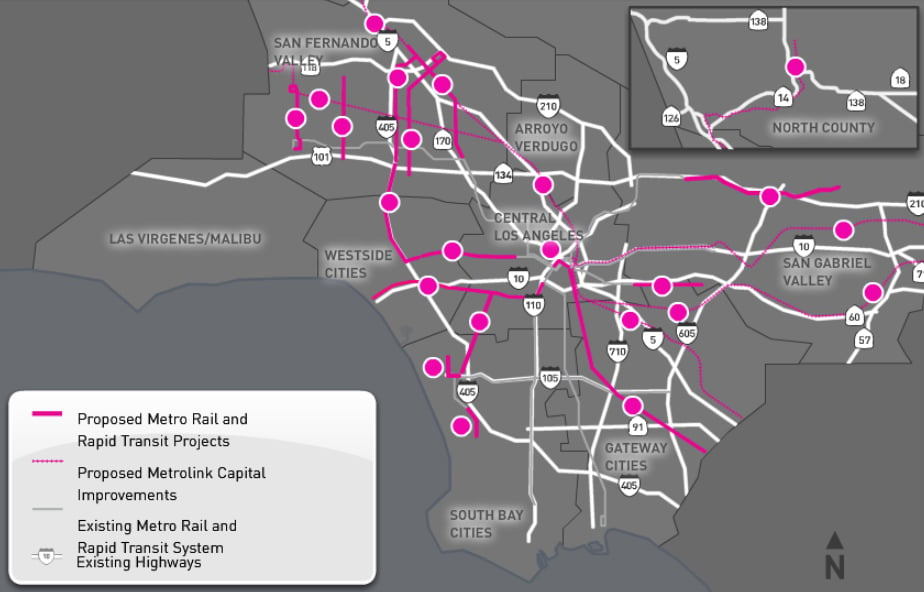 There were 90 total projects outlined in Measure M, but Garcetti and Metro have not yet outlined which 28 of those are the priorities. Completing the 28 projects on time would clearly be easier if the list included a few of the current initiatives already underway.
Curbed notes that three of the major projects are already working with the private sector to hasten their respective timelines. The Sepulveda Pass Transit Corridor, West Santa Ana Branch Transit Corridor, and expanded freeway toll lanes were all originally slated for completion after 2028.
With a transit system that's already among the country's most expensive to operate and declining ridership since 2013, LA's Metro already has its hands full. These additional projects, plus LAX improvements, and other smaller fixes throughout Los Angeles will make for a very busy run-up to the summer of 2028.