Chicago Real Estate Development
Latest Plans for Lake Shore Drive Makeover Nix $4B Tunnel
An ambitious plan to transform Lake Shore Drive got a recent update that scraps the plan to bury part of the thoroughfare beneath a new underpass. Plans presented at DePaul University this week nix the tunnel and show a new pedestrian bridge that would connect to Oak Street Beach over Lake Shore Drive.
This re-imagining of Lake Shore Drive has been discussed for years, and the release of renderings for the project in February reignited the effort. The plan aims to straighten out the street's dangerous S-curve around Oak Street Beach and make way for 70 acres of parkland, beaches, and trails along the lake, as well as a manmade island. This would buffer the highway from crashing winter waves and provide the Gold Coast and Streeterville neighborhoods access to a major amount of green space.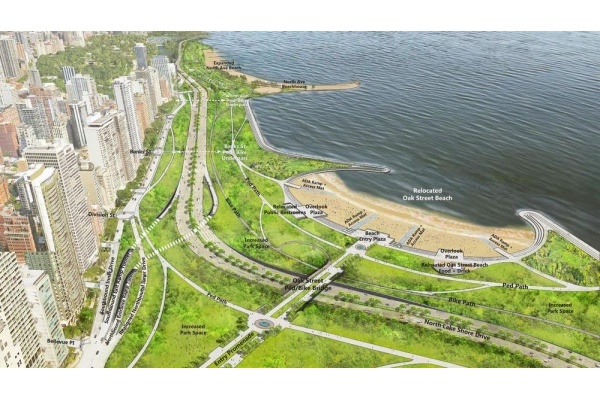 According to DNA Info, transportation officials scrapped the tunnel plan because it's too expensive — $4 billion — and might delay first responders accessing the Drive.
Officials at the DePaul presentation also shared other ideas from improving the thoroughfare, spanning from Streeterville all the way to Hollywood Beach in Edgewater, including adding a new underpass to ease congestion at Montrose Avenue and new pedestrian paths to North Avenue Beach in Lincoln Park, DNAInfo reports.
Funding details for the project are uncertain, and construction would not begin until 2019 at the earliest.