Las Vegas Real Estate Development
Las Vegas Real Estate: More Developments Are Coming to North Las Vegas
Earlier this fall, The New York Times called North Las Vegas "the model of the recovery that has swept the nation" after the Recession. North Las Vegas was once a so-called icon of the Recession when one in three homes foreclosed, but it's now a booming construction bastion changing Las Vegas real estate.
In 2017, the Las Vegas Valley zip code that showed the highest percent of appreciation was 89030—a North Las Vegas area where prices increased by more than 30 percent. Per the New York Times article, prices in North Las Vegas have risen almost three times faster than the national average.
Without a doubt, developers are focused on bringing high-end homes to North Las Vegas, which accounts for the increase in price. The demand for homes is high, with some areas even boxing out first-time homebuyers who can't afford the higher price tags. But developers are also attracting newcomers to Las Vegas, including former Californians who are seeking upscale homes.
But where can you expect to find these developments? Here's which communities are selling in North Las Vegas and what they offer to homebuyers.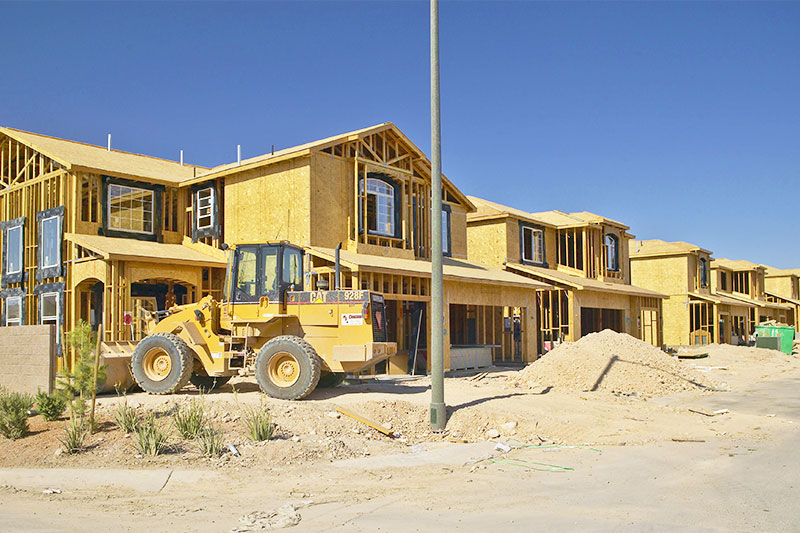 High-End Homes Are Making Their Way to North Las Vegas
The development everyone's talking about is Blackstone by Pardee Homes in The Villages at Tule Springs, where prices range between $405,000 and $486,000. With higher prices than the Valley-wide median sale price, this development is definitely turning heads. This community features amenities like energy-saving appliances, two-car garages, spacious backyards, and even wooden ceiling beams that give HGTV vibes.
These three-to-five-bedroom homes feature large windows, asymmetrical design features, desert landscaping, and top-of-the-line kitchens with grand islands and plenty of counter space. A new exit from the I-215 was recently constructed in the area, making this development a hot choice for homebuyers.
With Lennar's The Hudson currently under construction, high-end townhomes and condos are also gaining traction. While the home prices ranging from around $220,000 to $270,000 might not seem like much, their streamlined square footage makes this community a niche choice for buyers interested in modern home design with white granite countertops, espresso cabinetry, and spacious kitchen islands.
Builder DR Horton is also making waves in the area with Gemini Pointe. Now pre-selling with prices starting around $345,000, Gemini Pointe offers buyers high-quality materials, sizable kitchens, and plenty of space to entertain.
Another DR Horton community in the area is Capella Pointe, situated within the Valley Vista master-planned development. Although this community offers slightly smaller two-story homes, buyers will find these floorplans equipped with large kitchens, spacious master suites with walk-in closets, and elegant master bathrooms with dual sinks. These homes are also considered high-end for the area with prices starting in the low $300s.
But Affordable Homes Can Still Be Found in the Area
Built specifically to focus on the needs of residents recovering from the Recession, Solana Terrace by Signature Homes offers homebuyers three- and four-bedroom homes priced in the high $100s. These affordable homes feature an upgraded appliance package with quartz kitchen countertops. Its convenient location near the I-15 also makes the community ideal for those who commute to work.
Recently announced, Colton Ranch by Beazer Homes also promises to be a mid-range option for North Las Vegas homebuyers. With prices anticipated in the high $200s for both single- and two-story floorplans, this community could be a solid choice for those who want to enjoy easy access to local parks and restaurants as well as the I-95 freeway.
Sedona Ranch is a Hot New Development
Located on Ann Road and North Fifth Street, Sedona Ranch is a new 150-acre master-planned development coming to North Las Vegas. Pulte Homes, Beazer Homes, and Century Communities—the three builders developing homes in the community—have either recently opened model homes or are pre-selling spec homes.
This new master-planned development is near the I-215 freeway, grocery stores, and other commercial developments that are also in progress. The area that's now Sedona Ranch was once a pig farm, and the contested land has maintained a more affordable price range in an area where prices are increasing weekly.
One of the communities coming to Sedona Ranch is Hawthorne by Beazer Homes, which hosted its grand opening just a few weeks ago. Ranging from 1,750 to 3,166 square feet, the single and two-story homes are near Craig Ranch Regional Park. With prices starting around $297,000, these homes hit right at the median sale price in the Valley, which is sure to attract prospective homebuyers.
Another community joining the Sedona Ranch development is Pulte Homes' Catalina which also recently opened. Homes start around $274,000, featuring three- to five-bedroom homes and two-car garages. These homes are more Mediterranean in style, and a major selling point is the large kitchen, which features an island that can also be used as a dining area or bar.
Oak Creek by Century Communities will also be part of the Sedona Ranch development. This new community is slated to open in December, with homes priced in the high $200s. Oak Creek features homes ranging from 1,333 to 2,288 square feet with lavish designs like granite countertops and stainless steel appliances.
With so many new developments coming to North Las Vegas, homebuyers are sure to find a home to meet their lifestyle and price point in this booming area of Nevada.