Link US Project Could Help Modernize LA's Metrolink by 2024
Link US Project Could Help Modernize LA's Metrolink by 2024
The $2.75 billion Link US project, approved in March, proposes a reconfiguration of Los Angeles's Union Station to allow for run-through tracks. Currently the station, situated next to U.S. State Highway 101 between Chinatown and Downtown LA, only functions as a hub to other stations.
On Urbanize.LA, Alon Levy recently discussed how Link US can also help modernize the larger Metrolink system to be more efficient and organized as a connecting train line across Southern California. Part of that process could also include electrifying as much of Metrolink as possible — a system called Electrolink.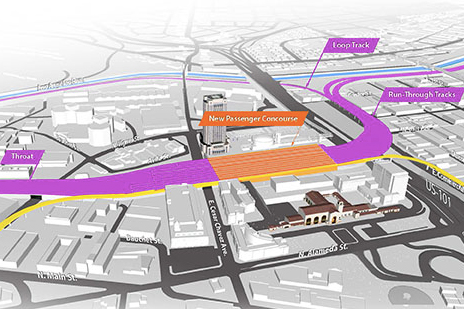 With Electrolink rolled out to as many of the separate services as possible around Los Angeles, the San Fernando Valley, and Orange County, it would create one continuous system. Fare integration would further connect the separate systems for a more connected Southern California corridor.
As Levy also mentions, the current system needs to fill some gaps in terms of service frequency. With faster electric trains, the number of stops could be increased to cater to local commuters as well as the longer distances currently required by most current riders.
The Urbanize.LA post spells out additional improvements to create a more modernized rail system by 2024. With luck, several of these elements could potentially be implemented as Link US is completed.