'Live, Work, Play' Developments Popping Up Across Miami
'Live, Work, Play' Developments Popping Up Across Miami
In days gone by, the American Dream may have involved owning a home in a suburban neighborhood and driving to work and school, and to retail and restaurants for entertainment.
Those days may be coming to an end. According to the Pew Research Center, millennials are the United States' largest living generation. In 2016, there were an estimated 79.8 million millennials (ages 18 to 35 in that year) compared with 74.1 million baby boomers (ages 52 to 70). And millennials — along with many older empty nesters — are showing a preference for living in environments where they can minimize driving to work and play, or even eliminate it altogether.
This trend has sparked a slew of mixed-use development all across the county — and Miami is no different. Not only is the city seeing new projects pop up in its urban core -- in neighborhoods like Brickell and Wynwood -- it's also seeing development in areas outside the core such as Coral Gables and the Miami Riverfront and in cities north of it, like Hallandale Beach. Here are some of the most exciting new developments in Miami that seemed poised to meet this demand head-on.
Miami Worldcenter – Central Business District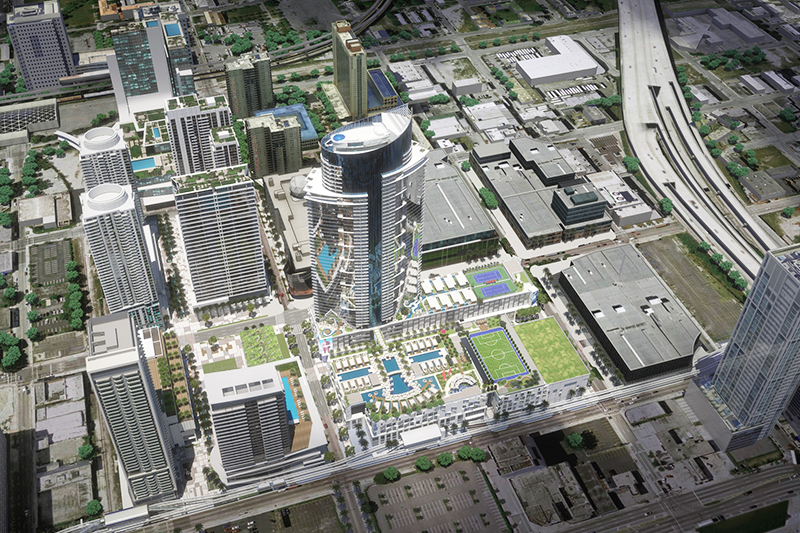 One of the largest -- and most exciting -- projects in the works is the $3 billion Miami Worldcenter, which will transform 27 acres of the city's urban core in the Park West neighborhood. Located two blocks south of Interstate 395, it will link Miami's Central Business District with its Arts & Entertainment District, which is viewed as a hub for culture and entertainment. It will feature 330,000 square feet of retail space and be home to the new Marriott Marquis World Convention Center Hotel, featuring approximately 1,700 rooms and 500,000 square feet of meeting, exhibition, and convention space. It will include a mix of luxury residences, boutique condominiums, and market-rate apartments.
The project is adjacent to the Brightline's Miami terminal, which will offer direct train service to Fort Lauderdale, West Palm Beach, and Orlando, together with access to TriRail, the Metromover and the Metrorail. It is also within walking distance of Perez Art Museum Miami (PAMM), the new Patricia and Phillip Frost Science Museum, American Airlines Arena, and the Adrienne Arsht Center for the Performing Arts.
Developers are still finalizing details with the city and have obtained a construction loan to begin work on a parking garage and some of the retail space.
Giralda Place – Coral Gables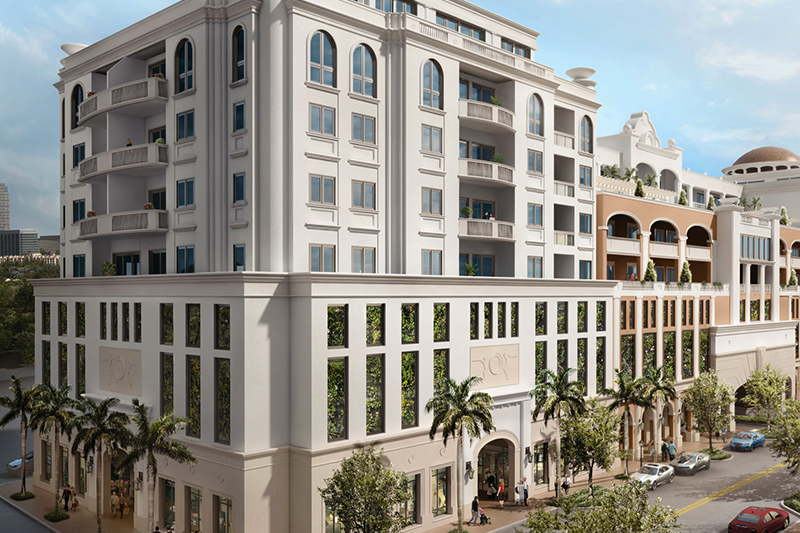 Located at 2222 Ponce de Leon Boulevard in Coral Gables, the nine-story mixed-use Giralda Place recently topped off and is expected to be completed in early 2018. The mixed-use development by Heidi Eckes-Chantré spans a city block and includes 13,390 square feet of ground-floor retail, a 419-space parking garage, and 101,300 square feet of Class A office space. There are 23 condos and 10 townhomes. The project was 24 percent sold at the time of its topping out.
The Mediterranean-style project is designed by John Fullerton of Fullerton Group Architects. Giralda Place's general contractor is GRYCON, LLC, with interiors by b+g design, inc. Construction is being financed by a $25 million loan from City National Bank of Florida. Units start in the $900,000s and features include 11-foot ceilings, high-end appliances, and Italian cabinetry. Buyers will also have access to a full-floor "leisure level" called Giralda 7. Highlights include a heated pool, day beds, lounges and a wet bar. The project is one of many rising in downtown Coral Gables, which has seen a surge of mixed-use developments over the past two years.
River Landing Shops & Residences - Miami River
Construction began late last year on River Landing Shops and Residences along the Miami River at 1400 Northwest North River Drive. It will include 475 apartments, 426,000 square feet of retail and restaurant space, and a riverfront park. The project expected to be completed by the fourth quarter of 2019.
Balfour Beatty is constructing the development for H&R REIT, Urbanx Co., and real estate developer Matthews Southwest. River Landing Development, led by Andrew Hellinger, acquired the development site for $26 million in 2014 and obtained a $38.2 million mortgage on the property from a company connected to New York-based Northstar Realty Finance.
Château Square – Hallandale Beach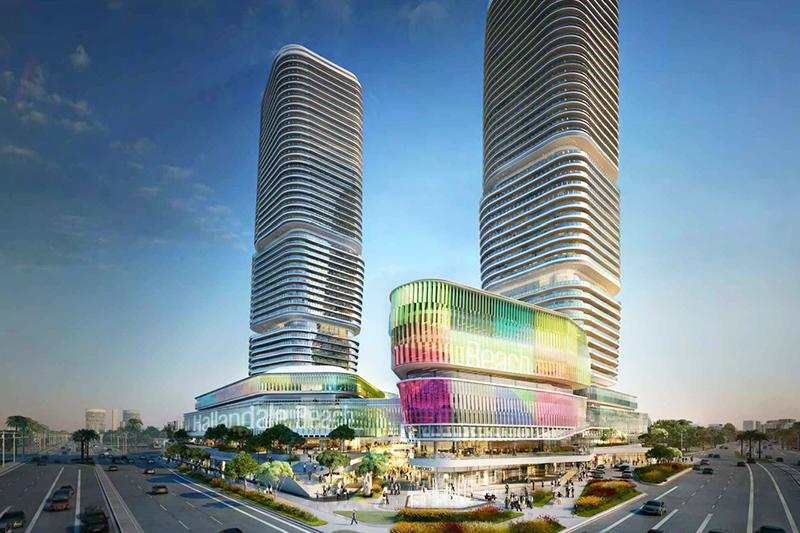 A mixed-use project by Château Group at the southeast corner of Federal Highway and Hallandale Beach Boulevard is being compared to Brickell City Centre. The project initially called for 726 residential units, 137,384 square feet of retail, and 280 hotel rooms, according to its application with the city, but is being reviewed by the city and may be subject to change.The project, on an eight-acre site, envisions an open park on the second-floor level with a loop where people can walk or run.
Hallandale Oasis – Hallandale Beach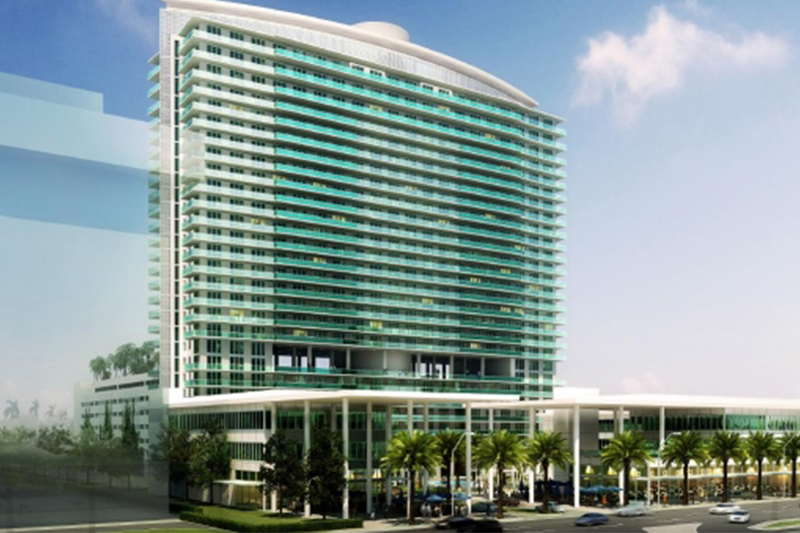 Four blocks east of Château Square is the site for another major mixed-use project, Hallandale Oasis, by Romagnole Investment Properties. The project, on a 10-acre site, will feature two 26-story residential buildings with 250 units each and more than 93,000 square feet of commercial and office areas. It will include a swimming pool, outdoor eating space, a gym, swimming pool, cabanas, a place for outdoor screening of movies, and lots of green space. The project has received approval from the city, and submission of building permits is pending.