What it's Like Living in Coconut Grove, Miami
What it's Like Living in Coconut Grove, Miami
Whether it's playing a game of Frisbee with their pups at a bayfront park or taking part in one of the neighborhood's wacky-but-endearing street festivals, Coconut Grove residents don't just like living in their neighborhood—they're downright fanatical about it. You'll find this lush community nestled against the waters of Biscayne Bay, between the stately Mediterranean mansions of Coral Gables and the glittering hi-rises of Brickell. Coconut Grove also offers its residents direct access to U.S. 1—one of the city's main traffic arteries.
From its beginnings as a subtropical sanctuary for Northerners in the 1800s to its role as a counterculture mecca, Coconut Grove's residents have always marched to the beat of their own drum—and proudly. You can see vestiges of its past throughout the neighborhood—from the bright shotgun houses built by Bahamians in the late 19th century to the funky bungalows inhabited by free-wheeling spirits in the 1960s looking to catch a performance by Joni Mitchell or David Crosby.
Today, the Grove is redefining itself once more while still keeping true to its quirky, live-and-let-live spirit. Luxury, mixed-use developments and modern concrete houses are cropping up in the heart of the neighborhood, as are trendy, high-end eateries. But even through this new era of development, residents still count on the annual Coconut Grove Arts Festival, Gifford Lane Art Stroll, and the politically satirical King Mango Strut to keep them rooted.
Where to Play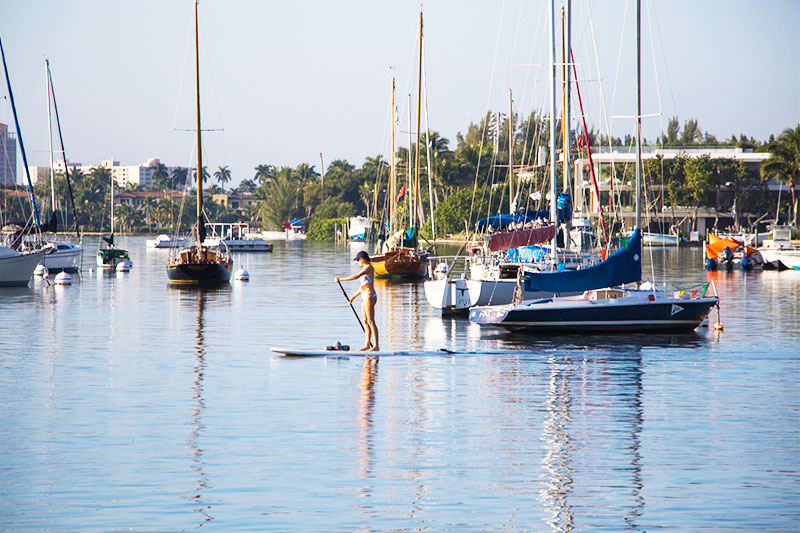 Whether it's sprawling out for a picnic lunch in the park or taking their boats out on the bay, Grove-ites are big fans of their outdoor amenities—and they've got plenty of them. David T. Kennedy Park offers bike trails, an exercise course, beach volleyball, several playgrounds, a dog park, and large expanses of greenspace for a game of pick-up soccer. After the park's free weekend yoga class, locals line up at the A.C.'s Icees truck (a decades-long park staple) for a cup of frozen lemonade.
South of Kennedy Park, Peacock Park offers kids plenty of tree-climbing material. But don't worry—there are also two age-appropriate playgrounds for the more traditional slide-and-swing set. For harried parents wondering what to do with the kiddos when school lets out, the recreation center here also hosts camp programs after school and during winter and spring break. Right next door, the Coconut Grove Sailing Club has been teaching would-be sailors how to navigate their boats since 1946. It also provides dock space (and plenty of noteworthy parties) to those with an affinity for the sea.
Dogs are a staple of life in the Grove—it's hard to find a shop, bar, or restaurant that doesn't openly embrace the area's four-legged residents. You'll find several dog-friendly parks in the Grove, including two of them in the aforementioned Kennedy Park. Closer to U.S. 1, pet owners in Blanche Park—where pups run around antimicrobial, mud-free turf unleashed—are known to break out a cooler for a few neighborly beers with members of their (human) pack.
With its leafy bayside mangroves, the five-acre Barnacle Historic State Park is another prime picnic spot, and occasionally hosts live music performances, geocaching, and dance classes.
What to Eat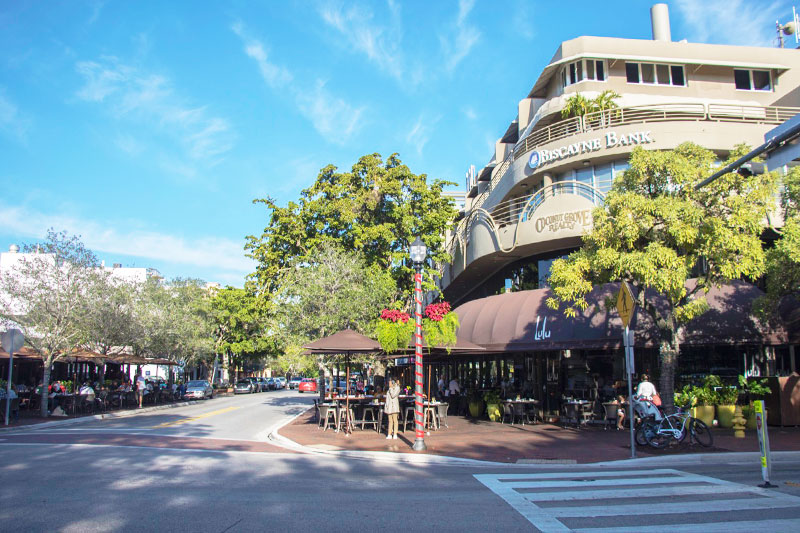 True to its indie spirit, the Grove is filled with locally owned restaurants, taverns and eateries—you won't find many large chains in the neighborhood. But those with a hankering for a good ol' burger can still get their fix with a grass-fed patty and a side of fried alligator bites at Lokal. Next door, the unabashedly retro Vicky's House serves up Instagram-worth milkshakes (like the "Golden Girls," a banana milkshake topped with Golden Grahams cereal, a Twinkie, and a blondie) in an 80s-style house.
Glass & Vine, housed in the Peacock Park's historic Glass House, serves small plates ranging from tender pieces of Wagyu beef tartare to locally caught tiradito. It's a favorite among brunching parents—the outdoor patio directly faces two public playgrounds.
Speaking of brunch, the later-rising crowd is known to relax and recharge with mimosas at GreenStreet Cafe, a neighborhood staple for people-watching and irresistible stacks of cinnamon roll pancakes. Le Bouchon du Grove puts a French twist on the late morning meal with a locally beloved version of moules marinières and pommes frites (mussels steamed in white wine with a side of french fries).
Tucked away behind a tree-lined walkway, Ariete lures locals into its warm, cozy pub and keeps their bellies warm and happy with cured meats and homespun dishes like wood-grilled oysters, rich porchetta, and country-fried rabbit leg.
Where to Shop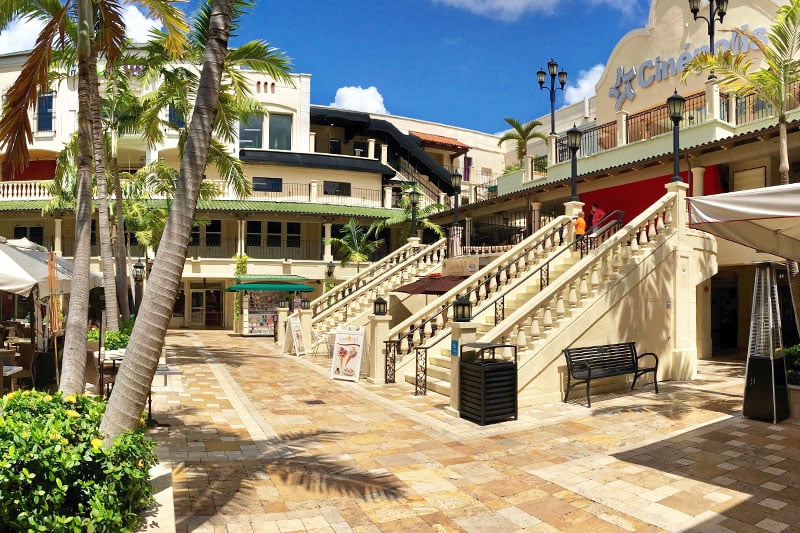 Funky, local boutiques and galleries line the streets of the Grove. Golden Bar is a bohemian fashionista's paradise with funky gemstone jewelry, flowy maxi dresses, and beaded bags, while local designer Ramona La Rue captures Miami's tropical flavor in her silky and effortless prints and pieces. One of Miami's few locally owned bookstores also calls the neighborhood home. The Bookstore and Kitchen features lifestyle books and a zero-waste kitchen known for its artfully topped toasts served in a charming courtyard. In the market for a piercing? Most Miamians will tell you to make an appointment at New Age Body Piercing for that. The pros here are even trusted with the earlobes of little ones getting their very first studs.
What It's Like to Live Here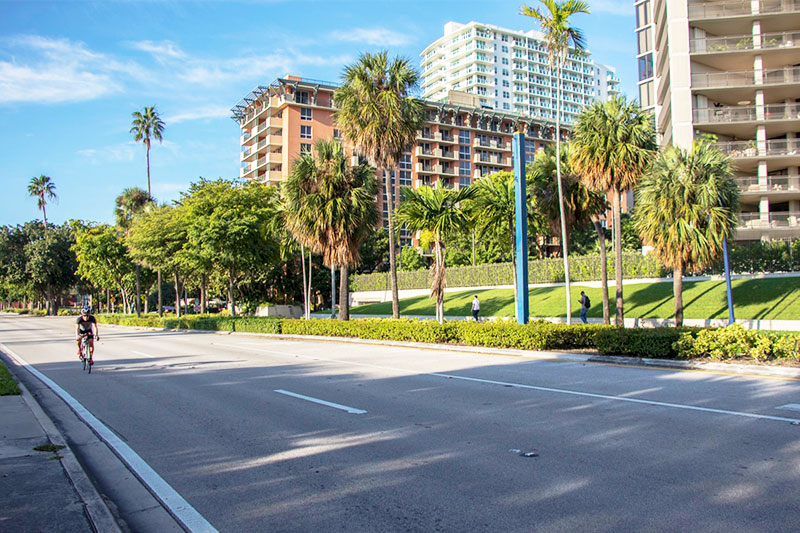 Coconut Grove is home to a mix of architectural styles—a nod to its long history in Miami. The median sale price for a home in the area according to Neighborhoods.com is in the high $600s, but you can find homes ranging from as low as the mid $100s to $29 million.
In the west, you'll find Coconut Grove's Bahamian Village with colorful shotgun-style cottages in rambling tree-lined yards. To the east, there are sprawling Southern estates with shady verandahs and prime views of Biscayne Bay. In between, you'll see bungalows nestled beneath a canopy of trees, hi-rise condos (like The Residences at The Ritz-Carlton and the upcoming Glasshaus), and modern-day concrete-and-glass townhouses.
Residents have quite a few options when it comes to checking off their weekly grocery list. Milam's Markets, a local family-run grocery chain, has a robust prepared food section along with a weekly wine tasting that attracts a crowd on Friday nights. The Fresh Market also has a presence in the area. But it's the weekly Coconut Grove Farmers Market with its local vendors selling organic produce from neighboring farms that attracts people from all around the city.
For families with school-age kids, Coconut Grove offers a wide range of options, from top-rated public school Coconut Grove Elementary to some of the most elite private schools in the state (Ransom Everglades and Carrollton School of the Sacred Heart). During the week, the neighborhood is largely quiet, although its common to find families—and their pups—sharing a meal at neighborhood cafes. Weekends are a bit more action-packed, with residents from around the city heading out to enjoy brunch in the area or opting to soak up the sun in one of the neighborhood's greenspaces.