National Local Life
Living in Milwaukee: What You Need to Know
Wisconsin's biggest city sits on the shore of Lake Michigan. Home to eight Fortune 500 companies and the epicenter of the global freshwater technology industry, but with fewer than 2 million people in the metropolitan area, Milwaukee is a welcoming mix of big city and small town. With a strong influence from the people who helped build the city, Milwaukee is a blend of old-world charm and modern living that perfectly fits its laid-back Midwestern ethos.
Milwaukee always has something going on, no matter the time of year. Locals enjoy great food and drinks. And all of this comes at a price tag far below what you'd find in bigger cities, though the quality is all comparable. There's simply a lot to love about life in Milwaukee.
If you're thinking about moving to Milwaukee yourself, read on for the inside scoop about what life is like in this great mid-size city on a Great Lake.
Milwaukee at a Glance:
Cost of Living Index: 85 (U.S. average is 100)
Median Home Price: $123,100
Walk Score: 63 - Somewhat Walkable
Sources: Sperling's Best Places, Walk Score
Milwaukee's Neighborhoods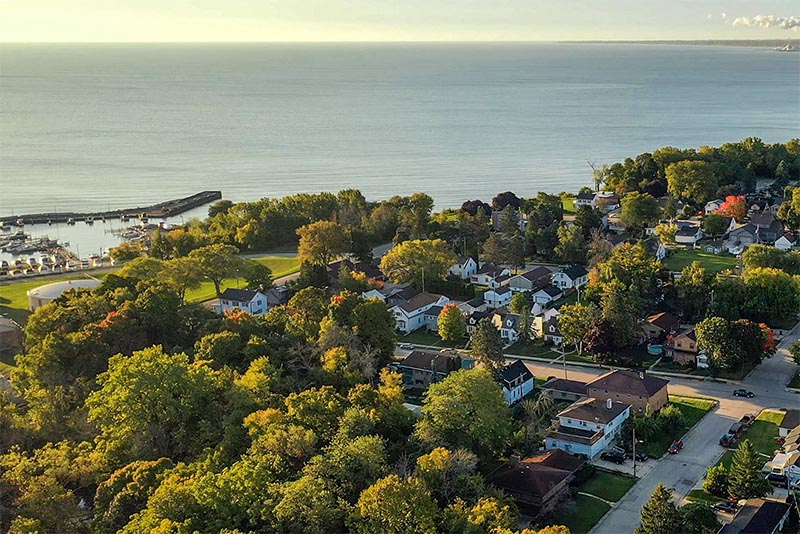 Milwaukee's population has remained much the same in both the city itself and the greater metropolitan area over the past 20 years. The cost of living in the city of Milwaukee is 15% below the national average, though it climbs closer to the median in the surrounding suburbs.
There are a number of vibrant neighborhoods in Milwaukee that offer walkability, dining, entertainment, and shops, all concentrated within a few blocks. Just south of downtown, the Historic Third Ward is one of the city's oldest neighborhoods. This busy area has the Milwaukee Public Market, Broadway Theater Center, and some of the best bars and restaurants in the city as well as access to the river and lakefront. Bay View, a bit further south, has a funky vibe with art galleries, coffee shops, and unique stores. Walker's Point has recently experienced a redevelopment boom, making it one of the most up-and-coming neighborhoods in the city.
Slightly less urban, with more parks and family-friendly amenities, Wauwatosa, the East Side, Glendale, and West Allis are all suburbs that offer a more suburban style of living just a short commute from downtown.
Climate and Getting Around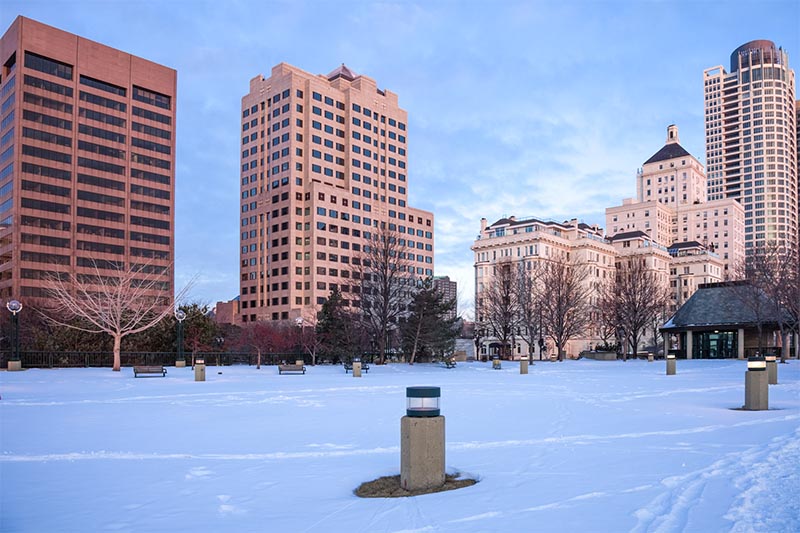 It's hard to encapsulate Milwaukee's climate in just a couple of sentences. It has four distinct seasons that bleed a bit into each other and that means things can vary wildly. March could mean a blizzard or short sleeves for Opening Day. Same goes for October. No one should lie to you about the winter—it's cold and windy and snowy. Summer is hot and more humid than most people expect this far North. You'll learn to dress in layers and keep a small closet's worth of extra clothing in your car so that you're prepared for anything.
The city's streetcar known as The Hop is free to ride. At the moment, it's a relatively limited service that connects Easttown in the Downtown part of the city to the Lower East Side and Third Ward neighborhoods. The available routes have already expanded once and plans are in the works for even further expansion. Milwaukee County Transit System has 44 bus routes that cover the city and suburbs extensively.
Much of Milwaukee is easiest to access by car, though there's a strong bicycle culture. There are more than 100 miles of bike lanes in the city as well as a number of city, county, and state trails running throughout the city and suburbs. There's also a local bike-share program called Bublr with 83 stations throughout the area.
The Good Land, Indeed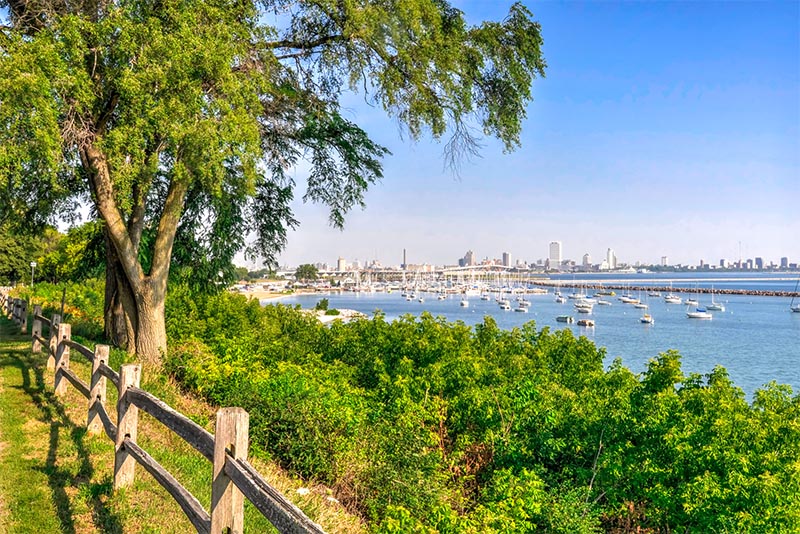 Milwaukee is steeped in culture, from world-renowned architecture and ballet to a dozen museums and theater companies. Known as the City of Festivals, you'll find more than 60 celebrations in Milwaukee during the summer months, including Summerfest, the World's Largest Music Festival. We'll celebrate pretty much anything if given the chance. And we love our sports teams. Tailgating is as much a tradition as Brewers games themselves. Between Giannis and the development of the Deer District Downtown, it's never been a better—or more fun—time to be a Bucks fan.
Residents take advantage of the few short months of warm weather and aren't afraid to be outside in the winter. With more than 15,000 acres of city parkland, more than a dozen state parks within an hour's drive, Lake Michigan and the three rivers that converge downtown, plus the dozens of small lakes within a short drive, residents have their pick of outdoor activities. Nearly all Milwaukeeans are no more than a 10-minute walk from a park.
Even if you're not the outdoorsy type, you can always stop into the vast array of outdoor beer gardens that have popped up in the past few years.
Beer, Brats, and Beyond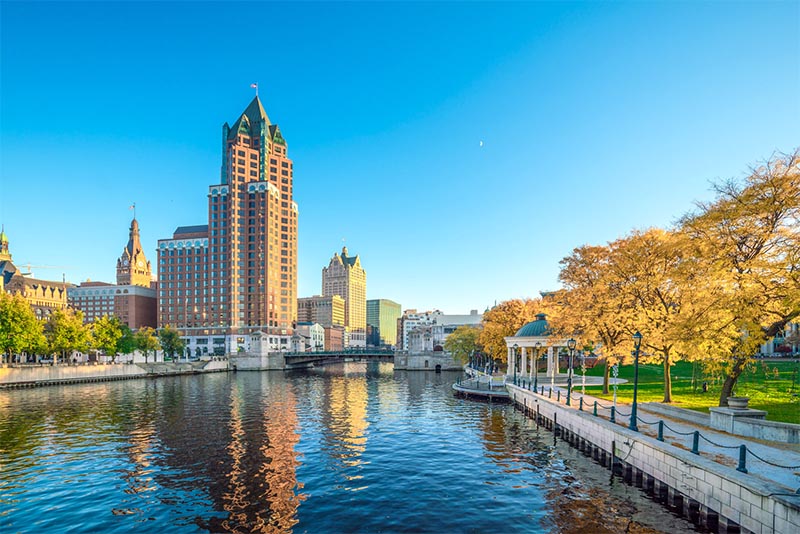 Milwaukee has been synonymous with beer for generations. More than three dozen breweries have opened in the city in the last 10 years. You'll never have a better High Life than fresh off the tap at the end of the Miller Brewery tour, but why limit yourself to a lager? Breweries around the city are making interesting sudsy concoctions in practically every neighborhood. Eagle Park Brewing was named one of the best in the country, Good City Brewing is expanding across the city again and Lakefront Brewery has been doing this as long as a lot of the other brewers in the city have been alive, just to name a few.
Even if you're not a beer drinker, there are fun and funky spots like At Random, which serves up ice cream drinks like it's 1964, rooftop libations at The Outsider atop the Journeyman Hotel, hard cider at Lost Valley Cider Co., and craft concoctions at the James Beard-nominated Bryant's Cocktail Lounge.
The dining scene ranges from simple butter burgers and frozen custard at Kopp's or to James-Beard-nominated dining at Sanford, Braise, Ardent, and Bavette. Chefs here in America's Dairyland enjoy access to some of the freshest ingredients in the country and they take great advantage. Don't be surprised when you're shopping alongside some of the best chefs in town at one of the many local farmers markets.