National Local Life
Living in Savannah: What You Need to Know
Tourists flock to Savannah for its nearby beaches, verdant squares, warm climate, and carefully preserved edifices steeped in history. There's an indescribable magic in Savannah, where guests are met with remnants of the past blended seamlessly into a modern landscape. While the "Hostess City of the South" attracts visitors near and far, this storybook city serves as a beacon of culture, design, and style that makes it an ideal place to live.
Coupled with its unrivaled southern charm, Savannah boasts big industry, with opportunities that range from creative services and tech startups to aerospace and logistics. Because Savannah is a port, tons of goods, cargo, and containers are shipped through Georgia's coastal city. In fact, the Port of Savannah along with the Port of Brunswick shipped 37.8 million tons this past fiscal year, according to Georgia Ports Authority, making Savannah one of the busiest ports in the U.S.
For professionals seeking flourishing, global careers, Savannah should be top of mind. Whether you're looking for professional pursuits, a cool downtown scene, up-and-coming neighborhoods, savory bites, or top tier entertainment, here's what you need to know about living in Savannah.
Savannah at a glance:
Population: 145,094
Cost of living index: 83.2 (U.S. average is 100)
Median home price: $131,700
Walk Score: 84 - Very Walkable
Sources: Sperling's Best Places, Walk Score
Best in Entertainment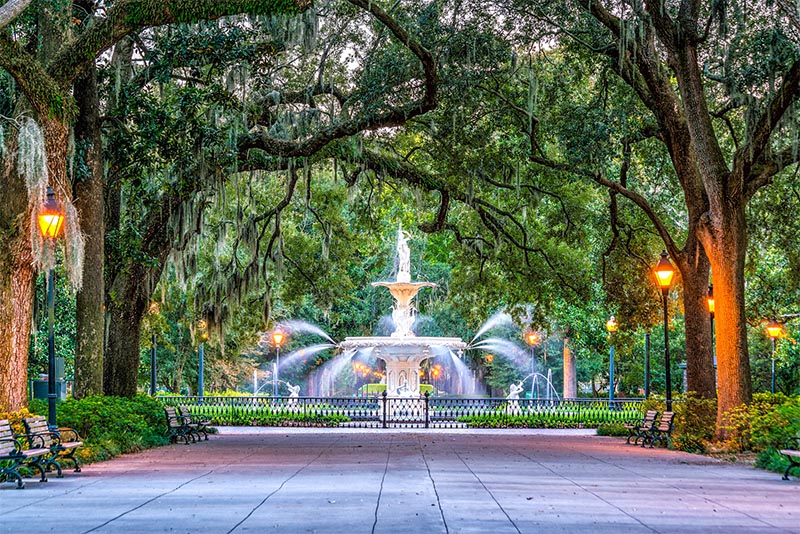 It's easy to believe that Savannah's moviemaking days are relegated to the past. Remember "Midnight in the Garden of Good and Evil" and "Forrest Gump"? Classic films that some transplants credit for their move to Savannah back in the 1990s? Well, it may surprise current movie lovers that the filmmaking industry in Savannah is booming. In recent years, Savannah has grown into the top location for budding filmmakers, actors, and producers. In fact, MovieMaker Magazine considers Savannah the "Best Place to Live and Work as a Movie Maker: Small Cities and Towns."
Recent projects filmed in Savannah include Disney's live-action remake of "Lady and the Tramp," Hulu's Emmy Award-winning "The Act" starring Patricia Arquette and Joey King, "Gemini Man" starring Will Smith, "Baywatch" starring Dwayne 'The Rock' Johnson and Zac Efron, and Academy Award-nominated "Ford v Ferrari" starring Christian Bale and Matt Damon, among many others.
From animation to live-action, thrillers to comedies, Savannah produces films and TV shows for any cinephile.
Where to Live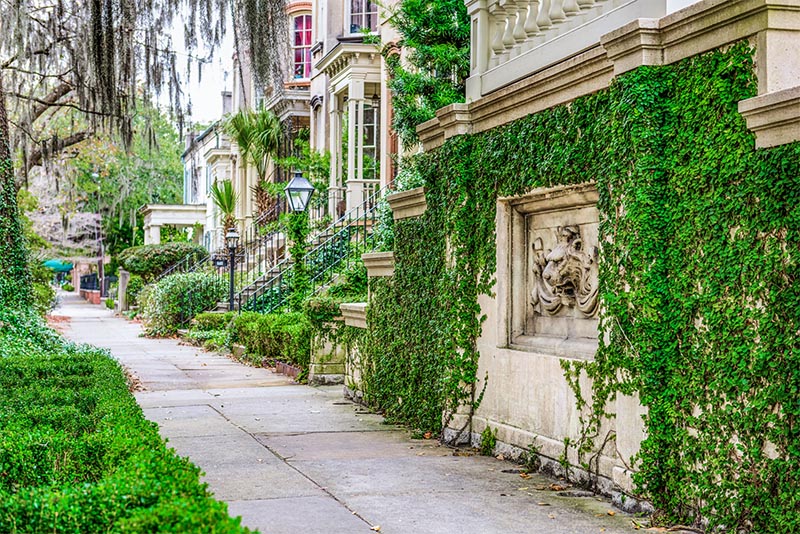 In addition to the thriving economic development of Savannah's Historic Downtown District, many surrounding Savannah neighborhoods are experiencing similar growth as well. Ardsley Park - Chatham Crescent, a short drive or bike ride south of downtown, offers nice areas filled with new and established Savannahians. The neighborhood maintains historic features but incorporates modern shops and aesthetics as well as both lavish and affordable living.
Any resident of Parkside will claim that it's the best side. A few steps from one of Savannah's largest parks, this neighborhood offers a close-knit community in the heart of the city. Daffin Park, Parkside's crowning jewel, has tennis courts, football fields, soccer fields, basketball courts, and houses Grayson Stadium, a baseball stadium where fans can go "Savannah Bananas" for the city's home team. With a median home price of $229,900, Parkside is a fitting and desirable location for young families.
For suburban living close to scenic marshes, Georgetown and Windsor Forest are choice neighborhoods. In these areas, residents are close to big-box stores and sprawling golf courses.
Thomas Square and its surrounding neighborhoods have seen a resurgence in recent years. If a new restaurant, shop, or local haunt pops up in Savannah, chances are it's located in this area. For residents who seek short walks to local eateries and bars with proximity to the interstate, Thomas Square is the neighborhood to go house hunting.
Where to Eat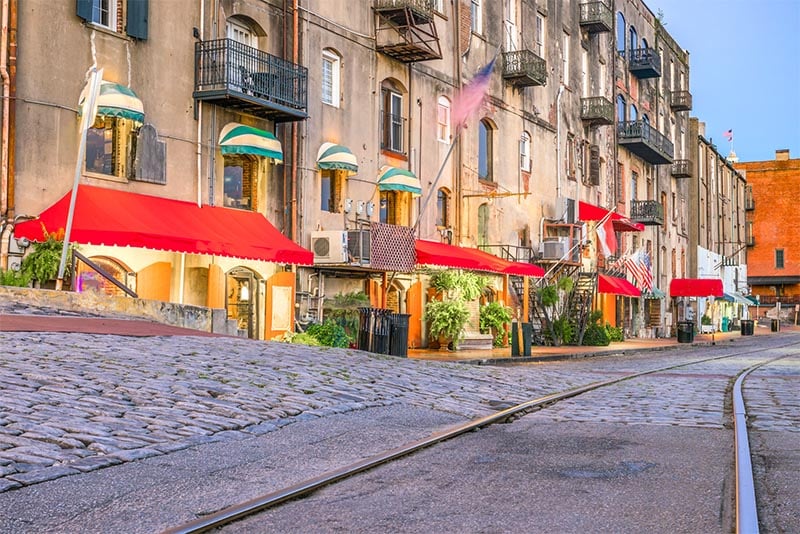 Top restaurants abound in Savannah, ranging from elegant cuisine to down-home cooking. After all, this is the South. Although Savannah's restaurants receive their much-deserved foodie praise, there are other eateries within neighborhoods that serve up tasty dishes with quality service.
Fork and Dagger offers a mix of American classics, like their delectable grilled cheese sandwich, and divinely flavored Cuban dishes like, well, the cuban sandwich. They also have delightful breakfast options, but the best part of the diner is the neighborliness of the restaurant's staff and owners.
For game-day hot wings, 520 Wings is the answer. While its claim to fame is wings, the restaurant also serves up shrimp, pasta, and cheesesteaks. On the same road is Betty Bombers, located across the street from the city's most famous park, Forsyth Park. Betty Bombers crafts the best burgers and sandwiches that rival anyone's favorite dishes. One of the locals' favorite features of Betty Bombers is the American Legion bar next door, where patrons can sip on alcoholic beverages for the cheapest prices in town.
For filling and savory dishes, any person visiting or living in Savannah should frequent Rancho Alegre for their exquisite empanadas, and Sweet Potatoes for their pot roast, peach glazed barbecue chicken, and world-famous banana pudding.
Getting Around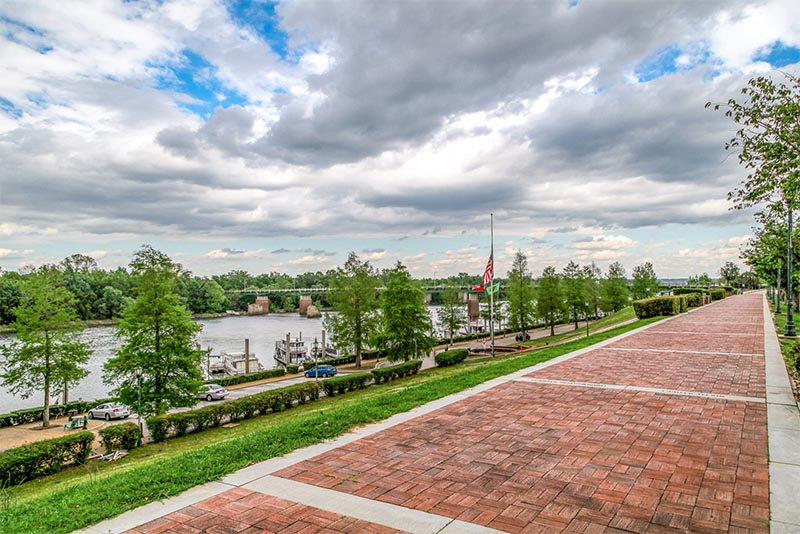 Much of Savannah requires a car to get around, but if you live or work near downtown, the commute is easy. Savannah's Chatham Area Transit operates a free downtown transit system that makes 24 stops throughout the Historic District, and is available daily—and the cool factor: Free transit isn't limited to land. Free passage is offered across the Savannah River as well.
The city of Savannah also has added several new green bike lanes throughout downtown, making it easier for students and commuters alike to get around.