Living in Wilmington, NC: What You Need to Know
Living in Wilmington, NC: What You Need to Know
Acclaimed as one of the most affordable coastal cities in the country, Wilmington, North Carolina, is drawing newcomers from all over. With a population of 126,669, Wilmington is home to an eclectic assortment of residents, including young professionals, single families, retirees, and students of UNC's Wilmington campus.
Located on the state's southeastern shore on a peninsula between the Atlantic and the Cape Fear River, which flows into the ocean from the center of the state, Wilmington offers stunning views and unparalleled beach access to residents and visitors alike. What's more, the city is rich with historic landmarks, including the WWII Battleship North Carolina and a historic district filled with preserved architecture from the 18th and 19th centuries.
If you're considering moving to Wilmington, here's your guide to the neighborhoods, beaches, and historic features that make the city so beloved.
Wilmington at a Glance:
Cost of Living Index: 97.5 (U.S. average is 100)
Median Home Price: $230,500
Walk Score: 35 - Car-dependent
Sources: Sperling's Best Places, Walk Score
Finding a Home in Wilmington, NC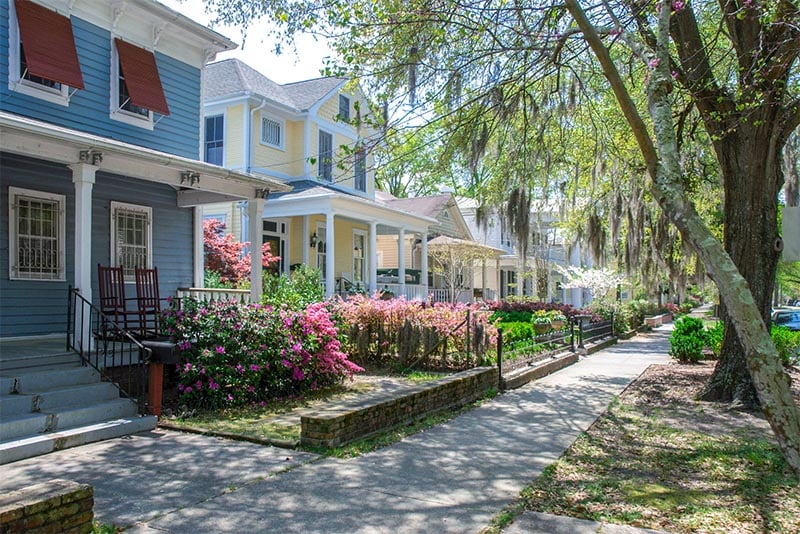 The relatively low cost of living in the area is one of the main factors motivating people to move to Wilmington. With a median home cost of $230,000, the city offers a range of housing options, from luxurious homes in gated communities to smaller fixer-uppers and rental properties.
If you're drawn to city life and don't want to be far from downtown, you should look for homes in Wilmington's Historic District. This section of town hugs the Cape Fear River and is filled with historic architecture from the 18th and 19th centuries, along with museums, food and drink options, and many other attractions. The median cost of a home in historic Wilmington is $230,500, according to Sperling's Best Places.
Another popular neighborhood in Wilmington is Riverlights. Also along the river, Riverlights is a master-planned coastal community that offers homes with beautiful views overlooking the water. With small, affordably priced homes and condos, this district attracts young families who want a balance of quiet, residential living and proximity to the energy of downtown.
Those looking for luxury homes should check out Landfall, a gated neighborhood located on the northeast side of town that offers four miles of waterfront homes along the Intracoastal Waterway and Howe Creek. Landfall's amenities include a championship golf course and an Olympic-sized swimming pool along with tennis courts, clubhouses, and parks. It's just five minutes from Wrightsville Beach.
Wilmington's Outdoor Attractions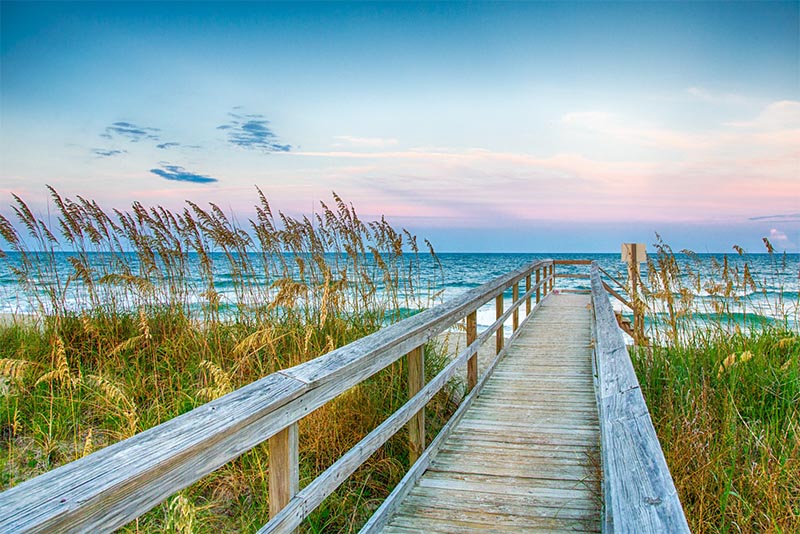 If you like beaches and balmy riverside strolls then Wilmington is the place for you. No more than a 30-minute drive from downtown Wilmington are three beaches, each of which offers its own unique attractions. The most developed and accessible beach is Wrightsville Beach, just east of town, with its own community of residents and numerous top-notch restaurants. Further down the coast is Carolina Beach, which has a popular, kid-friendly boardwalk, and Kure Beach, home to an aquarium and the oldest fishing pier on the coast.
Beaches aside, the city of Wilmington contains a variety of outdoor features that attract athletes and people with pets. One highlight is the Riverwalk, a 1.75-mile path on the city's western edge. The walkway runs parallel to the Cape Fear River and is lined with restaurants, shops, and other attractions. Pedestrians and bikers can also enjoy the Gary Shell Cross City Trail, a 15-mile off-road path that begins in the south part of town, cuts through the UNC Wilmington campus, and ends close to Wrightsville Beach.
Historic and Cultural Highlights of Wilmington
Architecture and museums preserve Wilmington's rich history. The city served as a major port during the Revolutionary and Civil Wars and was home to a big shipyard that built ships for the US navy during WWII. Moored along the Riverwalk and containing artifacts from the war, the USS North Carolina Battleship is a memorial from WWII that visitors can tour.
The Bellamy Mansion Museum in the heart of downtown is a beautiful example of the south's neoclassical antebellum architecture. Wilmington Railroad Museum has a full-size steam engine, interactive scale models as well as exhibits rich with the history of the Atlantic Coast Line Railroad. Another popular attraction is the Cape Fear Museum, a history and science museum with kid-friendly exhibits that explore the region's culture.
The city of Wilmington has an artistic scene, most notably in the areas of performing arts and filmmaking. Thalian Hall, a historic theatre built in 1858, hosts hundreds of performance events each year, and the Brooklyn Arts Center at St. Andrews brings people together for concerts, art shows, and other community events. Then, there's EUE/Screen Gems Studios, a 50-acre film production studio where over 400 film and TV projects have been shot, including Marvel's "Iron Man 3," the largest film shot in the state.
Drinking and Dining in Wilmington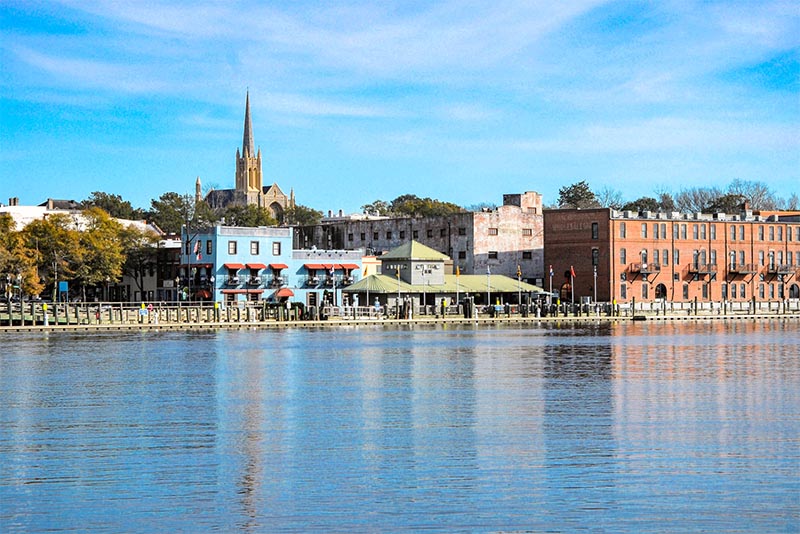 Though best known for seafood and southern cuisine, Wilmington has a wide variety of restaurants. One highlight is Wrightsville's Oceanic. Located on a pier that sticks out over the ocean, this restaurant offers a dining experience with a spectacular view. Another favorite is Indochine, which serves Thai and Vietnamese cuisine in a beautiful space that includes gazebos, a lotus pond, and an intricately decorated tearoom.
Wilmington also has a growing beer scene, with an annual Beer Week in the fall and over a dozen craft breweries. Some highlights include Mad Mole Brewing, which is entirely solar-powered, and Broomtail Craft Brewery, which emphasizes sustainable brewing practices and features a cozy, colorful taproom. Another favorite is Front Street Brewery, Wilmington's oldest brewery from 1995, located in the heart of Historic Downtown.
Weather and Transportation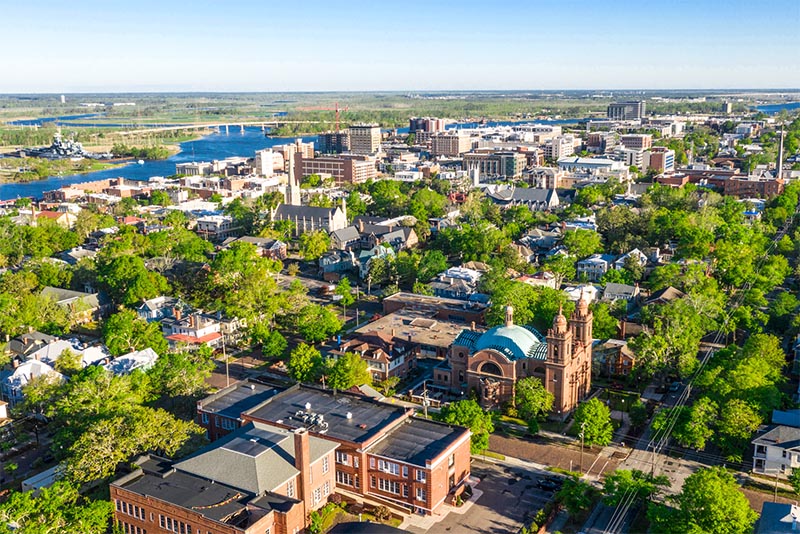 While downtown Wilmington is compact and walkable, it's best to have a car to access the other parts of the city and the surrounding beaches. The city is moderately bikeable and has minimal public transportation.
Wilmington has a humid subtropical climate with mild winters (ranging from 30 to 50 degrees Fahrenheit), long lush springs, and humid summers with temperatures that can climb well into the 90s. The area experiences year-round rain and is subject to hurricane and tropical storm activity.