Los Angeles Local Life
Los Angeles Neighborhood Guide
Ah, to live and die in LA. The City of Angels. Where it's sunny nearly every day, and where a casual visit to the grocery store might mean running into celebs like Jay Leno. It's a city that had no NFL football teams for decades and now has both the Chargers and the Rams, the latter going all the way to the Superbowl this year. While there's much to say about living in Los Angeles, it's a city that's rich with culture, glitz and glam, recreational activities, and amazing food.
No one in the city is free from LA's mind-numbing traffic, even Elon Musk, who's been building underground tunnels for the past few years. However, with so many improvements to the city's infrastructure and transportation, from installing bike lanes and scrambled crosswalks to electronic scooters and bicycles, LA is quickly becoming one of the nation's most pedestrian-friendly cities.
Beginning from the city's Westside to it's Eastside, it's worthwhile getting to know the key communities from an insider's perspective. Afterall, there's more to LA than what meets the eye.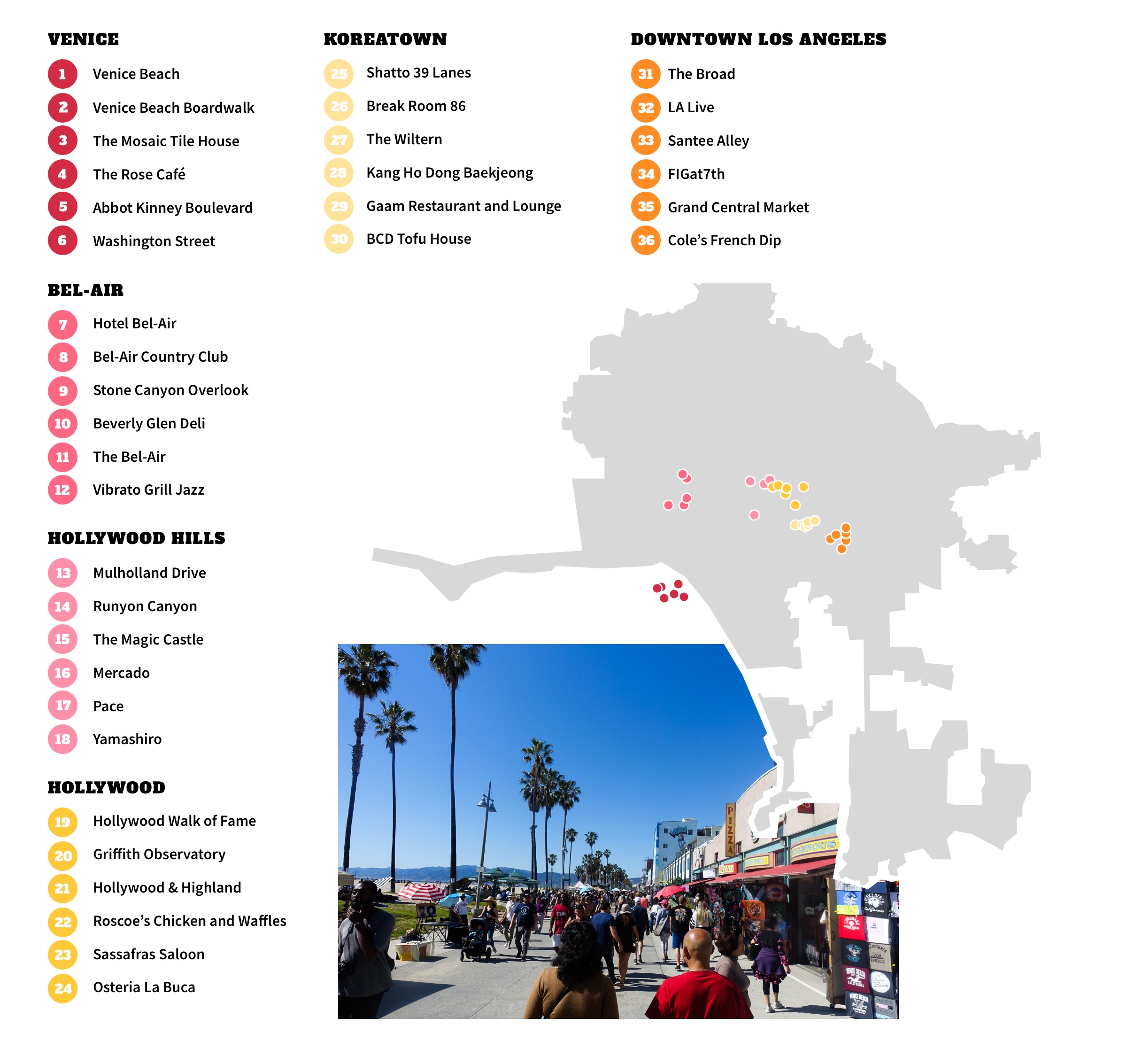 Los Angeles at a Glance
Here are some useful tips to know about LA and its neighborhoods.
Transportation: Yes, there's the Metro, which is LA's main transportation system, but for the most part, locals drive or use a rideshare app to navigate the city. Unlike other cities, traveling from one end of LA to the other by public transit might mean over an hour of transfers and additional walking. While the city's transit system has vastly improved over the past few years, it's still several years away from becoming fully plugged in.
Peak Traffic Hours: Traffic is inevitable for many people, especially for those who have a regular 9-to-5 job. However, for those who have the flexibility to avoid it, don't drive between the hours of 8 a.m. and 10 a.m. or from 4 p.m. to 7 p.m. Good luck if you're anywhere near Santa Monica during these peak times.
Directions: For any newcomer to Los Angeles, living in the city means knowing which direction you're in. The most common areas are LA's Westside and Eastside, both of which feature their own distinct characteristics. While the tech-filled Westside offers locals activities such as the beach, shopping promenades, and trendy upscale bars, the Eastside features a more urban, artistic atmosphere.
Here are some key facts for some of Los Angeles' most distinctive and popular neighborhoods.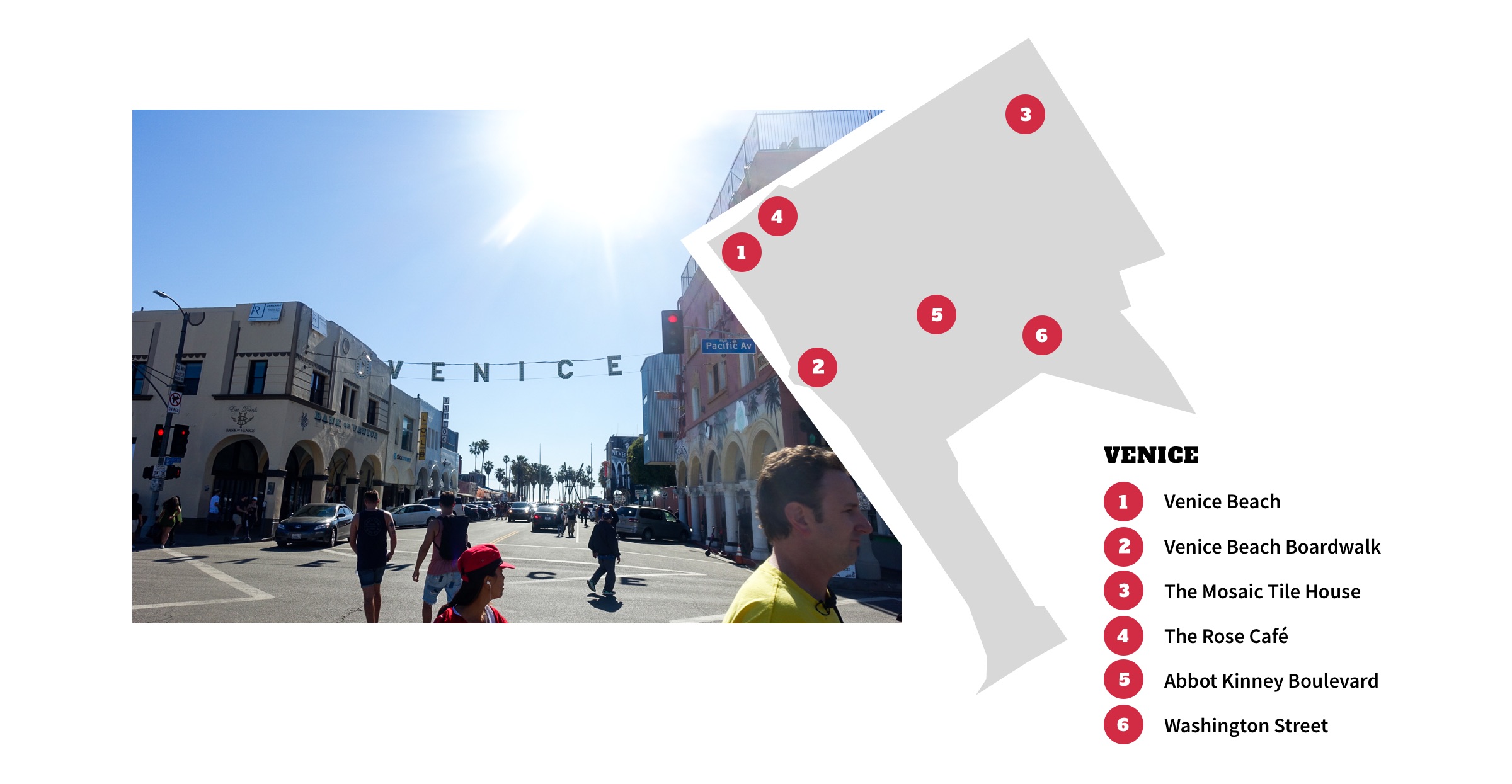 Vibrant and free-spirited, Venice is one of the Westside's premiere communities. It's a magnet for tourists because of its quirky shops, fun-loving locals, eclectic eateries, popular boardwalk, and eye-catching street graffiti. Oh, and did we mention the beach? Although Venice is still known for its bohemian neighborhood atmosphere, it's now mixed in with a more upscale and professional type of vibe, thanks to the rise of the tech-fueled Silicon Beach.
What to Do
Every day is a new experience at Venice Beach. You can spend the entire weekend here and still feel like you've missed something. It features a memorable boardwalk, as well as a skate park and a bike path that cuts through both Santa Monica, Marina del Rey, and Hermosa Beach, and of course—it also has a beach where you can lay out and enjoy the sun.
This mile-and-a-half long boardwalk is the highlight of Venice Beach. Filled with one-of-a-kind stands, food and ice cream shops, cannabis shops, souvenir stores, and street performers, this street does not fail to entertain crowds passing by. Be sure to snap a picture with some of the boardwalk's murals and visit Muscle Beach, which is popular with bodybuilders.
This intricately decorated house is located on a residential street in Venice, and it's absolutely bonkers. As its name suggests, it's covered in mosaic tiles, from its front lawn to the inside of the house—all except for the roof. Perfect for taking pictures, this local gem is definitely worth getting out of your car to visit. The owners of the colorful home host tours every Saturday from 1 p.m. to 4 p.m. Reservations are recommended.
Where to Eat and Drink
Great for both a casual brunch or an intimate dinner, The Rose Café on Rose Avenue features two dog-friendly patios, a quick service café, and full sit-down table service. From the crafted cocktails to the delicious entrees, this restaurant serves fresh Californian fare. Popular dishes include avocado toast, burrata, hearth roasted brioche french toast, and the grain bowl.
Can't decide what to eat yet? Abbot Kinney Boulevard doesn't just offer a variety of restaurants and bars, it also features art galleries, awesome thrift shops, and hip independent stores. Known for being "America's Coolest Street," this boulevard regularly attracts large crowds of visitors. Some of the most popular restaurants can be found on Abbot Kinney Boulevard, such as The Tasting Kitchen, Gjelina Take Away, and Plant Food + Wine.
6. WASHINGTON STREET
Feel like eating a meal along the beachfront? Head towards Washington Street, and you'll find plenty of restaurants to choose from. After a long day of exploring the boardwalk, wind down at one of the area's popular eateries, including Scopa Italian Roots and Hinano Café.
Why Locals Live Here
Times are changing and the residents here are also changing. In the past, this laidback community was filled to the brim with artists and beach bums. Now, with the arrival of many tech start-ups, the neighborhood is becoming more modern, glamorous, and upscale. Locals love living in Venice because it's steps away from quality restaurants, shops, cafes, galleries, and of course, the beach.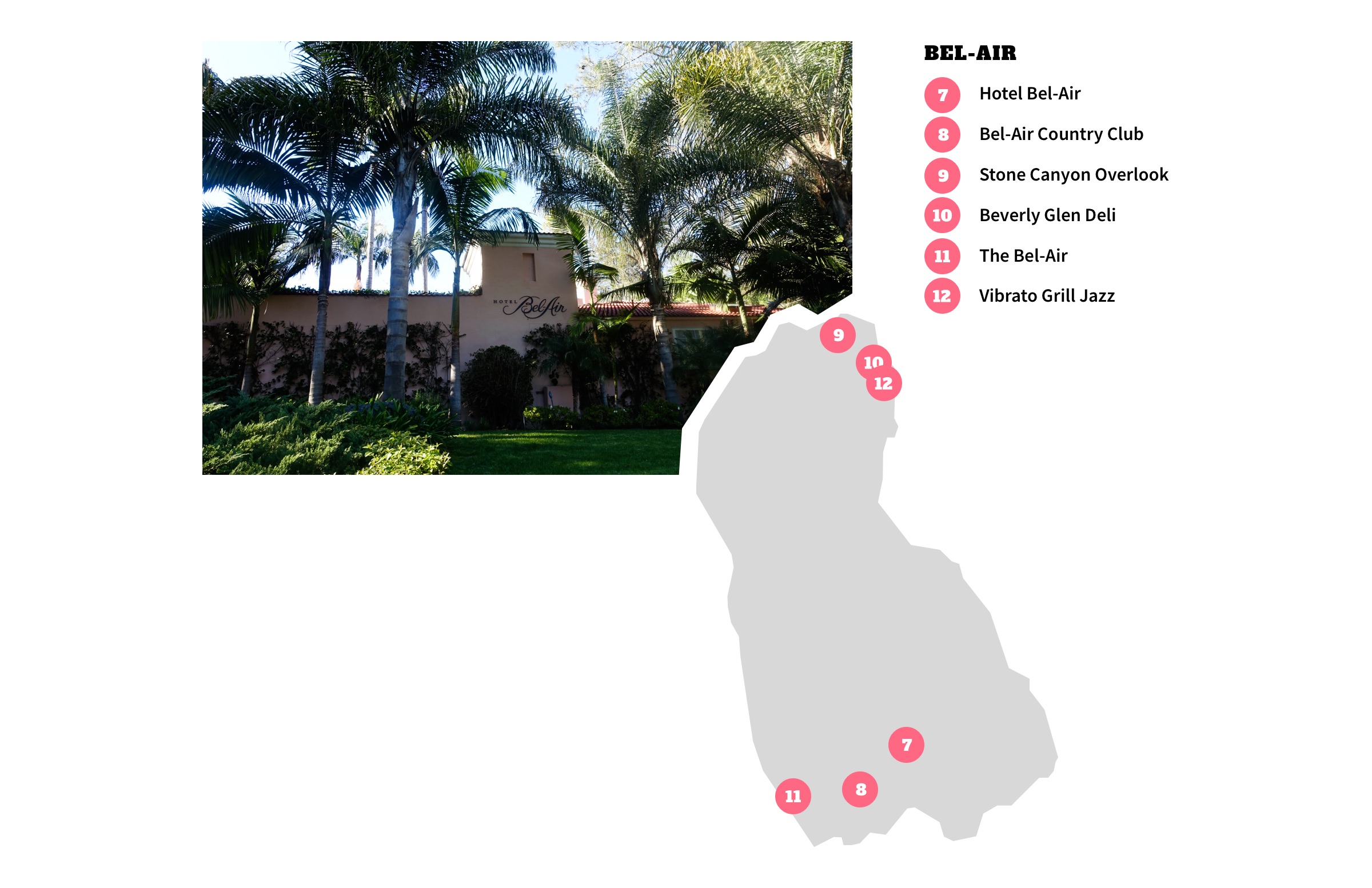 Although Bel-Air has always been known as a lavish Westside neighborhood, the community was first made famous by the hit show "The Fresh Prince of Bel-Air." Filled with sprawling mansions and hidden estates, Bel-Air oozes glamour and prestige. Located at the foothills of the Santa Monica Mountains, many of the large estates are obscured by tree-lined streets and lush vegetation. The ritzy residential neighborhood is home to many of the world's elite, not just those in Los Angeles, and many residents include lawyers, doctors, entertainment professionals, celebrities, and directors.
What to Do
Elegant and romantic, the five-star Hotel Bel-Air is one of the city's most exclusive boutique hotels. One of only 9 hotels owned by the Dorchester Collection, this luxury hotel is no stranger to the rich and famous. Originally built by Alphonzo Bell in 1922, this hotel drips of old Hollywood. The property is also surrounded by 12 acres of gardens, making it a truly lavish getaway for guests.
Designed by George Thomas and William Bell in 1926 and renovated by Tom Doak just last year, the Bel-Air Country Club is a private club that offers members a mixture of both old and newly designed courses. If you got the big bucks, the initiation fee to join this club is a whopping $150,000. Prominent members include Jack Nicholson, Luke Wilson, Kelsey Grammar, Clint Eastwood, and Tom Cruise. Fun fact? No shorts allowed here, long pants only.
While Stone Canyon Reservoir is no longer open to the public, visitors in Bel Air can still enjoy a hike at Stone Canyon Overlook located on Mulholland Drive. Simply follow Bellagio until it turns into Casiano and keep going until the paved streets stop. The trail runs parallel to the 405 freeway, but if you keep your eyes open, you'll notice a series of trails leading to Stone Canyon Overlook.
Where to Eat and Drink
Family-friendly and welcoming with frequent appearances from celebrities, Beverly Glen Deli is a delicatessen and restaurant that features breakfast, lunch, and dinner with a cozy and quaint atmosphere. If you get dizzy after looking at the restaurant's expansive menu, remember that the most popular items include French toast, soup, coffee, and its classic sandwiches.
If you're looking for upscale dining in an intimate ambiance, head towards The Bel-Air on Sepulveda. Formerly known as Bel-Air Bar+Grill, this restaurant offers customers a selection of crafted cocktails and New American specialties from shrimp cocktail and sea bass to calamari and grilled lamb chops. The swanky restaurant boasts of modern décor with works from local artists.
Who doesn't love dining to live music, especially if the restaurant is owned by Grammy winner and music icon Herb Alpert. Cozy, romantic, and dimly lit, this is a great place to impress a date on any occasion. The restaurant features seafood dishes, bar specialties, and let's not forget their delectable filet mignon.
Why Locals Live Here
It's easy to see why Bel-Air is one of the most desirable neighborhoods in all of Los Angeles, especially since it offers residents upscale amenities, privacy and seclusion, and top-rated private schools. It's one of the city's least dense communities. With so few people living in this neighborhood, it's considered very close-knit and family-friendly. It also doesn't hurt that Bel-Air is only a stone's throw away from UCLA and LA's entertainment hub.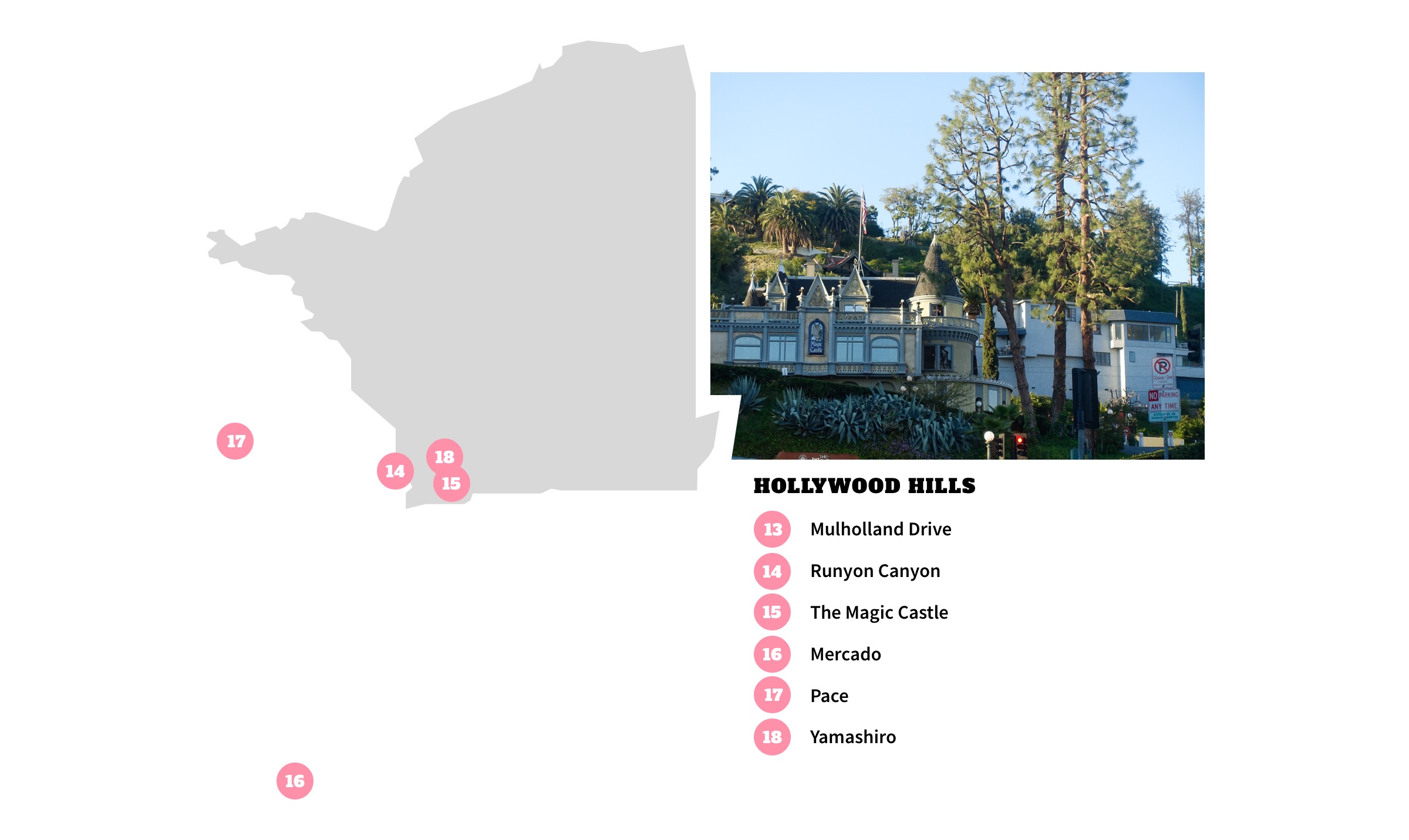 Hollywood Hills is an upscale hillside neighborhood located right above the famous Sunset Strip, bordering the cities of West Hollywood and Beverly Hills. It's conveniently located in central Los Angeles, slightly west of Hollywood, and it's known for its windy roads, mix of properties, and impressive mountain views. Many people visit this neighborhood if they want to look at the lavish homes or go hiking around its trails.
What to Do
Named after the civil engineer William Mulholland, this famous road has been featured in many songs, films, and books. Known for being one of the most scenic roads in the nation, Mulholland Drive stretches nearly 21 miles, featuring some of the city's best views. There are several outlook points for visitors to stop and enjoy, and it also showcases some of the most opulent and expensive homes in the world.
With several hiking trails to choose from easy to difficult, visitors can easily spend between 30 minutes to several hours exploring Runyon Canyon. Dog-friendly and picture-worthy, this is a must-visit hiking spot for newcomers to Los Angeles. Be sure to keep your eyes open for celebrities as well—this is a go-to destination.
OK, so you'll need an invite from a magician, but it's still possible to get into the Magic Castle. Although the Magic Castle is exclusive, once you're inside, you'll be in for a treat. From the establishment's resident ghost piano player (Hi, Irma!) to its many private magic shows, visitors will have a night to remember.
Where to Eat and Drink
Did someone say micheladas? Displaying the heart and soul of Mexican cuisine, Mercado is a sleek and modern spot that offers inventive Mexican dishes created by Chef Jose Acevedo. For the tequila lovers, Mercado also has a selection of more than 70 tequilas to sip as a shot or mix in a cocktail.
This romantic Italian restaurant is located in the upscale Hollywood Hills community of Laurel Canyon. Whether you're craving pasta or pizza, you'll be happy knowing that all of the ingredients are locally sourced and organic. Best part? Everything's homemade.
A ritzy and glamorous Japanese fusion restaurant on the hills, Yamashiro is known for its city views, lush gardens, koi ponds, and a large statue of the Buddha. Whether you're in the mood for sushi or steak, this eatery has you covered. Yamashiro is a great spot to bring a date for any special occasion.
Why Locals Live Here
Many homebuyers are drawn to this neighborhood because it offers relative seclusion, some of the best mountain views in the city, and easy access to LA hotspots. Residents living in Hollywood Hills are rather diverse, ranging from athletes and celebrities to students and industry professionals.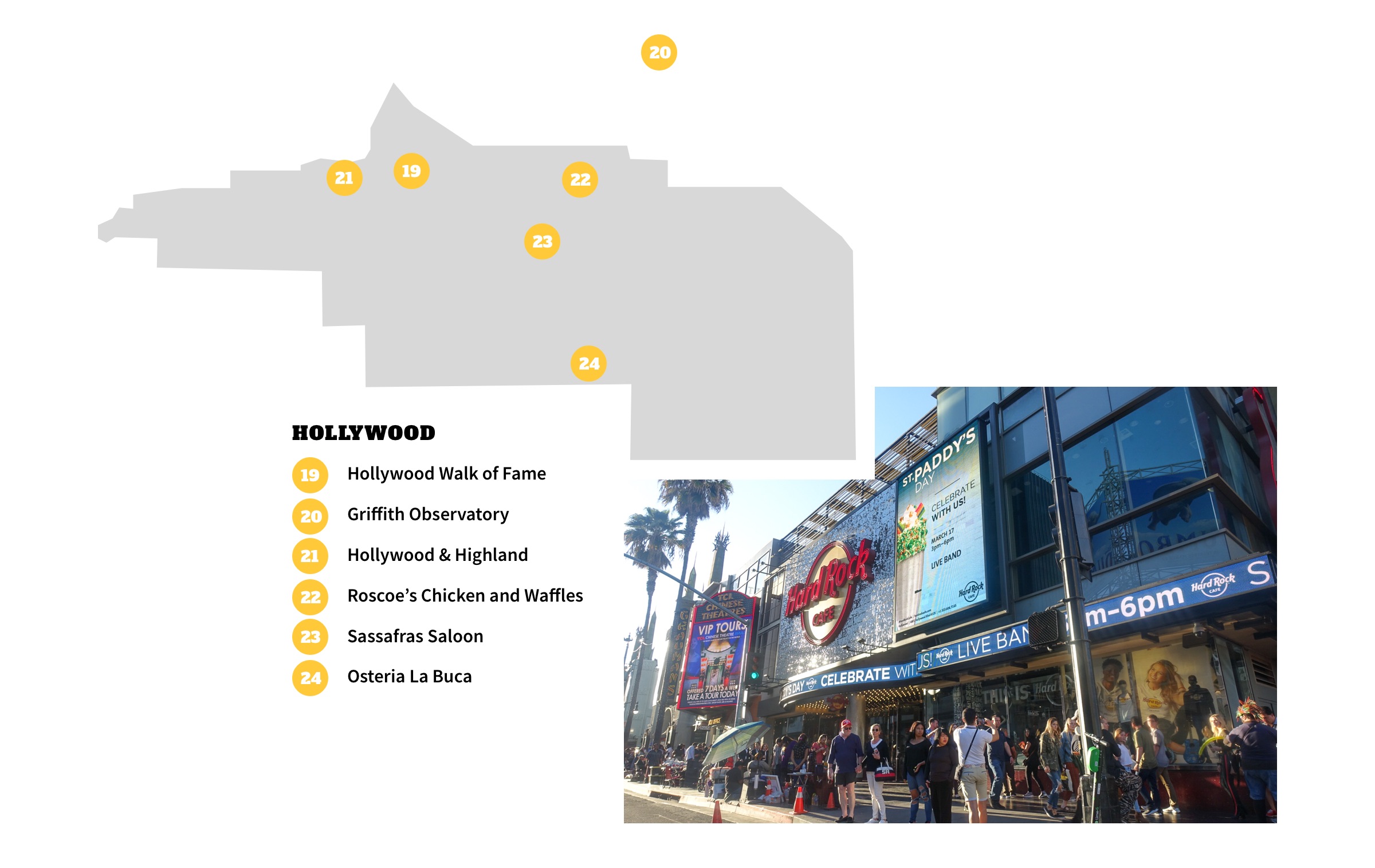 Located in the center of Los Angeles is the world-famous Hollywood. Although it's known throughout the world as a home to celebrities, this actually isn't the case in real life. In reality, this urban neighborhood is filled with studios, tourists, traffic congestion, bars, shopping, and restaurants.
What to Do
There are over 2,600 embedded stars that cover about 15 blocks of Hollywood Boulevard and three blocks of Vine Street. Even though parking is a nightmare and navigating the crowds might be traumatic, visiting the Hollywood Walk of Fame is practically a rite of passage for all LA newcomers.
Day or night, the city views from Griffith Observatory are breathtaking. Whether you want to hike, watch the cosmos show, look at the city through a telescope, or explore the art deco landmark, a trip to Griffith is an adventure to remember.
The Hollywood & Highland Center is an entertainment and shopping complex that includes the world-famous Dolby Theatre and the historic TCL Chinese Theatre. The 460,000-square-foot shopping center is also home to the Academy Awards.
Where to Eat and Drink
Founded by Harlem native Herb Hudson in 1975, Roscoe's Chicken & Waffles is now one of the city's most popular destinations for comfort food. Practically a staple for locals in Los Angeles, Roscoe's offers the best of the best when it comes to soul food in Los Angeles. As the name suggests, be sure to order their famous chicken and waffle combos. You won't regret it.
Charming and vintage with an Old Western theme, stepping into Sassafras feels as if you just walked into a bar in the South—even though you're in the heart of Hollywood. The bar's decor resembles a bayou with plants, wicker chairs, antique mirrors, and portraits of Southern gentlemen. The live music will keep you and your friends entertained while waiting for your crafted cocktail or southern-style bites.
Lovers of Italian cuisine will rejoice once they try out Osteria La Buca, which features handmade pasta, including their signature bucatini carbonara dish. Both hip and intimate, Osteria La Buca is great for a casual night out or a special occasion.
Why Locals Live Here
Despite the fact that Hollywood gets some of the city's worst traffic, residents are attracted to the neighborhood because of its central location, easy access to the 101 freeway, and it's close proximity to bars and restaurants. It's also a great area to bring out-of-towners. Homes in this neighborhood, though getting more expensive, are still more affordable than Hollywood's surrounding communities of West Hollywood, Hollywood Hills, and Los Feliz.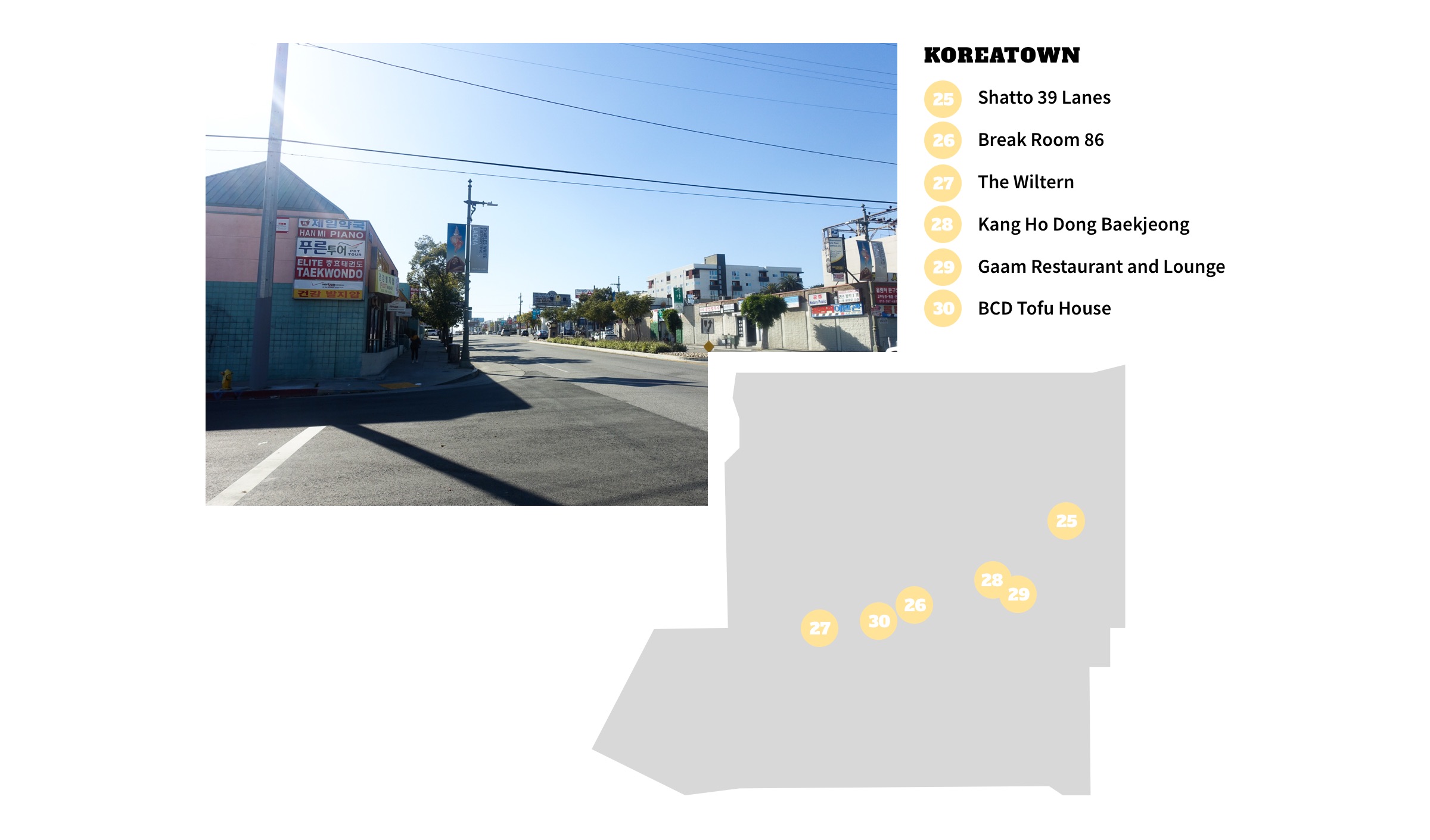 More diverse than the name suggests, Koreatown (or K-Town as locals call it) is an up-and-coming neighborhood that's been attracting lots of attention from developers and entrepreneurs. Located in central LA, between East Hollywood and Downtown LA, Koreatown is a cultural hub of activity, known for its renowned cuisine and endless nightlife and entertainment options.
What to Do
There aren't too many bowling alleys in Los Angeles that are as reasonably priced as Shatto 39 Lanes in K-town. For a casual and affordable night out in K-Town, head to Shatto Lanes, a 39-lane bowling alley with a full bar, coffee shop, pool tables, and old-school arcade games.
Houston Hospitality, the group responsible for opening the wildly popular Hollywood bars No Vacancy and Good Times at Davey Wayne's, did it again with Break Room 86—the hidden 1980s theme speakeasy and karaoke bar behind Line Hotel. To enter, you'll have to go through a loading dock into one of the vending machines.
Whether you're watching a show or checking out a concert, The Wiltern is Koreatown's premiere Art Deco structure known for its grand and intricate interior and overall elegance. This vintage theater and event space is a local fixture in the neighborhood, giving off a old-school, classic Hollywood feel which is rare in K-Town.
Where to Eat and Drink
Los Angeles' Koreatown is one of the best places to be for Korean BBQ, and it doesn't get much better than Kang Ho Dong Baekjeong. Commonly referred to as Baekjeong, this upscale restaurant features specialty banchan (small dishes) such as cheese corn and steamed eggs, and of course, traditional Korean BBQ. Just make sure you don't go during its peak hours, otherwise you'll be waiting for a long time to get seated; this place gets packed.
Looking for a restaurant to pregame before going out in K-Town? Gaam is a well-known fixture in the neighborhood, popular for its Korean pub food, sweet soju cocktails, and flashy K-pop music videos. It was also ranked by LA Weekly as one of the "Best Korean Restaurant for Partying" in 2012.
Open 24 hours a day, 7 days a week, the popular BCD Tofu House is known for its soon tofu soup. The soon tofu soups come in a variety of flavors, including beef, pork, kimchi, and even intestines, and the rich flavors are ideal after a night out at the bar.
Why Locals Live Here
Since K-town is filled with quality restaurants and entertainment, many millennials are attracted to the neighborhood, though their stay is usually short-term due to the high rental prices. However, many people don't realize that Koreatown also has a network of longtime residents who take a lot of pride in the neighborhood's resilience and ability to change with the times. With new developments rising throughout the community, many residents are excited about what's to come.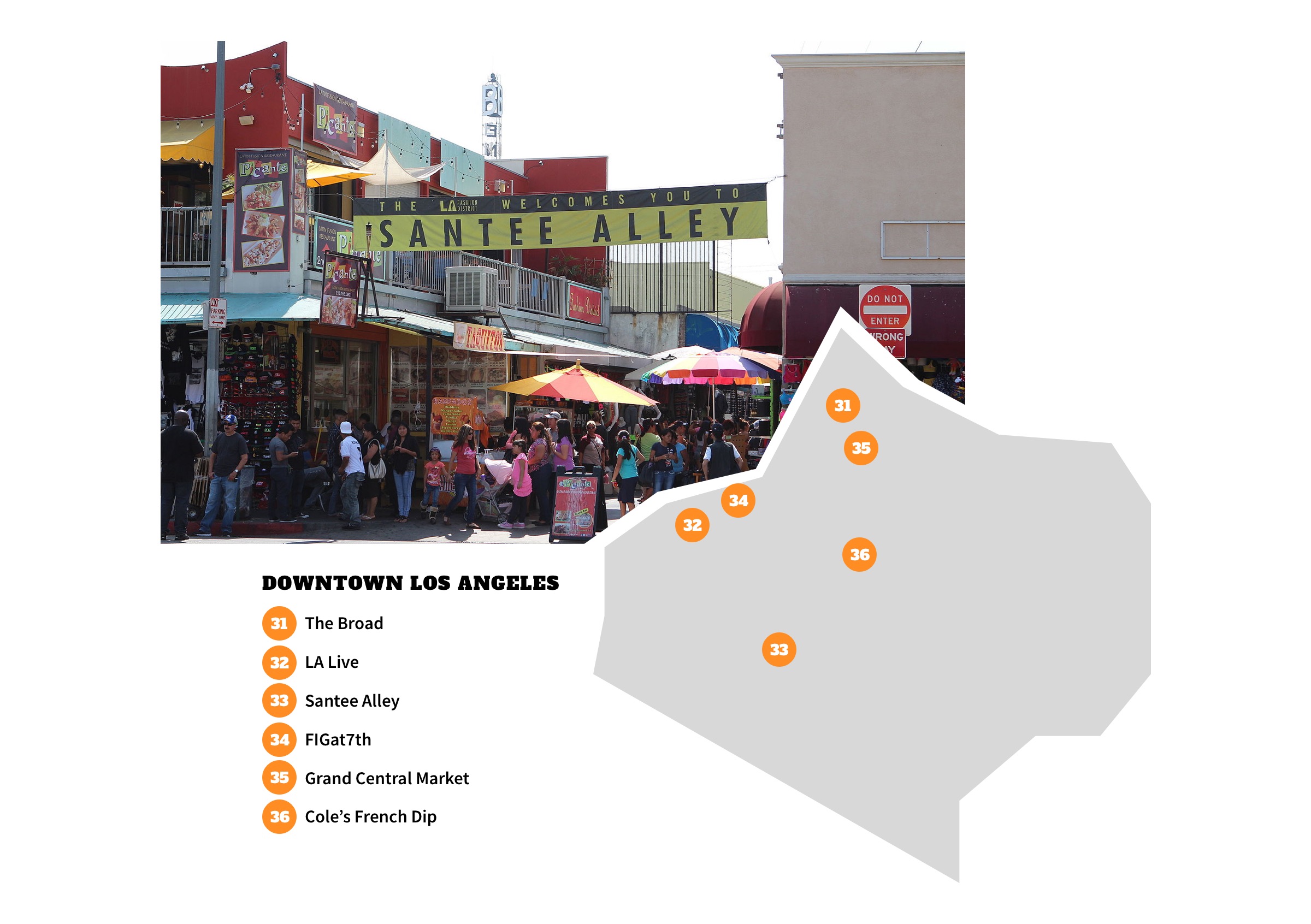 Home to some of LA's best architecture, museums, fine dining, art galleries, and shopping, it's no wonder Downtown Los Angeles is currently experiencing a development boom. Whether you want to grab a bite to eat, visit a rooftop bar, or hang out at the park, there's plenty to do in DTLA. However, the neighborhood wasn't always filled with leisure activities and amenities. Only a decade ago, DTLA was virtually a ghost town after work hours, and people would only go there to work during the day. Now, the neighborhood has transformed into a community where residents can live, work, and play.
What to Do
The Broad (pronounced "brode") is a contemporary art museum founded by philanthropists Eli Broad and Edythe Broad. It offers free admission to visitors, and for that reason, there's usually a long line outside. Despite the long wait time, entry into the museum is well worth the wait.
To pass the time waiting in line, try checking out one of the food trucks parked in front of the museum, if you have someone saving your spot in line.
LA Live is a popular outdoor entertainment complex located in the growing Downtown district of South Park. LA Live has been a crucial part of Downtown's resurgence as a destination for entertainment. The large entertainment complex features several popular venues, including The Novo, Regal Cinemas, and the Microsoft Theatre, and it's known for hosting concerts, events, shows, and sports games.
Located in Downtown's Fashion district is the premiere outdoor clothing destination known as Santee Alley. Stretching 90 blocks of Downtown, Santee Alley features over 150 stores and stalls that sell anything from apparel, shoes, and costumes to beauty supplies, jewelry, household items, and accessories. If you're looking for a place to go for negotiating prices and making deals, this is the place to practice your hustle.
Where to Eat and Drink
If you're looking for a place to shop and eat, head towards Downtown's Financial district. Tucked between two office high-rises at Figueroa and 7th is the upscale open-air shopping plaza FIGat7th. The mall features a number of well-known store brands, retail chains, and eateries, including Five Guys, Twist & Grill, George's Greek Grill, Mendocino Farms, and several health-conscious restaurants.
Can't decide what you want to eat? Head towards Grand Central Market, where you'll find plenty of food vendors and coffee shops. The lively market offers a family-friendly cafeteria-style seating as well as a great selection of items, including produce, seafood, pastries, and meat. It's also a good spot to buy fresh flowers. The venue sometimes features live music from local musicians as well.
First opened in 1908, Cole's French Dip is best known for being LA's oldest restaurant and bar. Restaurant favorites include the French Dip Sandwich and the bloody mary. Cole's also has a hidden speakeasy towards the back of the bar—be sure to go on Monday nights for a pleasant surprise.
Why Locals Live Here
Pedestrian- and transit-friendly, Downtown Los Angeles is one of the few places in the city where residents don't really need a car to get around. Many residents can easily complete their errands on foot. With a never-ending list of fun activities to do in the neighborhood, along with the new Expo line connecting Downtown to Santa Monica, living in DTLA is a dream.