May the Force Be With Las Vegas' Star Wars-Themed Streets
Just one year after the Star Wars franchise captivated audiences with "Star Wars: A New Hope" back in 1977, local developer Sproul Homes developed what is now known as the Star Wars neighborhood. In the El Encanto South neighborhood off East Russell Road, streets such as Skywalker Avenue and Leia Street make up just a few of the names seen on street signs in this East Valley neighborhood.
Contrary to what you might assume, you won't find futuristic, space-age homes in the gated community. The homes in this neighborhood are mostly one-story, three- and four-bedroom residences with grass or desert landscaping. It's a pretty ordinary Valley neighborhood. In fact, if it weren't for the street signs, you'd probably be unaware of the theme.
Interestingly, while current homeowners joke about the themed street names with anyone who needs directions, the original homeowners had no idea that the streets would be themed. Many of the first homes sold before the street names had been announced.
Houses in this area initially sold for $55,000. Today, home values are at least four times that amount. The current median price in this neighborhood is $219,000.
Other names in the development include Lucas Avenue, named after George Lucas, Kinobe Avenue, named for Obi-Wan Kenobi, and Tarkin Avenue, named after villain Grand Moff Tarkin. And, of course, there's Vader Avenue for Darth Vader himself.
"I'm glad we are on Skywalker," resident Jennifer Bybee said in a 2002 article in Las Vegas Sun, remarking that she didn't know she would live on the street for 25 years. "It's a better (name) association. It beats living on Vader."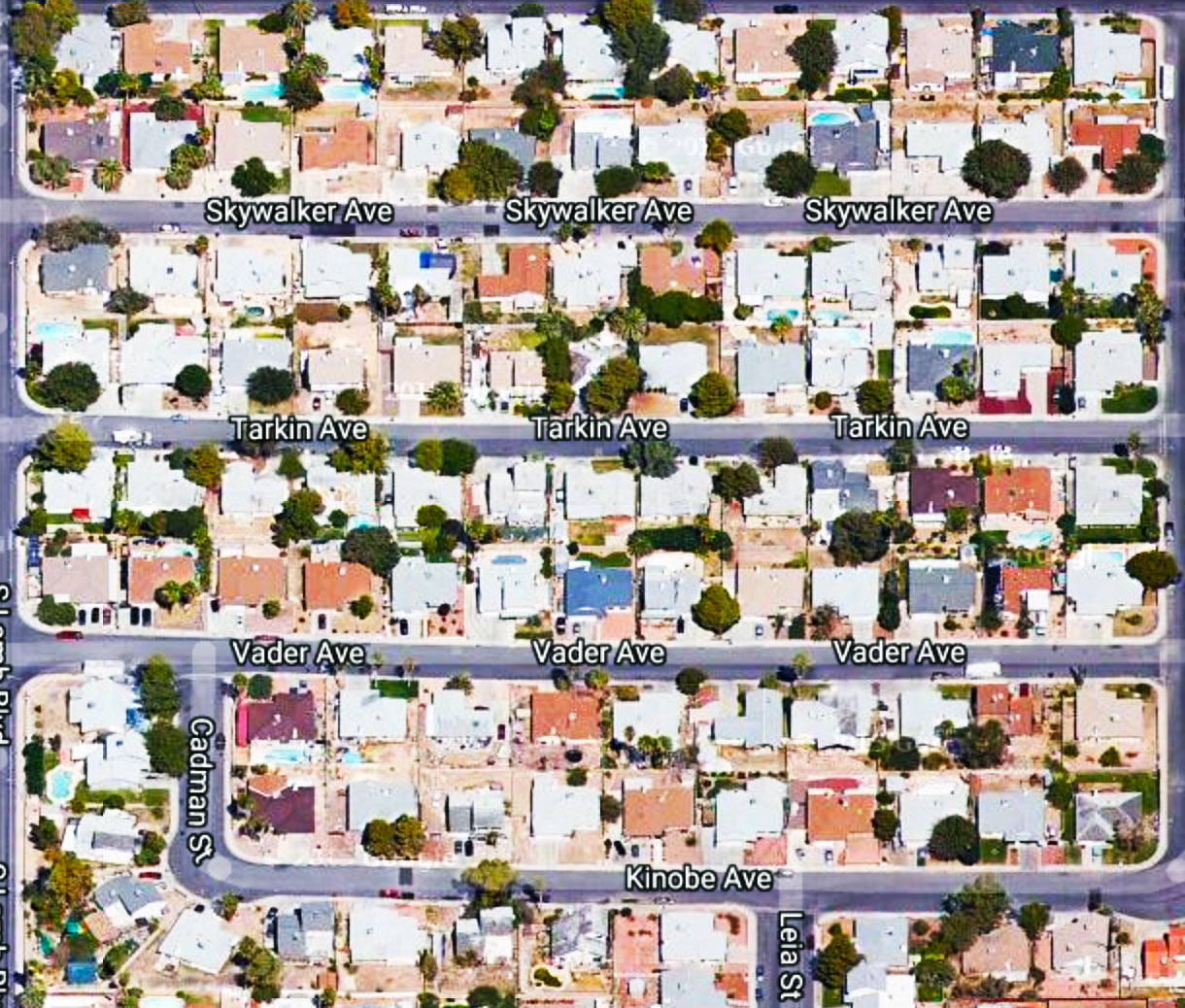 The Star Wars neighborhood isn't the only themed neighborhood in the Valley. Fox 5 reports that there is also a Lord of the Rings neighborhood in Summerlin, where streets include Middle Earth Street and Rivendell Avenue. There are neighborhoods named after former players of the LA Dodgers, Henderson has a neighborhood with streets named for the Beatles, and Buzz Aldrin Drive intersects Launch Pad Avenue in North Las Vegas.
Even if a development isn't themed, there are plenty of unusual street names to go around: just look to Tupac Lane (ironically not named after Tupac Shakur), Anchorman Way, Elvis Alive Drive, or Coffee Grinder Court, just to name a few examples.
Mark Hall-Patton, author, historian, and administrator for the Clark County Museum, claims that developers created themed neighborhoods not to connect the subdivision but rather to make it easier for drivers to remember where they were headed.
"The area grew fairly slowly for a lot of years, and it was a very small community, and then it just exploded, so we've got a number of street names that we probably wouldn't have had had we grown a lot slower," Hall-Patton told The Awl.
Some of the most Las Vegas street names have been changed more than once throughout the years, which many believe was to advertise casinos. When tourists needed to find their way, street names for the Sands, Tropicana, and Flamingo made it easy for drivers to know when they made it to their destination.
The Star Wars neighborhood has remained true to its original street names for exactly forty years. That's not likely to change, especially since the Star Wars franchise is still going strong with "Solo: A Star Wars Story" releasing on May 25 and Episode IX slated for December 2019.