Meet My Neighborhood: 12 South, Nashville
Meet My Neighborhood: 12 South, Nashville
I'm a Nashville native and growing up, there were only a handful of neighborhoods. Now, every corner of the city has its own name and vibe. Out of all of the neighborhoods, I only frequent about five of them, and one of my favorites is 12 South. I've partnered with Neighborhoods.com to show you the best the neighborhood has to offer. Neighborhoods.com believes, "The neighborhood you live in is just as important as the home you live in."
The 12 South neighborhood is about a seven-minute drive from downtown and surrounds 12th Avenue South. You can spend your entire day on this one road. Honestly, park your car and get ready to explore. If you were to spend an entire day in this neighborhood, this is what I'd suggest.
Coffee
Start your morning with White Bison Coffee. White Bison is based in Tennessee and they just opened a beautiful two-story location in 12th South. The 2nd floor includes a rooftop that overlooks the hustle and bustle of the street. Grab a coffee and a pastry and enjoy the quiet before the weekend rush. The neighborhood gets busy with pedestrian and car traffic around 10 a.m.
Shopping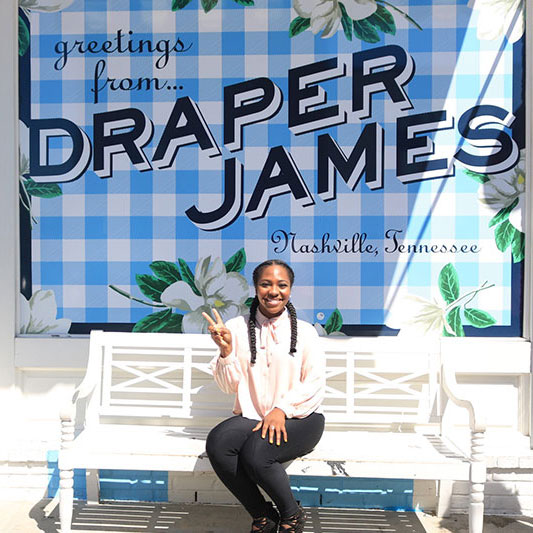 After you've enjoyed your coffee and feel energized, cross the street to Draper James. This is Reese Witherspoon's boutique. It has just about everything in it. You can get clothing, accessories, as well as home goods in her boutique. You can't miss the boutique—it's a cute blue and white building next to Christie Cookies.
There are many boutiques like Draper James that are in permanent buildings along the street. One of the fun and unique things about this neighborhood is its pop-up shops. There are designated locations for street vendors to set up along 12th South. On my last visit, we were greeted by a huge pumpkin patch. In that area, there has been everything from a peach patch to a flower truck to apples. You can get jewelry and other items from vendors on the sidewalks. If you haven't noticed, this is a very walkable neighborhood, so make sure you wear some comfortable shoes.
Eat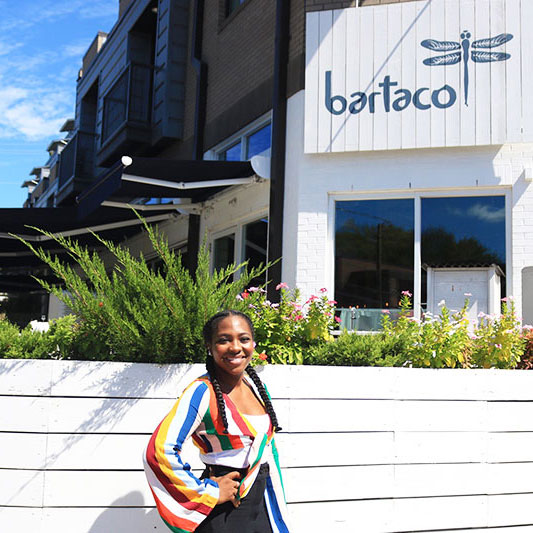 If you're tired from all of the shopping, stop into bartaco for a bite to eat. The 12th South location has a nice outdoor patio and beautifully decorated interior. If you have never been to bartaco, they have a set menu along with a secret menu, which are limited edition tacos. Tacos are paired best with margaritas, and Bartaco has some of the best in town. Finish your margarita and then head up and down the block to get some pics of the murals.
Do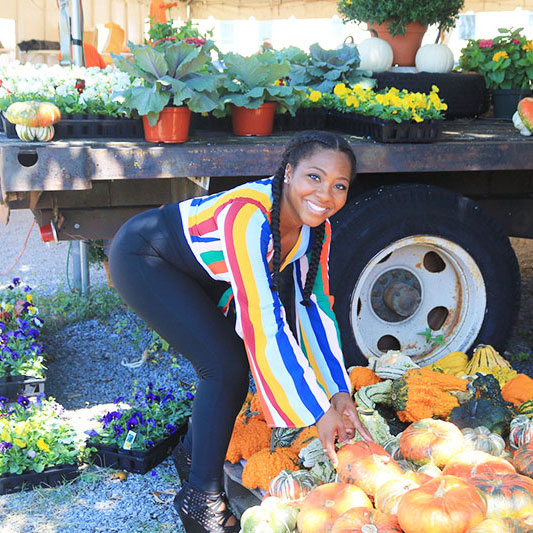 One of the things Nashville is becoming widely known for is its great murals. 12th South has some of my favorites, including "I Believe in Nashville," "Make Music Not War," and the famous rainbow Nashville sign. On the side of almost every building, you can find a beautiful mural by a local artist. Snap some pics to commemorate your day. After all of that, you should be sufficiently tired and ready for a nap. If you still have some energy left in you, however, a few of my other favorite food places include Burger Up, Mafiozas, and Edley's BBQ. I don't think you can go wrong with any of these suggestions. What's your favorite part of 12th Ave South? Let me know in the comments below.
If you're looking for more Nashville neighborhood suggestions, check out Neighborhoods.com. This is a great tool if you're traveling. When I travel, I like to research the place beforehand so I know the best restaurants, bars, and attractions. You can sign up for the newsletter to get neighborhood news and relevant real estate news. No matter how long you have lived in a neighborhood, I always suggest getting out and being a tourist. Try something new or rediscover a place you haven't been in a while. Happy exploring!
Love,
Leigh
Leigh Lovett is a marketer as well as a music, travel and events blogger based in Nashville. You can follow her on Instagram here, as well as her blog, Love, Leigh Love.