National Local Life
Meet My Neighborhood: Downtown Jersey City
True story: I didn't originally want to move to New Jersey. I lived in Manhattan and then in Brooklyn for nine years and had fallen into the trap of grouping anything in Jersey with what I had seen on TV. Do yourself a favor and wipe that mental slate clean.
Some people refer to Jersey City as the "sixth borough" because of its proximity and relationship to New York City, but Jersey City stands on its own in terms of greatness. We're the oldest city in the state, and we were just named the most diverse city in the U.S. We've got great restaurants, a hyper-creative community, and the best views of Manhattan. In fact, the Statue of Liberty is technically on Jersey City property (even though we don't have legal jurisdiction of it).
Jersey City is comprised of many vibrant neighborhoods like Journal Square where you'll find authentic Indian food, a massive art museum and cultural center, and the ongoing restoration of a 1920s Rococo-style theater. The West Side and Bergen-Lafayette are where you'll find some of the oldest structures on the East Coast, including a homestead that was part of the Underground Railroad, and The Heights is making a name for itself with some of the hippest hangout spots in town.
Today we'll focus on my neighborhood: Downtown Jersey City. Downtown Jersey City is a bit of everything: an entertainment and culinary hub, a business epicenter, and a quiet residential neighborhood with tree-lined streets, historic rowhouses, and parks buzzing with community activity. Let's go for a walk, shall we?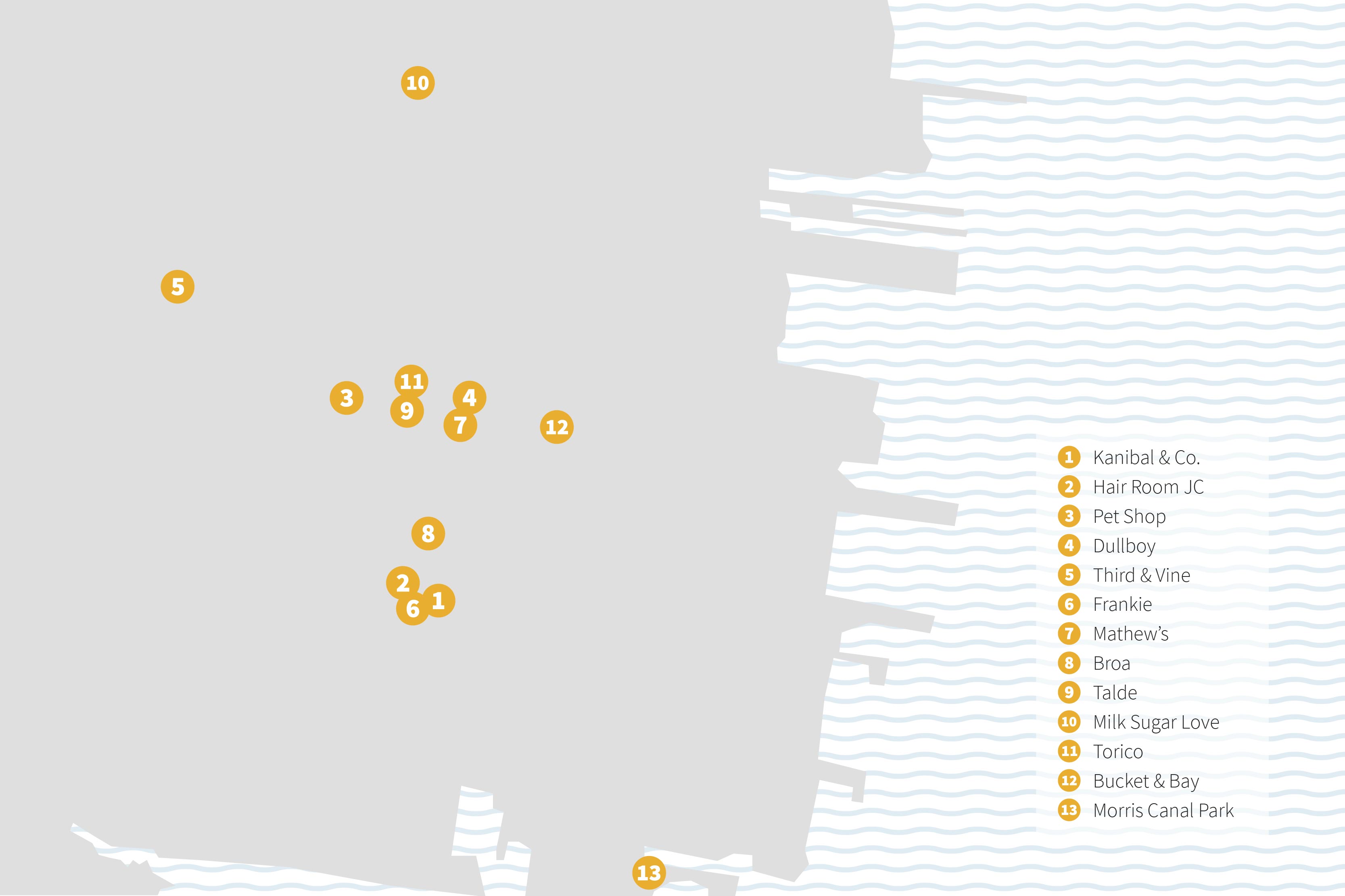 Shop at Kanibal & Co.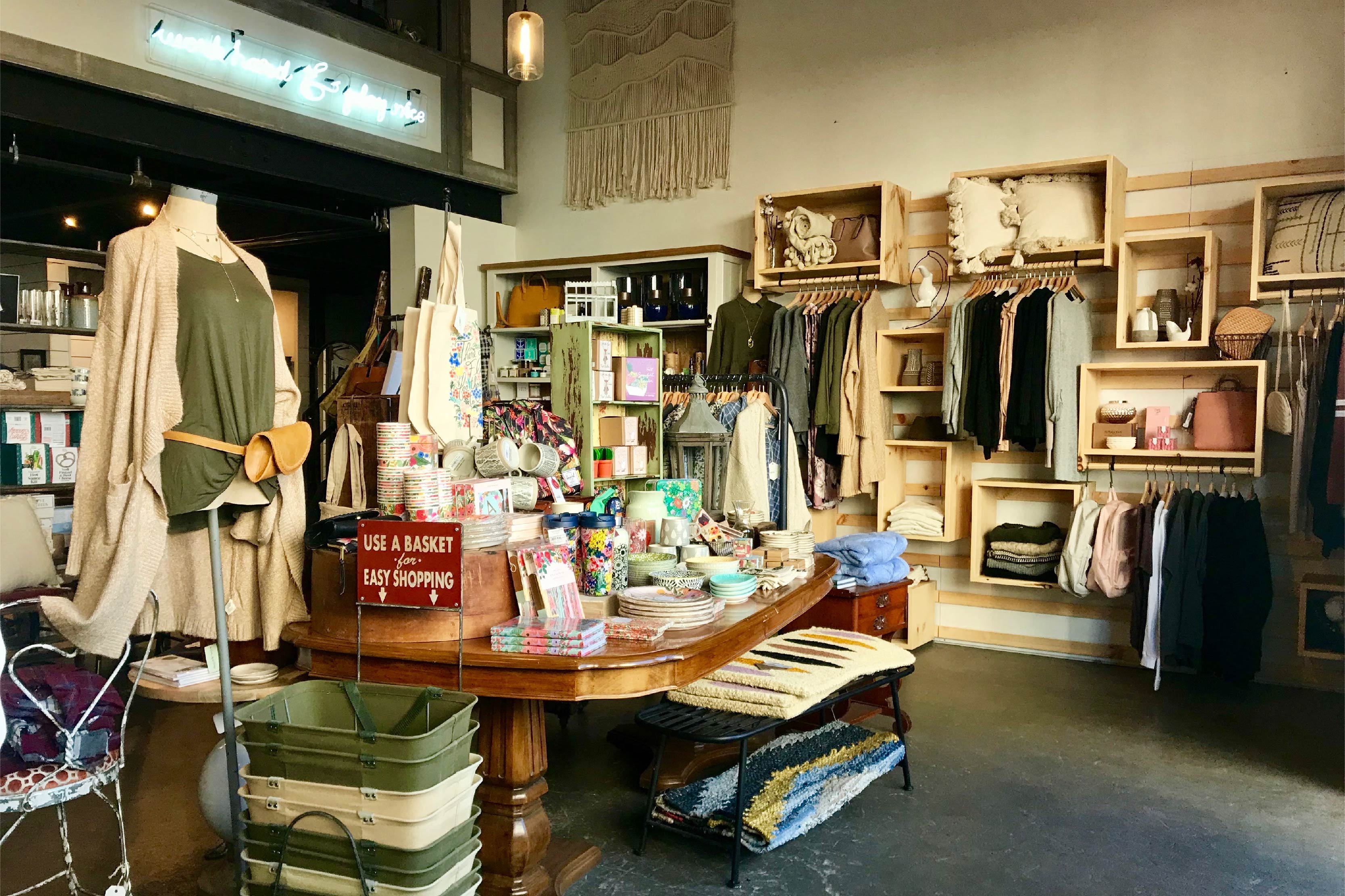 Whether it's candles or clothing, antique jewelry and furniture or small works by local artisans, everything in this neighborhood boutique has an interesting story or a great sense of humor. It's my go-to spot if I need a gift filled with spunk, whimsy, or Jersey City pride, and it's nearly impossible to walk out of there without something for myself.
Check the store calendar for their workshop schedule and learn a craft like candle pouring or glass etching with local artists. Also, head next door to Another Man's Treasure for all your vintage clothing, accessory, and record needs. It's fabulously curated and consistently updated with new vintage finds.
Get Your Hair Done at the Hair Room JC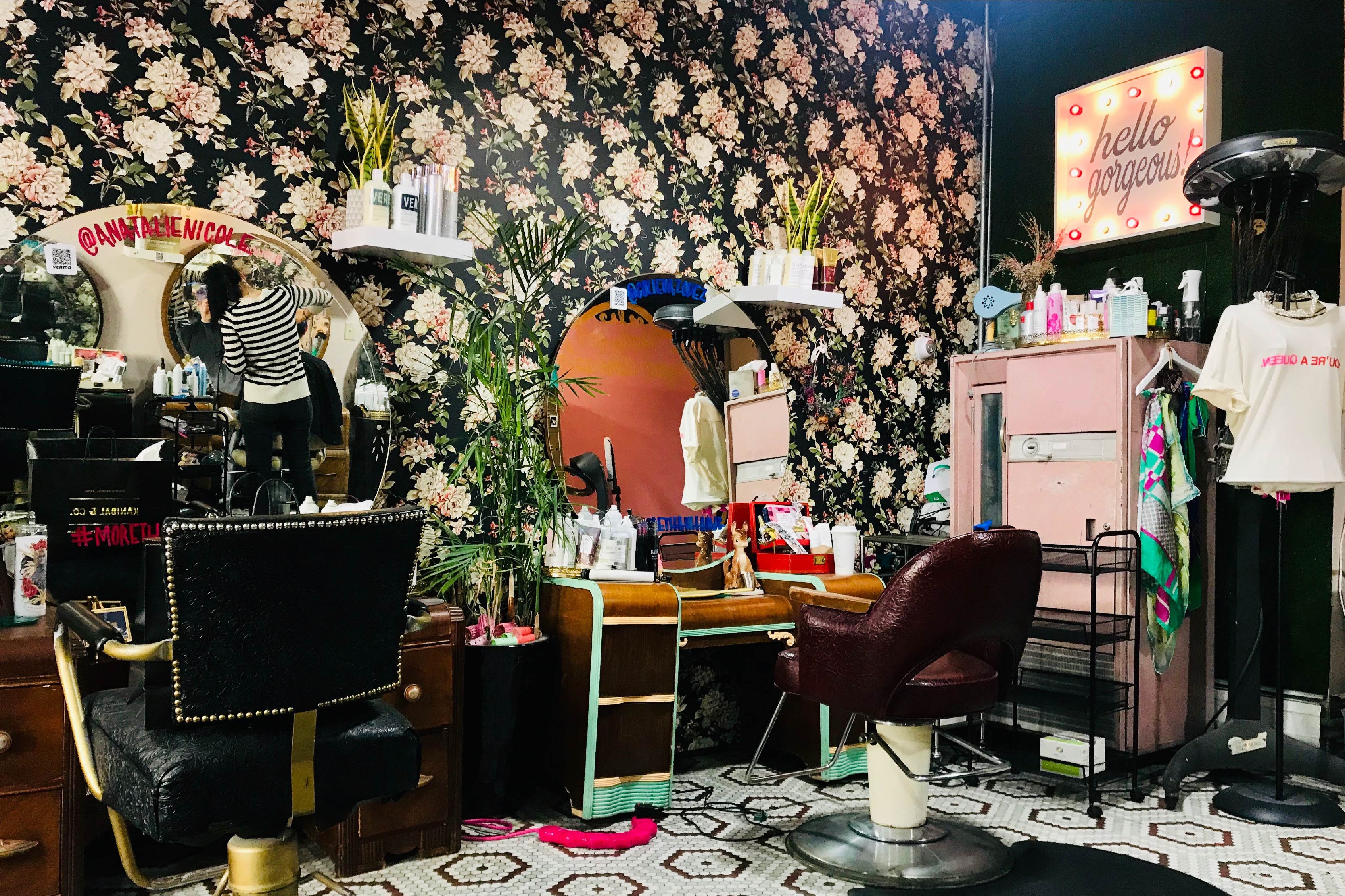 Have you ever wanted to jump through the screen while watching "Steel Magnolias" and visit Truvy's Salon? Well, girl (and boy), do I have a place for you. The Hair Room JC is a retro-themed beauty parlor serving up fun times and great hair. These ladies are turning traditional, stuffy salon culture on its head and creating a place where everyone wants to be, whether you're blonde, brunette, or pink-headed like me.
They've always got a throwback playlist going, a nostalgic movie playing, and stylists who are ready to hear your best gossip and darkest secrets. Ask nicely and they'll bring you a little whiskey or rosé in a teacup with a side of popcorn while you get your roots done.
Drink at Pet Shop
Call me crazy, but all I want in a bar is a place to sit where I can actually hear the person I'm talking to and bar food that won't ruin the rest of my weekend. Pet Shop, in a space formerly occupied by an actual pet shop, is just that: comfortable and kitschy with a quality beer selection and a creative vegetarian menu.
Eat at Frankie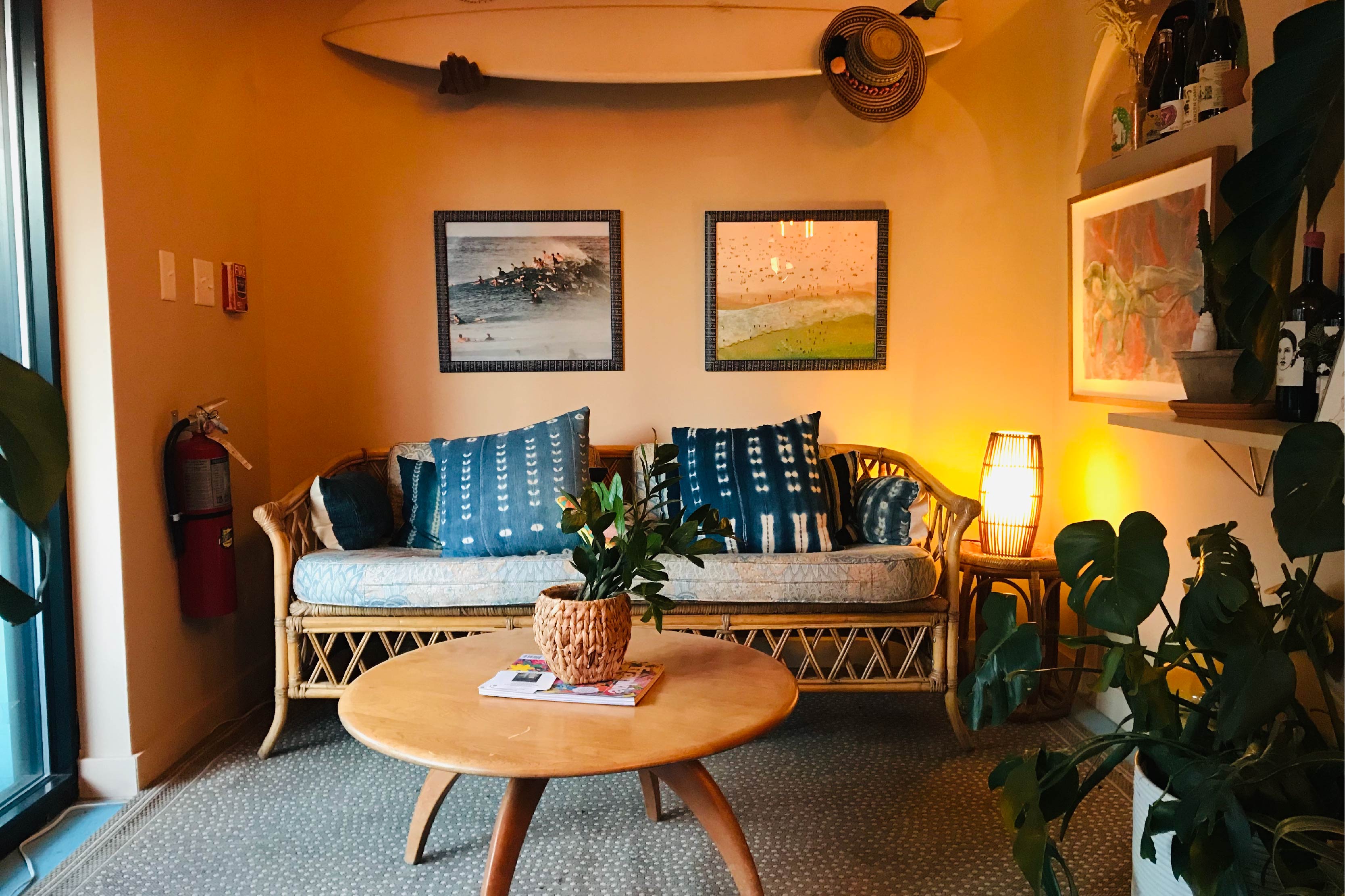 This stylish Australian restaurant excels at simple, fresh dishes like house-made flatbreads (the heirloom tomato salad one is my favorite), fish and chips, coconut green curry mussels, and grilled garlic shrimp. Stop here for one of their Polynesian-themed cocktails, and order a few small bites off the menu; their plates are perfect for sharing.
Also, check their Instagram page for upcoming events; they host drink-and-draw evenings, a Sade brunch on Sundays, and even have a projector for big football and rugby games so you can enjoy the background noise without feeling like you're at an obnoxious sports bar.
We've got excellent pizza too! When the New York Times asked "Is New York's Best Pizza in New Jersey?" they were talking about Razza, and I'm here to tell you that yes, it really is that good. If the line is too long there, you can head over to Porta, a lively and spacious wood-fired pizza joint with a house-made ricotta that you don't want to skip.
Get Dessert at Milk Sugar Love
This adorable dessert shop is my personal favorite in town for one reason: their lemon olive oil ice cream. It's super creamy, a bit sweet, a little savory, and completely unlike any other ice cream I've ever had. It's a standout on their menu of imaginative flavors like blackberry basil, honey pretzel, and maple bacon toffee.
Wander Around Morris Canal Park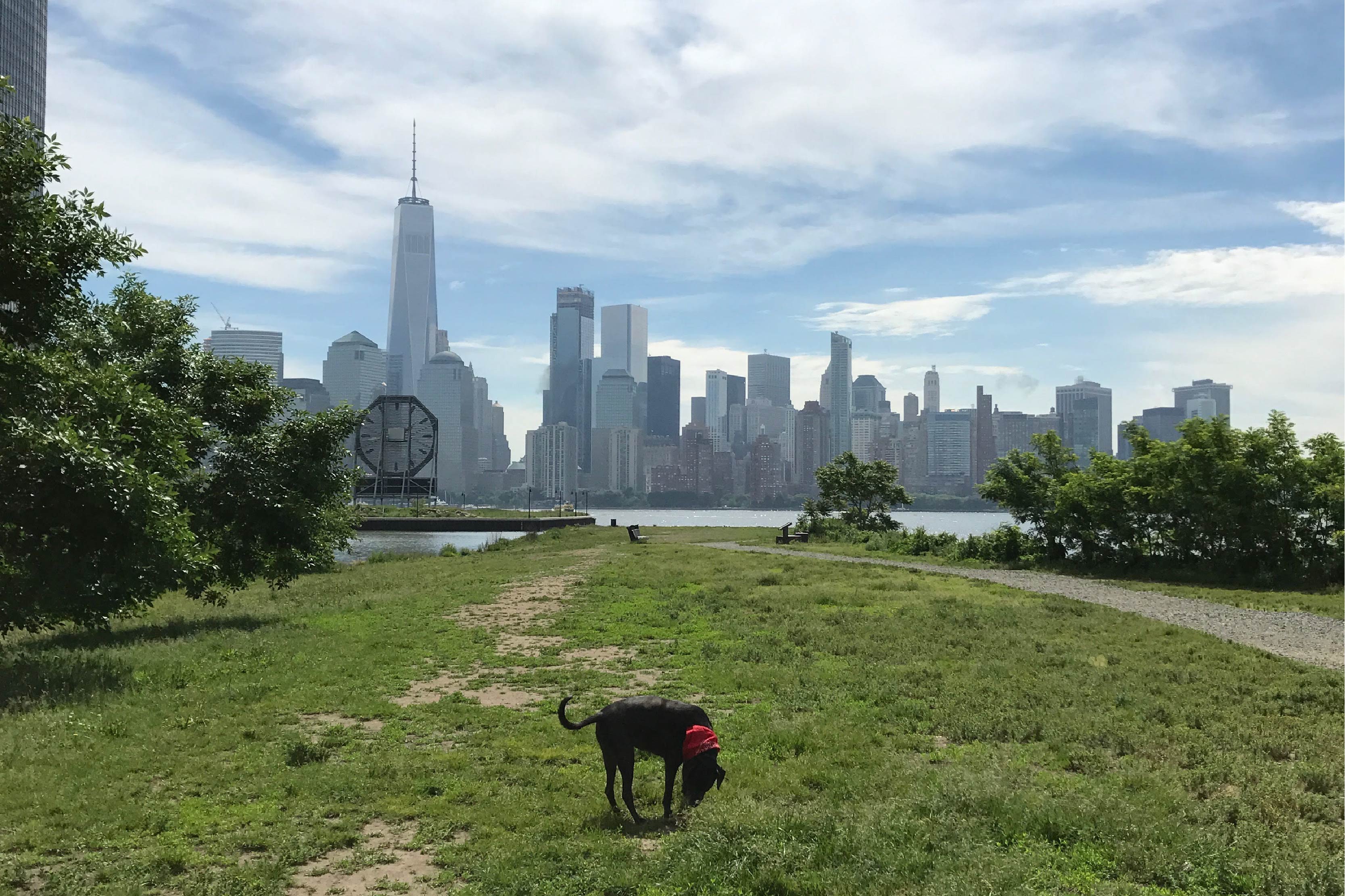 Morris Canal Park feels like my special, secret corner of Jersey City. There's not much to it, but the view is spectacular. My favorite way to start the day is a walk to the end of the pier to admire the skyline, listen to the waves lap up on the shore of the Hudson Bay, and enjoy all the dogs who've claimed the park as theirs. From this humble little spot you can see all of lower Manhattan, the Statue of Liberty, Ellis Island, and the Central Railroad of New Jersey, which opened in 1839.
Nearby is the Colgate Clock, a landmark on Jersey City's skyline. It originally stood on the roof of one of Colgate-Palmolive's corporate buildings in the 1920s when the company's headquarters were in Jersey City. With a diameter of 50 feet, it's the fourth largest clock in the world.
Take In the Sights of the Jersey City Mural Arts Program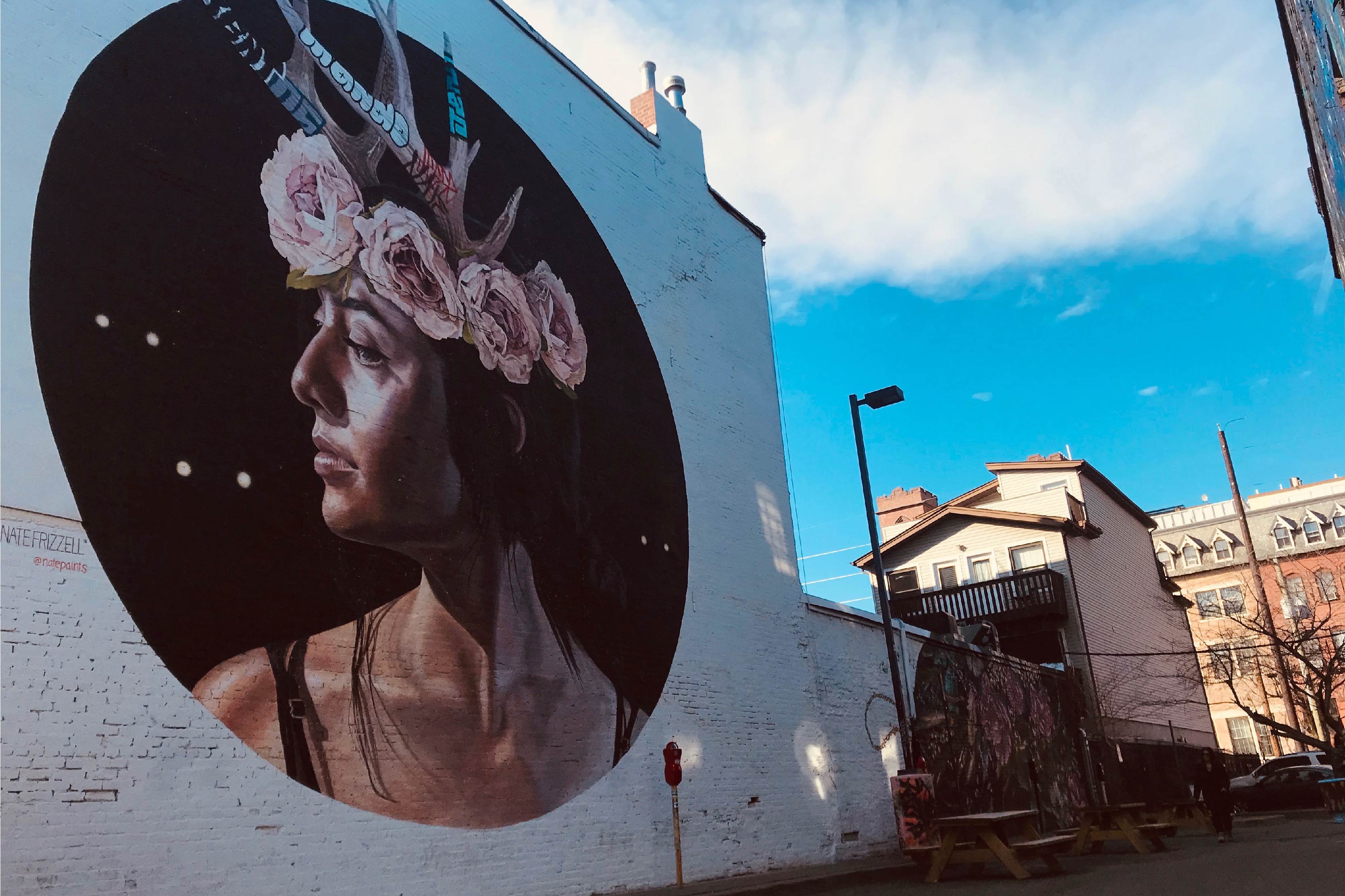 Started in 2013, this city-wide mural program was created to connect artists with property owners who had vacant exteriors in an effort to turn Jersey City into an outdoor art gallery. Through the program, established and emerging local, national, and international artists bring attention to neighborhoods all over Jersey City and add personality to otherwise drab facades. I love that this city thinks of itself as a huge canvas, and we invite diverse artists to add color to forgotten corners.
Jersey City may be New York City's sister, but it's uniquely distinct in its own wonderful way and I'm so proud to call it home.