Phoenix Neighborhood News
Mesa's Pioneer Park Renovations Hope to Inspire Kids and Adults to Play
Per AZ Central Pioneer Park in Mesa is reopening after a multi-million dollar renovation and officials think the new digs will inspire adults to visit, too.
During the six-month-long closure, the city added a splash pad and a 9,000-square-foot playground. Over 100 trees were added alongside careful preservation of existing trees. They also restored the Southern Pacific Train car and updated the "Daughters of the Utah Pioneers" monument on site.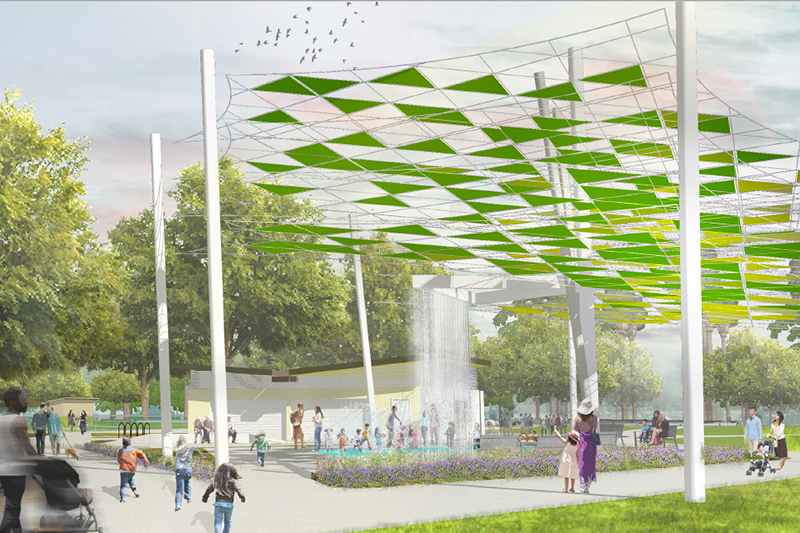 Modernized with vibrant colors (lime, blue and yellow), the three structures surrounding the play area were designed by architecture firm Dig Studio to represent three types of trees found on the property. The splash pad includes a 15-foot water wall with LED lighting, which is the first system of its kind in Arizona. And because the shade is important in any Arizona playground, there are plenty of places to hide from the sun in the playground and picnic ramada.
Marc Heirshberg, the city's director of Parks, Recreation and Community Facilities, hopes the design will move parents from the benches and engage with their kids on the playground. "That's really the idea of what we're trying to do with a lot of our park projects, is create this intergenerational play experience so that parents are out there, in there, experiencing it with their children," he told AZ Central.
The total costs for renovations were $7.9 million and were funded by a $70 million park bond approved by voters in 2012, which has already gone toward other park improvements.