Miami's Top Selling Condo Communities
Miami's Top Selling Condo Communities
It's been an oft-told story in recent times—a new condo complex is being constructed in Miami, offering views of Biscayne Bay, designer kitchens, state-of-the-art fitness centers, and a host of other amenities aimed at attracting potential buyers. With over-the-top amenities, such as helipads and car elevators, some high-end buildings have earned many splashy headlines. But it seems to be the older, more moderately priced buildings that are attracting sales and driving an influx of residents.
Most of the top-selling condo complexes, according to Neighborhoods.com data from May 2018 to April 2019, have some common features: They're located in pedestrian-friendly environments with the type of amenities you'd find in buildings deemed "luxury" properties, such as large fitness centers and high-end finishes in kitchens and baths.
Unsurprisingly, they're located in either Downtown or Brickell—two neighborhoods that have seen enormous growth in recent years and will continue to see growth as the construction of new buildings continues. Most complexes were not built within the last 10 years and offer moderate prices when compared to newer luxury condominiums, although some higher-priced complexes also made the list.
Here are the five Miami condo communities that saw the most home sales.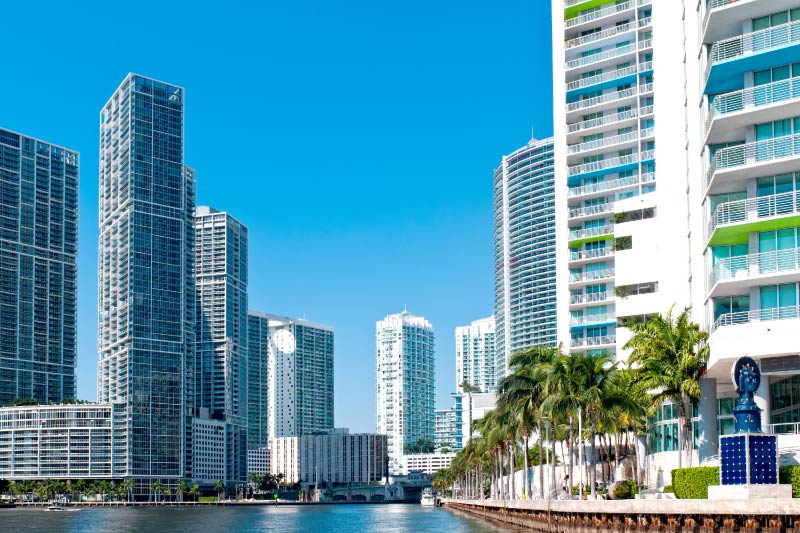 5. Four Seasons Residences
Though prices, ranging from $750,000 to $21.7 million, are much higher than other properties on this list, sales have been strong at Four Seasons Residences, which was constructed in 2003.
At 70 stories, it's Miami's second tallest structure (Panorama Tower is first), and it has 270 condo and condo-hotel units. Developed by Millennium Partners and designed by HanDEL Architects and Bermello, Ajamil and Partners, it's located at 1435 Brickell Ave. in the heart of the Brickell neighborhood, within walking distance of Mary Brickell Village and Brickell City Centre.
Amenities at Four Seasons condominiums include a 24-hour full-service concierge, 24-hour parking, a club-style lounge, two heated pools, a hot tub, poolside cabanas, signature restaurants, membership to Equinox Brickell, and room service from the Four Seasons Hotel. Four Seasons Miami also includes a handful of restaurants such as Edge Steak & Bar and Caviar Russe.
Developed by Newgard Development Group and Yves Béhar, Centro is located in Downtown Miami at 151 SE 1st St. Constructed in 2016, it's one of the new residential developments designed as a live/work/play space. The building contains 1- and 2-bedroom units ranging in size from 430 to 1,487 square feet. Current prices range from the low $200s to the high $500s.
Like other strong-selling communities, location is an asset. Centro is one block from a Whole Foods Market and a Silverspot movie theater. It's also within walking distance of American Airlines Arena, Bayfront Park, and Museum Park.
One unique aspect of this complex is it has the first dedicated car2go hub in Miami. Other amenities include an anchor restaurant, street-level retail space, an outdoor pet area, a 2-story penthouse recreation area, a health club and spa, a skyline residents lounge, and a pool with 360-degree views.
Although prices are higher than in other strong-selling buildings—currently ranging from the high $200s to the low $700s—sales activity at Courvoisier Courts has been almost as robust as other lower-priced buildings on this list. It could be because the building offers residents the ability to live on the exclusive Brickell Key Island at a relatively lower cost.
Located at 701 Brickell Key Boulevard, Courvoisier Courts was built in 1997. It's a 27-story building offering one- to three-bedroom condos as well as two-story penthouse units. The island is described by many as a tranquil location with easy access to Downtown.
Courvoisier Courts Brickell Key Miami features a concierge, valet parking, a swimming pool, a gym, a Jacuzzi, and a party room. A shuttle bus service circulates between the Brickell Metrorail/Metromover station and Brickell Key, with stops along Coral Way, SW 2nd Avenue, SW 8th and 10th streets, Brickell Avenue, and Brickell Bay Drive.
Located at 185 SW 7th St. in the River Promenade, Latitude on the River is another building constructed in 2007 (during the tail end of the last construction boom) which is currently experiencing strong sales. Developed by EA Fish Associates and designed by Arquitectonica, it contains 44 floors and 452 condos, ranging from studios to 3-bedroom units. Current prices range from the low $200s to the mid $500s.
The picturesque views are a big selling point for this complex, as residents have views of the Miami River, Biscayne Bay, and the Downtown Miami skyline. Latitude on the River has a prime location close to Mary Brickell Village and other Downtown locations. Interiors feature Snaidero-designed kitchens and baths, and amenities include a health and fitness center as well as an outdoor Tai Chi and meditation lawn.
Located at 350 S. Miami Ave., Wind by Neo is a 41-story building in the River Front acre community. It was completed in 2008, and the building bills itself as a luxury condo complex. Currently, prices range from the low $200s to just over $500,000—which is lower than many newly constructed luxury condos.
With this property—as with other hot-selling condos—the mantra of location, location, location certainly comes into play. It's centrally located near Downtown Miami, Biscayne Boulevard, Miami Beach, and Miami Metro Stations. It's also close to Bayside Marketplace, Port of Miami, Mary Brickell Village, and Brickell Avenue.
The 489 condo units have one to three bedrooms and range from 698 to 1,835 square feet, including balconies. Though the amenities aren't as "eye-popping" as some of the buildings constructed within the past few years, they are significant: 24-hour security, a valet, a concierge, a fitness center, a steam room, and an infinity-edge pool. Units have hardwood, tile, or marble floors; granite countertops; and stainless steel appliances in the kitchens. One unique aspect of this building is that it offers some 2-story lofts on the lower levels of the building.