Mission Bay Bayfront Park Will Break Ground in Mid-2018
Mission Bay Bayfront Park Will Break Ground in Mid-2018
After a 17-year process, concepts for the Mission Bay Bayfront Park have been released per the Port Commission Memorandum. Through a collaboration of the Office of Community Investment and Infrastructure (OCII), the Port, the Mission Bay Development Group, consultant Surfacedesign, and community outreach, the park is finally set to be constructed as part of the Mission Bay Redevelopment Project.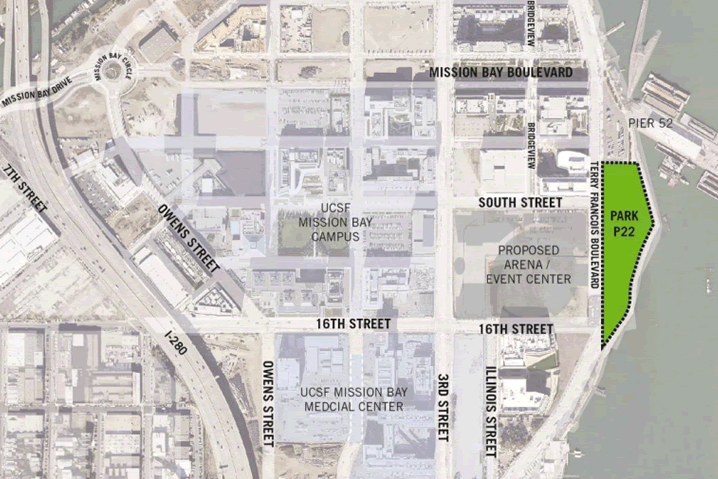 Originally introduced in 2000, the future seven-acre shoreline park, intended to be the largest of four Bayfront park parcels and considered to be "the waterfront centerpiece of Mission Bay," will integrate already existing open spaces and access ways with a flexible-use lawn spanning nearly 60,000 square feet at the center, known as the "Green." Other notable characteristics include multiple shoreline viewing points, a 16-foot wide multi-use path, and an 18,000-square-foot area known as 16th Street Plaza. Plans also incorporate picnic facilities, potential interpretive exhibits, and a grove of shade trees. A 7,500-square-foot building pad will be set aside for a future restaurant.
The park project placed high priority on public outreach. A community workshop solicited public opinion on the park, with natural elements, flexible space, and connection to history at the forefront of themes. One participant suggested using industrial materials "to communicate the history of the location and preserve its past identity (e.g. recycled steel, patterned concrete, maritime industrial design details.)" Their suggestion was honored with a shade pavilion at the southern end of the Green constructed from reclaimed Bay Bridge steel, according to SocketSite.
The first phase of development begins this year with a realignment of an existing roadway, Terry A. Francois Boulevard, roughly between 16th Street and Pierpoint Lane. The second phase is targeted for mid-2018 and includes the park's "Green" areas. The last phase of the project will be the restaurant, the type of which is unknown at this point, with completion projected for the fall of 2019.