Luxury Condos Coming to Biscayne Bay in Miami Beach
Luxury Condos Coming to Biscayne Bay in Miami Beach
The luxury condo market in Miami might be cooling down a bit (although that hasn't stopped Deepak Chopra from getting in on the action), but those high-end units units keep on coming. The ultra-sleek waterfront Monad Terrace Condos development, promising to "exceed the standard of what extravagance has ever been known as before," just hit the market in Biscayne Bay in Miami Beach.
Starchitect Jean Nouvel designed the development, which included 59 units in a pair of buildings with a "honeycomb sawtooth facade" surrounding a "glittering" private lagoon and courtyard. The glassy building design, with jagged metallic layers and a transparent lobby overlooking the courtyard, is meant to create an effect of a "reflection machine" on the bay. Lush native plants frame the property, and there's also a pool and hot tub overlooking the water.
The units themselves emphasize water views and openness with floor-to-ceiling windows, high-end open kitchens, and 10-foot ceilings. Luxe amenities include private elevators and access to a juice bar and cafe.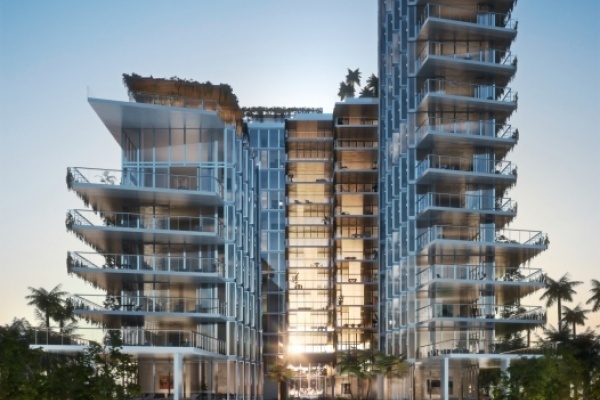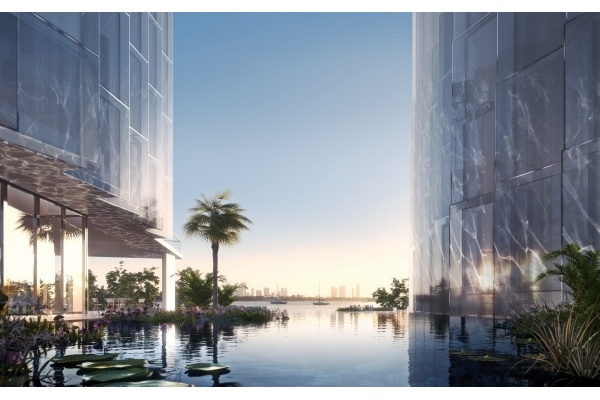 The luxury and picturesque views come at a premium, though: Units here start at $1.7 million and go up to $12 million.