Los Angeles Local Life
Get to Know LA Through These TV Shows and Movies
There are many movies and television shows that are shot in the diverse city of Los Angeles. After all, LA is home to TV and film production companies, as well as some of the most widely recognized entertainment studios and celebrities in the world.
There are some movies and shows that simply scream "LA"—even including a neighborhood name in its title. However, there are also others that are more subtle, so viewers are oftentimes getting a first-hand look at certain LA communities without even realizing it.
Without even leaving your house, here are five films and TV shows that offer audiences an up-close-and-personal glance at some of LA's most popular neighborhoods.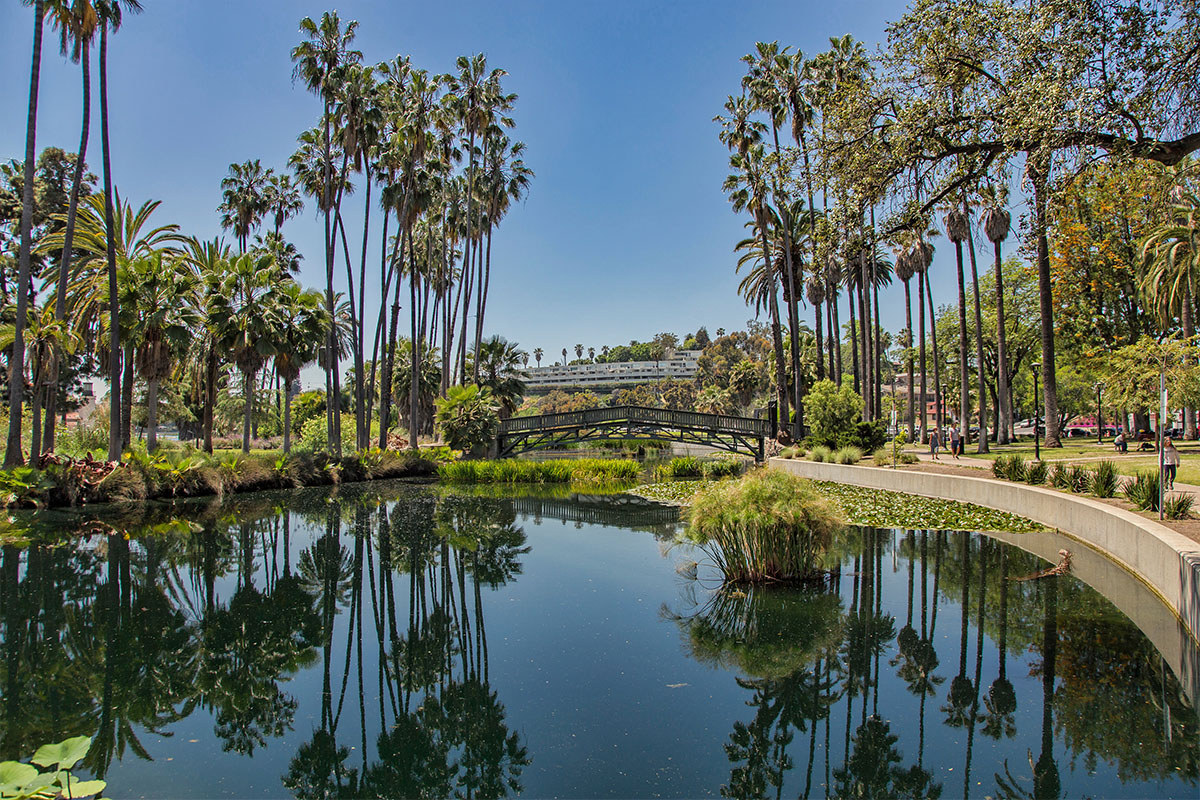 'Once Upon a Time in Hollywood'
In the 2019 comedy-drama "Once Upon a Time in Hollywood," director Quentin Tarantino recreates LA in the year 1969. The film highlights several landmarks in the Los Angeles area, including El Coyote in Fairfax, The Vine Theater in Hollywood, and even the Playboy Mansion in Holmby Hills.
Although the movie takes place in 1969, it still captures the community atmosphere of current day neighborhoods, among them Westwood and Beverly Hills. In the scene where Sharon Tate (played by Margot Robbie) visits the theater, the movie successfully captures the bustle of Westwood, showing blocks of entertainment and activity near Fox Village and the Bruin Theater.
Although Sharon Tate's house in the movie was recreated and filmed in the San Fernando Valley neighborhood of Studio City, Tarantino shot several of the outdoor driving scenes in the exclusive and lush Beverly Hills community of Benedict Canyon. Well-known residents who have or still live in this elite location include Jay Leno, David Beckham, Bruce Springsteen, among others.
'La La Land'
As the title suggests, the Oscar-nominated movie "La La Land" is set in Los Angeles. Although the film shows snippets of several neighborhoods throughout LA, the recreational neighborhood Griffith Park stands out among the movie's tour of the city.
In one of the film's more memorable scenes, characters Mia and Sebastian (played by Emma Stone and Ryan Gosling) perform the song "A Lovely Night" with the sunset and city lights in the background. This scene shows the Griffith Path's Mt. Hollywood Drive in all its beauty, from tranquil walking trails to scenic views overlooking San Fernando Valley.
In another scene, Mia and Sebastian float through the air next to Griffith Observatory, which is the neighborhood's central museum and landmark. In addition to shining a spotlight on Griffith Park, the film also aptly illustrates the city's snail-paced traffic, shooting its opening scene on LA's dreaded 105/110 Freeway.
'Love'
If you haven't watched "Love" on Netflix by Judd Apatow, you're in for a treat—especially when it comes to getting to know certain neighborhoods. Like "La La Land," this show also uses Griffith as a set location. The difference is, in "Love," the neighborhood is displayed as a place where locals go to work out or go for a run.
The other main sets, such as Mickey's house and the gas station, are in Echo Park and Silver Lake. The film successfully portrays these communities' hillside terrain, as well as the bicycle- and pedestrian-friendly culture of these two prominent LA neighborhoods. Mickey's house is exactly what a home in Silver Lake should look like—brightly colored, tree-lined streets, and standing sort of sideways on a hill.
What's interesting about this show is that the characters seem to regularly use the Metro. Although public transportation in LA that, although is advancing and seeing more riders take the train every day, it typically isn't part of a local's daily commute.
Locals who own cars either use their own car or Uber. Additionally, if you work at a studio, which many of the main characters on the show do working as production assistants, riding a train to work might be risky when it comes to timing.
'Entourage'
The popular HBO show "Entourage," which is about an established actor and model Vincent Chase (played by Adrian Grenier) and close group of friends and his agent Ari (Jeremy Piven), films all throughout the city.
However, the show's most highlighted neighborhood is actually an independent standalone city situated within Los Angeles boundaries, West Hollywood. Even locals don't realize that West Hollywood is its own city until they actually move there. From Urth Caffe to The Pacific Design Center, the show doesn't fail to portray the community's staple establishments as well as its most eye-catching landmarks.
'Californication'
Showtime's longest-running series "Californication" is a sexually fueled comedy that hones in on the beachside neighborhood Venice. The Venice locations on the show successfully capture the Westside's carefree and laid back atmosphere, and the characters on the show almost never seem to get bogged down by rainfall.
From the show's title to the actual mountain and ocean views displayed in most scenes, plus the skater and surfer vibes, this is what most of the world thinks of when imagining what it's like to live in Los Angeles. Many popular areas in "Californication," including the bookstore, the main characters' homes, as well as Hank Moody's (played by David Duchovny), are all set in Venice.
While the homes in the series showcase the quiet lavishness that Venice has to offer, it also shows off the Abbot Kinney district as a bustling street filled with small businesses, shopping boutiques, and eateries.