Neighborhood Memoirs: Santa Cruz, CA
Neighborhood Memoirs: Santa Cruz, CA
For most, thinking back on childhood memories can instill a very heart-warming and nostalgic feeling, even when the occasional bad memory pops up. You may remember certain people, like your first best friend who was always ready for a Nerf fight. Or maybe you remember the first time you had to go get stitches at the ER without your parents being there (thanks to my skateboard, this would end up happening pretty frequently). Ultimately what triggers and connects these memories and feelings together are the places we've been. The states, the cities, the neighborhoods: all the places we have been and lived provide insight into who we are. Whether you realize it or not, these places helped build the person you are today.
For me, one of these places is the coastal city of Santa Cruz, California. Now it should be noted that I did not grow up here. I grew up about two hours away in suburban Sacramento. As far as growing up goes, Sacramento was great and I wouldn't change it. However visiting Santa Cruz happened at least two to three times a year, as it is where my grandparents lived, and it was a home away from home. Santa Cruz is where I found my love for the ocean. Where I skated down my first "real" hill (it didn't end great). This is where I began my obsession with clam chowder in a bread bowl, which continued unabated in adulthood. Whether big or small, these memories are some of my favorite and arguably the most important, all because of what Santa Cruz, CA has to offer.
The Santa Cruz Beach Boardwalk
Arguably Santa Cruz's most popular attraction is the famed Boardwalk, if not for its rides then at least by its fantastic jingle. The Boardwalk is home to one of the most popular roller coasters in the world, The Giant Dipper, which has been ridden by over 60 million people since its opening in 1924. Having a pretty big fear of roller coasters, this was one of the first coasters where I found myself running back in line immediately after exiting. Aside from the giant wooden coaster, The Boardwalk offers many other thrill-seeking rides as well as a huge arcade, mini-golf, and bowling. Whether you're 6 or 60, you can always find enjoyment at The Boardwalk. Pro-tip: make sure to go at night too.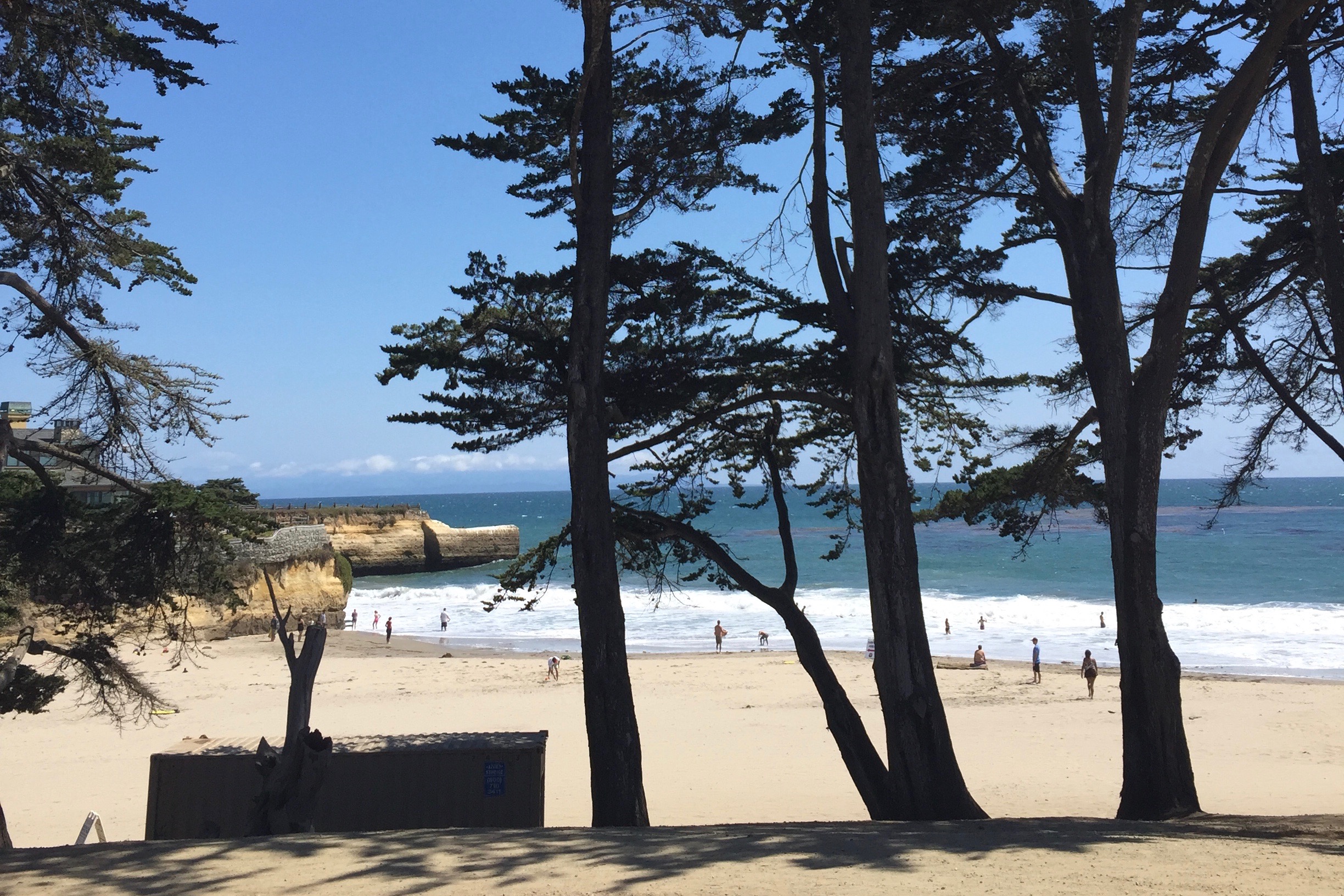 Blacks Beach
Sometimes referred to as 13th Avenue Beach, Blacks Beach is generally located between 12th and 14th Avenue. Whenever it was time to hit the beach, this was the one to go to. Compared to other beaches along the coast, Blacks Beach was usually the one less traveled. No matter rain or shine (or fog), Blacks Beach offered fantastic views in any direction. From foamy waves crashing on the bluffs to your left, to the faint images of The Wharf and The Boardwalk on your right. However most of the time I found comfort in staring straight across the Pacific, wondering what was on the other side. I like to think Blacks Beach is where my sense of adventure began.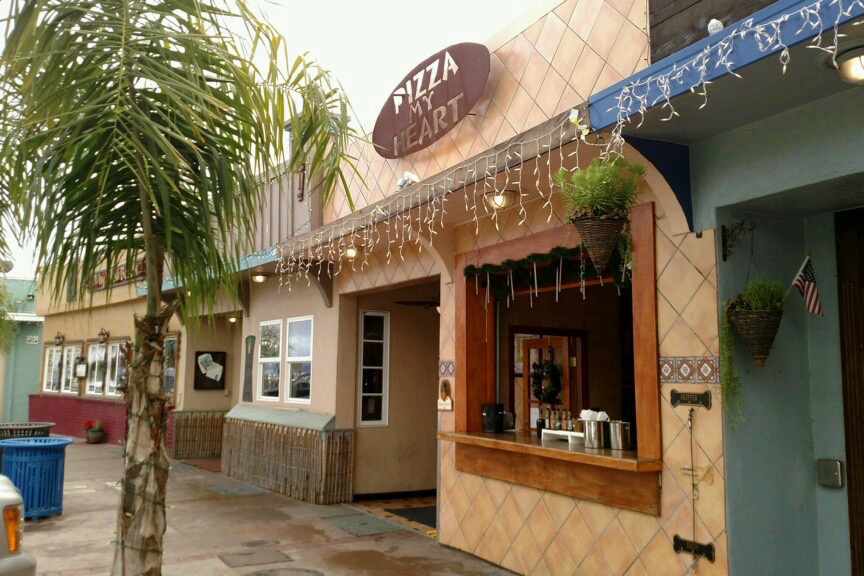 Pizza My Heart
This may come as a surprise, but Santa Cruz is not exactly known for its pizza. That being said, you still have to be able to satisfy your pizza cravings at some point. A local and tourist favorite is Pizza My Heart. To this day, this is still the only pizza place I know where you can get a sizable slice of pizza, a drink, and a choice of t-shirt for only seven bucks. While I eventually went on to have much better pizza, it definitely provided a good starting point and showed me the importance to always look for a good value.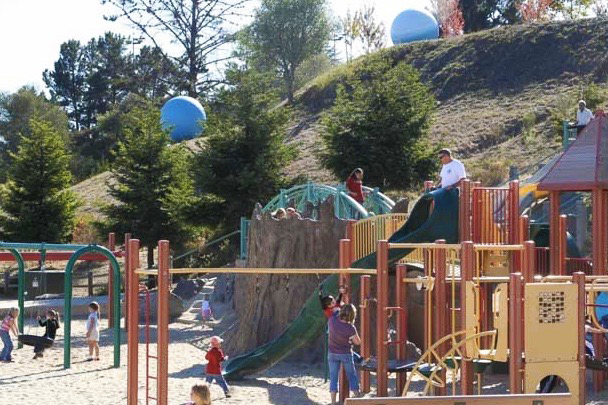 Anna Jean Cummings Park
As a child, I more often referred to this park as "the park with big blue balls", which naturally generated some entertainment amongst my family. Anna Jean Cummings Park is most recognized for having four sky blue balls at different points on a hill as if it were rolling down. Aside from showcasing Santa Cruz's artsy side, this 95-acre park features a recently renovated playground, a picnic pavilion, several athletic fields, and walking trails. As most parks are, this was a great place for a family outing, and where I built lasting memories of my younger siblings. There is nothing like a simple game of tag to either bring your siblings together or tear them apart. That's family though; you're there through the thick and thin of it.
Surfing
While Santa Cruz has a lot of rich history, my favorite is the role Santa Cruz played in the development of surfing. Santa Cruz is the first mainland city that was introduced to the lifestyle of surfing. As early as 1885, three Hawaiian princes went on vacation from military school, bringing an ancient art that would change the city (and West Coast culture) forever. They visited a local lumber mill that crafted three boards from local redwoods, and from there it took off. While I never personally mastered the art, it still provided me with a lasting lesson; nature should not be your opponent, it should be your ally. Santa Cruz has been named a World Surfing Reserve, in hopes to protect its history. Make sure to visit both The Surfing Museum and The Surfers Memorial.
The bottom line is that the places we live in and visit can directly impact how we progress through life. So whether you're deciding to switch up your scenery, you want to relocate your family, or you're even planning to start a new family; the places we live and the memories we create are life-lasting.