Dallas-Ft. Worth Real Estate
Neighborhood Spotlight: Bishop Arts District
A common misconception about Dallas is that it's just a big collection of similar-looking suburbs. But for those with a taste for older buildings and unique shops, there are thriving creative enclaves within the city. One of these communities is the Bishop Arts District, which is filled with charming bistros and shops you won't be able to find anywhere else. It also offers affordable housing just minutes from Downtown Dallas.
The Origins of the Bishop Arts District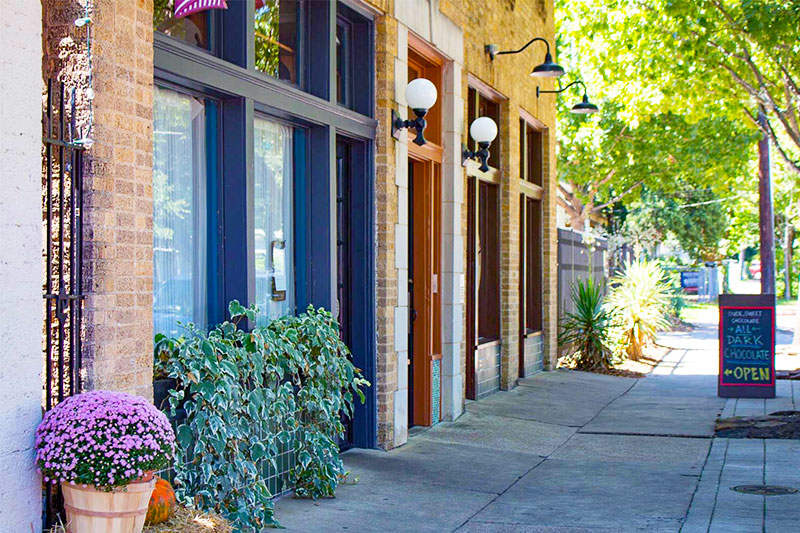 The Bishop Arts District is just 10 minutes south of Downtown Dallas, but it feels like it's in a completely different world. The neighborhood has been around since the 1920s, with its fortunes rising and falling with the times. At one point in the 1930s, the trolley stop in the district was the busiest in the entire city of Dallas, but the advent of shopping malls in the 1960s drew business away. Bordered by West Davis Street, South Zang Boulevard, West Jefferson Boulevard, and Tyler Street, this historic neighborhood in North Oak Cliff maintained its gorgeous tree-lined streets and sturdy brick buildings, which investor Jim Lake saw as a gem ripe for redevelopment. Lake snatched up several properties in 1985 and renovated them over the course of the 1990s and early 2000s.
The Revival
Only 20 years ago, most Dallasites feared even the words "Oak Cliff." It was the place where people were warned never to go, for both valid and exaggerated reasons. Since the Bishop Arts District is technically in Oak Cliff, it was included in that no-go zone. But between the choice location and the architecture of the buildings, it was only a matter of time until the city's artists and visionaries came back. They painted murals on buildings, like the facade of the Bishop Street Market on the corner of Bishop Street and West 7th Street. Today, Oak Cliff is a thriving area that's home to independent shops, art galleries, and the Oak Cliff Film Festival.
Bistros and Unique Places to Eat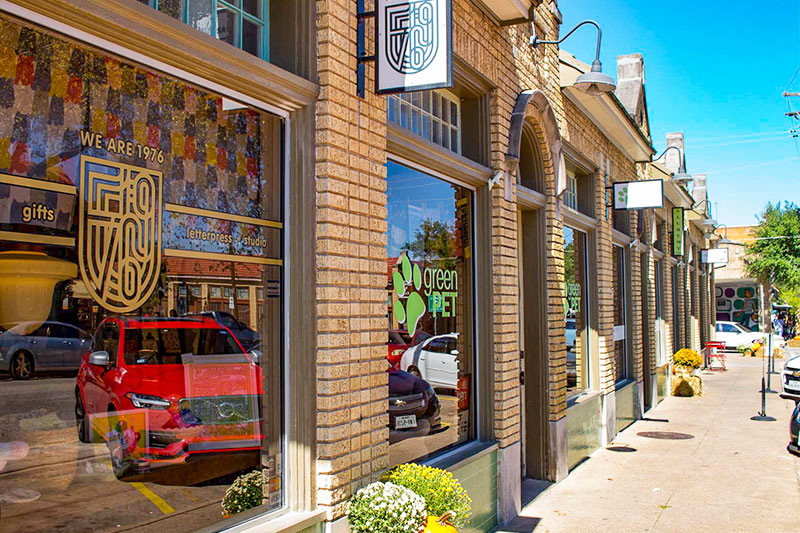 The Bishop Arts District is becoming widely known as a foodie's paradise in Dallas. Lockhart Smokehouse is one of the most popular restaurants in Bishop Arts, famous for its take on Texas barbecue. There's an ongoing debate among locals about the best barbecue joint in all of Dallas, and Lockhart is always a top contender. Hattie's Restaurant serves up unpretentious Southern fare in an upscale environment. And Boulevardier has classy French cuisine alongside a fantastic wine selection.
Foodies will find lots of things to love in Bishop Arts, from an innovative take on grilled cheese at the Dallas Grilled Cheese Co. to delicious brunch at Oddfellows. Emporium Pies is also well-known for its decadent treats.
The Boutiques
Offering stores with artsy creations, Bishop Arts is for those who veer from the beaten path. We Are 1976 is an eclectic little shop, but it doesn't have vintage items from the 1970s (as the name would suggest). Instead, it's part art gallery, part gift shop that also hosts workshops for aspiring artists. Like most businesses in Bishop Arts, they sell works from local artists, adding to the can't-get-it-anywhere-else vibe.
Whimsy and novelty is the name of the game at Fete-ish, where shoppers can find a necktie with a handy flask, a cute pet-related item, or a few irreverent trinkets. This is the kind of store where shoppers can browse the always-surprising selection while sipping complimentary Champagne on weekends after 6 p.m. and listening to fun disco tunes.
Entertainment and Events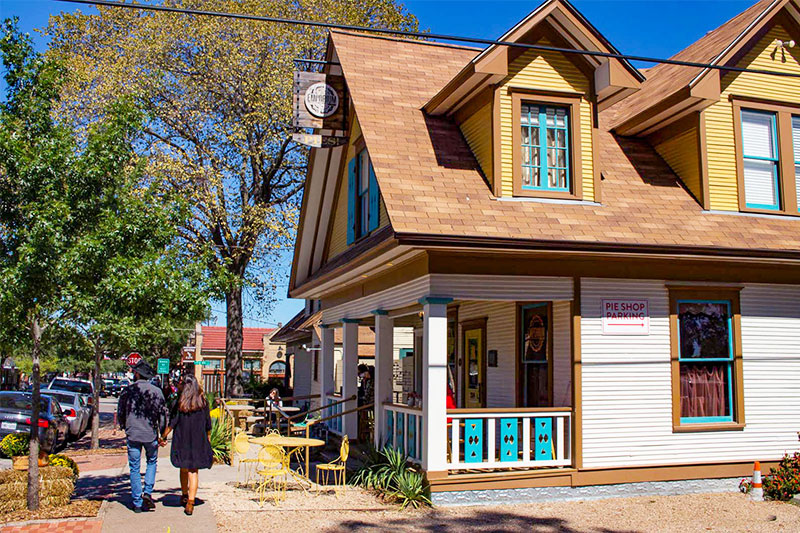 While you can shop at clever boutiques, enjoy tastes of artisan chocolates, and chat with friends at a wine bar, the neighborhood also hosts events several times a month, including live music and performances at the Bishop Arts Theatre Center. From the Oak Cliff Film Festival to neighborhood Wine Walks and Poinsettia Walks, there are many opportunities to mingle with the neighbors.
What It's Like to Live Here
The homes for sale in the Bishop Arts District range from 1940s Craftsman houses to new-construction lofts. The median home sale price is in the high $200s, but prices can approach the $1 million mark.
While the neighborhood itself may lack high-rated schools at the moment, a lot of children in Bishop Arts attend some of Dallas' top magnet schools, like the nearby Booker T. Washington High School for the Performing and Visual Arts and the School for Science and Engineering.
For residents, there are also a few grocery stores offering discount prices. Get staples at a discount at Elrod's Cost Plus or find great produce and traditional Mexican ingredients at Fiesta Mart. There's a small Kroger in Oak Cliff, but most residents prefer to drive seven miles to the location on Maple Avenue in Oak Lawn. There aren't any upscale grocery stores in Bishop Arts; the nearest Whole Foods Market is four miles away on McKinney Avenue in Uptown.
Though this neighborhood is decidedly tourist-friendly, drawing guests on the weekend from all over the Metroplex, residents say there's a real small-town feeling to the community.