What It's Like to Live in East Riverside
What It's Like to Live in East Riverside
Austin's on-trend reputation shows no signs of slowing down, and as other "hip" urban areas like Portland, Brooklyn, and Nashville can tell you, popularity comes hand-in-hand with rising prices and the displacement of long-time residents. Austin neighborhoods from Downtown Austin to South Lamar find themselves in the midst of rapid change: some good, some bad, and all very expensive.
But south of Lady Bird Lake on the east side of Interstate 35, you'll find a neighborhood in the throes of revitalization, with reasonable real estate values and a diverse community.
An Affordable Option in a Popular City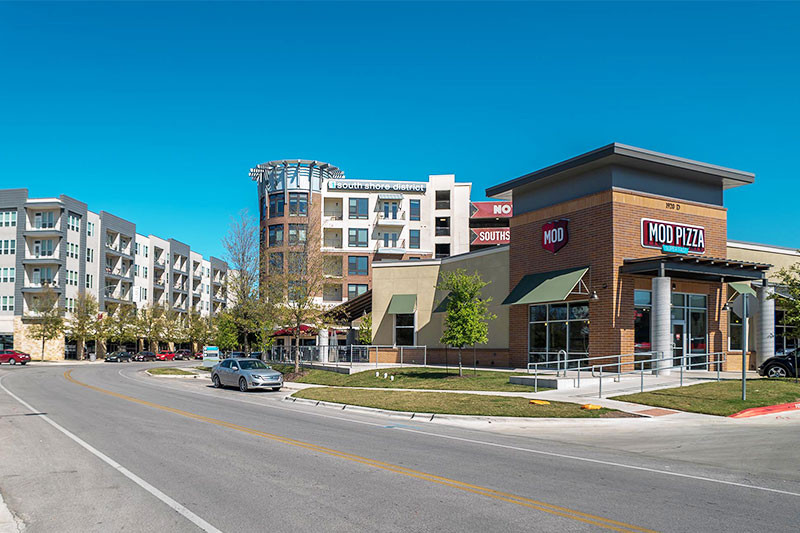 For many years, East Riverside found itself burdened with a reputation as an area high in crime and low in public funds to invest in revitalization projects. However, a 2013 rezoning push shifted the East Riverside Corridor (running along East Riverside Drive) from an area populated by strip malls and inexpensive residential buildings to, as the city planner behind the initiative phrased it, "an area with mixed-use development." These plans resulted in the emergence of luxury condo buildings like Lakeshore Pearl and stricter standards for the types of businesses allowed to open on East Riverside Drive, including a ban on fast-food joints with drive-through windows.
The neighborhood's hip quotient began to rise several years ago with the arrival of musicians, artists, and creatives priced out of centrally-located areas like Downtown Austin and South Congress. As Austin continues its outward spread and trend-seekers from around the nation settle down in the Lone Star Capital, East Riverside continues to witness new real estate developments and new local businesses, including the newly rebranded River Park mixed-use development, a project that's double the current size of the Domain mixed-use complex in North Austin.
But even in spite of these growth patterns in the East Riverside real estate market, prices remain reasonable compared to other Austin neighborhoods. The ability to find a home without the heavy cost burden of areas like South Congress, Old West Austin, and Zilker keeps East Riverside popular among the city's creative crowd, allowing it to retain a fun, lively, and artistic energy.
A Quick Commute to Downtown and UT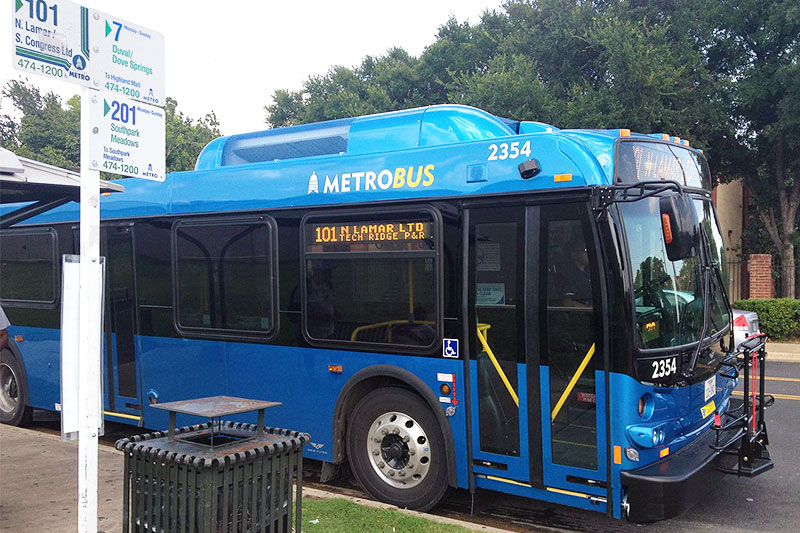 Thanks to its prime location just south of the Colorado River and the presence of Interstate 35 on its western border, East Riverside is a quick and easy commute away from Downtown Austin and the University of Texas (UT) campus. Drivers can make it to these destinations in less than 15 minutes (traffic permitting, of course), and those who rely on public transit have CapMetro bus lines like the 7 and 20 to shuttle East Riverside residents to the downtown bars and restaurants as well as to UT's academic buildings in under 30 minutes.
A Haven for Live Music Lovers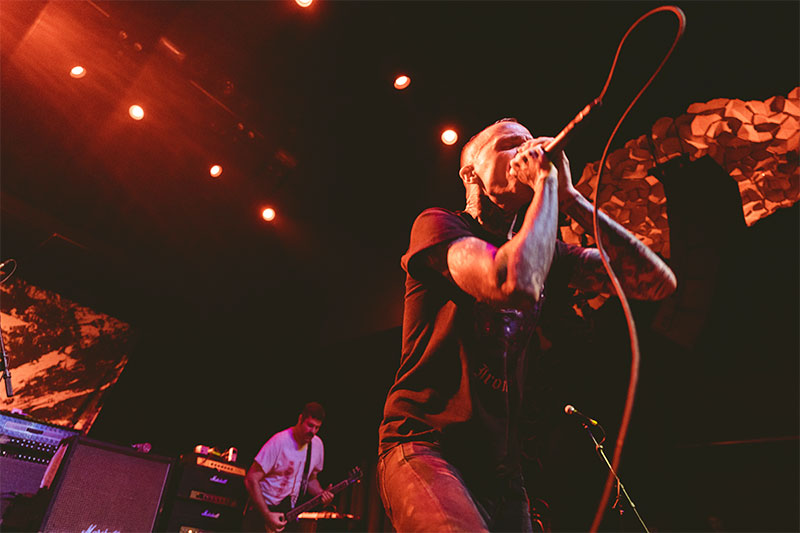 Austin's nickname is the "Live Music Capital of the World," and the city takes this honor very seriously. Concert halls and stages can be found all over town, and due to its high concentration of musical residents, East Riverside plays host to several such venues.
Located on the main neighborhood drag of East Riverside Drive, Emo's ranks among Austin's most legendary rock and punk clubs. The programming at Emo's includes local acts and big-name performers alike, with upcoming shows from X Ambassadors, Stephen Lynch, and Lovelytheband.
Another musical hotspot on East Riverside Drive is Come and Take It Live, a "genre-neutral venue, showcasing music, art, and film of the world." While Emo's books big-name acts on a regular basis, Come and Take It Live specializes in under-the-radar performers, making it a great place to scope out new talent.
East Riverside's bars and nightclubs also welcome their fair share of live music; mega-popular neighborhood watering hole The Jackalope regularly hosts bands and DJs as does coffee shop/beer garden Buzzmill.
What It's Like to Live Here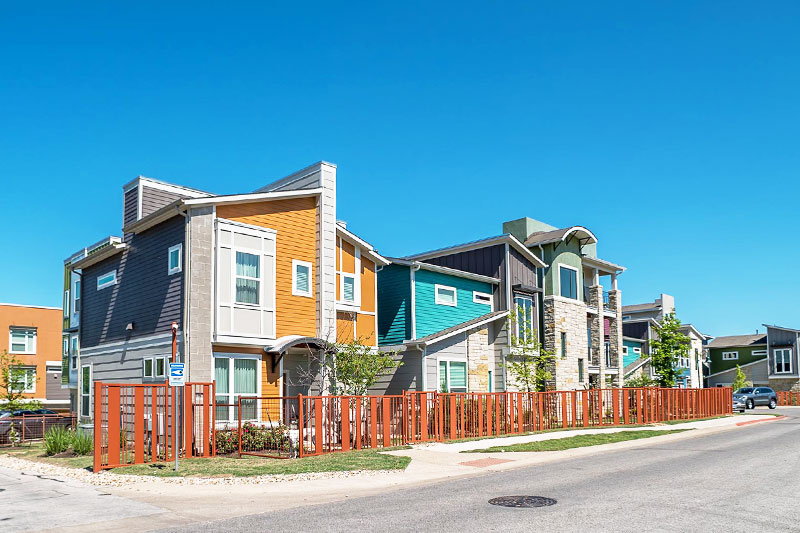 Much of East Riverside falls under the "quiet and residential" category, from larger housing complexes to communities of single-family homes scattered throughout the neighborhood. However, East Riverside's eponymous drive has plenty of action throughout the day and evening.
Austin's love for outdoor activities knows few bounds, and neighborhoods like East Riverside with close proximity to major greenspaces are particularly enthusiastic about this appealing city characteristic. East Riverside's largest greenspace can be found at Roy G. Guerrero Colorado River Metro Park, a sizable riverfront area with hiking trails, play fields, kayaking docks, and a disc golf course. Those who prefer to take their recreational time indoors can select from numerous fitness facilities in the East Riverside area, like CrossFit 2024 and FXFit.
Along East Riverside Drive, you'll find plenty of national fast-food chains for a quick bite, along with local chains like Korean-Mexican hybrid hit Chi'lantro and the casual taqueria Taco Cabana. Speaking of tacos, East Riverside has numerous food trucks and snack shacks devoted to this local staple, such as the late-night haunt Rosita's Al Pastor and the Tex-Mex classic Baby Acapulco.
If you prefer home-cooked eats, you can find all necessary ingredients at the H-E-B Plus on East Riverside Drive. This megastore covers an entire city block and includes everything from groceries and pre-made meals to an in-house bakery and a full suite of home goods and toiletries.
As previously mentioned, the housing market in East Riverside hasn't reached the fever pitch of other close-to-downtown areas, making it a strong option for first-time homebuyers on a budget. The majority of available housing inventory in the neighborhood comes in the form of attached houses and single-family homes, but if you venture closer to East Riverside Drive and the I-35 connection, you'll see a growing number of apartment complexes and high-rise condo buildings. Currently, the median sale price in East Riverside stands in the mid $100s, with current homes on the market ranging from the mid $100s to just under $1.2 million.