New Renderings Show Off What San Francisco's Bay Front Park Might Look Like
New Renderings Show Off What San Francisco's Bay Front Park Might Look Like
Bay Front Park will be one of the many changes and improvements coming to Mission Bay in San Francisco. Across from the upcoming Chase Center, future home of the Golden State Warriors, the 5.5-acre park is being envisioned as "an ideal place for events, relaxing and, in the future, a place to gather before a Warriors game or concerts." New renderings of what the park will eventually look like have been released, per SocketSite and they show off just how developers plan to take advantage of the idyllic location.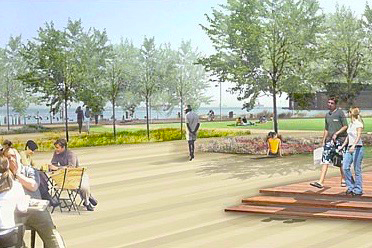 From the renderings we can see how the park will connect with the Blue Greenway via a 16-foot-wide path. Plans also call for an 18,000-square-foot plaza with picnic facilities, 60,000 square feet of lawns and landscaped grounds, a series of shoreline lookouts, multiple terraces, a shade pavilion, public restrooms, and an 8,500-square-foot outdoor dining area. There's also going to be space for a 7,500-square-foot restaurant to be included.
In order to begin work on the park, the city first needs to figure out the realignment of adjacent Terry A. Francois Boulevard. As such, Bay Front Park isn't expect to break ground until the middle of 2018 with a grand opening estimated for fall 2019. Even then, the restaurant and restrooms are expected to be part of a second phase that won't be ready until a year afterward.