Chicago Neighborhood News
Obama Presidential Center and Library Aims to Create 'People's Park' in Chicago's South Side
In the first week of May, former President Barack Obama returned to Chicago to discuss plans for and reveal the designs of his Presidential Center and Library, the biggest of the transformative developments heading to the Woodlawn neighborhood. It's poised to be a boon for Chicago's South Side and Cook County in general.
The designs reveal the boxy museum tower — which some have said resembles a Chinese take-out box — as the focal point, surrounded by the single-story library and forum (which will include offices, an auditorium, a restaurant, and a public garden) and pathways that lead visitors to landscaped roofs atop the buildings.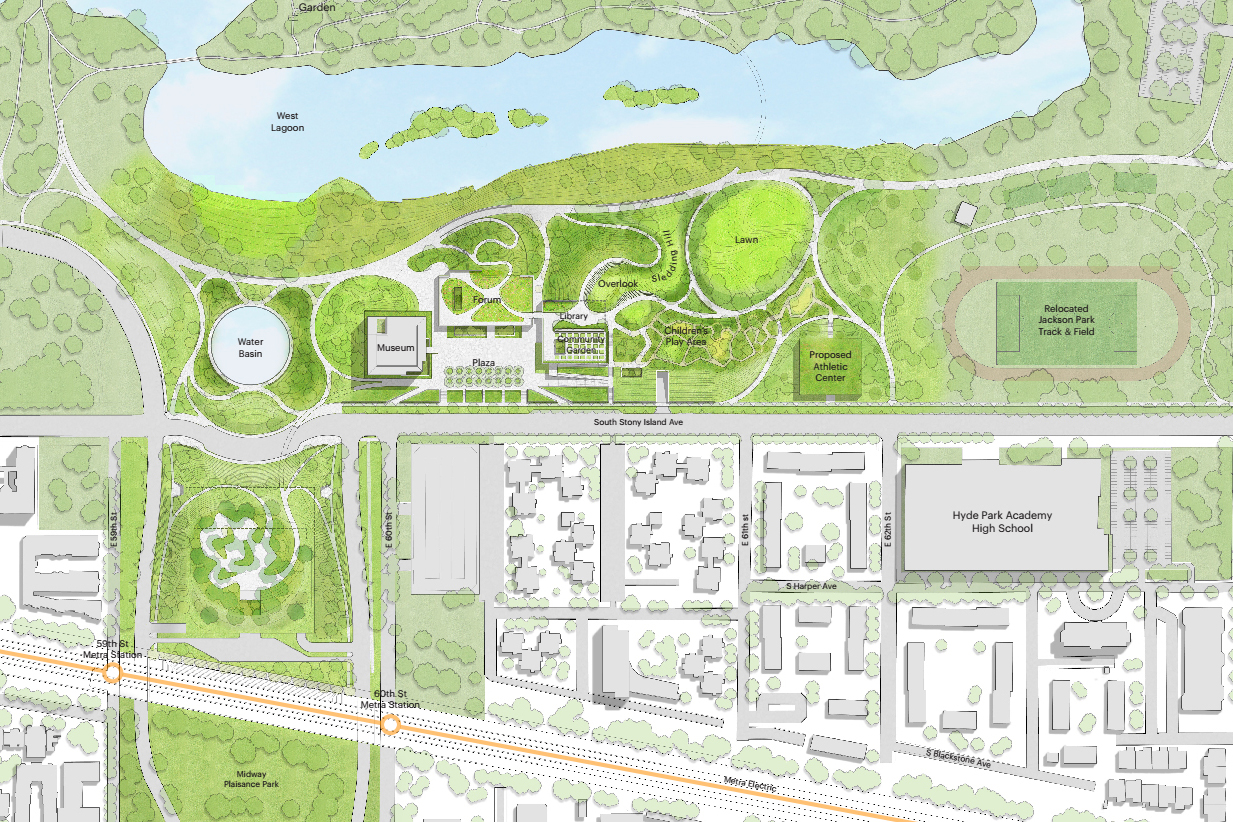 According to the Obama Foundation, the library and center planned for the western edge of Jackson Park will be the first presidential library to be built in an urban environment. The plan also calls for transforming the park, which was designed by the architect Frederick Law Olmsted for the World's Columbian Exposition of 1893. The project plans to add more green space to Jackson Park — which will be accomplished by the controversial plan to close Cornell Drive between 60th and 67th streets — and in general make the park more beautiful and useful for residents of Woodlawn, Hyde Park, and the South Shore. Obama has said he hopes to transform Jackson Park into "a people's park."
Tod Williams Billie Tsien Architects will design the center, estimated to cost at least $500 million. along with Chicago-based Interactive Design Architects. Ralph Appelbaum Associates, the team behind the National Museum of African American History and Culture in D.C., has been tapped to supervise a team that will design the museum's exhibits. The center is aiming for at least a LEED v4 Platinum certification.
The Obama Foundation also is predicting a huge economic impact from the project. In a press release, the organization said it expects to "support 4,945 direct, indirect and induced jobs created during the construction phase" and then would support "2,536 direct, indirect and induced jobs" after the library and center opens to the public. In all, it estimates an economic impact of $3.1 billion for Cook County.
The library and center is slated to open in 2021.