San Antonio Puffy Tacos: What They Are, and Where to Find Them
San Antonio Puffy Tacos: What They Are, and Where to Find Them
San Antonio is known for having authentic Mexican food, beautiful historic neighborhoods, and a deeply ingrained sense of community.
What you might not expect when you arrive in "Military City USA" (a nickname as the result of being home to one of the nation's largest concentration of military bases), is that the signature food item is a 'puffy' version of the classic taco.
What is a 'puffy taco'?
The puffy taco is a San Antonio classic. As you can gather from its name, the puffy taco has a 'puffy' exterior, which is created by frying the corn masa in oil. Aside from the puffy shell, the puffy taco is uncomplicated.
It contains the usual taco ingredients: lettuce, tomato, cheese, and your choice of meat. You can choose to dress it up with additional ingredients, such as onions, salsa, or avocado, or you can choose to stick to the uncomplicated classic version.
The puffy taco's known origins in San Antonio date back to when Ray's Drive Inn, a classic drive-in restaurant on the West Side of the city, was credited with bringing in their original idea of a taco with a puffy shell from California. After they popularized it with San Antonians, they further solidified their status as the inventors by obtaining the "Puffy Taco" trademark in 1992.
Since then, many other restaurants across the city have adapted their recipe, with the vast majority of Mexican restaurants now serving their own version of the San Antonio puffy taco. When narrowing down the ones that reign supreme, however, there are a few places spread out across the city that you can't miss.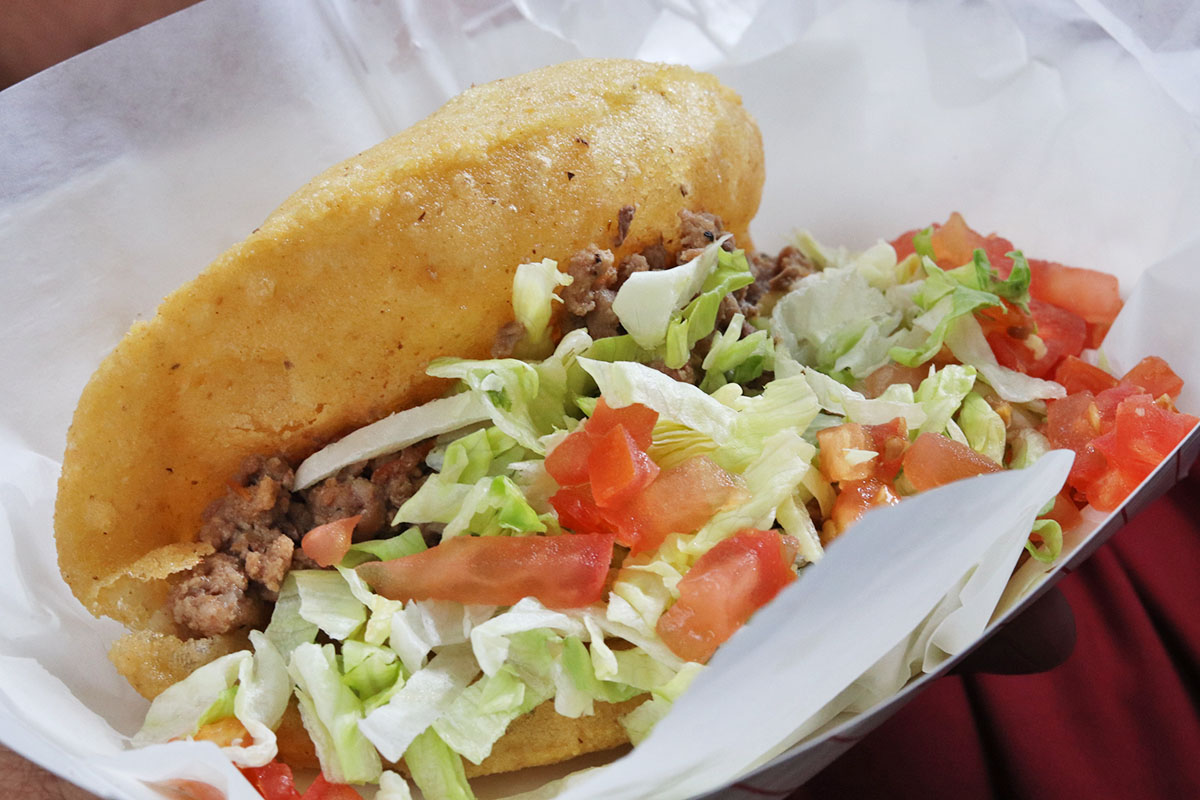 Since Ray's Drive Inn is the originator of the puffy taco, it should be your first stop when seeking out your first puffy taco. Ray's is a drive-in style restaurant that preserves the tradition of San Antonio food and culture with its nostalgic presence on the West Side of the city. Because of their deep roots in the community, Ray's touts that they are currently serving about 500 puffy tacos a day at their original location.
The puffy taco at Ray's remains a classic with its puffy, fried exterior, and you can order it the way you like it (with your choice of toppings, including avocado), or you can stick to the original with the basics: lettuce, cheese, tomato, and your choice of meat (their ground beef is an excellent choice if you're unsure of where to start).
After the success of Ray's Drive Inn, Henry Lopez, the younger brother of Ray Lopez, decided to open his own restaurant completely dedicated to the puffy taco: Henry's Puffy Tacos.
Located on the Far West Side of the city right off of Northwest Loop 410, Henry's is a great place to bring out-of-town guests to try their first puffy taco. Henry's version of the taco is pretty similar to Ray's, although they do have subtle differences.
The taco shell is still equally as puffy, and their toppings (lettuce, cheese, tomato) provide the familiar taco toppings. When compared to Ray's, Henry's has a more traditional, sit-down atmosphere, although you can also choose to get your tacos to-go and not dine in. Whichever you decide, don't forget to try their salsa.
The Southwest Side is full of vibrant San Antonio culture, as most notably shown through the interesting murals that cover buildings and walls all over the neighborhood. While you're searching for street art in this part of the city, you should also seek out Oscar's Taco House, a true hidden gem.
What the locals love about Oscar's is its dedication to authenticity and down-home cooking. Their food, their people, and their restaurant's ambiance work in conjunction to make you feel right at home.
Oscar's tacos are generally inexpensive, and their puffy tacos speak for themselves. The shell is fried crispy enough to give you a satisfying crunch, but puffy enough to give you the hallmark shell you expect when ordering a San Antonio puffy taco. In addition, their seasoned ground beef is a true standout out of all of the puffy tacos in the city.
There are plenty of great places to eat in Alamo Heights, but if you're looking for a puffy taco, Teka Molino should be your first stop. Around San Antonio, Alamo Heights may be known for its upscale restaurants and shopping centers, but Teka Molino is a comfortable, easy-going place that makes a solid puffy taco.
Their take on the puffy taco makes them unique because they fry their shell harder than others, which allows it to stay crispy until the last bite. Their salsa is another welcome addition to their taco that you could add on, especially since it is just as good on its own as it is on a taco.
Teka Molino is a great place to stop and get acquainted with what the puffy taco is all about, especially after you've spent all day shopping or relaxing at Alamo Heights' upscale Quarry Market.
As a popular breakfast and lunch restaurant located in the Uptown neighborhood of the city, Fidelo's is consistently busy from the moment they open to when they close at 3 p.m. Waiting for a table is not only worth it, but you will miss out if you have never tried their version of the puffy taco.
Once you get a table, spend your lunch hour enjoying their puffy taco plate accompanied with their bottomless chips and salsa. Their version of the puffy taco has a satisfying crunch and stays intact until the last bite. Whether you dine-in or take your tacos to-go, Fidelo's puffy taco and its accompanying rice and beans are a lunchtime favorite.