Revised Plans Revealed for Hollywood's Crossroads of the World Redevelopment
Revised Plans Revealed for Hollywood's Crossroads of the World Redevelopment
Crossroads of the World, one of Hollywood's first and largest mixed-use developments, has revised its ongoing redevelopment plan to coincide with an environmental impact report.
Originally 31 stories tall, a proposed hotel has been scaled down slightly to 26 stories. The project still includes a 30-story tower with 190 condominiums, four apartment buildings, two low-rise office buildings, underground parking, and 185,000 square feet of retail and restaurant space.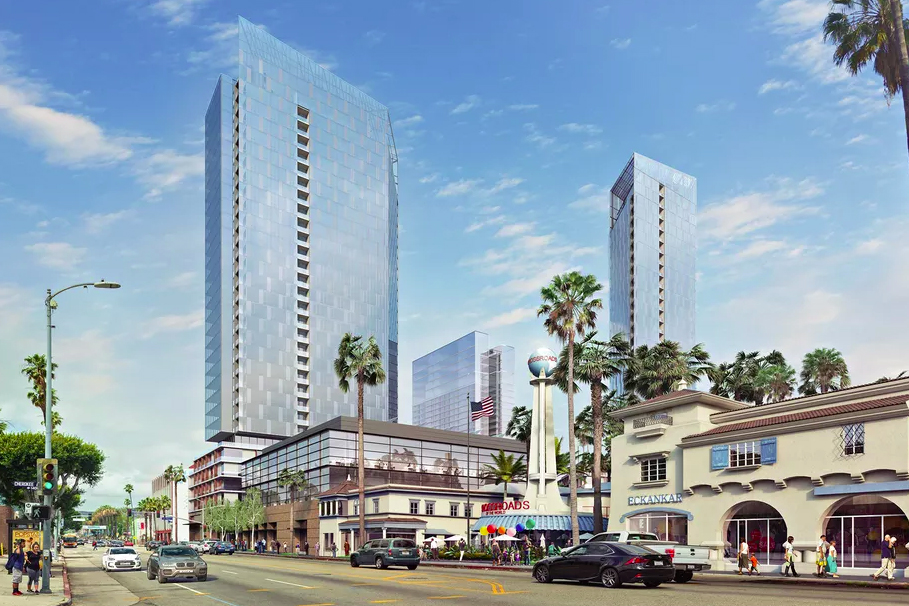 The other major addition to the plans includes an extended pedestrian path, now stretching to Highland Avenue and Selma Avenue. According to Curbed LA's conversation with Kyndra Casper, an attorney on the project, that path will now take pedestrians within two blocks of the Hollywood/Highland Red Line train stop.
Approvals on the project are expected by early 2018, though the Los Angeles Business Journal does note that multiple groups in the area have stood in opposition to large projects in the past (and could do so again here).
Hollywood Crossroads is estimated to cost as much as $600 million, and will be handled by Harridge Development Group.