National Local Life
Richmond Neighborhood Guide
Whether you call it the 804, the River City, or RVA, Richmond, Virginia is a mixed bag of history and culture. History buffs enjoy the city's many museums and historic landmarks. Foodies love the endless options of delicious cuisine from all over the world. And art fanatics gawk at the murals on every corner, thanks to the city's recent Richmond Mural Project. No matter what you're into, you can find a piece of it in Richmond.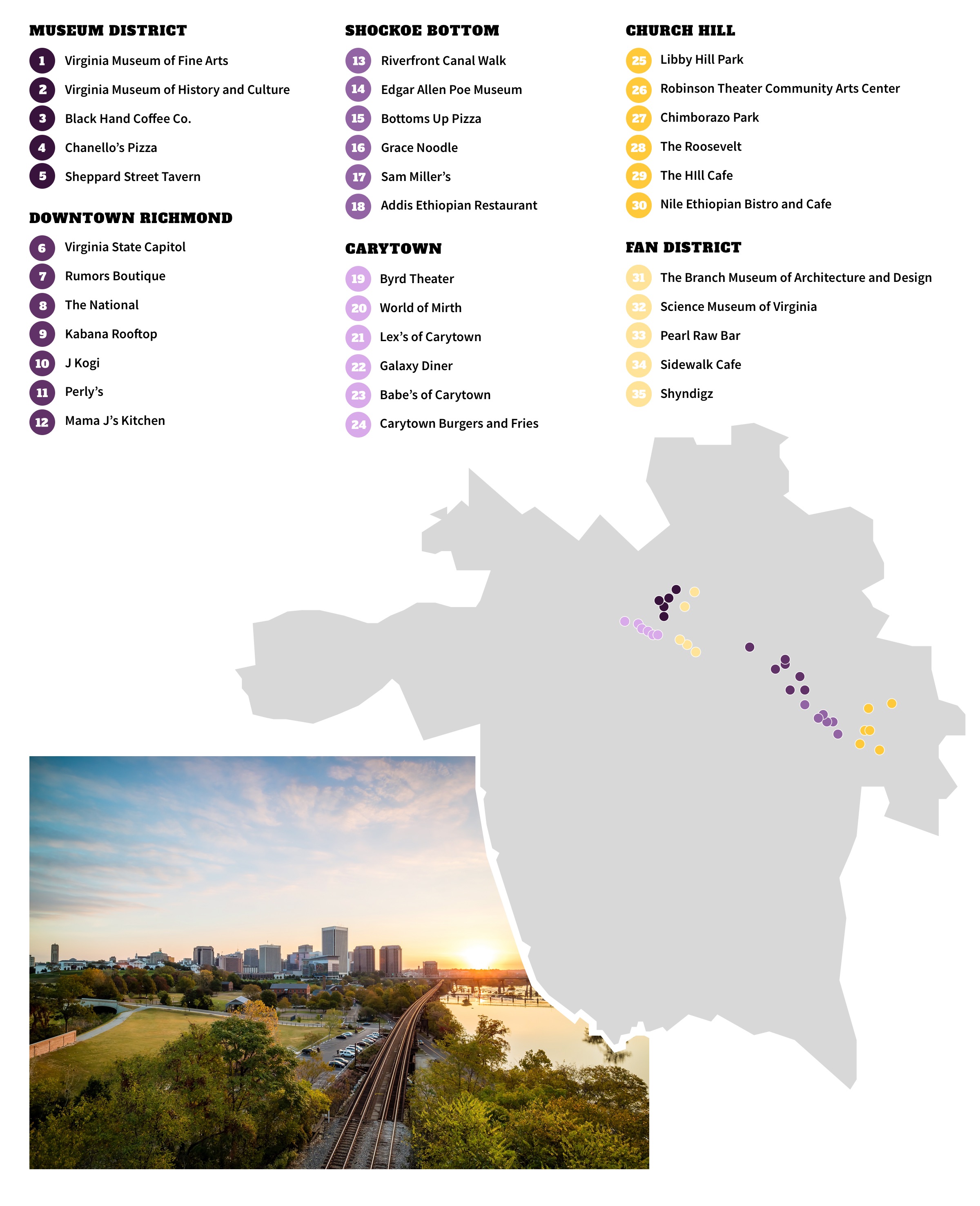 Richmond at a Glance
Due to the recent broadening of the Greater Richmond Transit Company (Richmond's primary public transportation system), traveling from Short Pump to Shockoe Bottom has gotten much easier. Transit access does depend on whether you're lucky enough to live near one of the many stops along Broad Street. If you aren't so lucky, then you might have to use your own car, a rideshare service, or your good ol' two feet.
Areas like Downtown Richmond and the Fan District are easily accessible through public transportation, but farther out in the West End, a car will often be crucial to getting around. Here are some quick tips to help you navigate Richmond as smoothly as possible.
GRTC: The Greater Richmond Transit Company has consistently provided transportation to Richmonders for over 150 years. The bus system offers many different routes throughout the city, as well as the surrounding areas like Chesterfield and Henrico. Navigating the routes can be quite hard to understand at first. But thankfully, the company offers a handy-dandy mobile app that makes finding your destination just as easy as using a GPS.
Broad Street: Broad Street is a 15-mile long road that's entirely too long for its own good. From the east, it begins at the historic Chimborazo Park in Downtown Richmond and stretches all the way to the edge of Short Pump in the west. Chances are, if you're trying to find your way around Richmond, you'll end up on this road at some point in your journey.
If you're looking to explore some of the many neighborhoods that Virginia's capital city has to offer, here's where to start.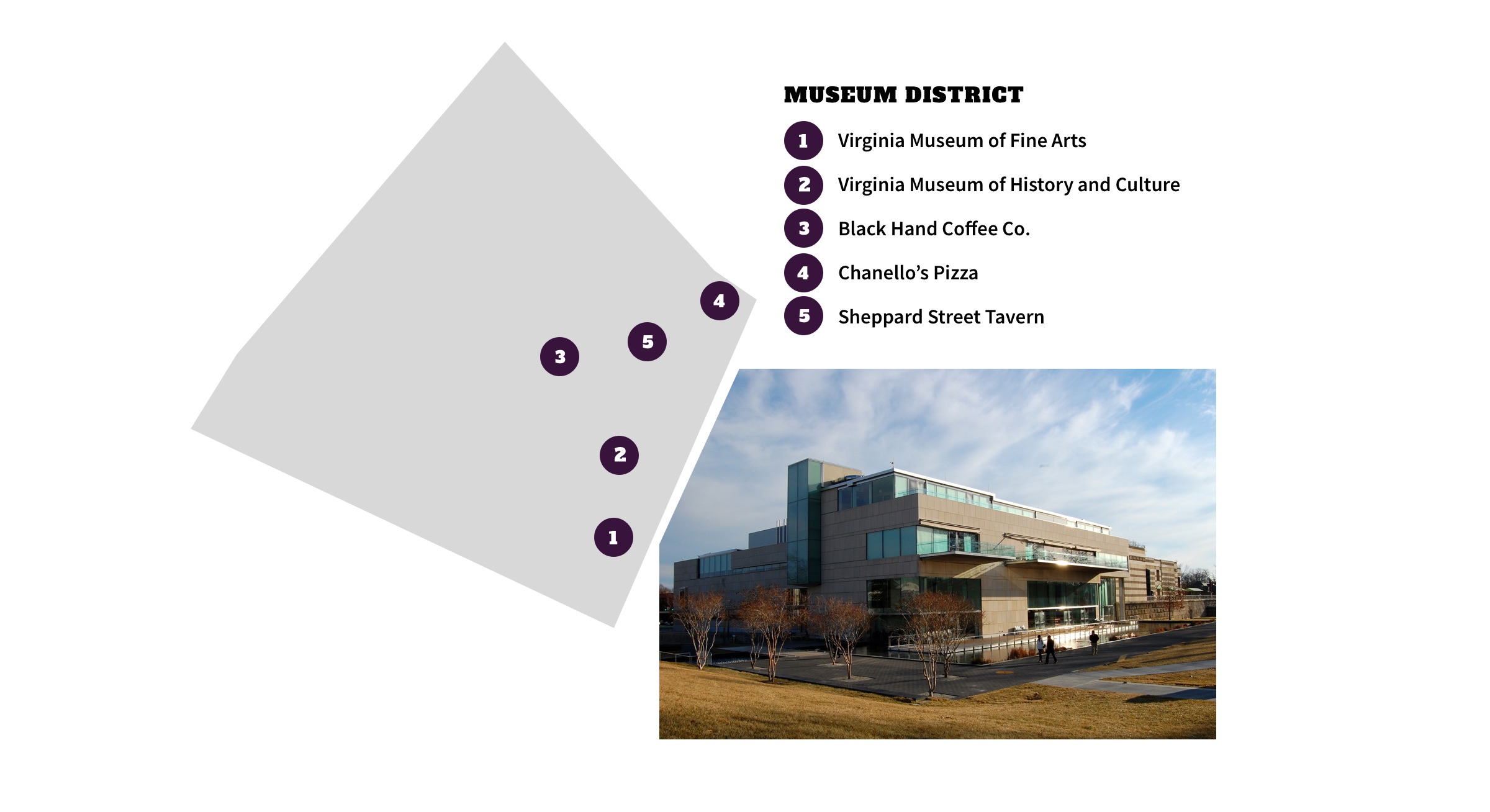 The Museum District gets its name from its proximity to Boulevard, a street that encompasses six long blocks of museums and historic buildings. Throughout the neighborhood, you'll find plenty of brightly colored townhomes near tons of beautiful greenery. The Museum District is a largely residential neighborhood but sees its fair share of tourists heading to the neighborhood attractions.
What to Do
This large art museum has a diverse selection of art from all over the world. It's free to get in; open 365 days a year; and offers programs for youth, teens, and adults.
History buffs can dive into the history of Virginia and America as a whole. Throughout the year, the museum hosts exhibitions that celebrate both known and unknown persons who made Virginia the state it is today.
Where to Eat and Drink
This premium coffee shop sells its own rich, aromatic coffee for you to take home. Additionally, this shop is a great place to grab some early morning brew and work remotely for the day.
Craving some cheesy late-night pizza? Chanello's has been holding Richmond down for over 30 years with pizza, wings, and subs. This pizza shop offers a variety of daily specials that give you excellent bang for your buck.
At the Sheppard Street Tavern, you'll find wraps, burgers, and wings. If you're a wing fanatic, you can try the tavern's Stupid Wings Challenge (which was featured on an episode of the Travel Channel's "Man vs. Food") to see if you can savor a large amount of the tavern's hottest wings.
Why Locals Live Here
In the Museum District, locals are within walking distance of some of the best cultural institutions in the state. The district is centrally located, making it easy to travel by public transportation to the surrounding neighborhoods, including the nearby Fan District and Carytown. There's also a highly rated public high school in the area, making the Museum District very attractive to families. If you're looking to nab one of the large, historic homes in the area, chances are you're going to have to put down a large chunk of change compared to other RVA homes in order to make it yours.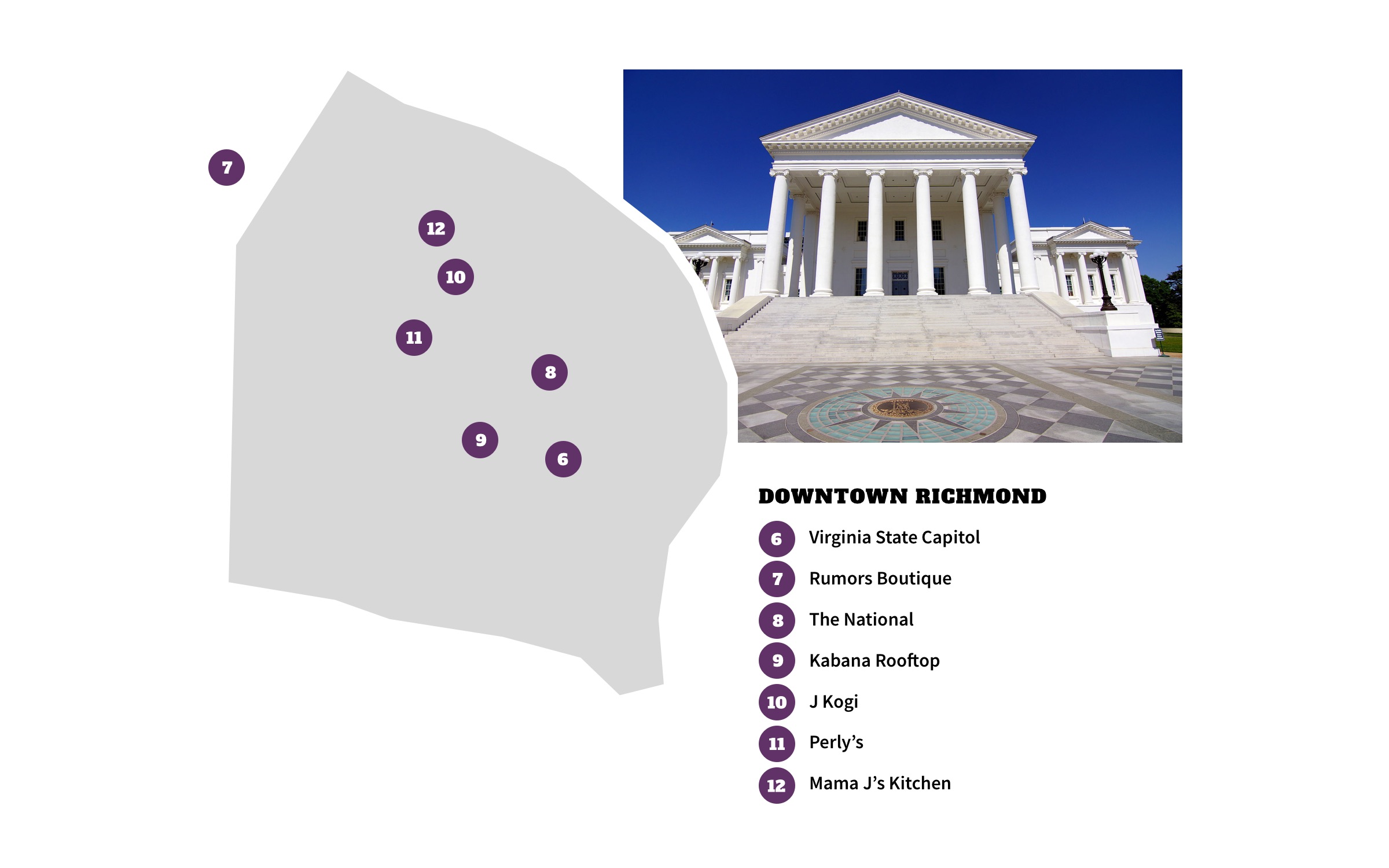 From picturesque murals to an endless amount of small businesses, Downtown Richmond provides a big-city lifestyle in the capital of the South. Downtown Richmond is close to multiple college campuses, including Virginia Commonwealth University and Virginia Union University, making it a large epicenter for the student population. From comic books to coffee, Downtown Richmond also offers many retail options for residents.
What to Do
Constructed in 1785, the Virginia State Capitol is one of the oldest government buildings in the United States. You may have seen this building in films and television, including as a stand-in for the United States Capitol in the 2012 film "Lincoln." The state capitol is open seven days a week and free to visit.
Located just outside of VCU's campus, Rumors Boutique has unique pre-loved clothing for fashionistas and thrift-fanatics alike. If you're looking to clean out your closet, the store will give you cold, hard cash for your clothing items and ensure they all go to a great home.
This historic music venue showcases talent from many different genres, including hip-hop, indie, and rock. They host performances multiple times a week, making it the perfect place to find your next favorite artist.
Where to Eat and Drink
This newly constructed bar and lounge gives you the opportunity to "party in the sky." Every weekend, this bar hosts both local and national DJs, bands, and vocalists.
J KOGI's is one of the only places in town where you can find quality Korean street food. Its happy hour scene is vibrant, and it's a trusted late-night spot for fellow Richmonders.
Whether you show up for breakfast, lunch, or dinner, Perly's provides a unique selection of Jewish cuisine with a modern twist. Try the corned beef hash or the potato latkes. The restaurant offers many different sandwiches as well, including the Perly's Patty Melt which is a hamburger topped with pastrami, grilled onion, Russian dressing, swiss cheese, and sliced dill pickle on rye bread.
Mama J's selection of soul food will certainly have you feeling like you went home to your grandma's house for Sunday dinner. This family-owned restaurant has a warm atmosphere that'll have you coming back for seconds, thirds, and fourths.
Why Locals Live Here
In Downtown Richmond, a bus stop is always within a five-minute walk. Downtown Richmond also contains one of the main bus stops for GRTC Pulse, which makes it easy to zip through RVA. There's a variety of condos and apartments available in the neighborhood, with a small selection of single-family homes. Due to its close-proximity to high traffic areas, homes here are among the most expensive in Richmond.
There may be an issue with noise due to the close proximity to VCU and Broad Street. (Nearby Church Hill or the Museum District are quieter, more family-friendly areas.) But many students and professionals adore the liveliness of this neighborhood. No matter where you are in Downtown Richmond, there's always something to do, whether it's a festival, a live show, or a brand-new retail store.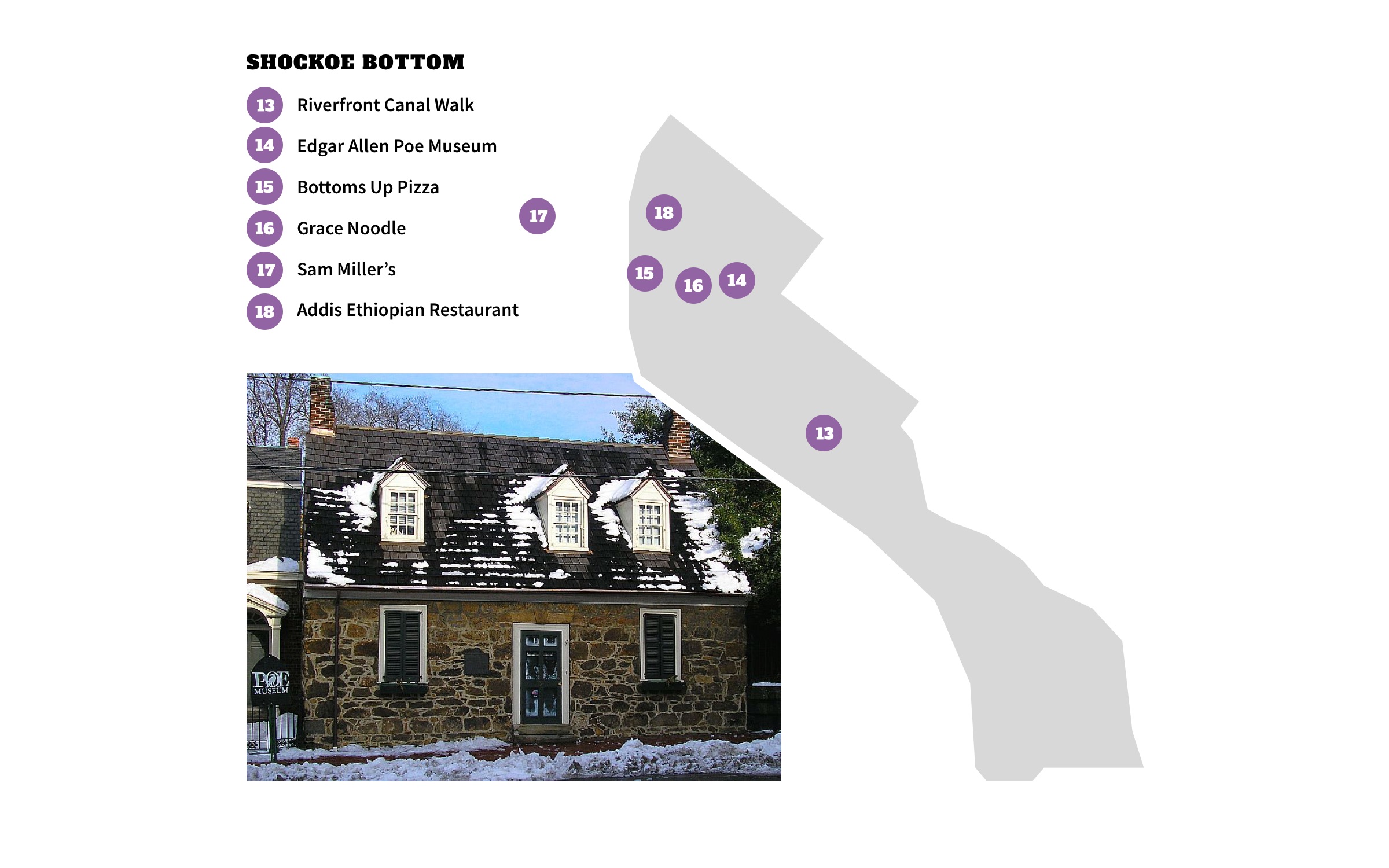 Lying right on the edge of the James River, Shockoe Bottom is a thriving metropolitan area. The neighborhood is home to a dense selection of small businesses and a variety of museums that call back to the area's long history. From day to night, there's an undeniable energy that runs through Shockoe Bottom, embodied in its neighborly inhabitants.
What to Do
During one of Richmond's many sunny days, you have to check out the Riverfront Canal Walk. While you walk along the Kanawha Canal, there are a variety of retail and restaurant options. If you're interested in learning more about the canals, which were designed by George Washington, you can take a tour on a canal cruise.
In this museum, you'll find the world's largest selection of Edgar Allan Poe memorabilia. You can explore the writer's history throughout Richmond and gain creative inspiration. The museum also hosts yearly events including a celebration of Edgar Allan Poe's birthday and a monthly "Unhappy Hour" that offers refreshments, live music, and family-friendly fun.
Where to Eat and Drink
From the "Chesapeake," with fresh crab meat and sweet onions seasoned with Old Bay, to the "State Fair" with sausage and caramelized onions, Bottoms Up Pizza is certainly not your typical pizza shop.
For a hidden neighborhood gem, visit this brick-walled store in a deep corner of Shockoe Bottom for warm bowls of house-made ramen noodles.
Over in Shockoe Slip, this seafood and oyster bar is named after a Polish immigrant who came to the United States in 1870. Sam Miller's provides a fine dining experience that showcases the best of what the sea has to offer. It's worth the reservation.
Bitew, the owner of Addis, brings the cuisine of his home country of Ethiopia to the capital city in delicious dishes. The restaurant also hosts weekly events including open mic nights and live music.
Why Locals Live Here
Throughout Shockoe Bottom, there are some recently built condos and apartment buildings. Since the area lies along the James River, living here will put you in close proximity to the beautiful waters. If having that perfect waterfront view is something you have to have, then prepare to pay an elevated price compared to other homes throughout Shockoe Bottom, but generally, the neighborhood offers options for a range of budgets. The area is also extremely walkable, and it's easy to visit the nearby museums, plentiful restaurants, and endless hiking trails.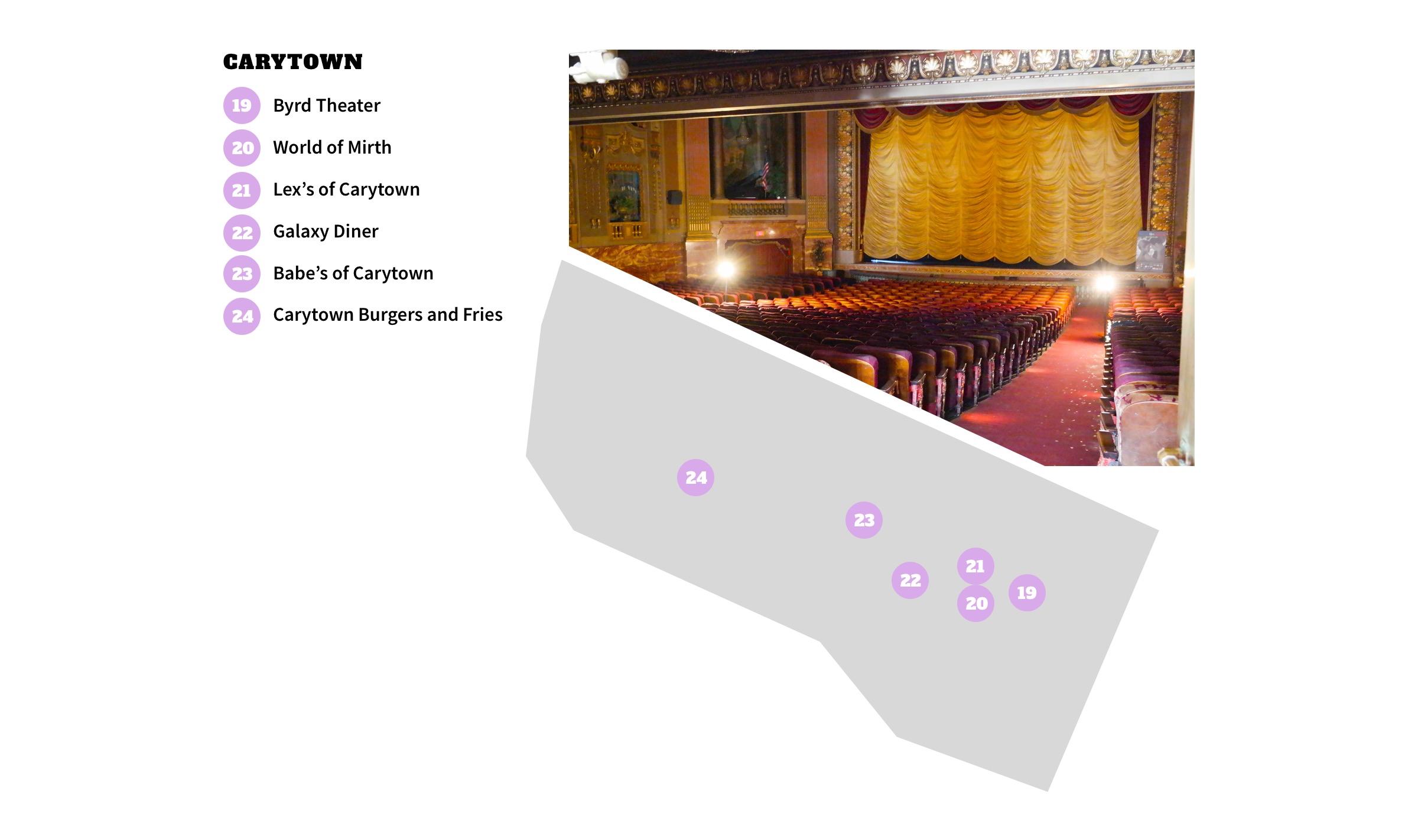 Even though it encompass just one street, Carytown offers its fair share of retail options, eateries, and entertainment. Each of the colorful storefronts along Cary Street offers its own unique story to tell. Calling Carytown home puts you a hop, skip, and a jump away a constantly growing number of local and national businesses.
What to Do
This recently renovated theater is a historic gem. You can catch second-run movies at a fraction of the price of a regular movie ticket, as well as special screenings and the annual French Film Festival.
This toy store offers modern and vintage toys that cater to both kids and kids at heart. Inside, the store is a whimsical spectacle that rivals Willy Wonka's chocolate factory. Here, you'll find a ton of cutting-edge toys that you'd be hard-pressed to find in a national toy store chain.
Whether it's homecoming, prom, or a wedding, Lex's has the stunning dress that'll make you feel beautiful. Or, if you just want to stop by to window shop and gawk at the gorgeous dresses, that's fine too.
Where to Eat and Drink
Prospective astronauts big and small will enjoy an intergalactic spin on diner favorites including quesadillas, sandwiches, omelets, and more. The inside and outside of the Galaxy Diner are also beautifully designed, making it perfect for an Instagram photo-op.
Where else can you enjoy some delicious southern cuisine, drinks, and a drag show? Babe's has some of the best entertainment available in the capital city and offers multiple shows a week.
Just like other Richmond-based food chains like Sugar Shack Donuts, Carytown Burgers and Fries has multiple locations throughout Richmond and the surrounding area. Once you try one of their drool-inducing burgers at their mainstay shop in Carytown, you'll surely understand why. Whether you're a meat-lover, a vegetarian, or a vegan, there's a burger option for you to enjoy.
Why Locals Live Here
The shopping and entertainment center of Carytown is endlessly vibrant and eccentric. It's built perfectly for walking around and puts thrift stores, coffee shops, diners, and theaters just a short walk away from your front door. As for homes, most of the residents live in small free-standing homes that have stood their ground for decades. However, because of the small size of the neighborhood, homes don't come on the market often. Public transportation is easily accessible from Carytown as well.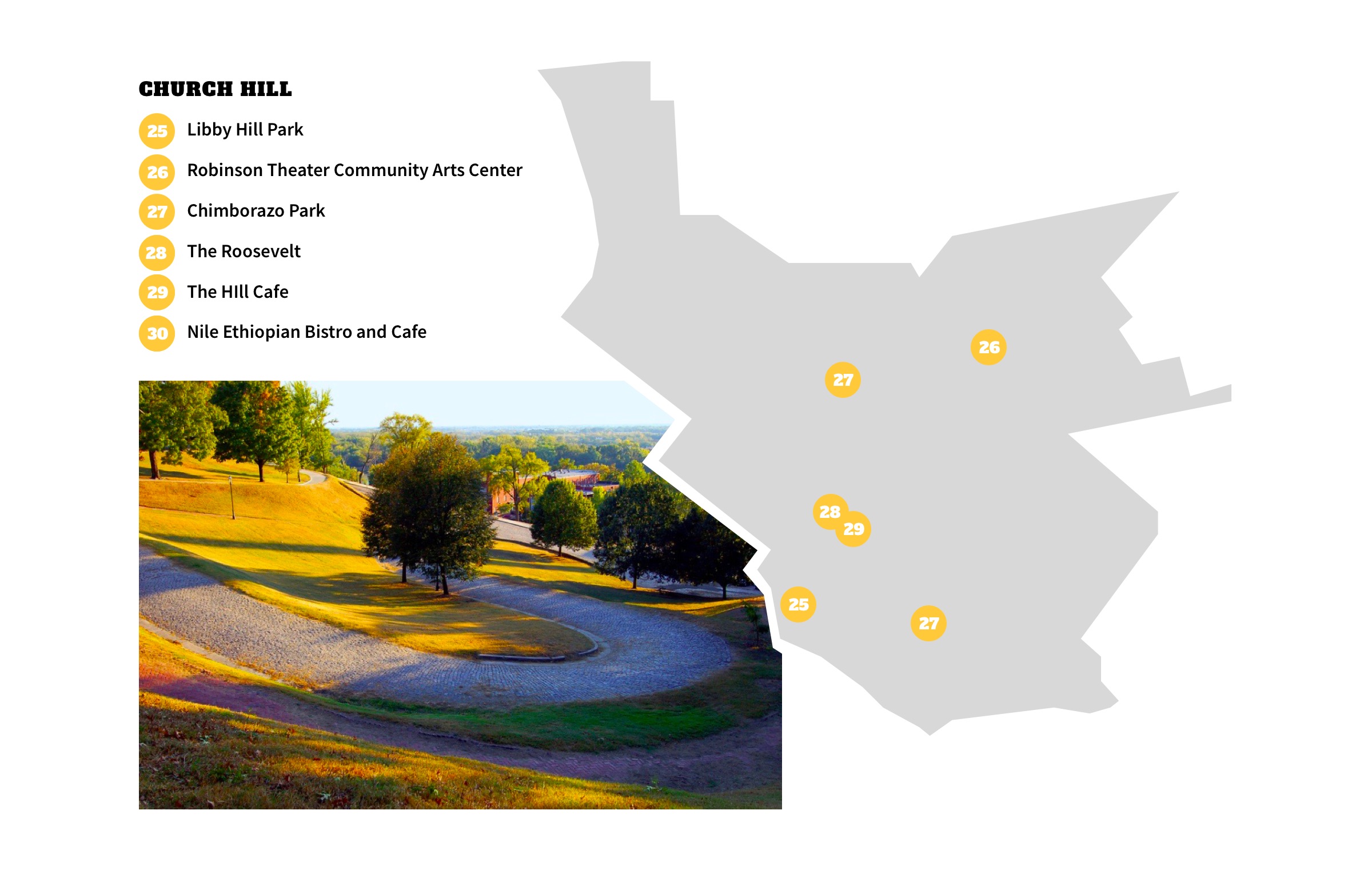 Church Hill is led by its undeniably strong community, filled with everyone from families to entrepreneurs. Additionally, the neighborhood has historic significance: It's home to St. John's Church District, which was the site of Patrick Henry's 1775 "Give Me Liberty or Give Me Death" speech.
What to Do
Once you make it up Libby Hill, you're gifted with a gorgeous postcard-ready view of Richmond's skyline. The view is so significant it's called the "view that named Richmond." Supposedly, William Byrd II—the founder of Richmond, VA—thought that the area resembled Richmond-upon-Thames, England and decided to name the town after it.
The RTCAC is a community-based organization that offers a wide variety of programming in the arts, fitness, nutrition, and more. They offer classes for children and adults, making it the perfect place for the whole family to learn a new style of dance or a yummy recipe.
Chimborazo Park was home to one of the world's largest military hospitals, but today it's part of Richmond's park system. Housing a dog park and a miniature Statue of Liberty, the greenspace overlooks the James River and the rest of the city.
Where to Eat and Drink
At the Roosevelt, you can get authentic Southern cuisine with an elegant twist. The menu is anchored by selections of premium meats and seafood including pan-seared scallops and hanger steak.
This cozy, bar location is incredibly lively, especially on the weekend. This has a lot to do with their delicious menu options including seafood, soups, and burgers. There's also a nightly blue plate special, if you're looking for a discount on a great meal.
This family-operated restaurant has been serving up authentic Ethiopian cuisine for Church Hill's residents and beyond since 2006. All the gluten-free foodies can rejoice as well because all the entrees served here are 100% gluten-free.
Why Locals Live Here
Throughout Church Hill, you'll find single-family homes, refurbished condos, and townhomes. In this historic district, you can reach grocery stores, art galleries, and restaurants by walking along cobblestone sidewalks. Church Hill also prides itself on being a mixed-income neighborhood, thanks to the Maggie Walker Community Land Trust. There's a good chance you'll find a home that fits your budget in Church Hill.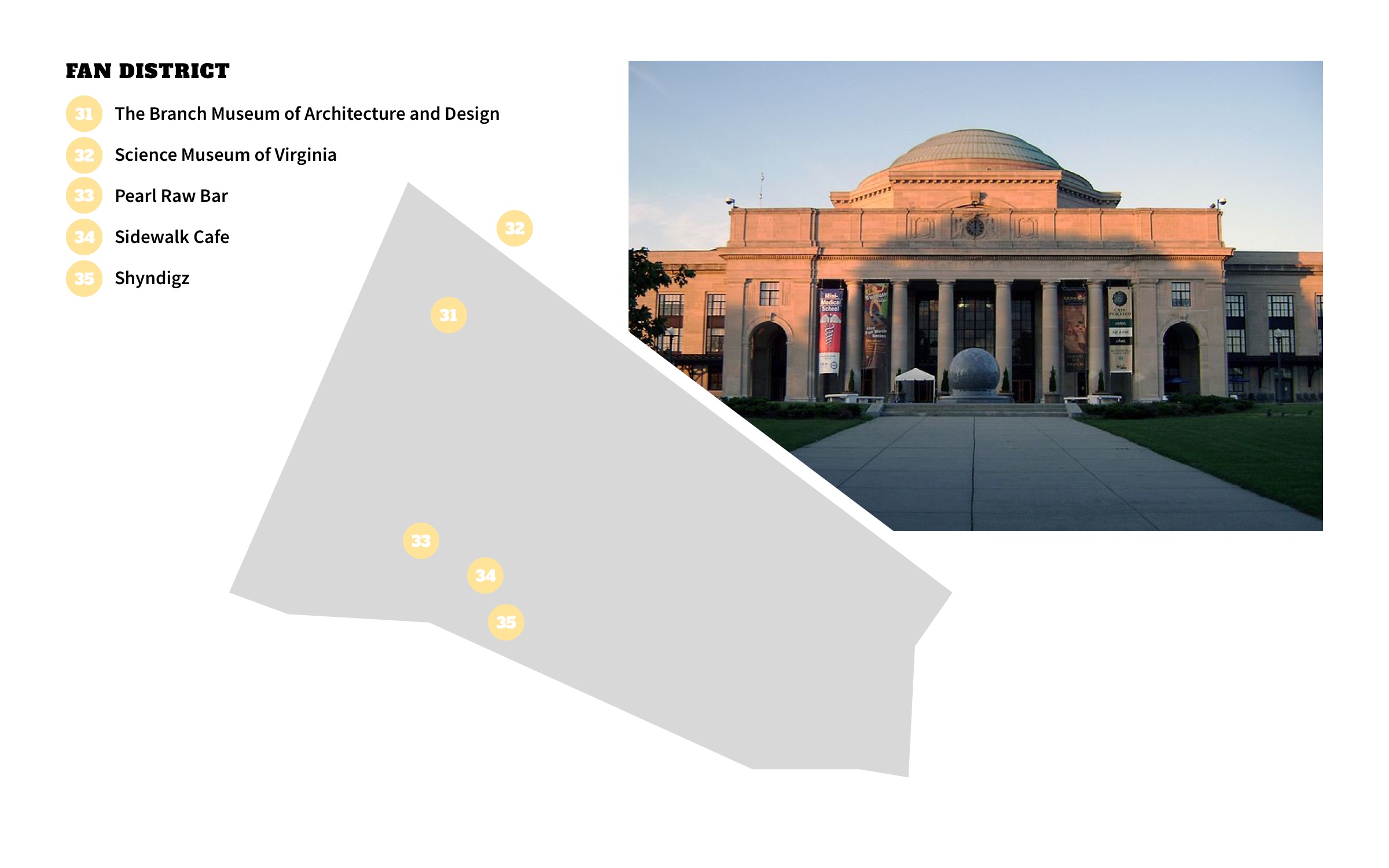 Named after its fan-like shape, the Fan District is a mixed bag that's home to a variety of different landmarks including Virginia Commonwealth University's Monroe Park campus and a statue of Richmond-native Arthur Ashe. Due to the close proximity to VCU, the district has a high population of students, professors, and other professionals.
What to Do
If you're a fan of gawking at eye-catching architecture, then this is certainly the place for you, and admission only costs $5. The museum also offers many programs for children to learn about the world of architecture and design.
The Science Museum of Virginia is a family-friendly place with loads of exhibits that will help you get in touch with your inner scientist. The museum includes The Dome (which offers live astronomy presentations, cosmic expeditions, and giant-screen movies), the world's first aluminum submarine, hands-on science exhibits, an up-close look at great white sharks, and much more.
Where to Eat and Drink
At the Pearl Raw Bar, you can find a wide selection of great seafood. Be sure to check it out on Tuesdays for Crab Leg Night and Wednesday for Shrimp Night to land some deals.
If there's one place in Richmond that you need to try for brunch, it's Sidewalk Cafe, which turns the meal into an event. Their $10 mimosa pitchers will have your whole table in a great mood.
Craving cake? Head to Shyndigz. The restaurant rotates cake flavors on their calendar, so you can taste a new treat every time you visit the shop.
Why Locals Live Here
Since VCU is smack-dab in the middle of the Fan District, a large portion of the area is filled with students, professionals, and VCU workers. You'll inevitably deal with noisy crowds that spill over from VCU's events and parties, but the Fan District is large enough to offer peaceful options that feel removed from the college energy. When it comes to houses, you'll find condos that add affordability to the neighborhood alongside stately, brightly colored colonials. Homes close to VCU are rare and more expensive than other homes farther from campus. As a whole, the Fan District offers both budget-friendly and luxury options for prospective homeowners.