Rolled Ice Cream Guide to Los Angeles
Rolled Ice Cream Guide to Los Angeles
Rolled ice cream was a phenomenon that first started in Thailand. Although it has been known to go by several names, such as Thai-style ice cream, ice pan-style, or stir-fried ice cream, these distinctive ice cream rolls eventually spread to the rest of Southeast Asia. It was already trendy and widely known before finally making its way to New York in 2015. Today, it's the new "it" dessert all over Los Angeles. Part of the appeal of rolled ice cream is watching how it's made.
First, you pick your ingredients, and then you watch as the ice cream pro slathers your chosen liquid ice cream base all over a sub-zero pan. After a few minutes of mixing, dicing, flipping, rolling, and other theatrics, your rolled ice cream ends up nicely prepared for you and picture-ready. Going to a rolled ice cream shop is a fun experience for anyone, especially those looking to satisfy their ice cream craving.
Below are 6 rolled ice cream shops you'll find around Los Angeles.
Cold Rolled Ice Cream Company – Fairfax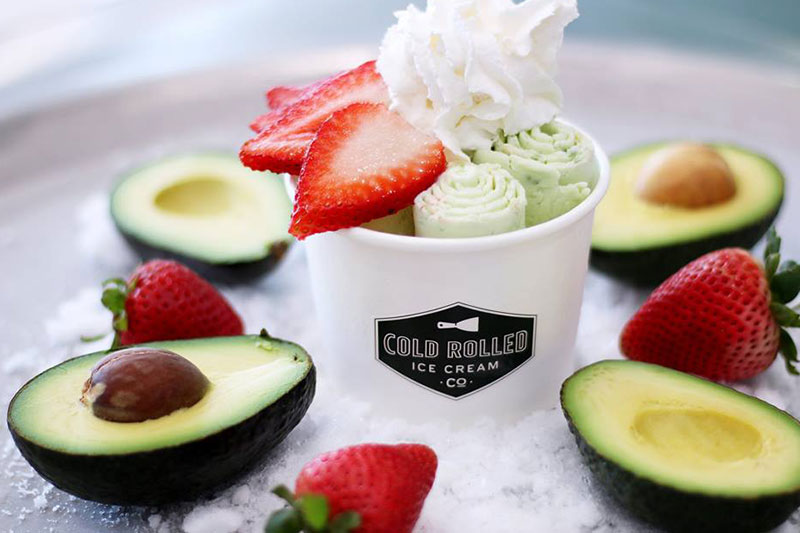 Located on the popular and vintage Melrose Avenue in Fairfax is Cold Rolled Ice Cream Company, which features standard flavors such as chocolate, strawberry, and cookies & cream, as well as specialty flavors like white chocolate pistachio or toasted coconut mango rush. However, if you're someone who enjoys picking out their own original recipe, this shop also offers customers the option of building their own creations. While you're waiting for your rolled ice cream, you can either watch the rolled ice cream experts concoct your order or sit back and admire the shop's wall mural by street artist Jonathan Cirlin.
Rolling Factory – Glendale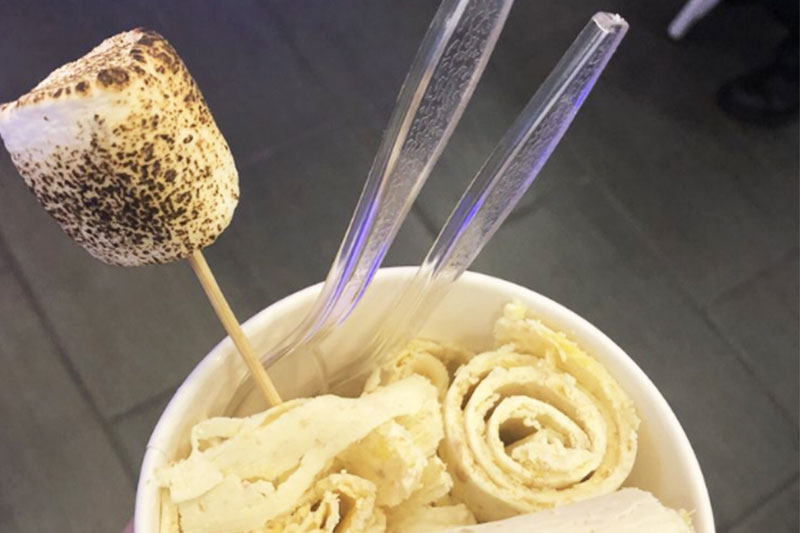 Down the street from The Americana at Brand and Glendale Galleria is the specialty ice cream shop Rolling Factory on Maryland Avenue. This boutique is the latest addition to the Glendale neighborhood, and it has experienced overwhelming popularity almost overnight. Known for its signature flavors, such as vanilla, chocolate, taro, coffee, and cheesecake, customers have the option of adding a mixture, topping, and even putting their ice cream rolls into a waffle cone. Perfect after a day of shopping or a post-dinner snack.
Holy Roly Ice Cream – Koreatown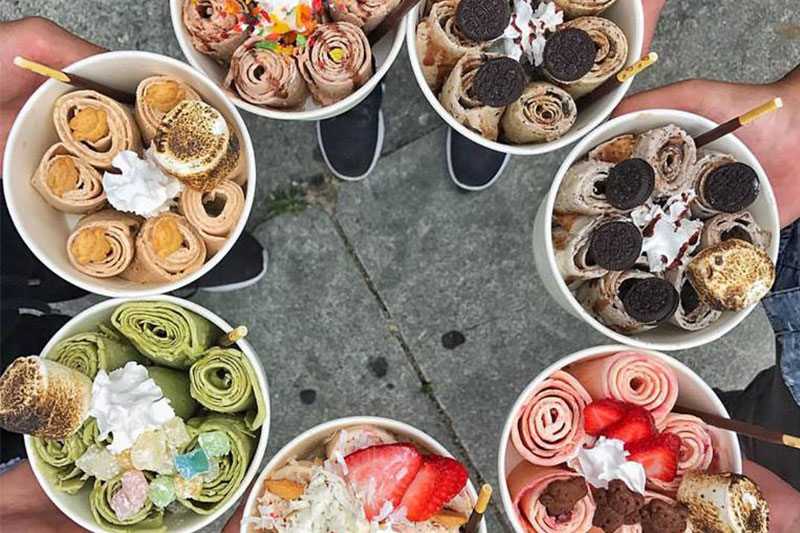 Right around the corner from Wilshire Center in Koreatown is the neighborhood's hottest new shop, Holy Roly Ice Cream. This premium boutique puts a focus on organic ingredients, with an emphasis on having no stabilizers, preservatives, or emulsifiers. This appreciation for quality and customer service has proven a real draw for patrons, who are still lining up to experience the holy-rolled ice cream experience. Featuring flavors such as Ferrero Rocher, french toast, pumpkin pie, matcha tea, and earl grey, this shop is already setting itself apart from the rest thanks to the variety of its menu. And don't forget to add a Pocky stick to your ice cream.
Blue Nova Ice Cream Truck – Little Tokyo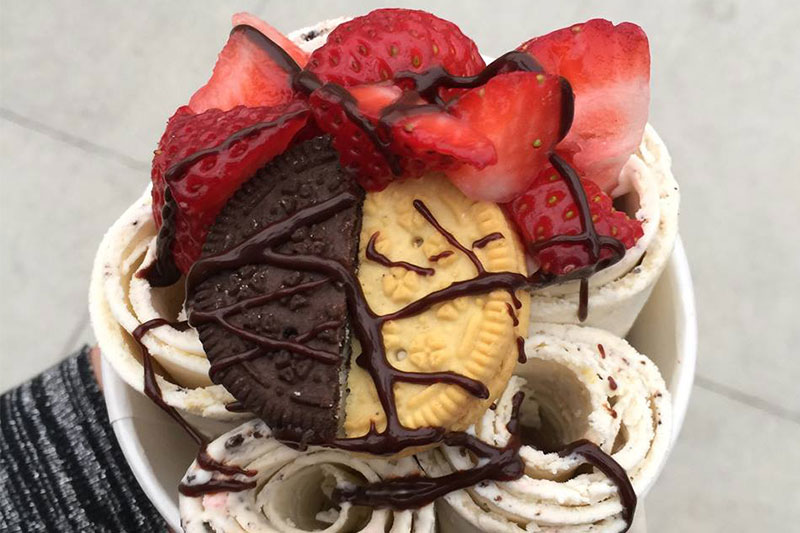 After souvenir shopping or taking a stroll through the little plaza in the heart of Little Tokyo, try out the Blue Nova Ice Cream Truck on First Street. The truck is bright and blue, and has lights and loud music blasting, so you definitely can't miss it. You can watch the ice cream experts work on your order behind a clear window. As Los Angeles' first rolled ice cream truck, this spot is great for both locals and out-of-towners. If you can brave the long line, you'll be rewarded with a refreshing cup of tasty, Instagram-worthy rolled ice cream.
Choko – West Hollywood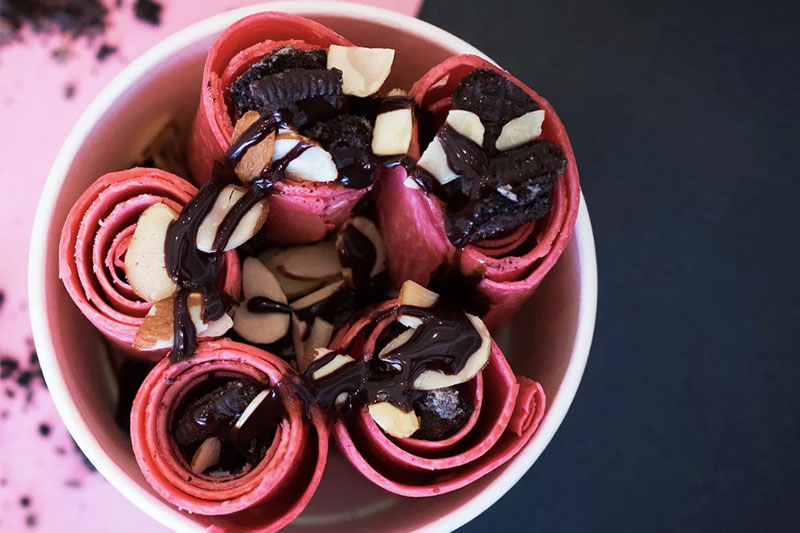 If you're a gelato fan, you're going to enjoy the rolled ice cream at Choko in West Hollywood. Their rolled ice cream menu includes sorbet and vegan options, with flavors like watermelon, peach, and mango. You can even order a Belgium waffle with ice cream rolls. This shop handcrafts both its gelato and waffles in-store, and it has a strong focus on customer service. Choko also sells a variety of sandwiches, salads, and coffee for customers who want to have a bite to eat first.
-8℃ Ice Cream – Gardena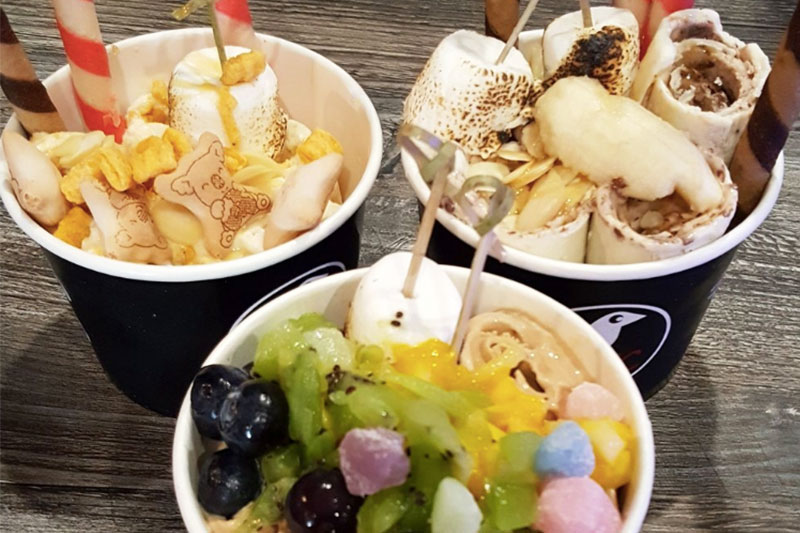 Hidden in a South Bay Pacific Square plaza in Gardena is a fun rolled ice cream shop called -8℃ Ice Cream. This rolled ice cream shop is perfect for anyone who enjoys sweet cereal toppings and festive wafer sticks. Creative menu items include house favorites like the Strawberry Shawty, Peanut Butter Jealous, Lost in Thailand, and Red Matcha, but the major appeal is the shop's unlimited toppings.