Sacramento Neighborhood Guide
Sacramento Neighborhood Guide
Sacramento, or "Sac" as locals are more likely to call it, is the capital city of California. Known for many things such as its agriculture, sustainability, infrastructure, healthcare, and educational institutions, Sac is a lush and vibrant metropolitan city in the heart of Northern California. Speaking of lush, it's also known for being "The City of Trees."
The neighborhoods of Sacramento offer a distinct balance between an urbanite's dream and a suburban escape. While this guide focuses on the city itself, the surrounding area also has great neighborhoods, from the continuously developing Folsom area to the quiet but communal Arden-Arcade area.
No matter where in the Sacramento you call home, having a car is a big plus for convenience. However, the city has a light-rail system that services the downtown areas, with limited bus transportation outside of that.

Sacramento at a Glance
Here are a few helpful tips about Sacramento.
RT Line: Locals know that Sacramento is a car-dependent city, but the city does offer a light rail transportation system consisting of three different lines. One provides service to the downtown area, while the other two serve the eastern suburban areas going as far as Folsom and Carmichael.
I50 and RTE 99: These two major highways intersect in the heart of the city and provide full access to the rest of California.
American River Parkway: This biking trail stretches over 32 miles and leads into the downtown area from the Arden-Arcade neighborhood.
When you aren't in your neighborhood, you'll most likely be out exploring this prime central location within the Golden State. With mountain ranges to the east, national forests to the north, and the Pacific Ocean to the west, there's so much to see and do, all within just a one- or two-hour drive. Not to mention the Bay Area is just as close, giving you convenient access to nearby cities like San Francisco, Oakland, and San Jose.
No matter where you find yourself, you'll always have something new to experience in the diverse neighborhoods of Sacramento.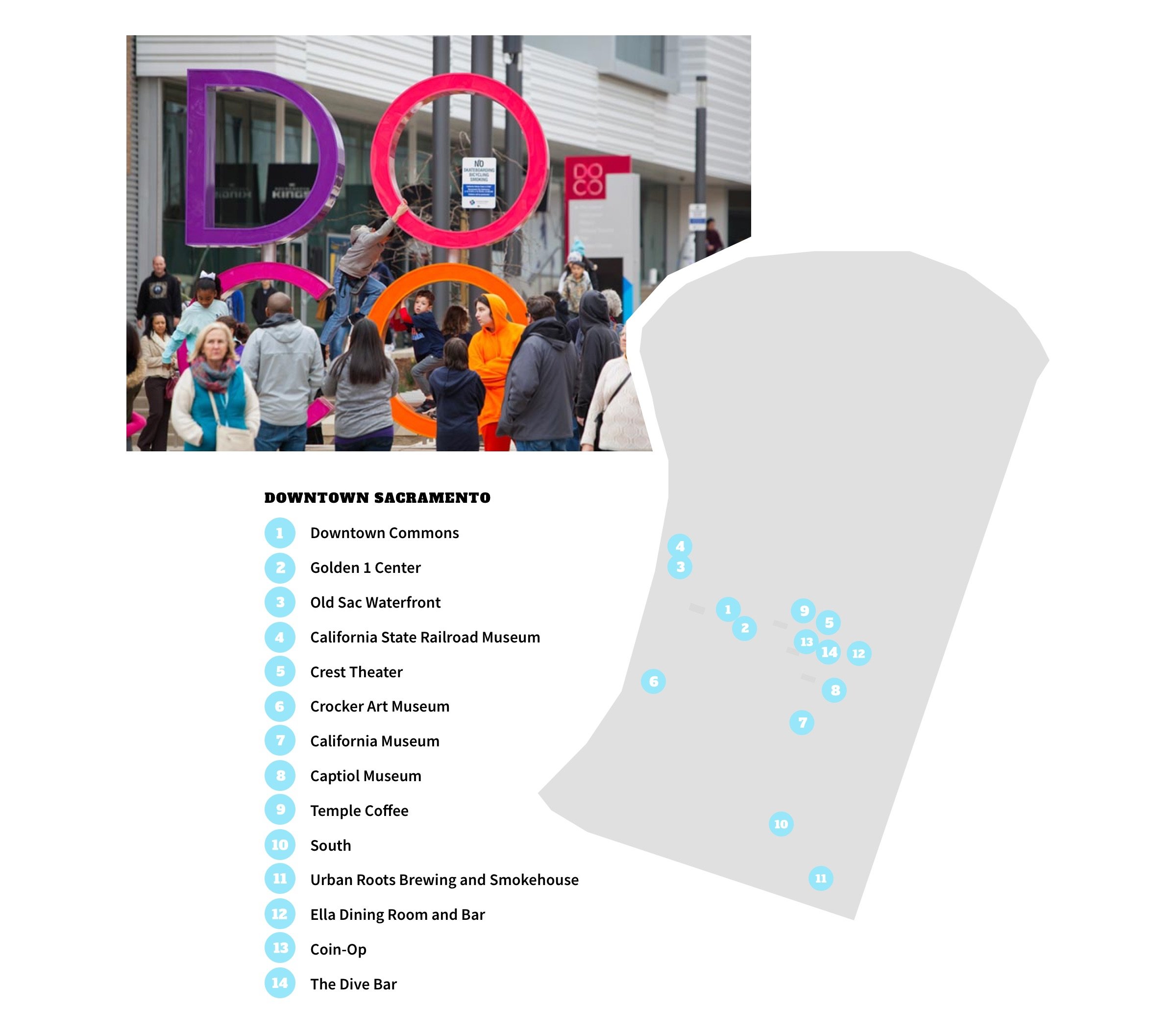 As you might expect, Downtown Sacramento gives off a more urban feel due to its traditional skyscrapers, however, it makes up for it by also having a small-town charm that consists of colorful Victorian and Cottage-style homes. Balancing both contemporary and historic atmospheres, the neighborhood is home to an abundance of activities that are all within walking distance.
What to Do
Downtown Commons, also known as DoCo, is a more recent addition to the neighborhood; it surrounds the Golden 1 Center (which is also fairly new). Even if you aren't catching a game or concert, this multi-purpose entertainment venue is still a great spot for all things fun. You can go bowling, see a movie, get drinks, and of course, go shopping.
Having opened back in 2016, the new home for the NBA Sacramento Kings has given renewed energy to the fanbase. Although it was a heartbreak to let go of Arco Arena, residents pushed on. The stadium also hosts large concerts and theatrical performances.
On the flipside of things, Downtown Sacramento is also home to one of the oldest parts of the city—Old Sac, which is located on the banks of the Sacramento River. This part of the city embraces Sacramento's gold rush roots, offering a glimpse into what the city was like during that time through fun attractions like a museum, riverboat rides, historic railroad excursions, and horse carriage rides on cobblestone streets. If 'yer feelin' lucky, then try 'yer hand at some real life gold prospectin'.
Located in Old Sac, this museum has been operating since 1976. Here, you can embark on a train excursion where you can enjoy a lovely train ride along the Sacramento River, and sometimes themed excursions (such as the Polar Express) are also offered.
Concerts, comedy, cinema, you name it, Crest has done it all. Going strong since 1949, this historic theater continuously provides amazing events and live performances, showcasing both local and traveling talents.
The oldest operating art museum in the west, this bright space features a variety of art and media, but it's most largely known for its international ceramics and European paintings.
The California Museum provides guests with an extensive showcase that dives into the diverse history and culture of California through a number of rotating exhibits and displays. Walk two blocks north, and you'll arrive at the California State Capitol Museum, where you can continue your historical education about California.
Where to Eat and Drink
Many will argue that this is the best coffee in the city, and possibly the state. Having built a network of coffee farmers in the area, Temple has created a "farm-to-coffee" movement that clearly speaks for itself in its quality.
While this spot might look hip and trendy, make no mistake: The chicken recipe has been passed down by multiple generations from Mississippi to California. Once you've had it, you'll catch yourself daydreaming about it.
Urban Roots is a trendy, local brewery that specializes in beer and barbecue with ample space to enjoy them, including an outdoor patio. This establishment also hosts game nights for every Sacramento Kings basketball game.
Ella offers a more exquisite premier farm-to-fork dining experience paired with an amazing wine list. Individually prepared and seasoned, the steak on the menu is the freshest cut in the area.
No Downtown neighborhood would be complete without a classic video game bar. While there are a few in the area, Coin-Op features the more classic arcade and pinball games that will have any generation thrilled. And it doesn't hurt that you can have a craft beer or cocktail while you play one of your favorite childhood video games.
Located a few blocks away from Coin-Op, The Dive Bar is a dimly lit modern space with a unique mermaid theme. You read that correctly. Above the bar is a large tank of water where both mermaids and mermen make casual appearances for your viewing pleasure while you sip your drink.
Why Locals Live Here
While the neighborhood has seen a lot of new change, it still manages to remember its roots, largely due to a supportive community. Whether it's spending a rainy day in an art museum or playing frisbee golf under a canopy of trees, Downtown is a neighborhood where anyone can thrive.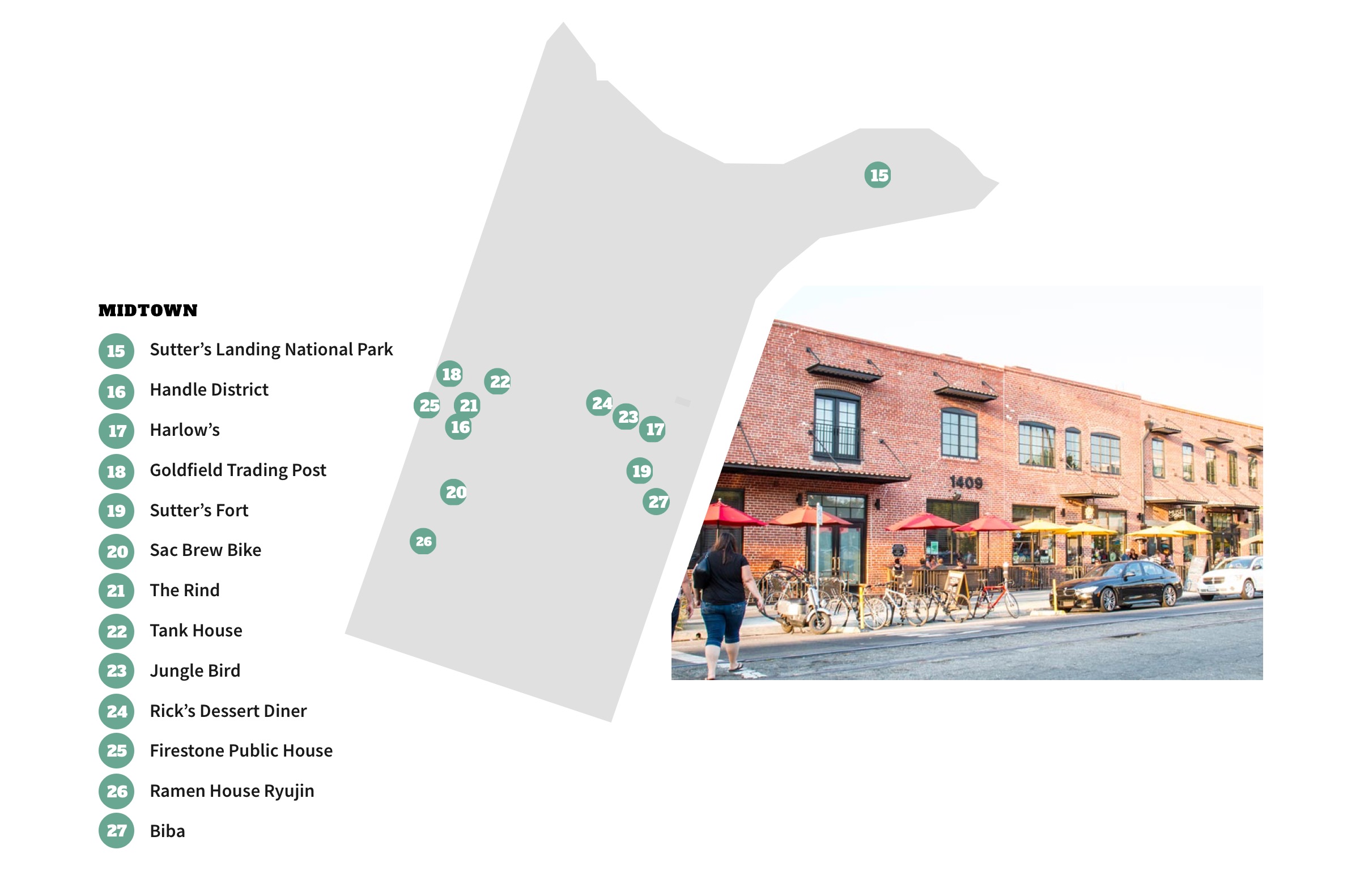 Located just east of Downtown, Midtown keeps the party going by offering just as many amazing bars, restaurants, and entertainment options. Pairing all that with rows of stunning Cottage and Ranch-style homes under arching oak trees, you get one of the city's foremost neighborhoods.
What to Do
Along the American River, this park is full of great recreation options including multiple sports courts, a skate park, a fenced dog park, running trails, and more. Sutter's Landing also connects to American River Parkway's 23 miles of trails, making it an outdoor adventurer's paradise.
A four-block section of breweries, bars, restaurants, boutique stores, coffee shops, and much more is what you'll find in the Handle District. You could easily spend an entire weekend alone exploring this subsection of Midtown.
A great dive bar that's been around since 1982. It's the place that attracts all kinds of musical acts ranging from alternative to rock to hip-hop. Harlow's is also a great place to grab some food and drinks any day of the week.
Goldfield is a classic country saloon to the core. Live music, line-dancing, billiards, and tequila will make this your go-to spot, if you want a guaranteed good time.
Located in Sutter's Fort State Historic Park, this historical museum showcases how Sacramento came to be and what life was like in the 1800s. It also hosts family-friendly events as well as rich educational programs for kids to immerse themselves in living history.
There's no better way to work off a beer gut than biking around town, so why not combine both activities. Sac Brew Bike takes you and up to 14 friends around Midtown's burgeoning brewery scene, educating you about both the city and the brews while you taste some local flavor.
Where to Eat and Drink
A cheese-lovers dream, The Rind successfully pairs various cheese dishes with wine and beer. From fondue plates to classic grilled cheese sandwiches to artisanal salads, this spot caters to the savory crowd. Come with an empty stomach as you'll want to try everything on the menu.
Tasty and tangy barbecue is served along with a great selection of beer until midnight at Tank House. This BBQ joint is also known for its dirty tots, making it a must-visit place in the neighborhood.
A colorful tiki bar with some of the city's strongest cocktails, Jungle Bird is known for serving one of its most potent drinks in a giant copper flamingo; it consists of three types of alcohol and it's meant to be shared between six people.
While it isn't the original location, Rick's Dessert Diner is a staple in the area. This classically themed diner bakes some of the best sweets and treats. Even if you don't have a sweet tooth, this is still a great spot for grabbing a cup of coffee or tea.
With two separate outdoor patios and walls lined with multiple TVs, this might be the best place to watch your favorite game or enjoy a drink outside—or both.
Some would argue you can find the best broth in Chef Sai Wong's ramen. Black garlic lovers (or inquisitors) have to try the Kuro Ramen, which is made with a black garlic truffle oil that's exquisite.
A famous neighborhood staple that has been getting awards for its handmade pasta for over 30 years, making it one of the most authentic Italian restaurants in the area.
Why Locals Live Here
Aside from having a lot to do, people love Midtown because it's very walkable and lively. From the neighborhood's Second Saturday events to its various community projects and programs, Midtown is a place where strangers become neighbors.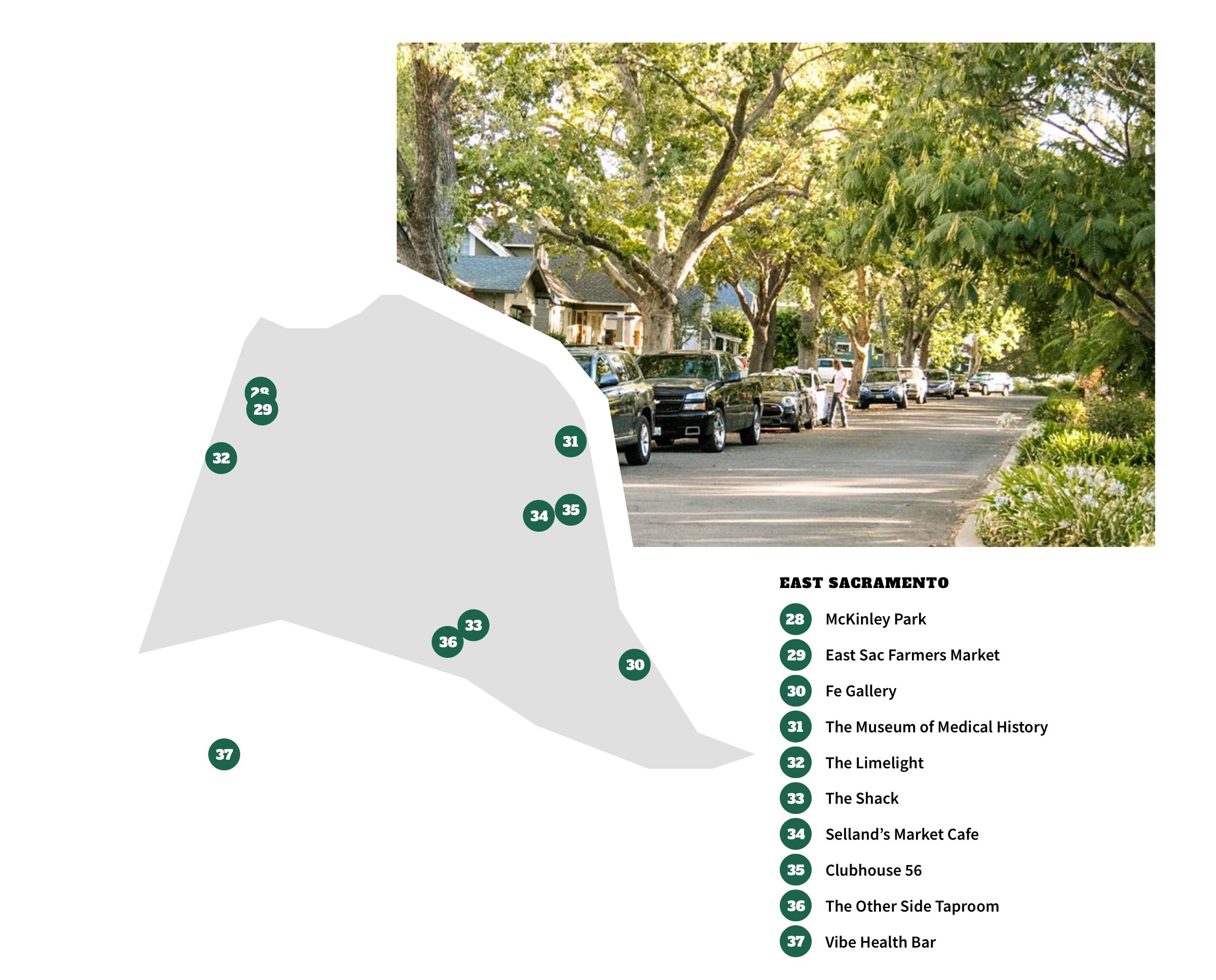 Moving south, pocketed between Highways 80 and 50, East Sac is a treasure trove of lush parks and historic homes. Within the center of the neighborhood is "The Fab 40's" (as depicted in the film "Lady Bird"), which feature some of the most prestigious and fabulous homes. The rest of the neighborhood offers more single-family homes of varying styles but at a more affordable price point. Tucked throughout the neighborhood, you'll find plenty of hidden gems that will keep you entertained.
What to Do
One of the focal points for the neighborhood is the colorful McKinley Park. This public greenspace offers an assortment of activities and amenities including a rose garden, community pool, sports courts, picnic areas, and play areas. McKinley Park also hosts various concerts and events during the summer months.
Held in Mckinley Park from April to October, local farmers and agriculturalists sell organic products and handmade crafts. Stop by every Saturday morning and grab some freshly made honey and biscuits.
Tucked away in the far east corner by California State University, the cozy Fe Gallery features works from local artists with different styles and backgrounds. You'll want to check their calendar for upcoming exhibits or workshops to learn more about art.
Having just recently expanded, this neighborhood museum showcases medical history and advances dating back to the historic gold rush. Best of all, it's free admission and open to the public.
Where to Eat and Drink
This old-fashioned bar and cafe has been in the neighborhood since 1975. Offering tasty American fare for breakfast, lunch, and dinner, you'll definitely want to grab a seat to enjoy a burger or take advantage of their happy hour specials.
Locals love this fun little spot thanks to its friendly vibe, good food, and solid beer and wine list. The Shack has been a neighborhood staple since 1931, and the best part about this place is the dog-friendly patio that hosts live music on the weekends.
One of three locations, Selland's is a family-owned restaurant that has a classic yet delicious menu of burgers, wood-fired pizzas, sandwiches, and salads. They also have a separate brunch menu with drinks like kombucha mimosas.
This neighborhood sports bar has a TV on almost every wall, not to mention the projector screen, making it easy for sports fans to never miss a minute of the game. The food and drinks here are also affordable thanks to the daily specials like Mule Mondays (you can get a Moscow Mule for $7 all day).
The Other Side Taproom is owned by local brewing company Track 7 whose brewery is located in the Parkway neighborhood. Try their sampler to get the full array of their various craft ales or get one of their rotisserie chicken dishes.
A bright and colorful spot that blends some amazing juices, perfect for detoxing, revitalizing, or whatever else you need. Throw some avocado toast on that, and you've got a millennial's breakfast dream.
Why Locals Live Here
People gravitate to East Sac because of its color and vibrancy that's reflected in its businesses. Although it remains very close to the center of the city, the neighborhood has a distinctly residential feel to it. The welcoming atmosphere makes it easy to see why this neighborhood is a landmark of the city.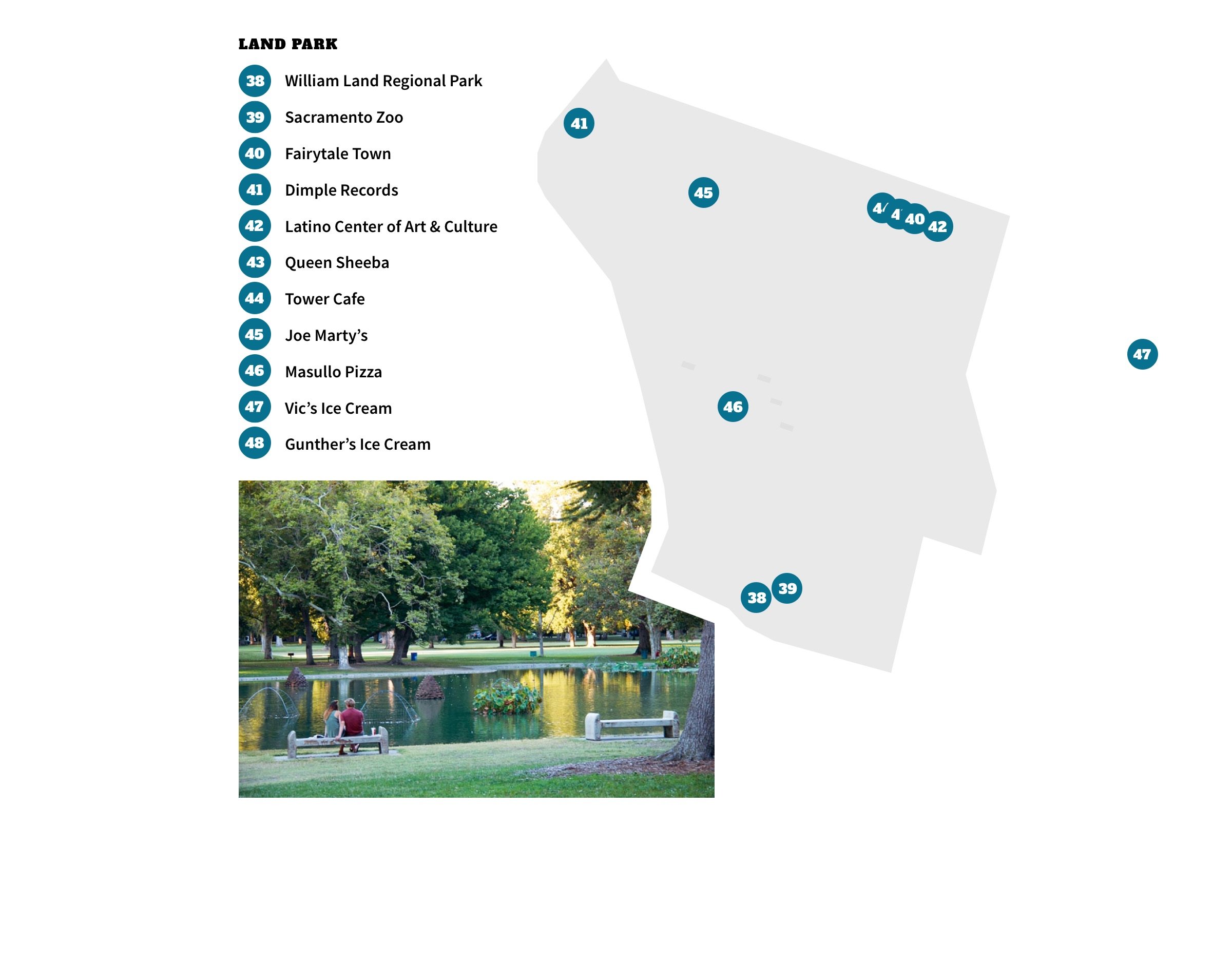 Located south of Downtown along the Sacramento River, Land Park is largely residential with Ranch and Cottage-style homes draped in greenery. To the south of the neighborhood by Sacramento City College is scenic William Land Park, which offers plenty of outdoor recreation and activities. To the north along Broadway, you'll find a bustling strip of restaurants, shops, and entertainment options. Sandwiched in the middle is a growing and developing community that many residents love to call home.
What to Do
William Land Park is the central hub for recreation in the neighborhood and provides residents with 167 developed acres of greenspace. Amenities like jogging trails, scenic lakes, a rock garden, a wading pool, and much more will keep your weekends filled with fun outdoor activities or a relaxing atmosphere.
Offering an affordable and educational experience, the Sacramento Zoo sets itself apart from other zoos by housing a greater number of rare, exotic animals such as red pandas and snow leopards.
Right across from the zoo is a family-friendly theme park built after classic fairy tales. Spend the weekend visiting the old woman who lived in a shoe, or trying to put Humpty Dumpty back together again.
A Sacramento-based chain of record stores, Dimple is the place to get vinyl, cassettes, cd's, and whatever other forms of outdated media you may desire.
Located along the river, the Latino Center of Art & Culture has been showcasing new and established local artists as well as preserving art and culture of the Latino community since 1972.
Where to Eat and Drink
Located in a hotspot of restaurants and shops along Broadway, Queen Sheeba is an authentic Ethiopian restaurant that has earned the city's favor through friendly service and great food. Stop in for poetry and open mic night for the local beat.
Continuing along Broadway, this long-time neighborhood staple offers an eclectic menu, from french toast to jerk chicken. It's also worth knowing that their brunch has been locally voted as the best in the city. And being located near Tower Theater makes it the perfect stop before catching a show.
Yet another great spot along Broadway, this casual sports bar has been combining baseball and pasta for decades. With nearby Sampino's Towne Foods serving up handmade pastas and traditional bar food, this is a superb place to catch a Giants game or enjoy a hearty family meal.
Masullo bakes up no-nonsense Neapolitan-style pizza. Their perfectly charred crust topped with melted cheese will have your mouth watering. They also have great vegan pizza options.
Another desert diner that has been a staple in town, Vic's is a contender for the best ice cream in the city alongside Gunther's (more on them later). Vic's is an old school ice cream parlour that has maintained its initial look and deliciousness since its opening in 1947. The alternating seasonal flavors will keep you coming back just so you can try them all.
Located blocks away from Vic's ice cream (technically in Curtis Park), Gunther's has kept a similar old school vibe since it opened in 1940. While the ice cream is just as delicious, Gunther's also has amazing malts and a more expansive menu. There's nothing better than one of their chocolate shakes on a hot day.
Why Locals Live Here
Land Park is a neighborhood with a thriving community that rallies around its local businesses. The variety of different school options, numerous activities, and peaceful residential streets make this a family-friendly neighborhood within the city.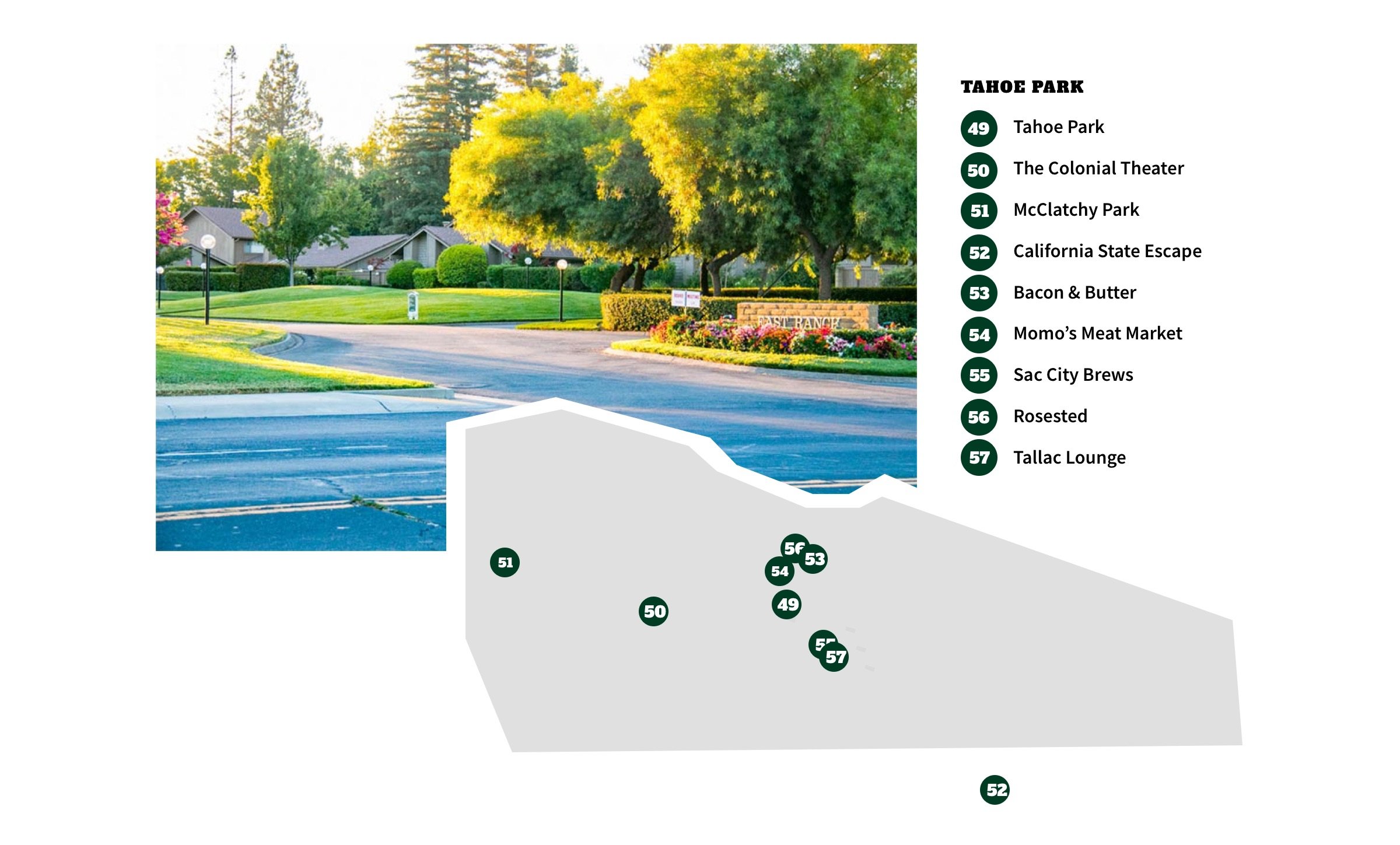 Keeping with the residential theme, Tahoe Park is located east of Land Park between both major highways. The area is comprised of mainly Cottage and Bungalow-style single-family homes. You can also find renovated condominium buildings closer to CSU in the east. Aside from the whimsical homes, Tahoe Park is also home to 13 parks and gardens, making it a very green community.
What to Do
Tahoe Park offers acres of greenspace as well as some traditional amenities like sports courts, a community pool, and a picnic area. Perfect for a day lounging on the lawn or playing a few pick-up games on the courts.
A classic-looking auditorium that's both available to rent and hosts its own events, ranging from film and music festivals to local art shows.
Another local park that has been in the neighborhood for over 125 years, McClatchy offers some more unique amenities including a nine-hole disc golf course, butterfly garden, jogging path, and skatepark.
While Escape Rooms are nothing new for fun and entertainment, California State Escape remains a top-notch place to challenge and entertain your family and friends. Try the wizard-themed room, which continues to be a crowd favorite.
Where to Eat and Drink
This fresh farm-to-table breakfast eatery has been leading the breakfast charge in Sacramento ever since it opened. While everything on the menu is amazing, the biscuit sandwich is a personal favorite. FYI, you'll most likely encounter a line, so get there early.
Momo's is a family-owned and -operated butcher shop and BBQ restaurant located just down the street from Bacon & Butter. The simple yet savory BBQ plate will keep you coming back for more.
Any neighborhood wouldn't truly be complete without a pet-friendly patio for enjoying a cold drink with your furry friend. Sac City Brews is just that for Tahoe Park residents and their pups.
While you wait for a table at Bacon & Butter, sneak over to the back alley to find this colorful and quaint coffee shop. Not only is the coffee and service great, but the rotating flavors of shaved ice also never disappoint.
A no-nonsense dive bar that's sure to offer cheap drinks and good times. Whether you want to make new friends over a game of billiards or enjoy a quiet drink, this is the go-to spot in the neighborhood.
Why Locals Live Here
Tahoe Park is the perfect neighborhood for anyone looking to move to Sacramento. The balance between affordable homes and central location is hard to beat. Aside from daily conveniences and amenities, the neighborhood's character is reflected by the diverse group of residents who live here.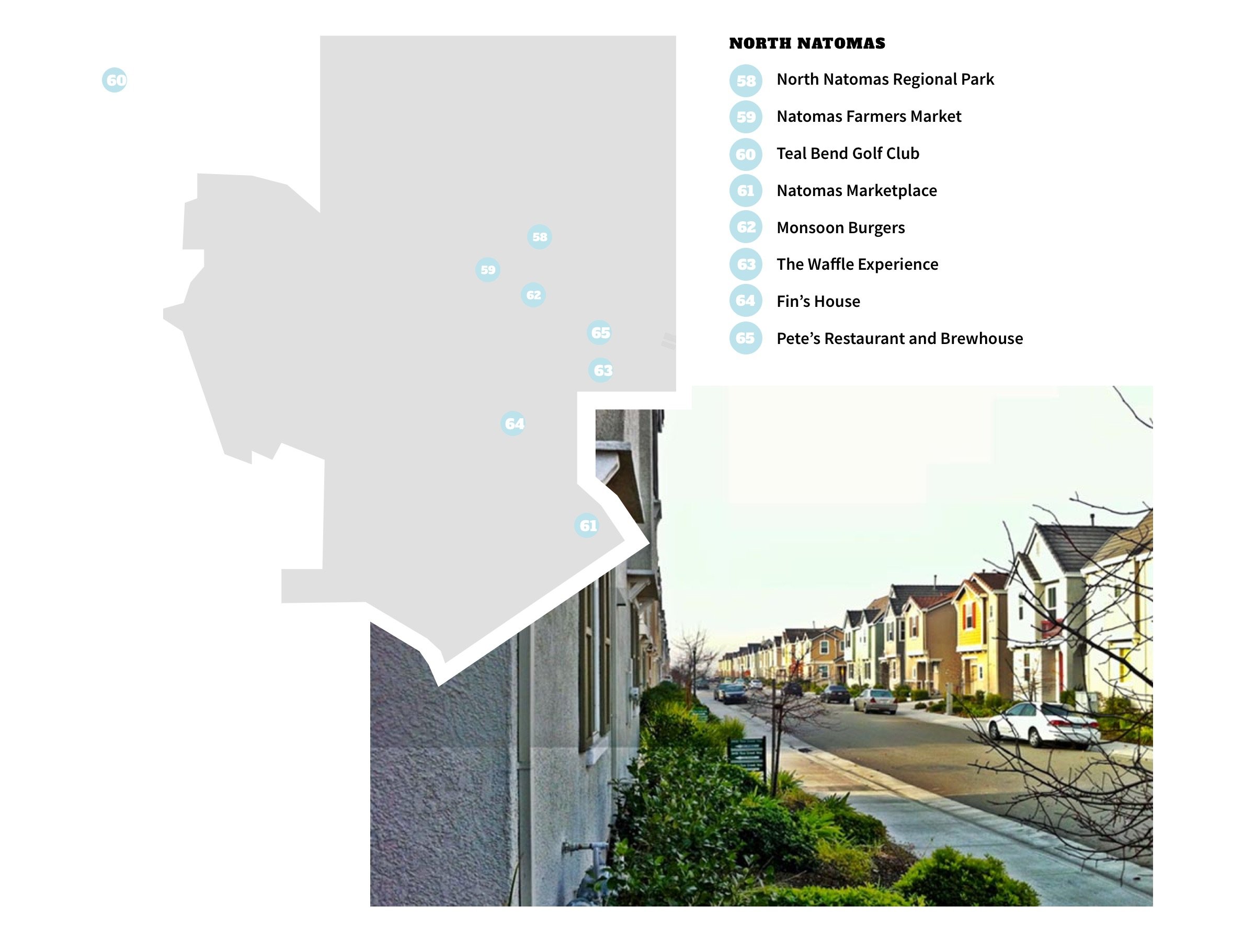 Shifting to the far northern side of the city, the Natomas area has seen huge strides in new development and popularity over the last 10 years. Along with offering more contemporary homes, the neighborhood is close to all the daily conveniences residents could ever need.
What to Do
This 47-acre park is centrally located in the neighborhood and serves as the heart of recreation and activities for residents. Some of the featured amenities include two dog parks, sports fields, and a picnic area. Alongside these amenities, the park also hosts weekly concerts and movies.
Every Saturday morning during the summer months, you can come down to the outdoor farmers market to see local business owners showcase their fresh produce and artisan crafts.
Built on 250 acres of natural wetlands with an abundance of trees and rolling hills, this 18-hole golf course will keep you both challenged and in touch with nature during your game.
This major shopping center is practically a one-stop-shop for all your needs, from major retail stores to chain restaurants. Even if you still find yourself needing to shop for more items, right across the street is Sacramento Gateway and just north of that is Park Place 2.
Where to Eat and Drink
Big burgers for big stomachs. The signature Monsoon burger with homemade guac and their garlic fries is definitely a must-try.
A very creative and delicious spot for brunch and coffee. You may have guessed it, but pretty much everything on the menu involves a waffle. Ever tried a smoked-salmon sandwich between two waffles? You should.
A consistently good sushi and ramen joint with quality fried squid. Don't stop at the food though because their boba tea is out of this world.
While the food menu may be your standard affair, the lively atmosphere and local brews make it a neighborhood hotspot where you can grab a few drinks with friends.
Why Locals Live Here
The increasing popularity of Natomas is largely due to its family-friendly vibe and new housing developments. There's no doubt that in the next 10 years Natomas will continue to develop and build out its community.