San Francisco Adds 3,500 More Rental Bikes via Ford GoBike
San Francisco Adds 3,500 More Rental Bikes via Ford GoBike
San Francisco and the East Bay Area are about to see a whole lot more rental bikes on the streets. Ford, who is sponsoring a bike rental expansion of 3,500 bikes, will be the new face of Bay Area Bike Share (to be renamed Ford GoBike.)
Per Hoodline, the expansion will happen all over the city and will go into neighborhoods the Bay Area Bike Share never did. Dogpatch, Mission District, Hayes Valley, Haight-Ashbury as well as Oakland will all have Ford GoBike stations.
On a rolling basis in the summer, San Jose, Emeryville, and Berkeley will also get a taste of what Ford GoBike is like. There is a current map from Ford GoBike that shows where to expect new stations.
With the rebranding of the bike share program also comes differences in cost and length of time one can rent a bike. Ford GoBike rides will cost $3 for every half-an-hour, $15 a day with unlimited 3-hour rides, or $149 for an annual membership.
The previous bike share program cost riders $9 a day, $22 for a three-day membership, or $88 for a year. The large difference is Bay Area Bike Share rides were limited to 30 minutes between stations. To add an additional 30 minute to the ride cost $4, and another addition ran $7.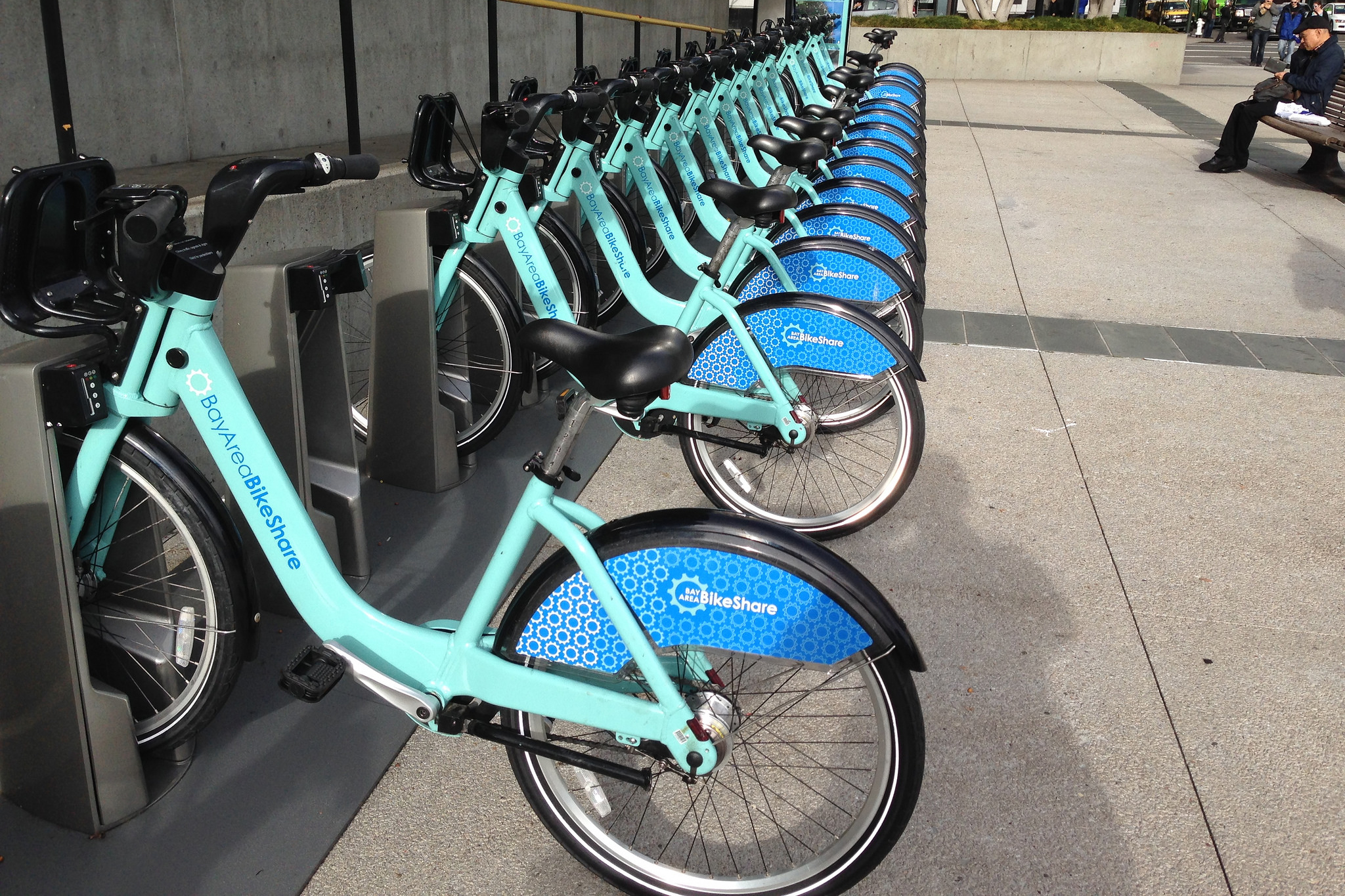 Bay Area Bike Share will switch to Ford GoBike in mid-June and any existing members will be integrated into the new program.
There are three ways riders can unlock bikes. One is with a Ford GoBike mobile app, another is with Clipper Cards. The third way is connecting Clipper and GoBike accounts together through the Metropolitan Transportation Commission and Motivate, the company that currently runs Bay Area Bike Shares. Clippers cards will be integrated into the program for low-income riders. Any Bay Area residents enrolled in the Muni Lifeline Pass program, PG&E Care, or CalFresh will all be able to get a discounted membership of $5 in the first year of the program. After the first year, Clipper card users will be able to continue their bike share membership for $5 a month. Additionally, Clipper card riders will get an hour worth of riding compared to regular riders' 30 minutes.
As for where the new bikes stations will physically go, local residents may not be too happy with the answer. According to the Ford GoBike website, stations that are placed on the street will take over two to four parallel parking spaces. Stations that are off-street or in transit hubs could potentially be much longer.
This bike rental expansion is just the start of Ford's five-phase plan for the GoBikes. Ultimately, the program plans to have 546 stations housing 7,000 bikes in the Bay Area alone. By the end of 2018, they expect to have stations in western neighborhoods such as Richmond, Sunset District, and Ingleside Heights.