San Francisco Neighborhood Guide
San Francisco Neighborhood Guide
San Francisco is one of the most popular cities in the country (and one of the most expensive). It's also one of the few metropolises whose neighborhoods are practically household names around the world, from The Haight to the Mission District to the Presidio.
Each one of San Francisco's many neighborhoods has its own unique charm and distinct culture—whether it's upscale and luxurious, down-to-earth and rugged, or modern and hipster—so no matter what you're looking for, it's likely you'll find a neighborhood in the city that resonates with your lifestyle and budget.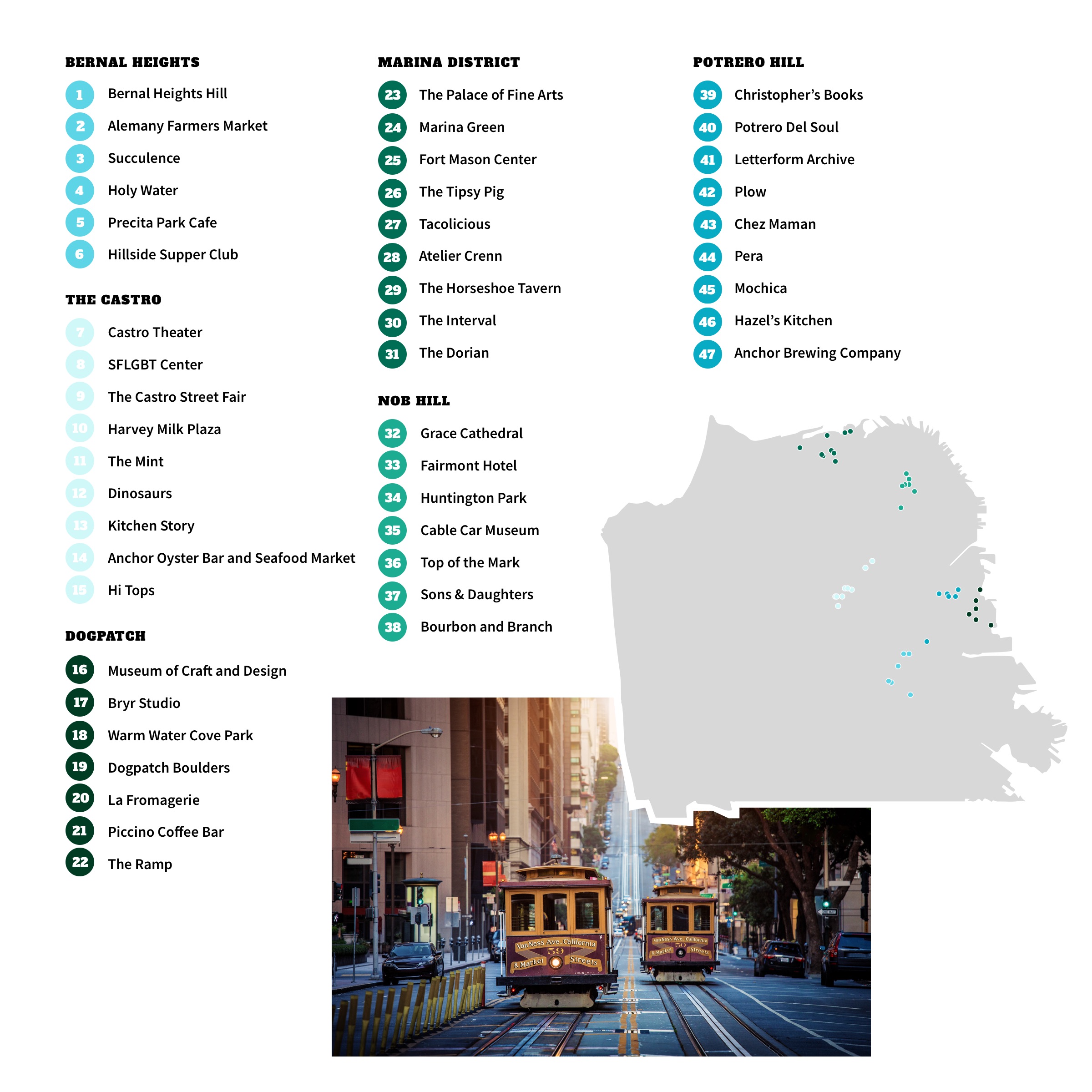 San Francisco at a Glance
Here are a few helpful tips for exploring the neighborhoods of San Francisco.
How many neighborhoods there are in San Francisco depends on who you ask, but most sources agree the number is somewhere between 31 and 36.
San Francisco is very hilly! If you're a pedestrian, expect to climb quite a bit on a daily basis. As a driver, you'll have to get used to turning your wheels toward or away from the curb when parked on a hill.
Despite the warm California sunshine, San Francisco can be foggy many days of the year, especially in neighborhoods that border the ocean.
The character of a neighborhood in San Francisco is often defined by its history and location within the city.
Here are some of San Francisco's best neighborhoods and what they have to offer.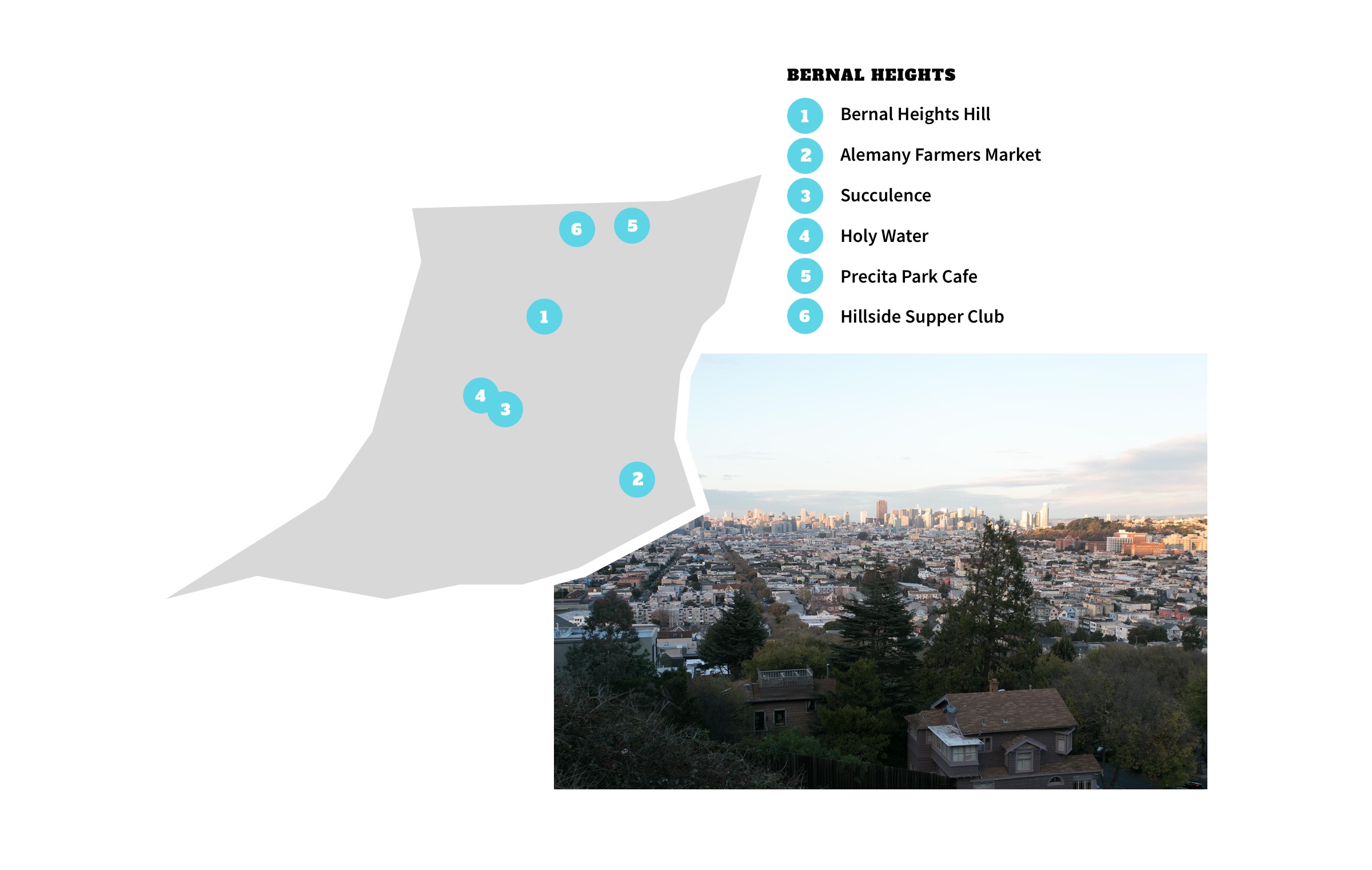 The fact that Bernal Heights' nickname is "Maternal Heights" should paint a pretty accurate picture of this family-friendly neighborhood. It's known for its small-town vibe, which is perfect for homebuyers who want to live in a laid-back environment, where neighbors are on a first-name basis, while still enjoying the benefits of living in an urban area.
What to Do
Love hiking and city lights? Climb up to Bernal Heights Hill for a gorgeous panoramic view of the city below. Also, this is a dog-friendly spot, so you can bring your pup along with you.
The Alemany Farmers Market is a favorite among residents who flock here every Saturday for artisanal goods, street food, and farm-fresh produce. Although street parking can be difficult, it's definitely worth the hassle to check this place out.
Plant lovers and botanists will have a field day at Succulence, which sells—you guessed it—beautiful succulents. You can pick-up some greenery to take home or you can take a gardening class to learn more about this beautiful plant.
Where to Eat and Drink
While Bernal Heights is mostly residential, Cortland Avenue is full of restaurants, nightlife, and entertainment, one of which is Holy Water. This spot serves up some of the best cocktails in the city, and it's dog-friendly too.
Many Bernal Heights residents start their day with coffee and a bit of work at this local neighborhood staple that's been around since 2011. Not only does this cafe offer house brewed coffee and hearty breakfast items, it's also a great spot for dinner thanks to its eclectic menu of sustainable fare along with craft beers and California wines.
Chefs/owners and Bernal Heights residents Tony Ferrari and Jonathan Sutton offer fresh, locally sourced ingredients at this charming eatery. You'll experience one of the city's hidden gems if you stop for a cozy meal here.
Why Locals Live Here
Bernal Heights is a friendly, laid-back, and quiet place to live. That's why it's no surprise the neighborhood attracts first-time homebuyers, families with children, and dog owners. It's a close-knit community where residents interact with each other and support the community through various local events. Bernal Heights is mostly residential, with many attached homes (think condos and townhouses) and some single-family homes. Located in one of San Francisco's hilliest areas, Bernal Heights also offers some of the best views of the city. Plus, it's right next to the 280 freeway, so residents have convenient access to the rest of the Bay Area.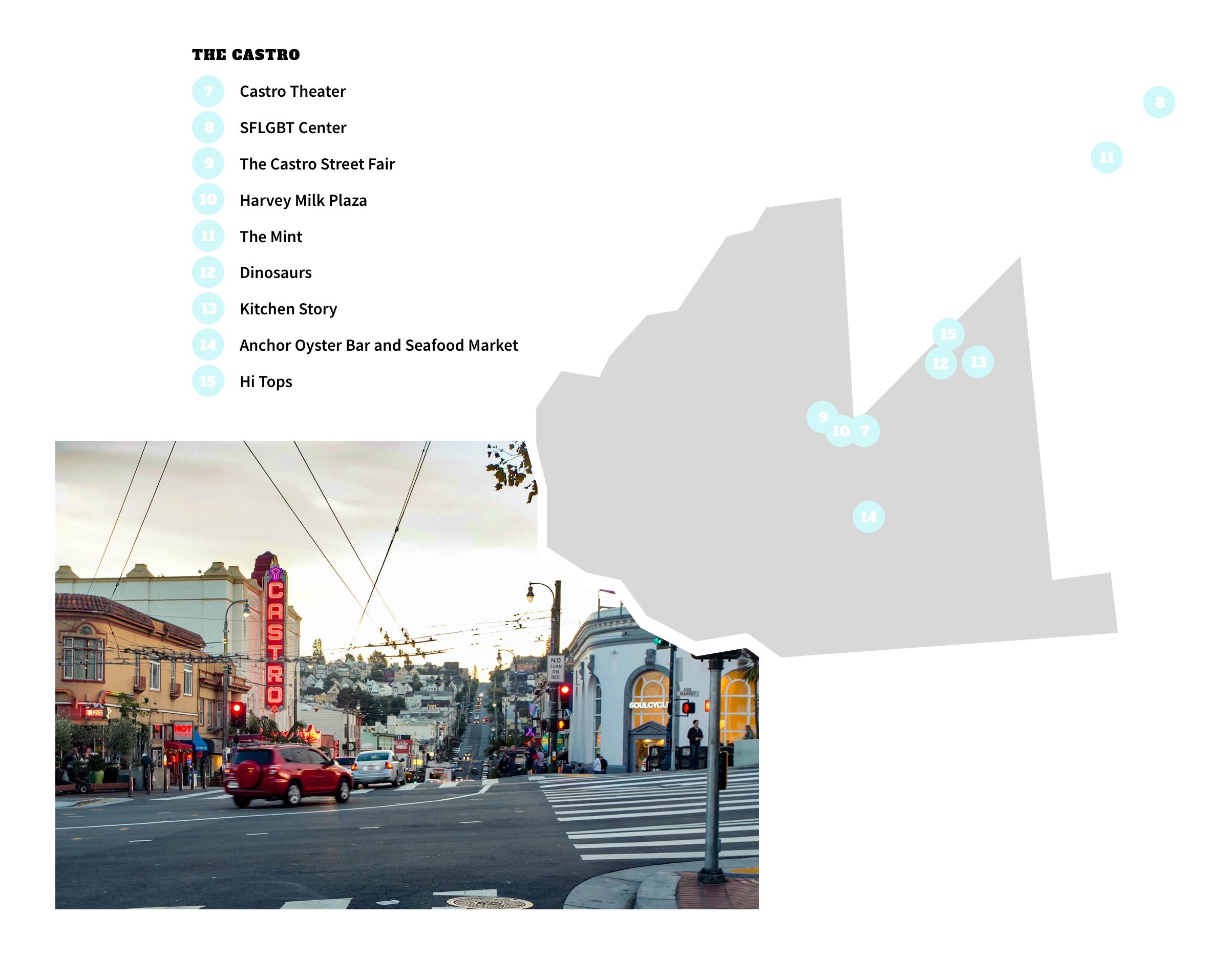 With a very cohesive community feel, heaps of stylish shops, and a famous lively bar scene, the Castro is one of the most vibrant neighborhoods in the city. You're bound to find a go-to dive bar among the many bars that populate in this neighborhood. The Castro was also one of the first openly LGBTQ-friendly neighborhoods in the country, and today, the neighborhood is still home to a significant LGBTQ community. The neighborhood is also an affluent area that's surprisingly quiet, if you don't live on the main strip.
What to Do
Seeing a movie at this world-famous historic theater is an experience in and of itself, so be sure to catch a film regardless of what's playing. You'll be in awe of the intricate interior decor.
This nonprofit organization serves the LGBT community of San Francisco. The center offers free classes, career counseling, job fairs, mentorships, daycare, meal nights, and a whole lot more while actively promoting economic empowerment, health and wellness, and arts and culture. Hundreds of volunteers regularly work with this organization, making it an integral part of the community.
This event is the longest-running street fair in the community, and it really brings all of the residents together in a welcoming and social atmosphere. Every October, this event features live music, street food, crafts, drag shows, comedy, and more.
Here, you'll find more than just a transit plaza. You can see a rainbow-colored flag mounted in honor of activist Harvey Milk, the first openly gay elected official in the history of California. The Friends of Harvey Milk Plaza organization is currently working to reinvigorate the space into a lasting memorial that will continue to educate and inspire people. The Rainbow Honor Walk features sidewalk memorials that pay tribute to influential LGBTQ individuals.
Want to sing at the top of your lungs and pretend you're a pop diva? There's no better place than The Mint on Market Street for a night of karaoke. The stage doesn't discriminate, so even if you think you can't carry on tune, friends and neighbors will be cheering you on. Serenade your date, or belt out U2 songs with your buddies. Friends, food, and fun: What's not to love?
What to Eat and Drink
Even just a decade ago, The Castro's restaurant scene couldn't compare to that of the city's more food-driven neighborhoods. But today, The Castro's culinary options are diverse and delicious enough to boggle the mind. Dinosaurs serves up some authentic Vietnamese-inspired sandwiches and spring rolls, giving the joint a very well-deserved positive reputation.
Offering delicious food with Asian flavors, Kitchen Story makes for a unique dining experience that you'll want to have again and again. Stop in for breakfast or dinner, though the menu varies on the weekends.
This spot serves up delicious clam chowder that'll make you wonder why you ever went to Fisherman's Wharf to enjoy one of San Francisco's most famous dishes.
Hi Tops is San Francisco's first gay sports bar, and it's still one of the most popular joints in the neighborhood. This place is a sports lover's dream, thanks to its athletic decor (including benches made from bleachers), as well as 16 flat-screen televisions. Eat some nachos, wings, or corn dogs while yelling at the ref or cheering on your star players with a Hi Tops' specialty cocktail in hand.
Why Locals Live Here
The Castro is full of beautiful old Victorian homes, many of which have been remodeled over the years but have maintained their classic facades. The community feel is strong in this neighborhood, and in many ways, the Castro's combination of period architecture, parades and festivals, and general liveliness represents the best of San Francisco's diversity. There's never a shortage of things to do in The Castro, and you're bound to see everything from families to drag queens to activists on the streets of this vibrant and diverse neighborhood.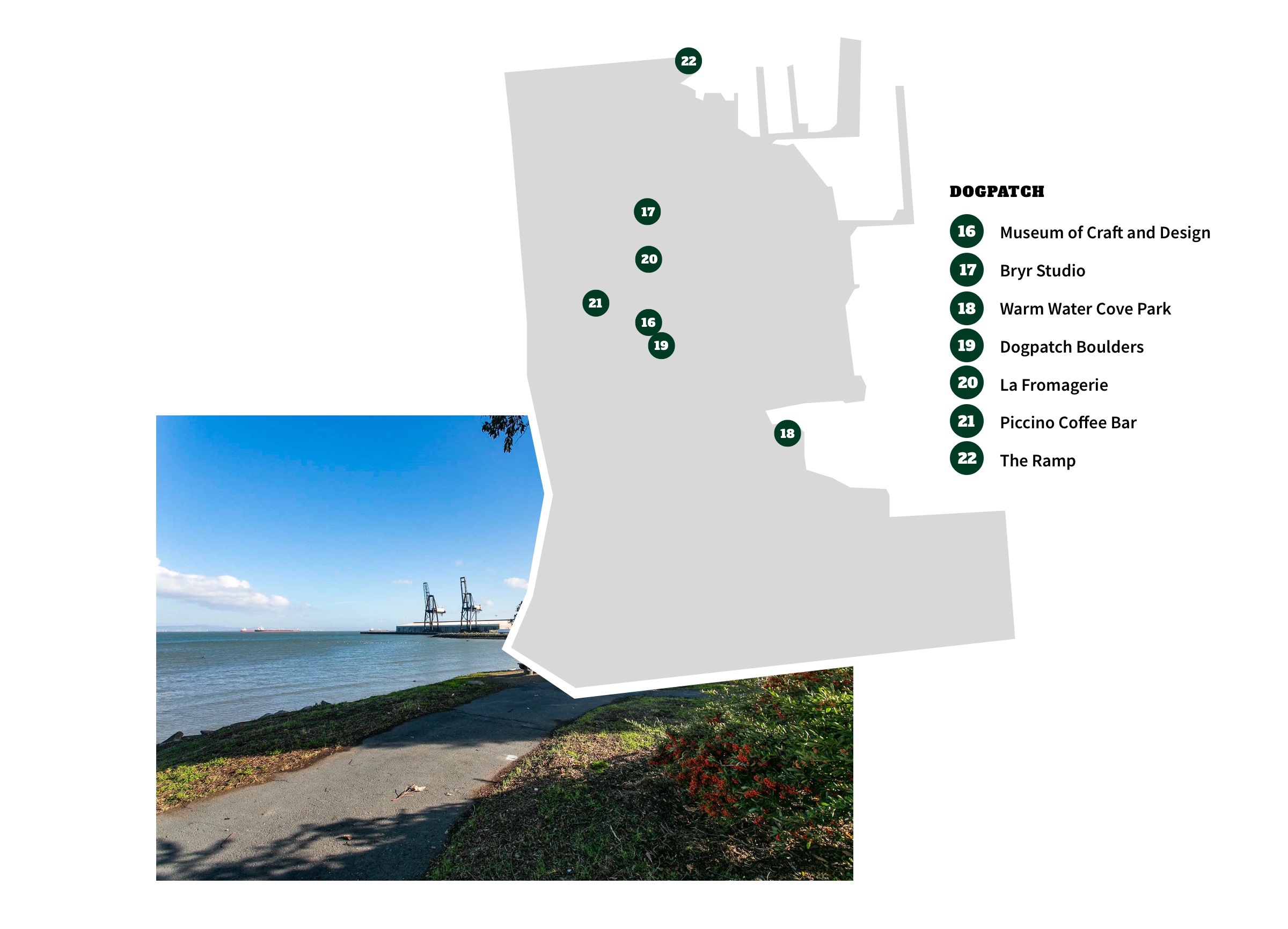 One of the city's finest up-and-coming neighborhoods, Dogpatch is actually also one of San Francisco's oldest. In the early 1900s, it was a largely industrial district that, during World War II, housed naval shipyards. Nowadays, Dogpatch's historic buildings and warehouses are transforming into modern condos and stylish lofts, but this dockside neighborhood, particularly the southern part, still retains much of its industrial identity.
What to Do
The Museum of Craft and Design is the perfect place to spend an afternoon admiring and learning about modern and contemporary art. Stunning exhibitions, hands-on activities appropriate for all ages, and a diverse array of public programs make this the perfect spot for a family outing. Since this is a non-collecting institution, the Museum of Craft and Design regularly works with designers, universities, and other museums to create engaging experiences for craft lovers.
Bryr Studio sells handcrafted high-heeled clogs—designer Isobel Schofield is one of many creatives thriving in Dogpatch's extensive warehouse space that lends itself perfectly to artists and creators.
Take your pup on a leisurely stroll to enjoy some sunshine along San Francisco's famous waterfront. While this park may be a picnicking spot now, it used to be an industrial area—San Francisco sure has come a long way. However, you can still spot traces of the area's rugged past in its eye-catching graffiti art, old warehouses, and regular punk concerts.
Whether you're a novice or a pro, head to Dogpatch Boulders to try out some rock-climbing. It's kid-friendly too, making it a fun and unique family activity.
Where to Eat and Drink
Cheese lovers will want to make a beeline for La Fromagerie, a chic specialty cheese shop where you'll find an eclectic selection of cheeses from all over the world.
Piccino is Italian for "little," meaning this cafe is quite true to its name. This tiny coffee bar is the perfect place to do some people-watching on Minnesota Street while getting your daily caffeine fix. Whether you're in the mood for an espresso, a pour-over coffee, or a mug of chai with some tasty baked goods, Piccino serves up beautifully crafted delicacies.
The Ramp serves up some delicious all-American barbecue, and on Saturdays, the restaurant comes alive even more with salsa dancing, so get your dancing shoes ready.
Why Locals Live Here
Dogpatch's industrial past and rugged culture have made it popular among artists for decades. Many of San Francisco's most significant art galleries are in this neighborhood, and Dogpatch continues to attract creative types. Stroll through the neighborhood, and you're bound to pass some one-of-a-kind galleries celebrating both new and old artists. While Dogpatch is known for its historical structures that are being converted into condos and lofts, there are also plenty of Victorian and Edwardian single-family homes scattered around the area. As Dogpatch evolves, the neighborhood continues to be an interesting blend of traditional and modern.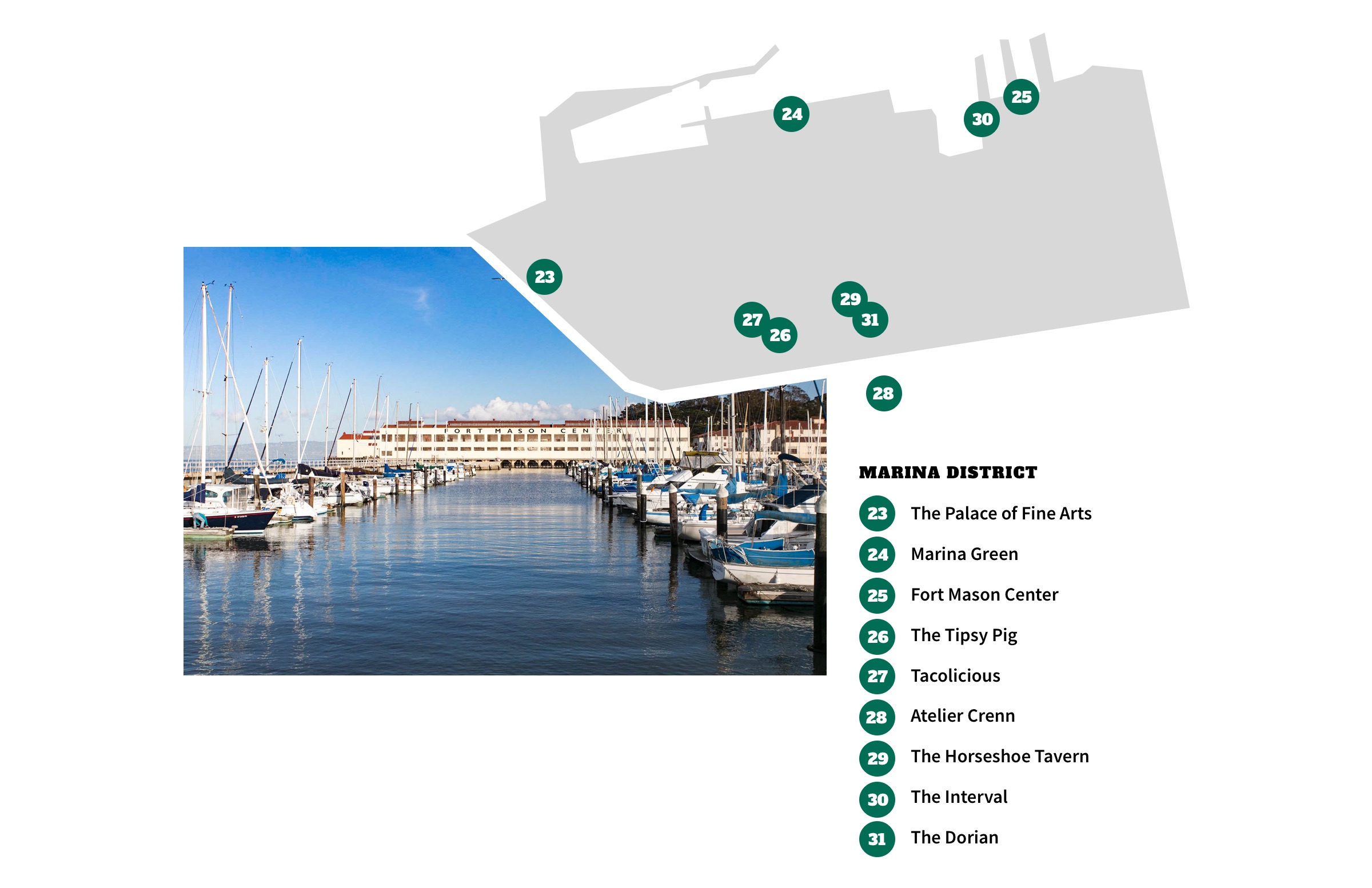 Marina District is one of the most iconic neighborhoods in San Francisco. With plentiful greenspace and close proximity to the water, this neighborhood has sky-high housing prices. Located on the northern edge of the city, the Marina District also benefits from its somewhat isolated location, offering a quiet, laid-back atmosphere for its residents. This is a neighborhood where you'll want to be outdoors all the time; when the environment is so lovely, who wouldn't?
What to Do
This is an iconic structure in the Marina District, and the dramatic facade makes it a popular spot for wedding photos and sunny strolls. It was originally built for the 1915 Panama-Pacific Exposition as a venue for showcasing works of art. Today, the Palace of Fine Arts is one of the last surviving structures from that time. This spot is so iconic that Disney's California Adventure theme park in Anaheim created a miniature replica of the building.
Marina Green is a relaxing place to fly a kite or to just watch the boats bobbing up and down along the edge of the water. You can also catch gorgeous views of the Golden Gate Bridge, Alcatraz, and Angel Island, or check out some of the stunning vintage homes located in the area. Not only do tourists love this spot, it's also a popular hangout among neighborhood athletes and picnickers.
This entire fort area is listed on the National Register of Historic Places as it was a key port for the Pacific campaign during World War II. Today, this converted military base is a thriving nonprofit arts and community center. It's also home to the popular vegetarian restaurant Greens.
Where to Eat and Drink
Many of the Marina District's best restaurants are located along Chestnut Street, which is where you'll find The Tipsy Pig. This restaurant serves up American gastropub fare and craft beer in a rustic and homey (yet very hip) setting.
Enjoy tacos and margaritas at this tasty full-service Mexican joint. And don't sleep on the dips—the guacamole and chili con queso are must-order choices among regulars. If your belt isn't too tight by the time you're finished, we recommend going for the chocolate taco or coconut flan for dessert.
Head to Cow Hollow to experience Michelin-starred dining in the form of beautifully presented French cuisine. This restaurant has earned an impressive three stars from the Michelin Guide. Head Chef Dominique Crenn is the first and only female chef in the United States to earn three Michelin stars. The menu is beautifully composed and reads like a poem, with many dishes featuring seafood.
This neighborhood watering hole is a favorite among locals, and it's perfect for knocking back a few beers while watching the big game on TV or shooting some pool.
This cocktail bar wears many hats, as it's a coffee shop and a museum with a library-like vibe. Not only will you have an extensive cocktail menu of artisan drinks to read through, but you'll also be delighted to see the floor-to-ceiling stacks of books. Unlike other bars, this is a prime spot for drinks and casual conversation, minus the loud music.
The Dorian will transport you back in time with whisky and cocktails served up in a posh Victorian atmosphere. You'll definitely feel like Oscar Wilde or Jerry Thomas in this Victorian-style establishment.
Why Locals Live Here
The Marina District has a lovely atmosphere that, for many people, encapsulates the very best of San Francisco living. The weather stays gorgeous and cool year-round, thanks to its waterfront location, and you'll frequently see residents enjoying the outdoors and strolling through the neighborhood's copious greenspace. While the neighborhood does feel urban, it's also quite peaceful and quiet—the best of both worlds for homebuyers who want to enjoy the feel of the city while also living in a homey neighborhood. Many professionals call the Marina District home, and the community offers many condos near cafes and shops. Single-family homes are also scattered throughout.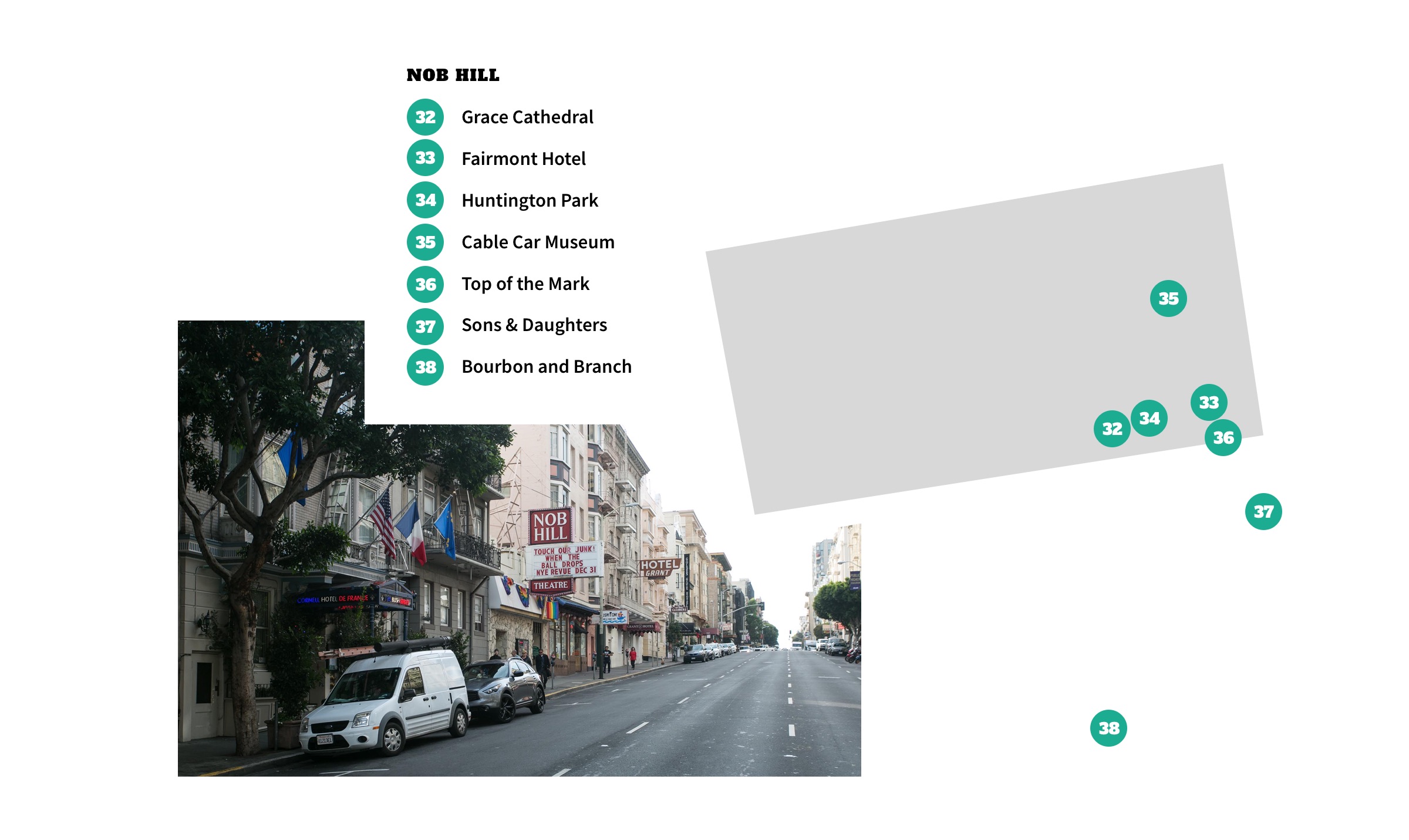 In many ways, Nob Hill is very quintessentially "San Francisco" which probably explains why the area is always packed with tourists. Nob Hill is a charming neighborhood where many homes still retain the older facades that San Francisco is known for. Many streets in Nob Hill look like they were taken straight out of a postcard, but Nob Hill is also transforming, with luxury condominium developments and traditional single-family homes standing side-by-side. Because of this, Nob Hill is home to a wide range of home styles.
What to Do
The beautiful Grace Cathedral is a must-see for anyone visiting or living in San Francisco. The magnificent facade makes this a popular spot for photos, and the Keith Haring altarpiece in the AIDS Interfaith Memorial Chapel is a sight to behold. The South Tower offers a stunning panorama of San Francisco's magnificent skyline, and docents are available to give guests guided tours of the cathedral.
Nob Hill is also known for its luxurious hotels, and the lobby of the Fairmont Hotel is worth checking out up close, even if you're not spending the night there.
This neighborhood is pretty hilly, but this park is a great spot to take a break, thanks to its children's playground and plentiful trees that offer welcome shade.
It may be touristy, but this museum is an interesting place to learn about the important role that the cable car played throughout San Francisco's history.
Where to Eat and Drink
Located on the roof of the InterContinental Hotel, Top of the Mark serve small bites and delectable cocktails. But you may be too busy admiring the views to pay attention to your drink.
This eatery is likely one of the most innovative restaurants you'll ever dine at, with an ever changing pre-fix menu derived from only the freshest ingredients available at that time of year.
Head south to Tenderloin to find Bourbon and Branch. This modern-day speakeasy will transport you back in time with its beautifully served cocktails. Be sure to visit the website ahead of time to find out the password, which you'll have to whisper at the door to gain entrance.
Why Locals Live Here
This serene neighborhood is what many people imagine San Francisco to be before they've ever set foot in the city. There's a wide array of housing types, from modern condos to remodeled townhouses to luxurious co-ops, so you're bound to find something that's right for you. Residents here tend to prefer a quiet but active lifestyle, and you'll often see people walking their dogs or jogging along the hills in the evenings. Speaking of hills, Nob Hill residents do quite a bit of climbing every day because the neighborhood is quite hilly, but it's also this hilliness that gives Nob Hill some of the best views of San Francisco.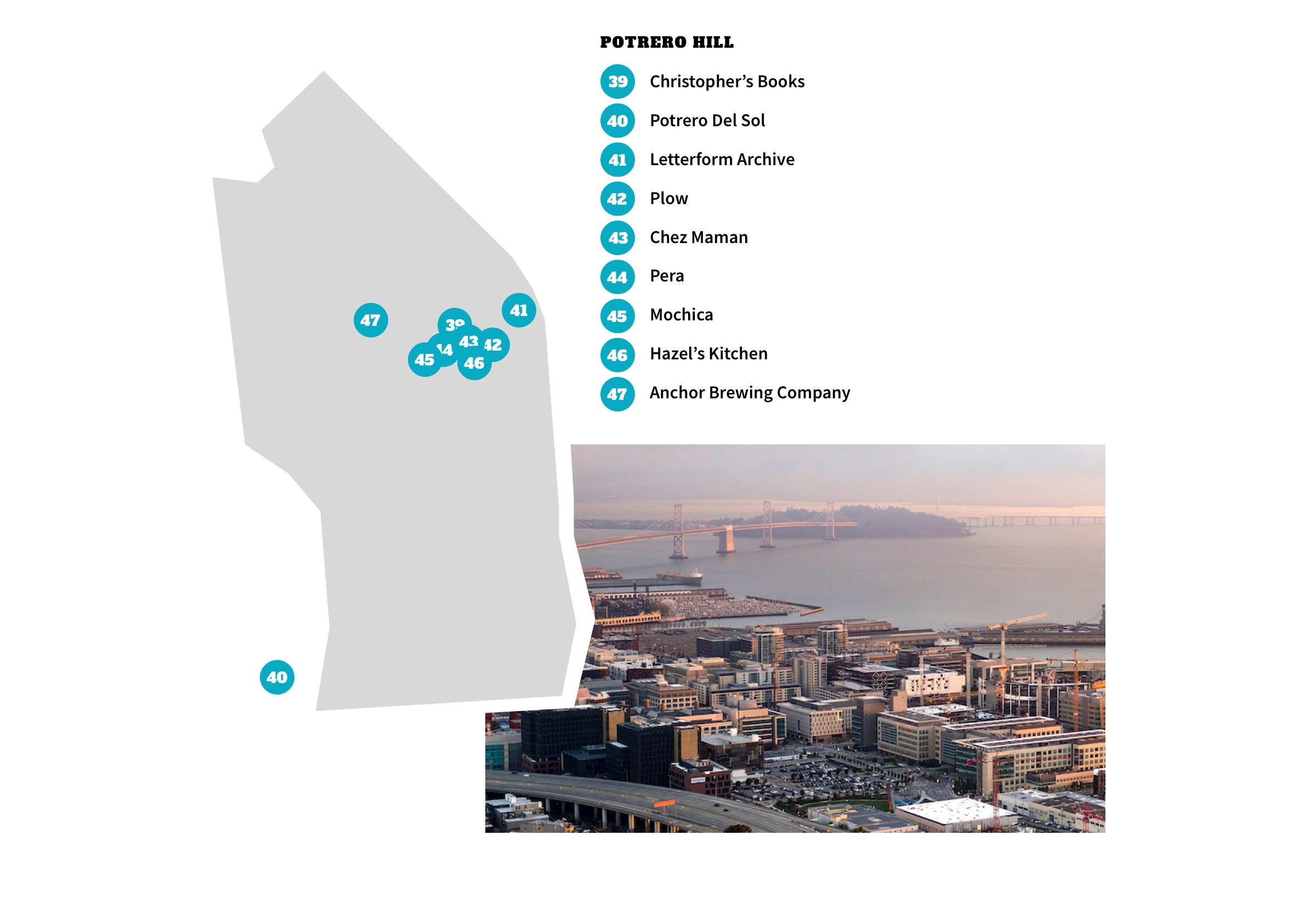 Perhaps one of the most underrated neighborhoods in San Francisco, Potrero Hill is really a wonderful place to live. It's sunny and quiet, and there's plenty of green all around the neighborhood. Potrero Hill is largely residential, so nightlife is rather lacking in comparison to other neighborhoods, but Potrero Hill is highly livable and family-friendly. Since the neighborhood is rather removed from large industrial tracts, it feels like it's in its own bubble, offering a slower pace than the rest of the city. However, it's close enough to the freeway that residents can conveniently access the rest of the Bay Area. Gorgeous views of the city and the bay are the cherry on top of the list of neighborhood perks.
What to Do
This quaint bookstore fits right in with the charming vibe of Potrero Hill; any bookworm will want to spend hours holed up here with a good book.
In a neighborhood as sunny as Potrero Hill, you'll want to spend lots of time outdoors, and Potrero del Sol is a great spot to consider, thanks to its play structure and skate park.
If you're a letter arts practitioner or enthusiast, you'll want to head to this spot. This non-profit organization serves as a research venue and displays a wide range of artifacts.
Where to Eat and Drink
Many of the best restaurants in Potrero Hill are centered along 18th Street, which is where you'll find Plow. The brunch at this place is phenomenal, and regulars will argue that the food is absolutely worth the long wait for a table.
This charming French bistro has limited seating, so be sure to arrive early for the delicious les moules provençale and frites.
This family-owned eatery serves up top-notch Turkish and Greek food, so come here to get your fill of gyros, kebab, and other Mediterranean offerings.
People come from all over San Francisco to get a taste of the ceviche and small plates at this Peruvian restaurant. It was so popular at its old, tiny, location in SoMa that it had to move to Potrero Hill.
Looking for a good lunch spot? Head to Hazel's Kitchen for a sandwich, but don't sleep on the breakfast burritos, as they're some of the best in town.
Get your drink on at this watering hole where you can learn all about the history of this brewery that's been around since 1896. It's one of the country's oldest breweries that still keeps its traditional copper brewery practices in place.
Why Locals Live Here
As a resident of Potrero Hill, you'll likely feel like you're in on one of the best-kept secrets in San Francisco. This idyllic neighborhood is usually not the first area that comes to mind for tourists or aspiring homeowners, and the pace of life is enjoyably slow. Potrero Hill offers a mix of newer condo developments and traditional Victorian homes, so whether you're looking for something thoroughly modern or charmingly rustic, you can probably find some options to consider here.