Chicago Local Life
See the Changing Colors of Fall in These 6 Chicago Suburbs
Autumn means breaking out your sweaters and gearing up for Halloween. It's also one of the most beautiful times of year to be outside in Chicago. The weather is cool, but a far cry from the biting chill of winter, and the leaves on the trees change from green to bright gold, orange, and red. Though vibrant, those changing colors are transient.
If you want to see fall foliage this year, you can expect the colorful peak to take place the first week of November. Find this blink-and-you'll-miss-it fall beauty in these six suburbs of Chicago.
Darien, located southwest of the city, is a welcoming suburb with accessible home prices. For example, you'll find a median home sale price in the mid-$300s in the Farmingdale neighborhood and a median home sale price of nearly $500,000 in the Woodlands neighborhood.
Residents of this suburb can immerse themselves in fall colors at Waterfall Glen Forest Preserve. This spot has more than 2,000 acres of land and 11 miles of trails. Walk or bike through the preserve while the oaks and maples display their vibrant foliage.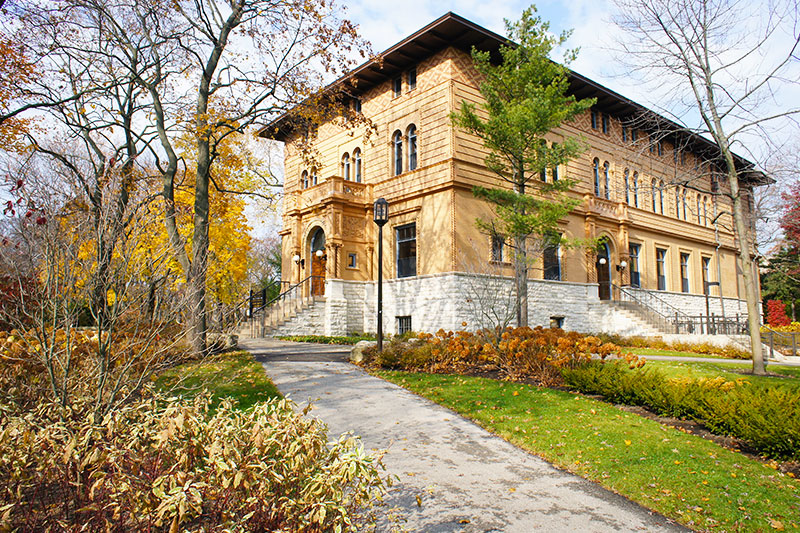 Located just a few miles north of the city, Evanston is one of Chicago's closest suburbs with a wide range of price points for homebuyers. Eastridge of Evanston has a median sale price in the mid $200s, while Courts of Evanston is on the higher end with a median sale price of just under $500,000.
Evanston is probably most well-known as the home of Northwestern University. Football games at Ryan Field make for an ideal fall activity, and the university's Evanston campus is a picturesque spot to see fall colors. Evanston is also home to the Ladd Arboretum, which guarantees a beautiful fall day.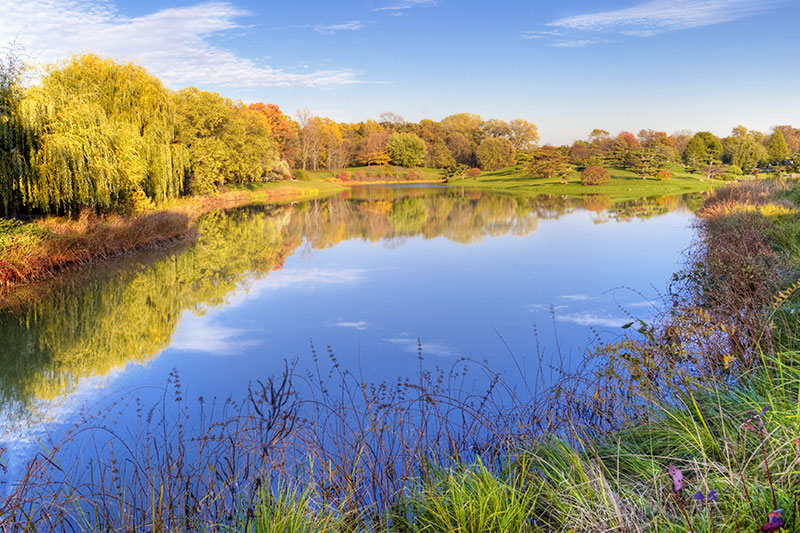 Glencoe, located northeast of Chicago, is a top spot for autumnal shades because of the Chicago Botanic Garden. The garden does all kinds of fall activities—from the Night of 1,000 Jack-o'-Lanterns to its Spooky Pooch Parade—while the leaves change. Plus, the botanic garden offers a suggested route for making the most of its changing colors.
Anyone considering a home in this affluent Chicago suburb can expect to find larger homes with the median sale price just under $800,000 in the Hubbard Woods neighborhood and in the mid-$500,000s in Strawberry Hills.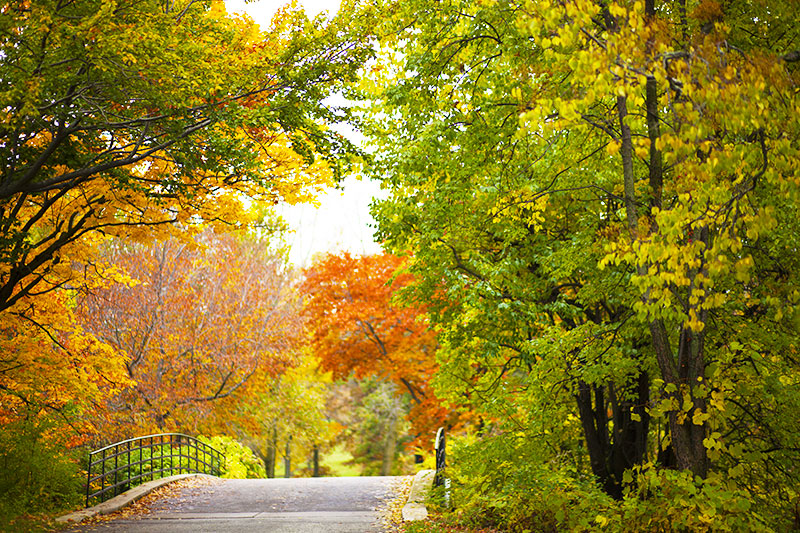 Lisle is nicknamed "The Arboretum Village" in recognition of the Morton Arboretum, which is one of the most spectacular places to spend a fall day in the Chicago area. The arboretum's 1,700 acres of land has trees from 40 different countries. Visitors can walk paths through the profusion of reds, yellows, and oranges or drive scenic roads through the arboretum during the Fall Color Festival.
Lisle is an affordable community with a mix of single-family and attached homes. For reasonably priced single-family homes with yards, try the Meadows neighborhood (median sale price: mid-$300s). If you're looking for a condo, Four Lakes with a median sale price in the low $100s is an option.
Oak Brook has a reputation for gated communities and its expansive mall, but you can also get outside at Fullersburg Woods. The forest preserve's 220 acres feature a collection of native trees, mammals, and birds. The Night Heron Trail is one of the preserve's best places to see fall colors.
While Oak Brook has pricier homes in gated neighborhoods like the Midwest Club (median sale price nearly $1.4 million), the suburb also has more reasonably priced homes in neighborhoods like Gingerbrook (median sale price in the mid-$300s).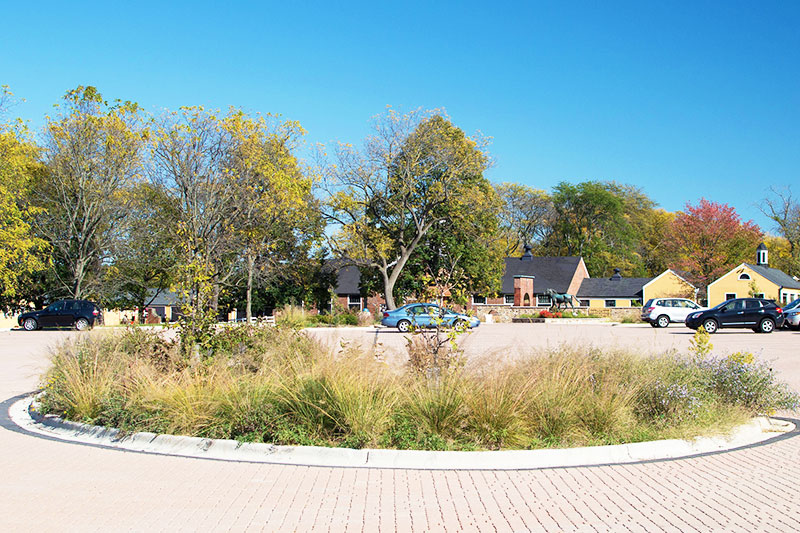 Warrenville is a western suburb located about 30 miles outside of Chicago. The city is an oasis of affordability in Chicagoland. You can find neighborhoods flush with single-family homes and reasonable sale prices. For example, Edgebrook has a median sale price nearing $200,000.
Residents can catch glimpses of fall foliage throughout the suburb's network of parks, but St. James Farm has a lot of color all in one place. The forest preserve has more than 100 acres of woodlands, prairies, and wetlands. Visitors can picnic beneath the fall foliage or hike along the Illinois Prairie Path.