St. Charles Mall Could Get New Life With Townhouses, Apartments
St. Charles Mall Could Get New Life With Townhouses, Apartments
The land that used to be the Charlestowne Mall in St. Charles, IL is getting a new lease on life but this time as apartments and townhomes. More than a decade after the center, coined The Quad, went into receivership, St. Charles aldermen announced that it would be the site of 155 townhouses and 256 apartments.
In 2013, SC 3800 Main announced changes to keep the mall as is under new ownership with some new stores and features to attract visitors. But the building was still underperforming, a trend widespread throughout the nation. In late 2016, aldermen started talking about turning the site into a mixed-use development with apartments and retail.
"Ideally, we want to create a community [within The Quad] that includes a residential area, services such as dry cleaning, grocery stores and fitness [venues], and restaurants that attract people to the center," Nicole Kneeland-Woods, marketing director of Coldwell Banker, told the Kane County Chronicle in October of last year. "We're open to anything that would help attract more traffic to the center and provide service to the residents living there."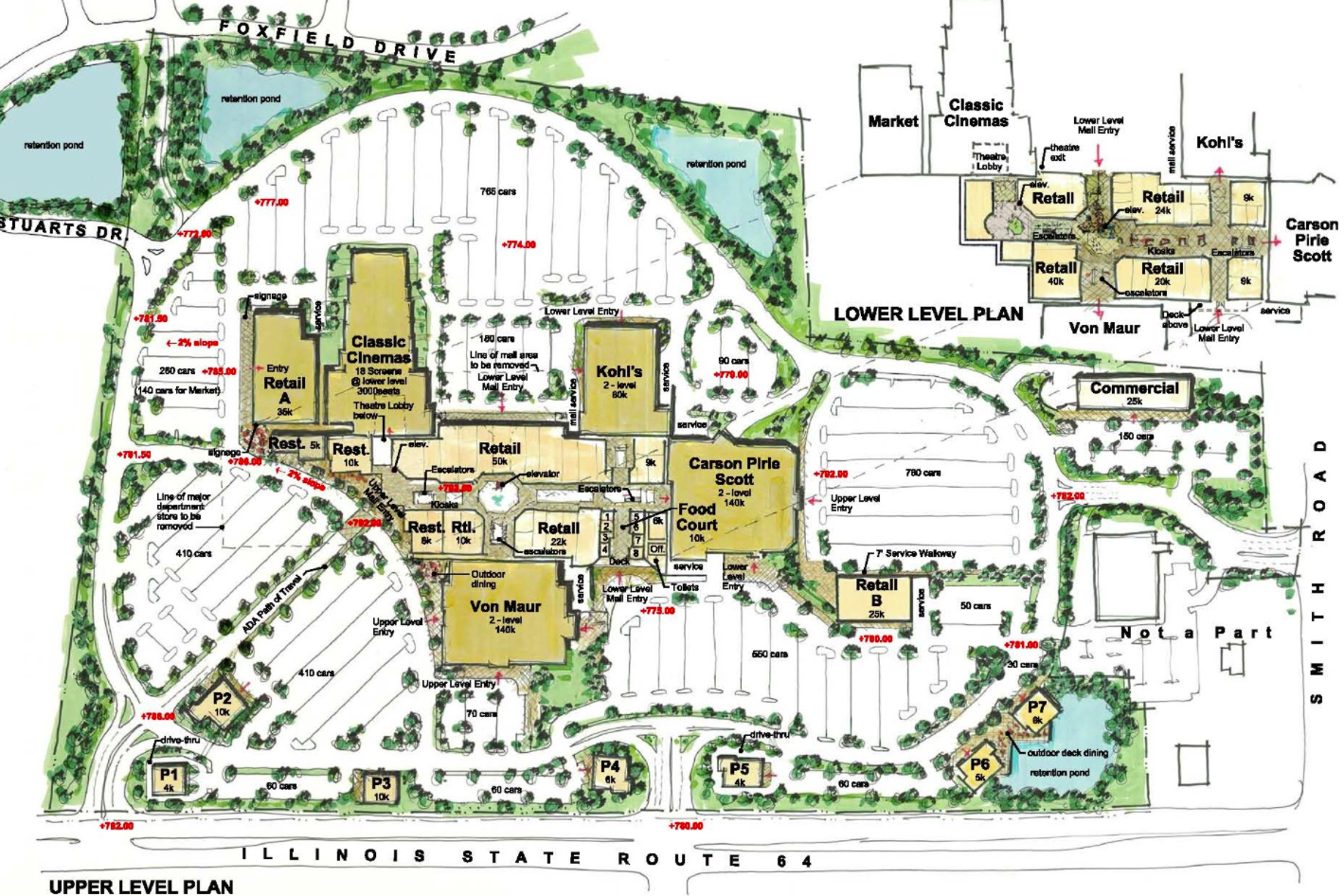 The newest plan for the Charlestowne Mall includes keeping the movie theater and the Carson Pirie Scott and Von Maur department stores as they are, as well as some other smaller retailers. Alderman Todd Bancroft, however, is eager to start from scratch.
"I would be a big proponent of taking the whole thing down," Bancroft told the Daily Herald. "Why keep 150,000 square feet when you could have none? At the end of the day, a successful exit of this deal involves taking that whole center down."
The north end of the property would include 155 townhouses and the east side would have 256 apartments. Alderman Rita Payleitner, however, thinks some of the land used for the proposed townhouses would be better suited as open greenspace for the public and residents.
Plans are still up in the air, and the mall's owners are currently accepting feedback on the proposed plans. A more concrete plan is expected to be unveiled and voted on by local aldermen later this year.