Miami Neighborhood News
Surfing Legend-Designed Wave Park Coming to Palm Beach County
Developers are hoping to break ground next spring on South Florida's first "surf ranch" west of Jupiter, per The South Florida Business Journal.
The Palm Beach County Commission unanimously approved the plans, which call for building the wave park on a 78.9-acre site within the Palm Beach Park of Commerce. Designed by surfing legend Kelly Slater, it would be developed by an affiliate of the World Surf League, which acquired a majority stake in Kelly Slater Wave Co. and its "perfect wave" system.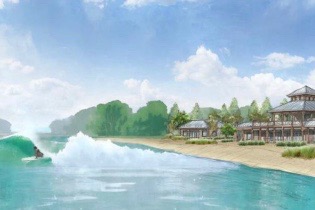 Surf Ranch would have a 16.6-acre lagoon with man-made waves using KSWC technology. It would have 31,915 square feet of buildings, including a 10,121-square-foot learning center/surf club, a 5,392-square-foot training center, and a 3,566-square-foot clubhouse. There would be 160 parking spaces.
The first surf ranch is in Lemoore, California. The South Florida facility would be larger and have more amenities. Developers are hoping to complete the project in 2019.