The 10 Most Affordable Neighborhoods in San Diego
The 10 Most Affordable Neighborhoods in San Diego
San Diego is known for many things like pleasant weather, authentic taco shops on almost every corner, beautiful beaches, and a general laid-back attitude. What it's not famous for is affordable housing options, but luckily there are a large handful of neighborhoods more economical than the rest. Looking at median home sale price and median price per square foot, we found the top 10 most affordable neighborhoods in San Diego.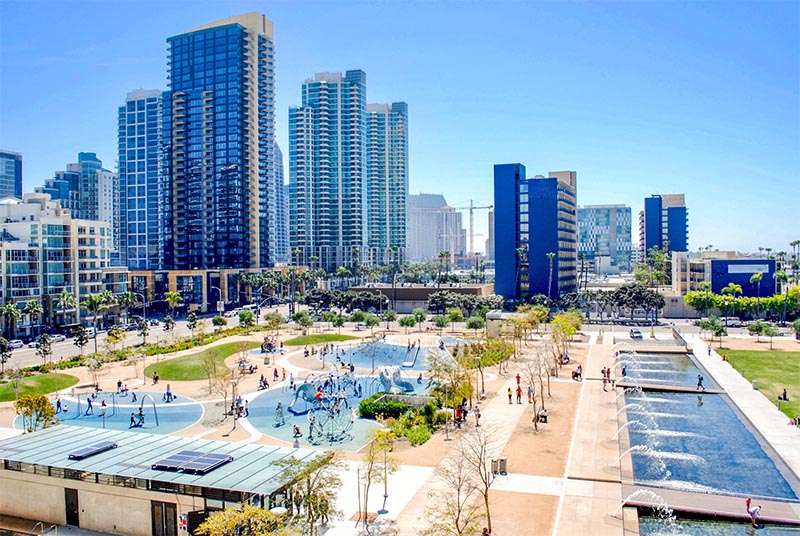 Median Price Per Square Foot: $458
Median Home Sale Price: $415,000
Established in the early 1910s, Shelltown is a tight-knit community just five minutes from Downtown San Diego. Despite its moniker, this neighborhood isn't beach adjacent. Instead it got its name from the sandy, shell-laden soil the neighborhood was built on. Alongside the primarily single-family homes, Shelltown boasts many taco shops and bodegas, and it offers easy access to the 805 freeway.
Median Price Per Square Foot: $452
Median Home Sale Price: $431,500
Logan Heights sits just south of Golden Hill and north of Barrio Logan. The walkable neighborhood is known for its diverse population, burgeoning arts community, and more than a handful of great Mexican restaurants. Logan Heights is also home to one of San Diego's most recognizable parks, Chicano Park, which serves as a site for public art and a meeting place for locals.
Median Price Per Square Foot: $436
Median Home Sale Price: $467,000
Mission Valley is pretty much 15 minutes (or less) from anywhere in San Diego, so getting to and from this neighborhood is simple. Thanks to both its central location and the fact nearly all of San Diego's major freeways (the 8, the 15, the 5, and the 163) converge in Mission Valley. In addition to being one of the city's most easily accessible areas, Mission Valley is a generally convenient neighborhood to live in. Amenities are vast and include grocery stores, shopping malls, gyms, coffee shops, restaurants of all cuisines, and great public transit access including several trolley stops. Nearly all of the housing in Mission Valley is found in the form of condos.
Median Price Per Square Foot: $449
Median Home Sale Price: $450,000
This little inland community situated 10 minutes east of Downtown San Diego by car is, in my opinion, one of the city's most underappreciated neighborhoods. Truly a hidden gem, City Heights, is where cultures collide. Historically it has been a landing place for the city's newest immigrant residents, and today it's where locals land to eat the city's best international food offerings—everything from Vietnamese takeout to a fantastic dim sum spread.
Median Price Per Square Foot: $509
Median Home Sale Price: $406,000
Directly east of Downtown San Diego, Golden Hill sits overlooking the city's skyline and the Port of San Diego below. This historic bit of the city features a wide variety of architectural styles; some homes even date back all the way to the late 1800s. Despite being rooted in history, Golden Hill has been experiencing a little renaissance for the past few years with a ton of local restaurants, bars, coffee houses, and boutiques sprouting up everywhere. And for nature lovers, Golden Hill's northern edge butts up against the southern boundary of Balboa Park, San Diego's largest greenspace.
Median Price Per Square Foot: $472
Median Home Sale Price: $457,000
The Midway District is a neighborhood that's home to many San Diego institutions, including famous food joints like Phil's BBQ and Gaglione Brothers; the Pechanga Arena, formerly known as (and sometimes still called) Sports Arena; and Kobey's Swap Meet, a haven for great deals and buried treasure. Beyond good food and good times, another perk of life in the Midway District is quick and easy access to everything from grocery stores, gas stations, and sporting good stores to the San Diego Bay and San Diego International Airport.
Median Price Per Square Foot: $478
Median Home Sale Price: $462,5000
Situated directly north of Shelltown and east of Logan Heights, Southcrest was originally part of Shelltown until the 1980s when it was established as its own neighborhood. Southcrest is pretty much all single-family homes with an occasional low-rise condo building and a sprinkling of small parks.
Median Price Per Square Foot: $500
Median Home Sale Price: $455,000
Cortez Hills is another one of San Diego's often overlooked communities. This neighborhood is its own little microcosm with cafes, restaurants, and gyms. It serves as a respite from the Gaslamp's lively nightlife but is still a quick walk or drive from the city's best bars, upscale restaurants, music venues, and Balboa Park's trails and museums. Cortez Hill is highly walkable and family friendly with its own hidden corners such as the Tweet Street Linear Park, a quiet and compact option for picnics and playground fun.
Median Price Per Square Foot: $440
Median Home Sale Price: $552,000
Bordered by freeways on all three sides, Fairmont Park is a small triangle-shaped neighborhood existing as its own little world. The neighborhood is primarily residential although there is a small selection of convenience stores, markets, and restaurants along Home Avenue. While this area is small and fairly quiet, it's just a few miles from downtown making it a delightful best of both worlds situation.
Median Price Per Square Foot: $403
Median Home Sale Price: $646,500
Despite its name and proximity to San Diego State University, the College area of San Diego is pretty tame. Outside the bubble of campus housing and one street of fraternity and sorority houses, the hilly neighborhood is primarily made up of suburban streets featuring single-family homes and the occasional condominium complex. Residents enjoy easy access to the 8 freeway, and have lots to choose from in regards to groceries stores, pizza places, and coffee shops.