The 4 Technology Innovations That Could Transform Frisco
The 4 Technology Innovations That Could Transform Frisco
About a 50-minute drive north of Dallas sits Frisco, an energetic suburb that's experienced massive growth in the last decade. The growth has come with the implementation of new attractions like the Dallas Cowboys Headquarters and Training Facility and the Toyota Stadium, home of FC Dallas. However, attractions aren't the only thing coming to Frisco. For the last five years, the city has been working on incorporating new and innovative technology, and residents will soon be able to experience the fruits of that labor. Whether its infrastructure technology or the cars of the future, check out the amazing things coming to Frisco.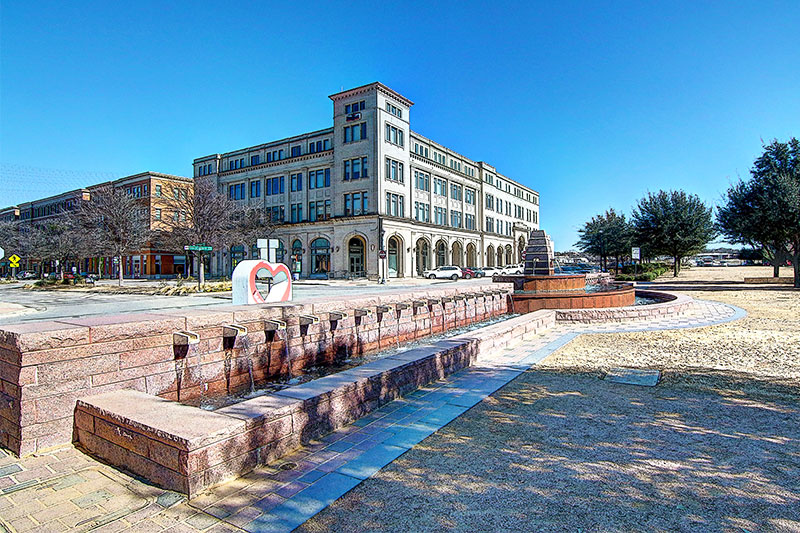 Traffic Signals Tech
Ever wanted to know when the traffic light was going to turn green? In Frisco, some drivers can. Last fall, Frisco City Council began working with Traffic Technology Services to connect the city's traffic signals with Audi's newest cars. TTS collected data from traffic signals in Frisco and sent the information to Audi dashboard displays, which show a digital counter to indicate when the light will turn green. While the newer Audis are the only vehicles to have this feature in Frisco, there are plans for BMW to adopt the technology next year. Frisco is also looking into other traffic signal software, like bicycle and pedestrian apps that would detect cyclists and pedestrians on the road.
An ATM for Cars
Buying a car got a bit easier in Frisco in 2017 with the introduction of Carvana, a vending machine for cars. The process is simple: Customers in Frisco and surrounding areas purchase a vehicle from Carvana's online inventory. Upon arriving at the eight-story Frisco Car Vending Machine, customers receive a Carvana coin to drop into the coin slot, which begins the process of retrieving the car they purchased online. The Carvana vending machine in Frisco has four delivery bays and holds up to 30 cars, and those who purchase a vehicle receive a 100-day or 4,189-mile bumper-to-bumper warranty. In a city like Frisco, where residents need a car, this quick and efficient model of purchasing a vehicle is promising.
Cars of the Future
Also, per the Community Impact Newspaper report, Frisco is the sight of aflying vehicle project lead by Hillwood Properties and Uber. It's centered around Frisco Station, a 242-acre urban entertainment and business destination, which will soon have a vertiport (a takeoff and landing zone). Developers are creating the flying vehicles to take passengers from Frisco to the Dallas-Fort Worth International Airport, which is about a 30-minute drive away without traffic. The first flights are expected to begin in 2020 with a full-scale operation to launch in 2023.It doesn't end with flying cars in Frisco. Drive.ai is a California startup working with the Frisco Transportation Management to test driverless cars in Frisco. The pilot program began in July 2018 and will run for six months. Drive.ai plans to offer driverless car trips on public roads to over 10,000 people. The cars will travel between fixed points like retail shops, entertainment areas, and business offices at HALL Park and The Star. Eventually, Driver.ai and the City of Frisco hope to make it a free, on-demand service available to residents via an app.
Sameep Tandon, co-founder and CEO of Drive.ai., told the Dallas Business Journal, "Working with the city of Frisco and Frisco TMA, this pilot program will take people to the places they want to go and transform the way they experience transportation."
Speedy Wireless Connectivity
In addition to flying cars and traffic light programs, a faster wireless technology is being introduced in Frisco. AT&T is laying the groundwork to make Frisco Station one of the first connected communities in the U.S. with 5G service. What does that mean exactly? AT&T is integrating their wireless stealth micro cells, ultra-fast internet powered by AT&T Fiber, and speedy Wi-Fi in all the common areas at Frisco Station including parks, residences, and businesses.
"We believe we are creating a high-tech environment, unlike anywhere else in the country, that has the potential to change the way people think about what's possible in their day-to-day interactions with people and information," Mike Berry, president of Hillwood, Frisco Station's master developer, told Business Wire.